Aquaventure Waterpark Dubai
Voted Dubai's No. 1 Water park on Tripadvisor, Aquaventure Waterpark Dubai is a thrilling experience you must live at least once. Know more!
Voted Dubai's No. 1 Water park on Tripadvisor, Aquaventure Waterpark Dubai is a thrilling experience you must live at least once. It promises a world of excitement and relaxation at Palm Jumirah. The park has something to offer everyone. Thrill-seekers will be thrilled with waterslides; young families will appreciate the safety of Splashers Island; animal lovers will enjoy the closeness with sea lions, dolphins, sharks and stingrays.
Aquarium Landmarks in Dubai You would love and enjoy passing by:
Why to visit Dubai Aquaventure Waterpark
Home to some iconic record-breaking rides and attractions, it is one of the best waterparks in Dubai. Be brave and take the Leap of Faith, a 27.5-metre plunge that carries you through a clear tube surrounded by sharks and rays. Try some adrenaline-pumping activities like zip-lining across the park.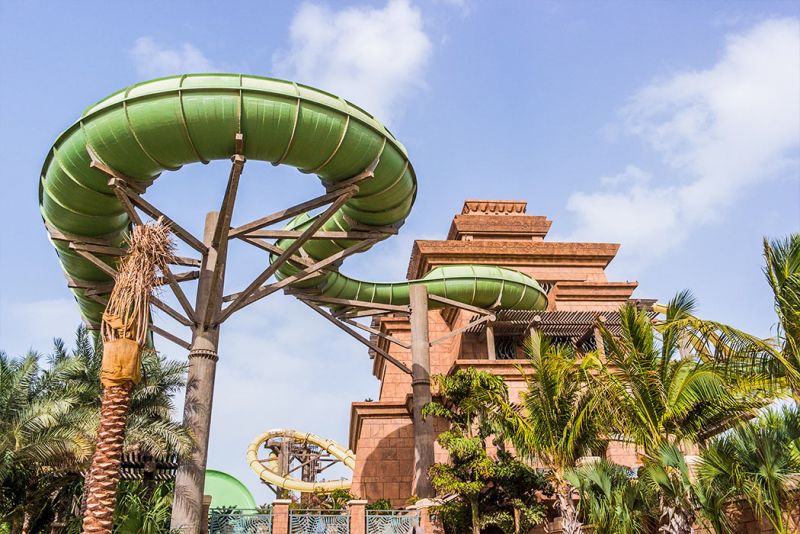 What you need to know about Aquaventure Waterpark
Location: Aquaventure is located in The Avenues at Atlantis Dubai. A shuttle bus will escort you to the Aquaventure Ticket Plaze.
Parking: Parking is available at Nasimi Beach. Valet parking is also available at The Avenues.
Hours: Opens daily 10 am - closing time changes depending on the season
Age: children must be at least 13 years old, if not accompanied by an adult.
Height Restrictions: for safety, access to certain rides is restricted to those over 1.2m. All people over 1.2m are required to buy an adult ticket.
Prices: AED 195 (Adults above 1.2 metres tall), AED 260 (Adults), AED 170 (Children below 1.2 metres) for UAE residents, 215 (Children) for Non-UAE residents.
Things to Do in Aquaventure Waterpark
As mentioned before, there are plenty of activities that suit all ages to enjoy at Aquaventure Waterpark from exciting rides and slides to marine animals. The park is adjacent to Atlantis The Palm, so it is recommended to combine them together while being in Dubai.
Here are some of the activities to enjoy:
1. Aquaventure Waterpark Rides and Slides
Enjoy The Leap of Faith and plunge from a height of 9 storeys and speed down right through a lagoon teeming with sharks and stingrays. Take a ride in Poseidon's Capsule and feel the rush of adrenaline in the most adventurous daring water slide in Dubai. Hit speeds of up 60Km/h, before looping upside-down on this high octane course spanning 160m. Race your friends at Slitherine and experience the first twin racing tube slide and see who wins at the finish line.
2. Aquaventure Special Experiences
Wear your oxygen helmet and go on a safari shark where you will be surrounded by sharks, stingrays and colourful fish. It is suitable for children up to eight. Another experience is taken 20m above the ground where you will fly down the Atlantean Zipline and enjoy the view of the Atlantis Aquaventure Waterpark, the city skyline and the beaches. When you buy the zipline pass, you will have access to ride it all day long as many times as you want.
3. Splashers Play Area for Kids
Customized for children under 12m, Splashers is perfect for families with 14 waterslides and safe swimming areas. Your children will enjoy it as much as you do. It offers a blast zooming down the kid-friendly waterslides. They will also climb the obstacle course and spill from the giant buckets at Splashers Mountain. Regarding your children safety, plashers also provide soft surfaces, lifeguards and a dedicated entrance just for families.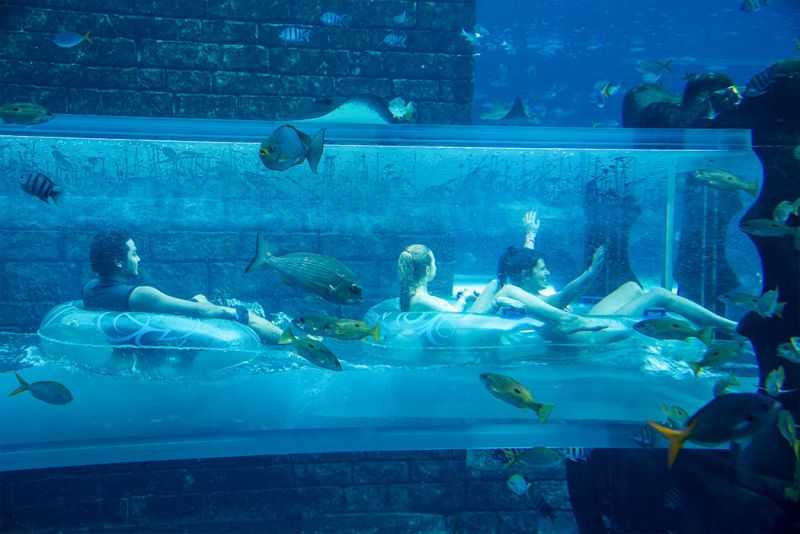 4. Beaches
The park is beautifully tropical. It does not only offer thrilling experiences, but also private beaches for those who want to chill and relax. Visit the watersports hut and hire a kayak, pedal boat or paddle board. Explore the calm waters of the Arabian Sea.
5. Delicious Food
The restaurants have a wide variety of gourmet meals, international cuisines, snacks and cool refreshments. Head to Barracudas and order a juicy burger from TBJ, falafel or shawarma from Shawafel, tandoori and curries from the Dosa Factory, or tasty noodles from Asia Republic Express. Besides, you can enjoy Shark Bites, serving simple meals for the whole family from pizza and burgers to fried chicken and Arabic snacks. Pamper yourself with a meal you won't forget and live the full package experience.
Visit Aquaventure Waterpark, home to some iconic rides and attractions. You won't ever regret it!