Located on one of the finest man-made Islands in the world, in Atlantis Dubai, Dolphin bay is one of the most sophisticated habitats in the world. A trip to Dubai would be incomplete without visiting Dolphin Bay. It is a great experience where visitors can have the chance to be close with the playful mammals, or swimming and scuba diving near them where they will have the ultimate fun.
Why Visit Dolphin Bay?
The experience is interacting one-to-one with the beautiful creatures. It is a great chance for family vacations. Children can enjoy the interaction with Dolphins while standing in the shallow waters, which is monitored by a dedicated group of staff who is willing to heighten your experience in all ways possible. Adults can also live the adventure of scuba diving near the Dolphins, under the monitoring of the trainer as well. Safe and Fun!
Another reason to visit Dolphin Bay is that it is close to Aquaventure Waterpark. Tickets to Dolphin Bay can get visitors to Aquaventure Waterpark as well. Have an adventure full of adrenaline rush and enjoy the best water rides in the world. Aquaventure also offers pirate beaches where couples can relax and have a chilling vacation.
Things to Do in Dolphin Bay
1. Get Close with the Dolphins
Have a one-to-one interaction with the dolphins in the shimmering waters of shallow depth. Experience the heart-warming hugging, kissing and playing with the dolphins, as they go about sharing their love nature with you. This activity is suitable for children and adults that cannot swim.
It is open for all ages, but children below 12 years old must be accompanied by a paying guardian.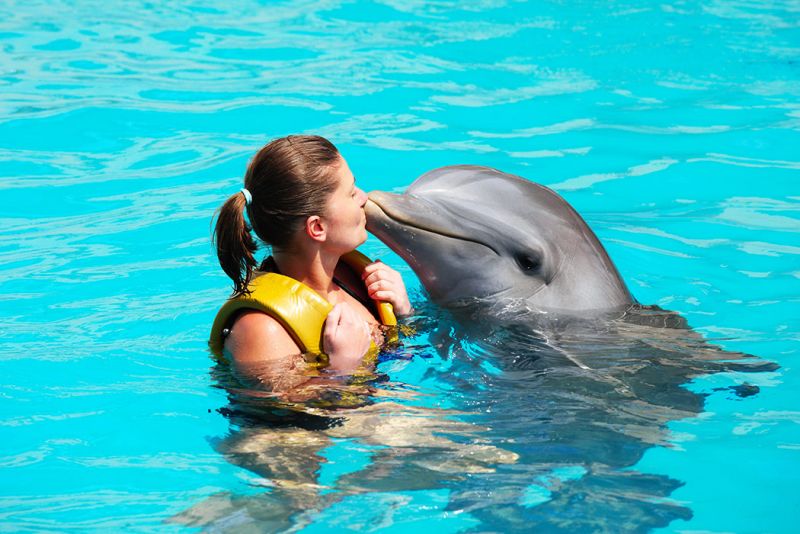 2. Dolphin Adventure
Not only will you get close to the dolphins, but you will accompany them in a "belly ride" which is exactly what it sounds like. Hold on to the dolphin as it swims and feel agile and weightless as they are. Besides, you get to touch them and share affection with them.
This is not in shallow water, so those who cannot swim are advised to choose the "Dolphin Encounter" instead. Dolphin Adventure is aimed at the swimmers and children above 8 years of age where each encounter is monitored by the trainer.
3. Royal Swim
This is for adventurers and confident swimmers. Not only will you get to interact with the dolphins for 30 minutes, but also you will get to surf alongside them. You will be pushed around the lagoon by the dolphins, while standing on a boogie board. It is so challenging for dolphins to push you forward in high-speed. Spend the rest of the adventure embracing and kissing the dolphins.
4. Scuba Diving
It is so recommended to engage with the Dolphin Dive for its high level of adventure. Get the adrenaline pumping and experience the dolphin swim in deep water. Live their feelings while you swim alongside them underwater. This great opportunity involves touching, hugging and kissing the dolphins as well, making your experience the best.
Note that, only certified scuba divers will be allowed to take this activity and the diving equipment will be provided by the staff for safety matters.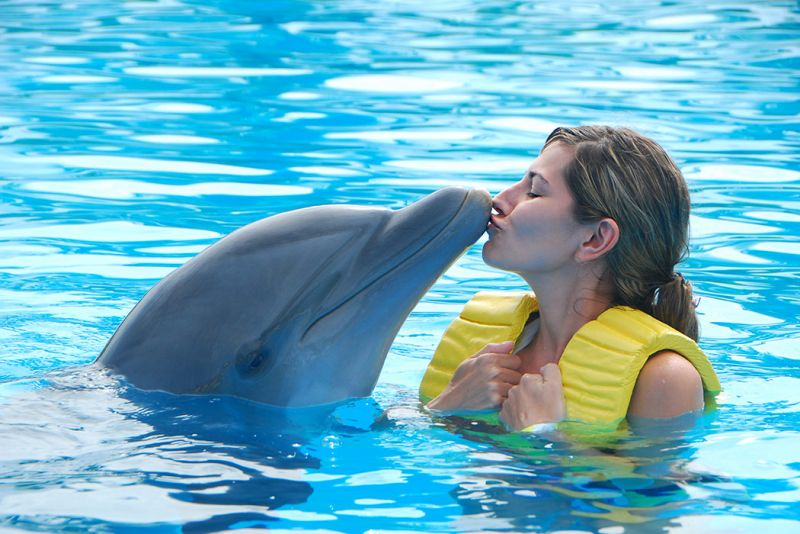 5. Take Perfect Shots
Make the memory permanent and have the perfect photographs with them. To take the perfect shots you get to hug and kiss the dolphins while still being completely dry. Take home more than just memories and collect valuable information about these beautiful creatures.
Location and Opening Hours
If you are arriving by car, park your vehicle at Aquaventure Waterpark parking. A shuttle will then take you to the Aquaventure and Dolphin Bay Ticketing Plaza.
It opens daily from 10:00 am to sunset (Closing time is subject to change depending on season)