Ready to go skiing in Dubai?
The fantastical Ski Dubai has its home in a majestic shopping emporium, Mall of the Emirates, that lies just off the main highway that runs straight through the city (the famous Sheikh Zayed Road). It's not only the first indoor ski resort in the Middle East, but it's also the first in the world to visit with your Family in Dubai!
At the reception, expect to be greeted with experts walking in full snow gear, skis over their shoulders and a pass around their neck. Booths hold snow boots, jackets, and salopettes, and ladies' and men's locker rooms are to the side for you to change and store your gear. And you'll need it all because once you're on the ice slopes, another world awaits you.
Skiing and Snowboarding

When you arrive on the actual hills of ice which is a shock to the weather system, especially on a typical Dubai summer's day when the mercury is touching 48°C (118°F) outside. It's genuinely cold in there (temperatures are maintained at -1°C to -2°C (30°F to 28°F)! And you'll be amazed by the regular falls of artificial snow and the soft, padded snowy surface beneath your feet, all rather ingeniously produced through the top of the range coolers and snow guns imbedded in the ceiling.
Overnight, fresh snow is made by lowering the temperatures inside the ski dome further, 30 tonnes of snow is produced daily to provide a genuine ski and snowboarding experience. The water resulting from the old snow is then pumped back into the air conditioning systems that are used throughout the mall.
This is the world's largest indoor snow park, with a mountainous ski slope offering five runs of varying levels of difficulty, a snowboarding area, ski lifts, and even an Alpine-style cafe. It truly is a stunning and surreal experience, right there in the middle of the desert. If nothing else, it's a great place to cool off. Unlike nature, the slopes of Ski Dubai are tailor-made for skiing and snowboarding. With varying degrees of difficulty packed into one long slope, the venue is perfect for all lovers of these mountain sports as well as newbies looking to learn the art of surmounting snowy slopes.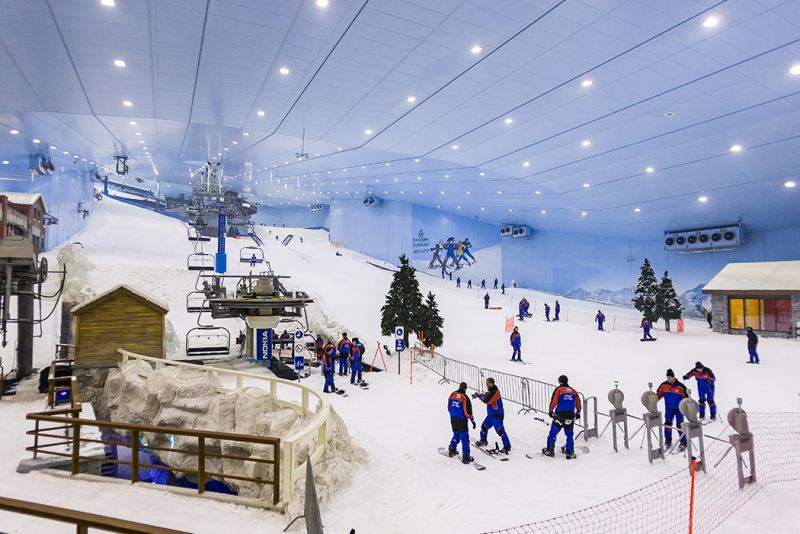 Zorbing and Tobogganing

Ski Dubai has more than just skiing and snowboarding. The venue is home to some exciting activities such as Zorbing (rolling down the ice hill in an inflated ball) and Tobogganing (a simple coaster to slide down icy slopes and immensely popular with kids). Both these activities are extremely popular amongst visiting groups and families which is an amazing social activity.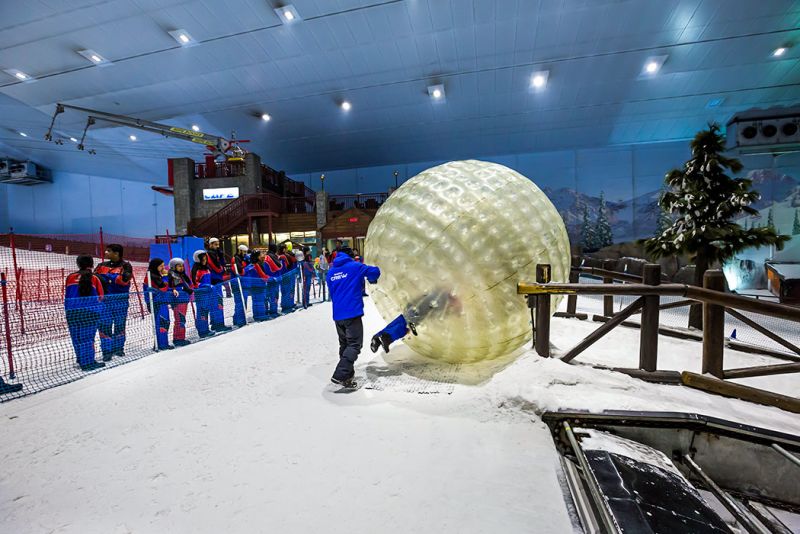 Swimming with Penguin in Dubai

Ski Dubai is home to Gentoo and King Penguins. These lovely birds reside in a modern habitat, equipped with a private pool, comfortable top deck resting area and a private holding area. Spot the Gentoo penguins, the third-largest penguin in the world, by the white cap extending from eye to eye on over the top of their heads. King penguins are slightly bigger, making them the second-largest one in the world, and have signature bright orange patches on the side of their head. Observe these extraordinary birds from a glass wall as they move freely about their home.
Skiing in Dubai offers guests one of the most incredible moments to get up close and personal with these adorable creatures! Only available once a week, go swimming with the penguins in the pool. The session is only available to adults (18 years and older) who know how to swim. Up to two people can enjoy the experience at a time.
You don't need anything other than the excitement and the passion to do so. At the base of the station, there's a store for renting and buying equipment and ticketing service. They rent absolutely everything, except for gloves, which you have to buy separately or as part of any current pack offer which includes them as a gift.

Best time to visit Dubai
Best Time for Sightseeing: If you're looking for the perfect blend of fewer crowds and nice weather, the best time for sightseeing in Dubai is between mid-November and early December, and again during the first half of March. While you're likely to enjoy comfortable temperatures throughout the winter months, visiting from December through February is the peak of high season, when lines tend to be very long and the crowds are often thick, especially during January and early February due to the Dubai Shopping Festival.

Best Time for Shopping: Dubai is a shopping paradise, but even more so during the month of January when the Dubai Shopping Festival is held. You'll enjoy significant discounts – as much as 75%, on just about every item imaginable, including electronics, jewelry, fashion and more. The next best time for shopping is during Dubai Summer Surprises when a wide range of retailers offer special promotions and discounts for 45 days starting in mid-July.

Best Time for Enjoying the Beaches: While it's possible to go to the beach year-round in Dubai, most people feel it's too chilly to take a swim in the sea during the winter months. In the summer, the opposite is true, with the intense sun and scorching hot sand making it the worst time to go, particularly in July and August. If you'd like to enjoy swimming in the Arabian Sea and perhaps working on your tan, the best time to visit Dubai's beaches is in April or May, when the sea temperature hovers around a very comfortable 25°C to 28°C
If you are visiting Dubai and enjoy skiing or snowboarding in any way, shape, or form, you must try Ski Dubai. It is a unique experience that should not be passed up.