Emirates Palace Abu Dhabi
One of Dubai Landmarks' close proximity of Al Khubeirah Garden and Abu Dhabi International Marine Sports Club completes the glory of the United Arab Emirates imperial cities, Dubai and Abu Dhabi and Dubai Travel Packages as well. The hotel combines the Arabian culture and heritage essence with the modern architectural details, which creates a luxurious masterwork. The Imperial structure is the work of British architect, John Elliott, with Reza Rahmanian. The luxurious and unique architectural design is a mixture of cherished Islamic elements, geometric, proportions, rhythm and hierarchical emphasis to create a Perfect Dubai Tours.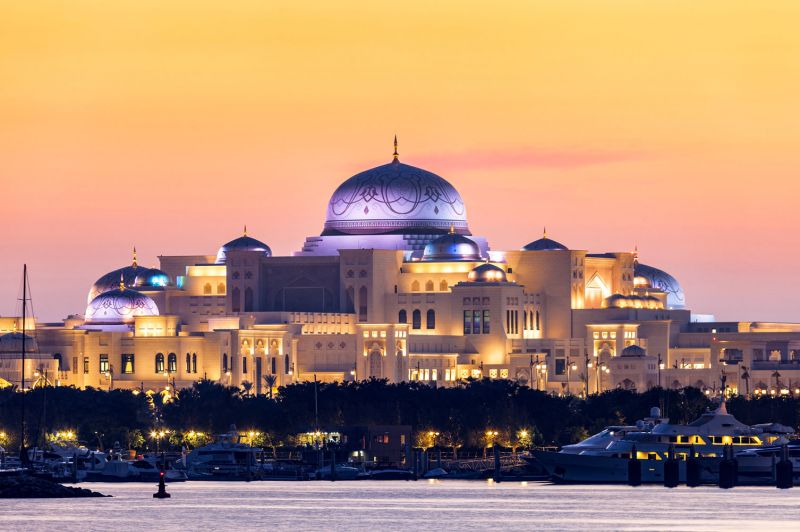 The main hotel structure extends over one kilometer, by the side of gardens and surroundings that covers about one more kilometer. The grand dome is built over 114 smaller-domes and covered with geometrical decorative patterns. The symbolic essence in the design is distinguished in the Arabian Desert sand color shades. The change of colors in the construction elements Day & Night gives the view a more magnificent impression. The rainbow effect in the night versus the calm sand-color shades, Blue skies, and water fountains. Additionally, the main dome got a rainbow colorful sheds in the night, which gives the whole architecture a marvelous sight.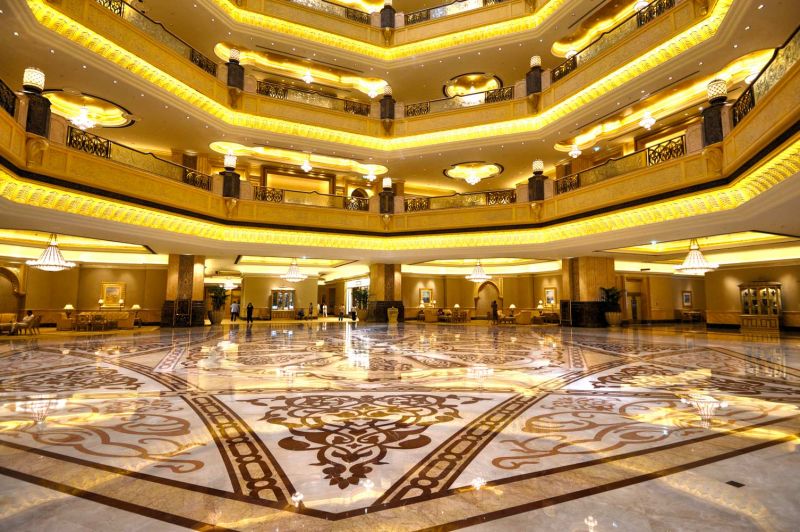 The construction of the imperial structure started in 2001, after 4 years of work on A emirates palace hotel Dubai, the gates were opened in 2005. The Palace building cost reached 3 billion USD, ranking it in the 3rd most expensive built ever. Abu Dhabi Palace follows The Cosmopolitan of Las Vegas in Las Vegas that cost reached more than 3.9 Billion USD and the Marina Bay Sands in Singapore with 5.5 billion USD.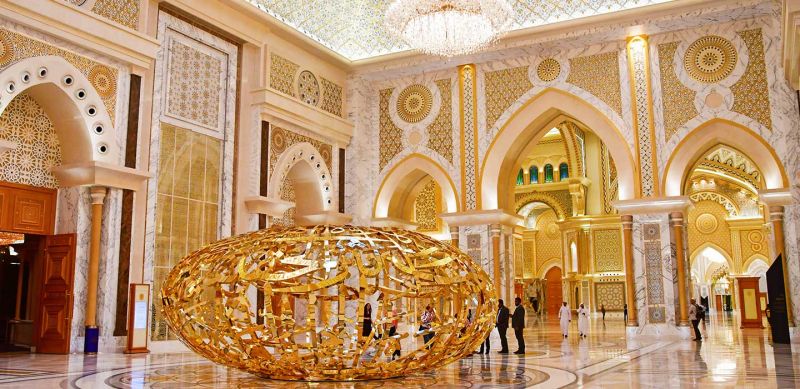 Gold, mother of Pearl and crystals are forming the main elements that included in the interior's decoration project of the palace. Chandeliers that are illuminating the palace exceeded the 1000 and Handmade hanged carpets with charming effect decorating the palace walls. Corridors, passageways, arched ceilings, outdoor swimming pools, private beach, 394 rooms, royal suites, spa, restaurants, shop/café, lounge/bars, valet parking, business centre, gift shop, fitness centre and babysitting/childcare, and more amenities for the vital sections of the palace are serving the visitor promising comfortability and elegance stay at the palace.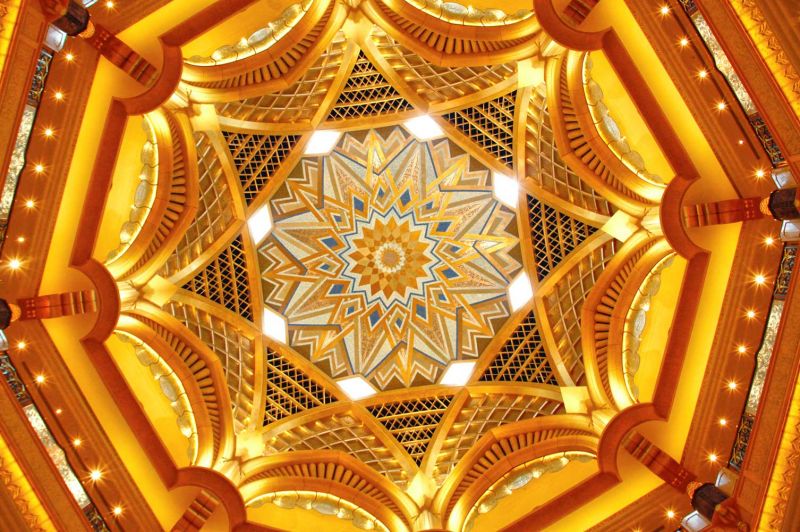 The Emirates Palace Abu Dhabi consists of 394 residences, comprising 92 suites and 22 residential suites. The residences are spreading in two main sections by the side of the main central building. Gold and Marble are the main architectural decoration substance in most of the royal suites. 6 Royal Suits dedicated exclusively to dignitaries.
Amenities and Facilities are developed on the highest level for the Emirates Palace including 2 spas, over 40 meeting-rooms, more than 1-kilo long beach, 2 helicopter landing pads, shops, and international restaurants.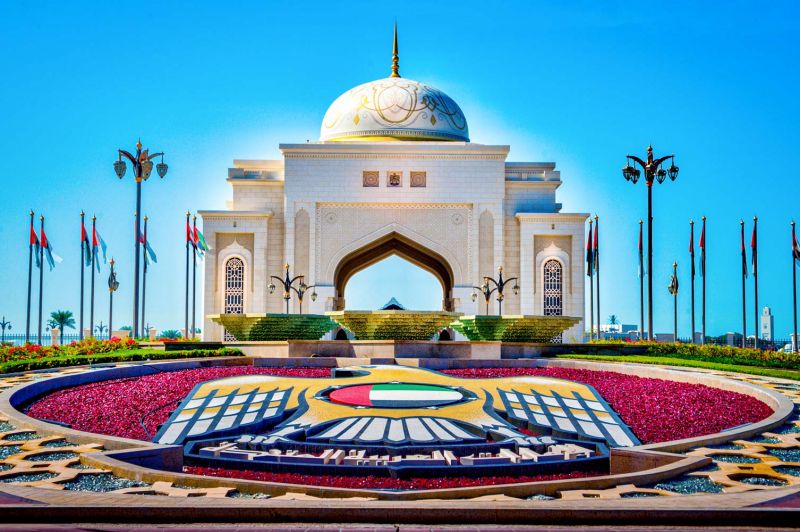 Travel Experience Since 1955

Memphis Tours is one of the pioneers which have great impact on travel industry for more than 55 years of experience.

Personalized Travel Services

Whatever your travel dreams, together we can custom-design the perfect itinerary with highly personalized services just for you

We Speak Your Language

A multilingual website offers content in 6 different languages English, Spanish, Portuguese, French, Italian and German

Flexibility to Change

We know how important it is for travellers to have the flexibility to change their itinerary due to some reasons or force majeure

Your Safety and Security

A professional will accompany the guests to all of the places; they will never be left alone to fend for themselves

High Quality Service

We do believe honestly that quality should come first and quantity would come later and our main objective focused on (Quality is our Top Priority)

Customer Service 24/7

We offer Customer Support 24 hours a day, 7 days a week by phone and email for questions about our tours and services

Support Sustainable Tourism

We are attempting to make a low impact on the environment and local culture, while helping to generate future employment for local people

Secure Online Payment

Our website is protected by the world′s most secure online payment system VeriSign Secure

Secure Website by MacAfee

Memphis Tours website is a McAfee Secure site that helps keep you safe from identity theft, credit card fraud and spyware