Laguna Waterpark
Making your Trip to Dubai with the Family would be special one that requires certain elements to get the full experience. Fortunatly, Dubai is one of the world top destination choices would help you reach your goal easily, through the family-fit attractions, sightseeing, Resorts and millions of activities all in your hand.
Different Waterparks to Visit when in Dubai:
Laguna Waterpark is fun capturing, delivering carefree experience by the sea for families and sports lovers. Visitors will enjoy the fun breathtaking activities along with the friendly and welcoming atmosphere. Know about location, parking and things to do in Laguna Waterpark.
Plan and your personally Tailor Dubai trip from the special Dubai Tours Now!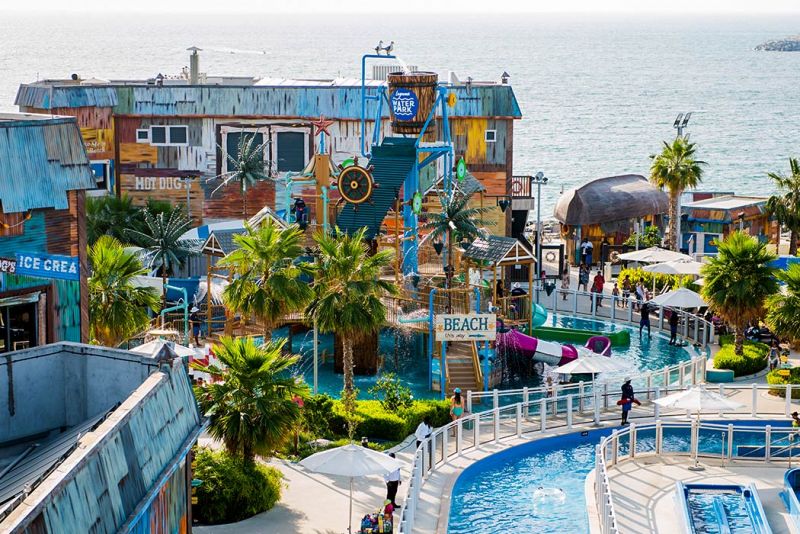 Laguna Location and Parking
Laguna Waterpark is located at the heart of Dubai's beachfront destination of La Mer where you will enjoy the panoramic views of the ocean and Dubai's skyline.
La Mer has over 1100 parking spaces that include an underground parking, offering 4 hour free for Laguna Waterpark visitors. For longer stays, it is recommended to take a taxi or public transport.
Parking Charge: AED50 for standard valet excluding VAT & AED100 for VIP valet excluding VAT.
Things to Do in Laguna Waterpark
The Dubai waterpark includes four distinct zones: Splash, Surf, Slide and Relax.
1. Splash
A) The Splash Pad
The Splash Pad guarantees hours of wet fun for the children, with great sight lines for parents to watch from the sidelines. It serves fun for toddlers and younger children. It consists of a range of interactive elements including splash pools, squirting water and more.
Level of Thrill: Medium
Minimum height: N/A
B) Aqua Play
It is the perfect spot water adventure for young adventures and adults alike. It is a super play structure with fun waterslides and giant "soaker" bucket where kids and parents can have fun playing together.
Level of Thrill: Relax
Minimum Height: N/A
2- Slide
A) Constrictor
The Constrictor Tube Slide will get you immersed in a dark tunnel with steep turns and thrilling optical illusions. The appearance only will give an adrenaline rush, but If you have the guts, you will definitely be hyped for more. At the SuperBowl, guests can watch others showing them a taste of what is to come.
Level of Thrill: High
Minimum Height: 1.2m
Maximum Weight for 1 Riders: 136kgs
Maximum Weight for 2 Riders: 180kgs
B) Free Fall
This is definitely for adventure seekers. Step inside the glass capsule sky box platform leaving the floor to drop from under you, offering you a breathtaking free fall down into the splashdown lane below.
Level of Thrill: High
Minimum Height: 1.2m
C) Mad Racer
Race your bestfriend to see who is faster. This is for competitive spirits. Grab the challenger and step on the dueling Mad Racer mat slide. The double lane takes riders on an exciting adjacent competition over a series of thrilling bumps and turns until you reach the finish line.
Level of Thrill: High
Minimum Height: 1.1m
Maximum Weight: 136kg
D) The Loop
Step inside the AquaLaunch capsule and get prepared to loop your way along the tube until you splash down. This offers riders a ride through a 360-degree horizontal loop of thrill. If you dare, climb the stairs to the top again and again.
Level of Thrill: Medium
Minimum Height: 1.2m
E) Manta
Experience the stomach-flipping rush of Manta that could be shared with friends and family. Explore the surprising twists and turns before you get onto the massive manta wing and experience zero-gravity for seconds before splashing down the pool below.
Level of Thrill: High
Minimum Height: 1.1m
Minimum Weight: 90kgs
Maximum Weight: 235kgs
3. Surf
A) WaveOz 180
Overlooking the Arabian Sea, WaveOz 180 offers surf experience for all beginner, daring and the pros. It is one of only three in the world and it marks as the star attraction of Laguna Waterpark. WaveOz 180 is a prime spot for carving the waves. Capable of accommodating 3-4 surfers, grab your mates and see who is the best.
For a dry experience, Laguna Waterpark offers a great plaza where guests can be entertained by WaveOz 180 and the marvellous views of Dubai skyline. The area can be hired for public and private as well as team building activities and competitions.
Level of Thrill: High
Minimum Height: 1.2m
B) Relax in the Pool
At The Infinity Pool, feel the sea reflection near and with direct access to North Beach and the Arabian Gulf. Relax at the pool and enjoy food and drinks at the side Cafe. Another experience you can try is enjoying at the Lazy River with the entire family and watch for the surprises along the way. Last but not least, escape the crowd and head to Cabanas overlooking the ocean, where you will be offered light refreshments from the Pool Cafe. Each cabana comes with up to 4 luxury sun loungers, private safe box, beach towels and soda or water beverage for each guest.