Dubai Mall
Tourism in Dubai is an extraordinary adventure not to miss on your Dubai Trip. Dubai is most famous for its spectacular beaches and resorts, as well as the opulent hotels and huge modern buildings. Dubai has so much to offer, as it is full of activities to do and many places to visit.
The Dubai Mall thrives with utmost beauty, serving as the largest mall in the world. Its sophisticated design includes 1200 shops with a total floor area covering 502,000 square meters.
Visit Dubai Mall and give your Dubai trip a special essence within your Dubai vacations!

Indeed, the Dubai Mall is a stunning location for most individuals visiting the site. Its unique grandeur and splendor exhibit imposing complexity that has broken a few records over the years. In addition to this, its massive size offers enough space for the 250 room luxury hotel, the 120 restaurants, and cafes, an underwater zoo and not forgetting the 22 cinema screens that are incredibly amusing.
Plan your Dubai Mall visit and enjoy Dubai Highlights within your Shore Excursions!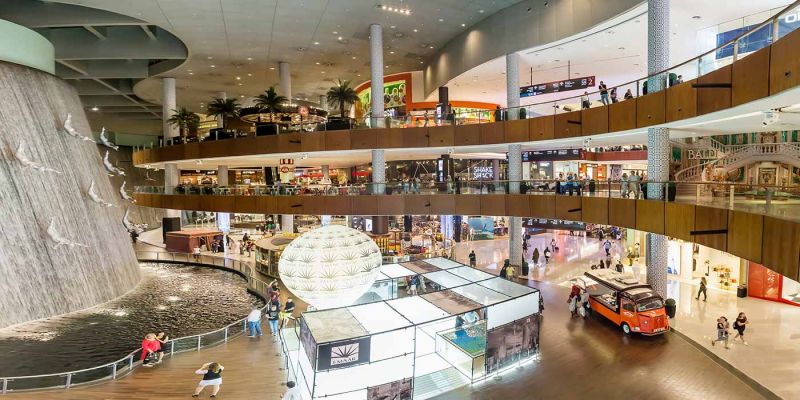 Construction
The mall was a joint partnership of Dutco Balfour Beatty, Turner construction and Al Gandhi. Initially, the building was to be completed by 2006, but it took more time. The workers working on the building were mainly from Bangladeshi, Pakistani, India and not forgetting the Sri Lankan Guest workers.
Enjoy an unforgettable visit to the Dubai Mall. Tailor and Plan your Dubai Trip Now!
Opening
By 8th November 2008, the mall was opened with over 1000 retailers. In General, the mall covers over 13 million square feet, featuring an Olympic sized Dubai Ice Rink which is used for recreational skating and for watching Emirates Ice Hockey league games.
Breathtaking Attraction inside Dubai Mall
VR Park Dubai
Given the advancing technology, video games have become a part of our lifestyle. Well, you will be surprised by the VR Park Dubai. The Park is dedicated to SEGA's Video game with a more exciting experience for individuals looking for next-level gaming. It features a series of amusing games including classic carnival games and motion simulators. Some of the recent additions you should expect are the Robotnik, Rope Rush, and Xyclone. Presently, the Park is dedicated to Virtual reality.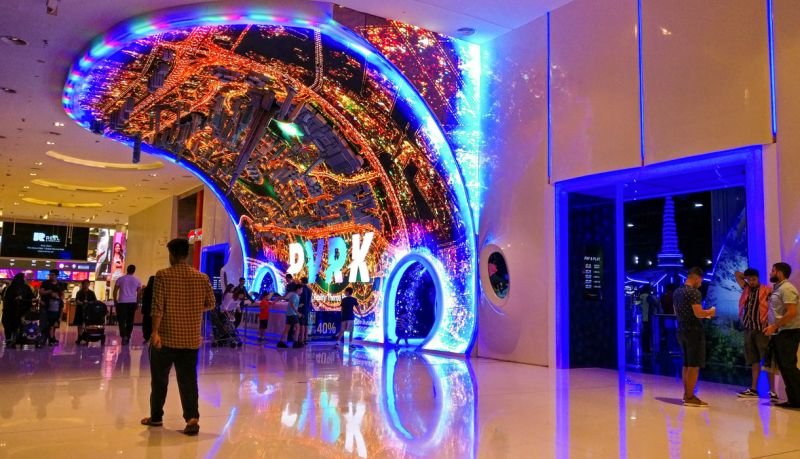 Hysteria
For a mind-blowing shock, the hysteria is a must-visit location. It is decorated with special effects fog lights and terrifying experience. The hysteria is enormously horrific with scary masks that will leave you scared to your roots.
But what makes this mall different from all other malls you can come across in the world?
Rainforest cafe
Opened back in 2009, the rainforest cafe in Dubai mall emulates tropical ruins. This is a unique lifetime experience you will live to recall.
Dubai Aquarium and underwater zoo, designed by Peddie Thorp, this outstanding site attraction will leave your eyes wide open. The location is home to 300 species of marine animals amongst them being rays and sharks.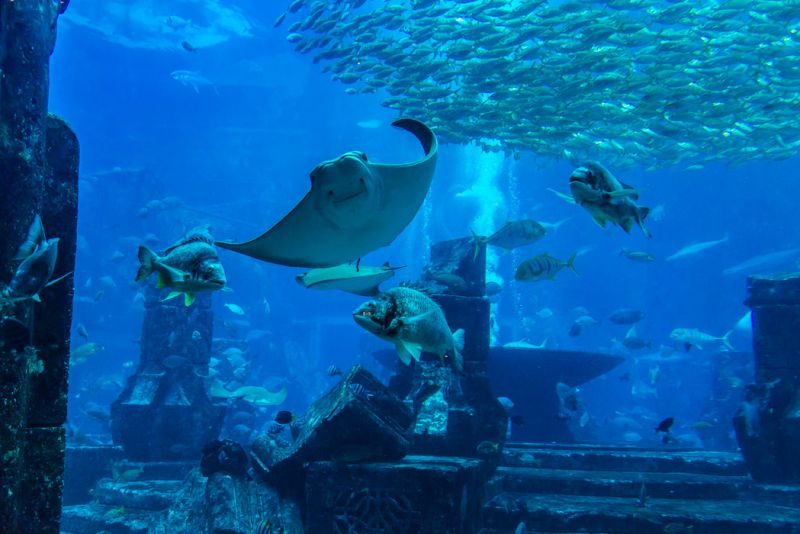 Interesting Dubai Mall Facts:
Its superb location in downtown Dubai provides easy access to some of its wonders. You will be surprised by some facts you will learn about this shopping mall, some of which you never thought could be achievable in a mall.

1. The mall houses the world's most extensive acrylic panel. It is approximately 107 feet wide and 29.5 inches thick weighing 541,486 pounds. It also broke the Guinness Book of World Records as the largest indoor aquarium.

2. Astonishingly, the mall houses 1200 stores without including the pop-up ones.

3. It is known as the largest mall in the world covering a total area of 1,124,000 square meters (equivalent to 50 football pitches)

4. Inside the Park, you will find a park dedicated to gaming. The Sega Republic offers an engaging VR experience any game would enjoy.

5. The mall is home to the Dubai Fountain, a grand 30 acre by Burj Khalifa Lake. Water from the fountain jets up to 700 feet long, accompanied with Arabic music and all other exciting music.

6. You will find an Olympic sized Ice skating rink inside the mall. It's located on the ground floor, mainly meant for recreational activities and exciting Emirates Hockey league games.

7. Inside the mall, you will find a waterfall, yes, and an illusion waterfall. Surprisingly, there are statues diving from the waterfall. It's an exciting experience for visitors new to the mall.

8. For individuals with a sweet tooth, the Dubai Mall will leave you satisfied. It is known to have the largest candy store filled with delicious candy. Moreover, this store spreads up to 10,000 feet.

9. The number of visitors visiting this particular mall is incredible. In 2012 the mall reported having over 65 million visitors which is more compared to the New York City's 52 million.

10. The parking facility is the Dubai Mall that exhibits the utmost hospitality. Here, you can be sure you will have a smooth time parking your vehicle with no pressure on packing space.

11. Last but not least, you can experience real cinema with the 22 screen flagship real cinema in the Dubai mall. The cinemas provide you with a real experience you will never forget.

Undoubtedly, visiting the Dubai Mall is a lifetime experience you will live to recall. Take a trip to the largest mall in the whole world for a thrilling experience you will never forget!
Personalized Travel Services

Whatever your travel dreams, together we can custom-design the perfect itinerary with highly personalized services just for you

We Speak Your Language

A multilingual website offers content in 6 different languages English, Spanish, Portuguese, French, Italian and German

Flexibility to Change

We know how important it is for travellers to have the flexibility to change their itinerary due to some reasons or force majeure

Your Safety and Security

A professional will accompany the guests to all of the places; they will never be left alone to fend for themselves

High Quality Service

We do believe honestly that quality should come first and quantity would come later and our main objective focused on (Quality is our Top Priority)

Customer Service 24/7

We offer Customer Support 24 hours a day, 7 days a week by phone and email for questions about our tours and services

Support Sustainable Tourism

We are attempting to make a low impact on the environment and local culture, while helping to generate future employment for local people

Secure Online Payment

Our website is protected by the world′s most secure online payment system VeriSign Secure

Secure Website by MacAfee

Memphis Tours website is a McAfee Secure site that helps keep you safe from identity theft, credit card fraud and spyware