Dubai Mall Information and Facts
Dubai Mall Information and Facts

Tourism in Dubai is an extraordinary adventure not to miss. Dubai is most famous for its spectacular beaches and resorts, as well as the opulent hotels and huge modern buildings. Dubai has so much to offer, as it is full of activities to do and many places to visit. One of the most famous places that are full of activities to enjoy is The Mall of Dubai, it's considered to be one of the top tourist destinations of the Emirates.
Dubai Mall is one of the world's largest shopping malls, located in Dubai, United Arab Emirates. It was opened on the 8th of May 2009, with about 635 retailers, marking the world's largest-ever mall opening in retail history.

The Dubai Mall includes 1,200 Store, 22 cinema screens plus 120 restaurants and cafes. The Mall has also over 14,000 parking spaces across 3 car parks, with valet services and a car locator ticketing system.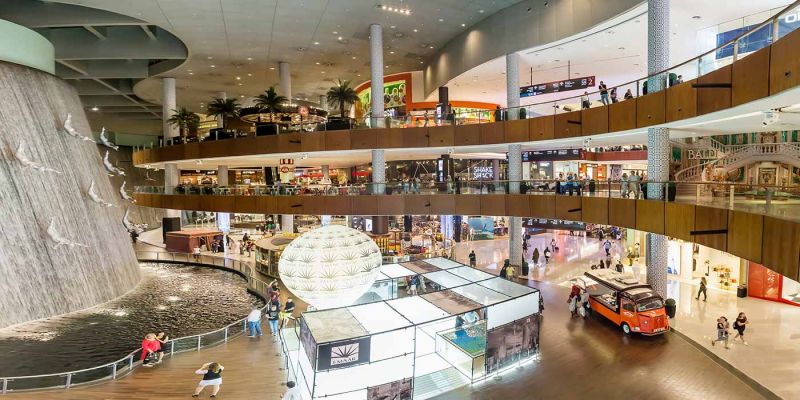 Some of the fun activities to do in Dubai Mall:

The shark tunnel of Dubai Aquarium & Underwater Zoo:
The Mall's Dubai Aquarium and Discovery Centre have one of the world's largest Acrylic Panel. The Tunnel's transparency gives visitors clear views of over 33,000 marine animals on display.
The aquarium houses over 140 species and includes around 400 sharks and rays. The most amazing highlights there are the Tiger Sharks collection that will leave you amazed. Walking through the 48-meter long tunnel will give you fantastic 270-degree views of the gigantic aquarium, and will make you have the time of your life. Also, you can always enjoy the underwater zoo that houses Sea otters, piranha, penguins and many other interesting animals to see.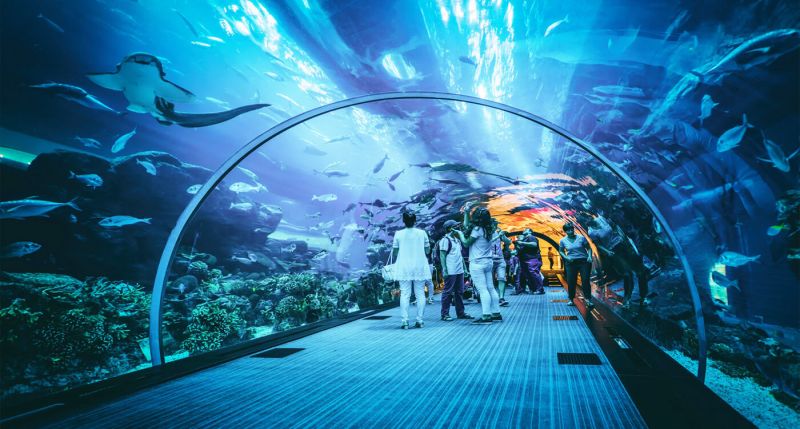 Dubai Ice Rink:
The Ice Rink of Dubai Mall is a multi-purpose venue. It can host a capacity of up to 2,000 guests, when converted into a multi-functional hall with a multimedia system. Dubai Ice Rink is Olympic-sized where unlimited fun awaits skating lovers. It is a must-visit enjoyment attraction and sports venue located in The Dubai Mall, which is the largest mall in the world, particularly popular among teens and fun lovers, offering several unmatched features for the youth.
It is not a problem if you have never skated before. The training sessions available there are enough to teach you how to ice-skate!
During the days of extreme heat in Dubai, the rink can be the coolest place for you to seek refuge and have fun at the same time. The rink has also a snow-fall feature that makes the skating experience more magical for visitors.
In addition to skating sessions and training programs, Dubai Ice Rink has done more efforts to further enhance its fun appeal as the place added cool Disco nights and hosted foam parties, in order to add more fun and joy to the place for the youngsters and young at heart.

SEGA Republic:

SEGA Republic, a 76,000 sq ft (7,100 m2) indoor theme park, was opened on 21 August 2009. Visitors can enjoy over 150 amusement games; It is a park that is mainly dedicated to SEGA's video game icon Sonic the Hedgehog. The entrance to Sega Republic is located on the second floor of The Dubai Mall.
Travel Experience Since 1955

Memphis Tours is one of the pioneers which have great impact on travel industry for more than 55 years of experience.

Personalized Travel Services

Whatever your travel dreams, together we can custom-design the perfect itinerary with highly personalized services just for you

We Speak Your Language

A multilingual website offers content in 6 different languages English, Spanish, Portuguese, French, Italian and German

Flexibility to Change

We know how important it is for travellers to have the flexibility to change their itinerary due to some reasons or force majeure

Your Safety and Security

A professional will accompany the guests to all of the places; they will never be left alone to fend for themselves

High Quality Service

We do believe honestly that quality should come first and quantity would come later and our main objective focused on (Quality is our Top Priority)

Customer Service 24/7

We offer Customer Support 24 hours a day, 7 days a week by phone and email for questions about our tours and services

Support Sustainable Tourism

We are attempting to make a low impact on the environment and local culture, while helping to generate future employment for local people

Secure Online Payment

Our website is protected by the world′s most secure online payment system VeriSign Secure

Secure Website by MacAfee

Memphis Tours website is a McAfee Secure site that helps keep you safe from identity theft, credit card fraud and spyware