Henna Painting Folklore
Dubai has a vivid history of beauty traditions and Henna painting is one of the most popular beauty rituals there.
Henna Painting in Dubai Desert

When tourists visit Dubai, they love to get a glimpse into this delightful culture of the Emiratis. A number of salons offer Henna painting to customers, but another exciting experience is when you can take a desert safari and have your hand painted by one of the skilled henna-painting women, within the desert itself. You can find a number of desert safari tour operators who also offer this lovely traditional experience for you to be able to take a little bit of Dubai's rich culture back home with you. So when you sign up for a desert safari tour or a desert safari camp, you should definitely look forward to trying this blissful form of tattooing. Considering it takes about a week to start fading away and even longer for it to completely go, you can be sure to be able to show it off to all your friends back home, after your Dubai vacation!

Dubai - a blend of beautifully traditional vibrancy and sleek futuristic architecture - is on the bucket list of many travellers. The capital city of the United Arab Emirates, with its own special charm, there are a lot of reasons that make Dubai stand out as a destination that people would like to visit. One of the causes of intrigue for visitors to this charming yet grand Emirate is its traditional arts and culture. Amongst other prominent types of art and architecture, is the fanciful art style of henna painting.

Characteristics of Henna Painting

Some of the main features of henna that people really love are its organic nature, its strong scent, and its ability to form a rich, deep colour. How henna works is simple. It is a paste, formed with the main ingredient being crushed henna leaves, which is then applied onto the hands. This henna paste then dries up and is supposed to rest for a few hours, during which the henna transfers the colour to the skin. Once the henna has dried, it is scraped off (or washed off, but it is preferrably scraped off) and one can already see the beautiful intricacy of it on their hands. Overnight, the henna often darkens in colour and is definitely an astounding sight to see!
The designs of henna painting are the most important feature, though. With patterns based on leaves, flowers and other forms of nature - or even just Arabesque art - henna designs are intricate and require a high level of skill. People who practise painting with this almost magical leaf on people's hands are often trained by other masters of the art.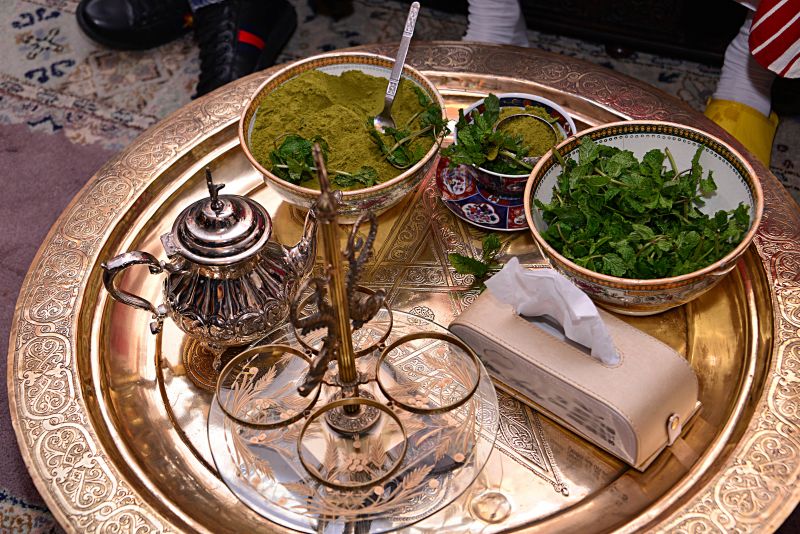 The History of Henna Painting

The origin of henna can be traced back to almost 5000 years ago. Henna as body-art has existed through different cultures, including the Indian, Middle-Eastern, and African cultures. Traceable back to the era of mummies in Egypt, it has also been said that supposedly the historically renowned queen, Cleopatra, used to adorn herself with henna.
In Dubai, interestingly, the history of henna is slightly different. Henna was originally used by people in Dubai to adorn brides. This dates back to approximately 800 CE when henna was worn by brides, in order to invoke good luck and fortune.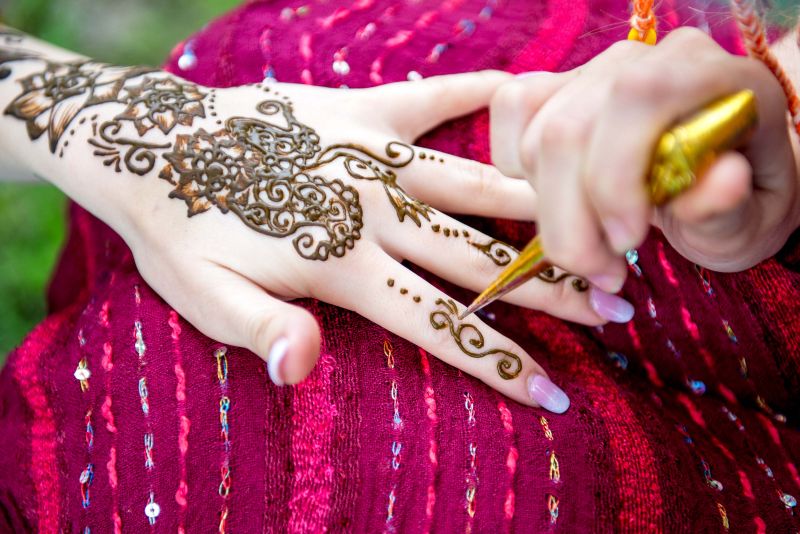 Henna painting in Dubai in contemporary times

Today, henna painting is widely practised and adorned by locals and tourists, even outside wedding and other marital ceremonies. With the beautiful motifs and intricate designs that are painted onto people's hands or other body parts, as they deem fit, henna painting is a form of temporary tattooing that people have grown to love! In fact, while the original form of henna painting has been in a bright red colour that darkens to a heavenly maroon, today people are also experimenting with different colours - like white!
Notwithstanding the new ways of henna painting and the new contexts within which people enjoy this art, henna is also used widely as an application on the hair of women - as it is a great tool to promote hair growth and also add a natural, chemical-light or chemical-free tint to the hair.
The Cultural Significance of Henna Painting in Dubai

In contemporary times, the tradition of henna painting in Dubai has been extended to it being applied as body art, especially because the art of permanent tattoos is forbidden by Islamic culture. That said, henna painting is still a great deal for brides getting married, even today. Typically taking place 3 days before the wedding of an Emirati woman, henna painting is a full-fledged ritual, for which a full day is reserved during the wedding season.
The tradition is based on the belief that painting the bride-to-be's hands with henna contains barakah. Barakah refers to the intangible energy flow from Allah to the bride, filling her with positivity and ensuring her safety from evil spirits.
As per the tradition, henna is applied to the bride's hands, arms, feet and ankles, by an older, married relative. The purpose of this ritual is for the traits of the older relative's successful marriage to be replicated in the married life of the new bride. Often, the older relative is the bride's mother but it may also be a close aunt or another relative.