The lately built, old-style Madinat Jumeirah was one of the favorite spots within Dubai Trips. Lusting over turquoise from Afghanistan (expensive), admiring the Burj Al Arab in the distance, and looking at gondolas floating up the canal was a perfect way to spend a hot and lazy afternoon! This attraction is just one more example of how Dubai sets worldly extravagance with retro-leaning regional themes.
Different Placed to Enjoy Madinat Jumeirah:

From spices and slippers to locally made jewelry, the Souk Madinat Jumeirah is a fantastic Arabian bazaar, full of incredible discoveries. Walkthrough the stands and stalls under ornate lanterns and carved wood, immersing yourself in the shopping culture of this traditional Middle Eastern marketplace. Arrive by car, or by abra, a traditional Emirati boat and stay for an hour, a day or an evening.
With over 25 restaurants, serving drinks and international cuisines, there are plenty of places to stop for a coffee, a light lunch, or a memorable dinner against the beautiful backdrop of Old Dubai.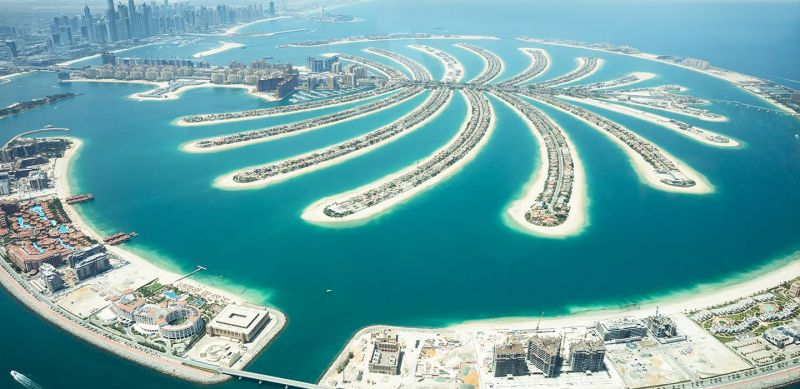 Architecture of Madinat Jumeirah

Souk Madinat Jumeirah is an Arabian architecture masterpiece that is a modern take on a traditional Arabic Market. The earth-toned buildings, intricate wooden structured ceilings and the Arabic ornament shops, all spells traditional. The modern comes in the form of branded shops, a theater, and numerous cafés and dining outlets with a bonus of waterway views.
The place is calm as well as it is frenzied, depends on the time of the visit. We prefer coming here around 10-ish in the morning, to beat the tourist rush. What we love most about this place, besides being an aesthetic central is; even if it's packed, there are certain areas where you can still find quietude. We can simply buy coffee from any of the coffee shops around, find some hidden benches with a splendid view and stay there chilling for hours.

Types of the market in Madinat Jumeirah

Textile market

It is on the other side of Dubai Creek (back where Al Fahidi is).
You can walk from Al Fahidi to it and then take the Abra across to the rest of the souks in Deira. Again, plan your trip better and see the map of the area.
In the Textile Souk, you can find many hand-made textile goods – clothing, carpets, scarves, souvenirs. Fabrics to look for are cashmere (a big one), silk, cotton, etc. You can also find all sorts of buttons, stones, sequins and so on.
Again those make great gifts for you and your family. They have very original products!! The colors and designs are truly unique.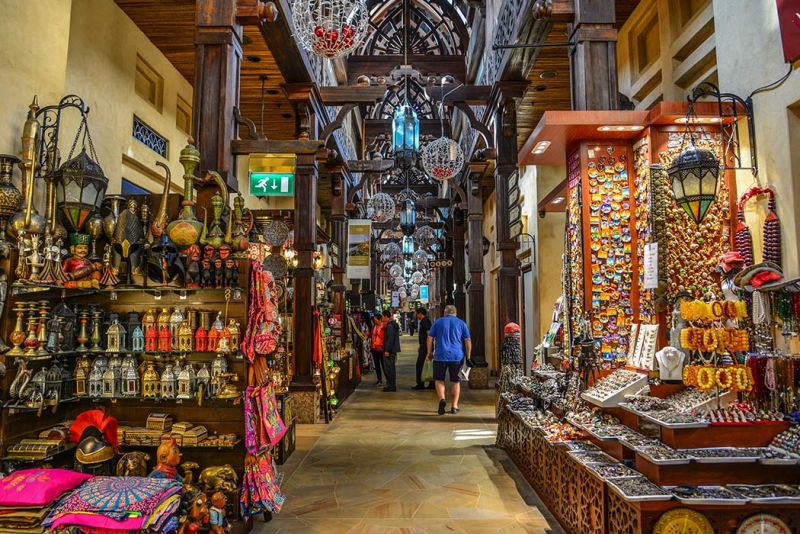 Perfumes market

Just a little bit east of the Gold Souk is the Perfumes Souk. That area of the world is famous for its very strong spices and perfumes.
Personally, you do find their perfumes a little bit too heavy for me but it's definitely interesting to sniff smells that you cannot find anywhere else.
If your friend loves heavier perfumes so they will get a bunch. The bottles that the perfumes come in are super cute and pretty too.
There are places where you can make your own perfume based on your skin type, preferences, and personality.
If you know someone who loves heavier perfumes, this will be a perfect gift for them.
The most popular smells are Oudh and Bakhoor. They offer essential oils, incense sticks, pure perfumes in all shapes and forms.

Spice great and famous market

You will never see so many different spices in your entire life. Great place to purchase cheap spices to take home. It is located a little bit south of the Gold Souk but all of the souks are in the same area and it is very easy to walk around them.
The most popular spice is saffron. If you don't buy any to take home, make sure you try a meal or a drink that has saffron. Other famous spices are cinnamon, turmeric and my personal favorite (za'atar). We bought some loose leaf tea, some chocolate covered dates, dried fruits, and nuts. You must try the dates, either chocolate covered or plain.
There were so many different kinds of dates. I ate a whole bunch!!

Gold and jewelry market

I believe that the Gold Souk is the most popular one and rightfully so. If you're looking to buy gold, this will be a good place for that because you can barter with the merchants.
Also, they have very interesting jewelry items that you cannot find anywhere else. You can also find silver and gemstone pieces of jewelry. The Gold market is also home of the biggest gold ring in the world (64 kg.) which is located in a store right at the entrance to the souk on the right-hand side. It's fun to check it out and see all the gold and stones but we didn't end up purchasing anything.

The honesty in all those markets

As you walk around, the merchants will see that you are a tourist and they're constantly going to offer you their products (it is their culture to do that, it is not done in a mean way). Some foreigners were both dressed pretty conservatively in long pants and sleeves and we were still constantly being approached and offered something. So just be ready to have to say no because the merchants are very persuasive and they would literally take your hand and drag you to their store. Eventually, it became too much and you will decide to leave. If you go with a bigger group or with a male it might be different. Having said that, it was definitely worth visiting for the many products, smells and foods we got to see and try

Best time to visit Madinat Jumeirah in Dubai

There are no specific timings to visit Madinat Jumeirah but try to coordinate your time with the tours or activities offered like the Abras tour on the waterway is carried on from 4 pm to 11 pm daily after a gap of 20 minutes between each departure.
Madinat Jumeirah is one of the must-see attractions in Dubai, Explore the shops of the markets and buy whatever you want and enjoy the wonderful architecture of this place!