Atlantis The Palm Dubai
Located on Palm Jumeirah Island in Dubai and enjoys a private sandy beach, the 5-star Atlantis the palm hotel offers stunning views of the Arabian Gulf. The hotel provides an amazing underwater aquarium, fun activities like swimming with dolphins, and complimentary access to the Aqua adventure water park and the Lost Chambers Aquarium. Free WiFi is available throughout the entire hotel during your Dubai trip. Atlantis the Palm is a UAE hotel resort located at the apex of the Palm Jumeirah. It was the first resort to be built on the island and is themed on the myth of Atlantis.
Plan your Dubai Trip & Enjoy all Palm Jumeirah Island attractions in your Dubai vacation!

The hotel rooms are all decorated in the Arabian and oceanic style that features a balcony with scenic views. Rooms include flat-screen satellite TV sets, seating areas, complimentary tea/coffee making facilities and minibars. Some rooms include a stunning large terrace with panoramic views of the palm or an over-sized spa bath located in the centre of the room's bathroom.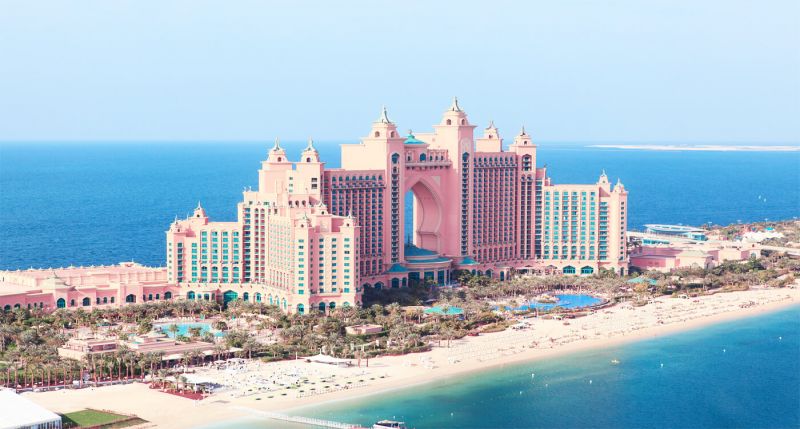 The official launch of the hotel:

Atlantis, The Palm, opened on 24 September 2008. Guests who attended the event included Charlize Theron, Dan Ilic, Shah Rukh Khan, Robert De Niro, Janet Jackson, Lily Allen, Amit Kumar, Mischa Barton, Chris Tucker, Michael Jordan, Wesley Snipes, Andrea Colognoli, and Lindsay Lohan.

Beside this, there was a huge display of fireworks across the full 5 km stretch of The Palm lit up the entire island and Atlantis, The Palm. Custom-made shells shipped in from across the globe created a light spectacle taking off from the firing locations around the island.
Hotel:

The 1,500 room nautically themed resort has two accommodation wings, also referred to as the Royal Towers, consisting of the East and the West Tower, both linked together by the Royal Bridge Suite. It is complemented by the Aquaventure water park and the locally popular Nasimi Beach which frequently plays host to concerts and other events.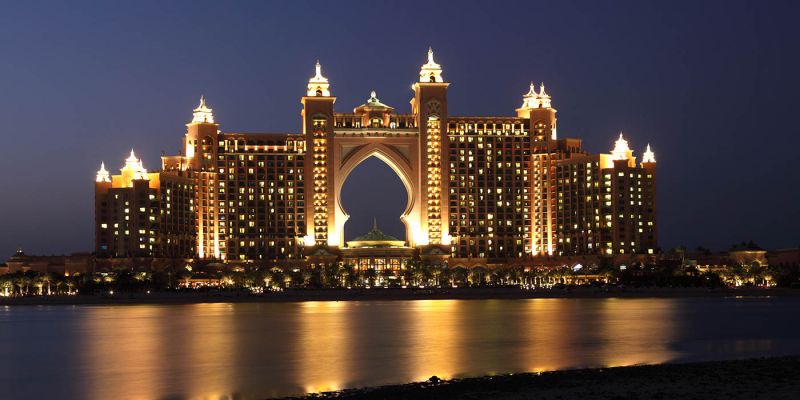 Main Attractions:
The five-star resort includes attractions for children and adults. The main attraction is Aquaventure, it's a Huge water park with twelve water slides and a 2.3-kilometre (1.4 mi) river ride with cascades, tidal waves and rapids. There are two Mesopotamian-styled ziggurat temples reaching over 30 m (98 ft) into the sky and featuring water slides two of which catapult riders in clear tubes through a shark-filled lagoon. The Lost Chambers Aquarium is an aquarium exhibit with 65,000 fish and sea creatures including the Ambassador Lagoon.
Across the Aquaventure water park is Dolphin Bay, a 4.5 ha dolphinarium.
The resort has a stretch of beach facing the Dubai skyline. The beach has over 700 sun beds.
The hotel has huge retail space including 'The Avenues', as well as a spa and fitness centre, meeting rooms, a conference centre and over 20 restaurants.
Personalized Travel Services

Whatever your travel dreams, together we can custom-design the perfect itinerary with highly personalized services just for you

We Speak Your Language

A multilingual website offers content in 6 different languages English, Spanish, Portuguese, French, Italian and German

Flexibility to Change

We know how important it is for travellers to have the flexibility to change their itinerary due to some reasons or force majeure

Your Safety and Security

A professional will accompany the guests to all of the places; they will never be left alone to fend for themselves

High Quality Service

We do believe honestly that quality should come first and quantity would come later and our main objective focused on (Quality is our Top Priority)

Customer Service 24/7

We offer Customer Support 24 hours a day, 7 days a week by phone and email for questions about our tours and services

Support Sustainable Tourism

We are attempting to make a low impact on the environment and local culture, while helping to generate future employment for local people

Secure Online Payment

Our website is protected by the world′s most secure online payment system VeriSign Secure

Secure Website by MacAfee

Memphis Tours website is a McAfee Secure site that helps keep you safe from identity theft, credit card fraud and spyware