Innovating such a sophisticated destination isn't an easy job, however, the Emirati government spares no effort to manufacture masterpieces beyond imagination for its visitors and inhabitants as well, to be your forever initial destination for tourism. The revolutionary of modern architecture we can see on different attractions in you Dubai Tours like;

and more of the architectural glorious attractions and modern heritage structures in Dubai.
Get a different aspect of Dubai Trips, leaving the shore of Jumeirah Beach with its spectacular Palm Jumeirah, with 4 kilometers, between Burj Al Arab and Port Rashid, pounds a cluster of 300 private islands, Dubai World Islands, shaping the world map continents overlooking Dubai coast, surrounded by an oval shape water break island. At the beginning of 2008, more than 50% of the Islands were sold.

A decade back, the World Islands development was nothing but an impossible dream. However, presently the project is a success, as Sheikh Mohammed bin Rashid Al Maktoum's idea comes to life. Located in the Persian Gulf waters, 4.0 kilometers off the Dubai coast, Word Island is one of the many artificial islands developed in Dubai.
It covers an area ranging from 14,000 to 42,000sq.m with an average distance of 100metres between the islands. In total, the expenditure on the island took $13 billion to uphold the project.

The archipelago is composed of Islands representing different continents, including Europe, Asia, North America, South America, Oceania, Antarctica, and Africa.

History of The World Islands
The project came to light in May 2003 as a brilliant idea by Sheikh Mohammed. Four months later, it kicked off with dredging, as more efforts began to make the islands a success. By January 2008, 60 % of the islands were sold with the final breakwater laid by the 10th of January 2008.
The world Islands (archipelago), with passion and luxury, started in September 2003, executed by Nakheel Properties with Dutch construction ventures, the same that executed Palm Jumeirah before at the United Arab Emirates, built on the Instructions of Dubai's Ruler, Sheikh Mohammed bin Rashid Al Maktoum. The work of the artificial islands is divided into four categories, including, community islands, dream resorts, estate homes, and private villas. The whole construction is a set of seven parts/contents, each named after the content name, countries, stats, and key regions.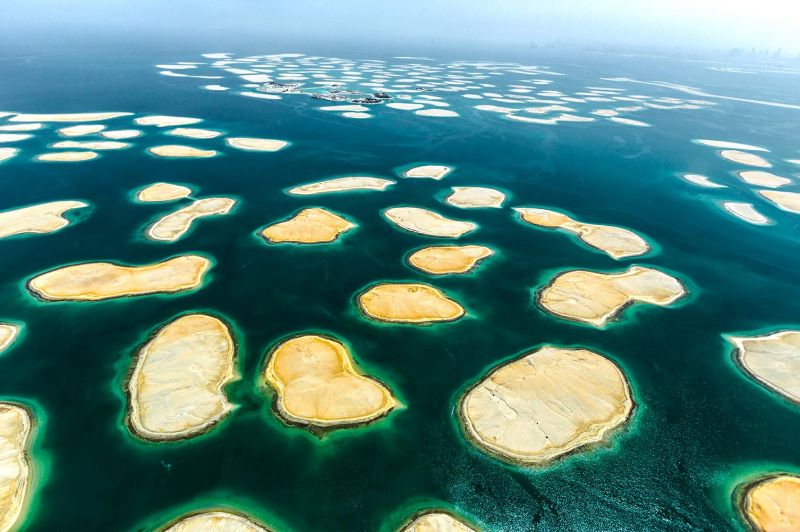 Construction and project Process

Its construction began 2003 with 300 islands set forth for development. Nakheel announced the project, which was to have 200 islands and covering an area of 5,600,000sq.m. But changes came along the way.
The construction of the Islands came to a halt in 2009 due to its effects on the global financial crisis. A year later, the Daily Mail reported that the islands were sinking back into the sea, which was declined by Nakheel and independent technical reports.
After Nakheel completed the project in 2008, they were handed to individual developers. However, little progress has been made in the past decade. The islands have also lost their well-defined borders due to weathering, sinking, and erosion. Among the islands that have been affected is Central America, which is barely unrecognizable with, Europe, Africa, and Asia merged into one indistinguishable blob.
Other than aesthetic beauty, the World Islands has no reliable source of electricity, with only nine Islands developed by 2016. Despite all this, the "Heart of Europe" has more plans set to unveil in 2020.
The islands are divided into four categories; this includes private homes, estate homes, community islands, and dream resorts. Transportation within the islands is either by marine or air transportation.
The private islands offer low rise buildings with some of the islands dedicated to villas and water homes. Upon completion, some islands will serve as hotel resorts, while others provide shopping facilities and restaurants.
The islands are even more appealing, thanks to the seahorse villas having submerged bedrooms offering a fantastic view of the corals and water.
Islands of The World Islands are covering areas between 23-84 square meters, with 50-100 meters of water separating each island and the next. The World Islands cluster is formed by an area of 9 Kilometres with 6 kilometers in width. You would reach and navigate the area only via a marina or air transportation.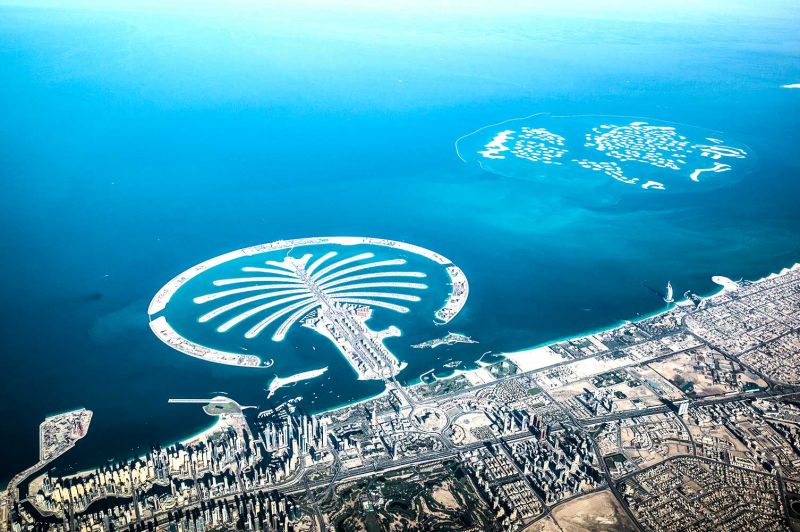 Things to Do while in the World Islands
Most of the Islands are personally owned. Nevertheless, Lebanon Island, which was built back in 2012, serves as the only commercial island. This island offers access to beaches and hotels and many more exciting activities to anyone paying a visit to Dubai.
1. Visiting the beach

Here visitors can sunbathe in the sun and soak their feet in the ocean water. Furthermore, there are shacks and cafes where you can buy mouthwatering food and tasty cocktails.
2. Unwind by the Pool

The best part about spending your holiday in the World Islands is relaxing. You can choose to unwind by taking a dip in the pool then bask in the sun. You and your family can have a great time together.
3. Playing Volleyball and engaging in water sports

A little game always ignites the spirit for a great adventure. You can choose to divide your family into two to play a friendly game of Volleyball.
If you are more into water sports, then Lebanon has got you covered. You can engage in jet skiing, parasailing, and many more. Moreover, there is no age limit to play these games.
4. A Romantic Meal
If you are planning something special with your partner, the Toro Blanco restaurants on the world's islands is the place for you. It offers a romantic candlelit dinner for you and your partner to celebrate that special occasion. However, you should ensure that you book your reservation before dining in this location.
5. Special event

There are numerous reservations you can make while in this destination, from birthday parties to weddings. Generally, the island offers a unique location to run any event.
Dubai World Islands Entrance and Fees
On average, the Island tour costs $129 per person. This includes access to the beach, towels, the pool, and many more. Families can access the Dubai World Islands during the day from 10 am to 6 pm. During the evening, access to the Worlds Islands is only for adults, from 6 pm to 11 pm.
Dubai is full of astonishing and impressive beauty that most people long to enjoy. Among the beautiful location, you can visit the World Islands Dubai. Expect a spectacular experience with life long memories.