At 70m high, the minaret the Koutoubia Mosque is the highest structure and the largest mosque in all of Marrakech in Morocco. Along with the great square of Jemaa el Fna and The Menara Gardens , The Koutoubia, is a symbol of Marrakech.
Its 77-metre minaret can be seen from 25 kilometres away and, lit up in the evenings, it becomes the city's "spiritual lighthouse", you cant miss within your stay in Marrakech during one of the interesting Morocco Travel Packages from Memphis Tours.
Lets Go Closer ...
Interesting Facts about Koutoubia Mosque
Location: the southwest medina district of Marrakech
Transport: 5 minutes walk from Jemaa el-Fnaa.
Height: 77 meters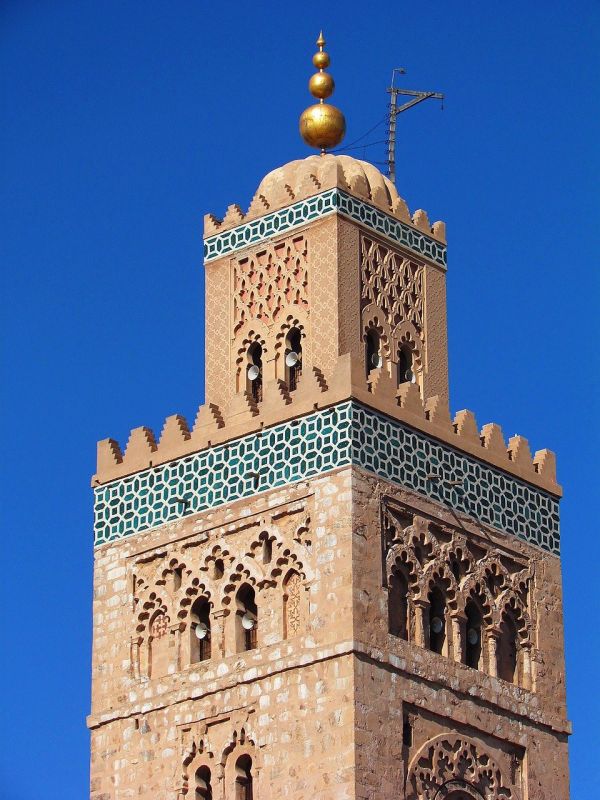 History of Koutoubia Mosque
The Koutoubia Mosque was built during the 12th century, during the Hispano-Moresque period known for its simple luxury and masterful craftsmanship, by the Almohad dynasty, They started on the building of the Koutoubia in 1150, and it took them 40 years to complete.
Origin of the Name
The name koutoubia originated from the Arabic word for bookseller. The mosque is also known as Jami 'al-Kutubiyah, the Kotoubia mosque, the Kutubiya mosque, the Kutubiyyin mosque and the booksellers' mosque.
Back in the day, you were to find over 100 booksellers sell at the entrance of the mosque and the surrounding gardens.
Nowadays, you might not find booksellers, but sellers still sell small trinkets, popcorn and nuts at dusk to the locals and visitors.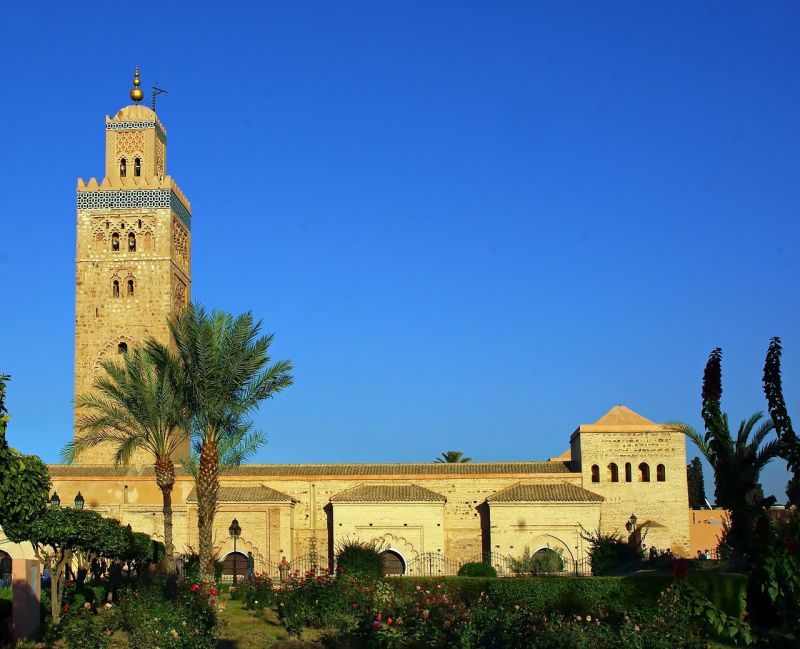 Capacity of Koutoubia Mosque
The prayer hall can accommodate 25,000 worshipers, and Muslims have prayed there since 1158. Non-Muslims can enjoy the exterior of the mosque, the pink stone walls with floral motifs, from the rose garden.
Design of Koutoubia Mosque
Just like every building in Marrakech, the structure of the mosque is rose coloured.
With its simplicity of design, highly sophisticated decoration and perfectly balanced proportions, it is regarded as one of the Maghreb's most beautiful monuments.
The mosque is decorated with curved windows, a ceramic strip, pointed merlons and decorative arches. In addition, a large square with gardens adds beauty to the mosque. The 773-meter (253-foot) minaret has an arrow and orbs.
Koutoubia served as a model for two sister mosques, the Giralda in Seville and the Hassan Tower in Rabat. Thus, the structure is a great example of Moorish architecture reflecting the keystone arches and decorative stonework.