At first glance, Zagora city might not seem like a place you would like to visit. Rather modern in appearance, it seems like a regional administrative centre. Unlike Fez and Meknes, you will not find the historical architectural wonders. The name Zagora is derived from "Tazagort," a mountain lies by the shore of Draa Valley, overlooking the city.
Zagora cannot be known for major architectural monuments, despite the fact that it dates back to the 13th century. However, Zagora remains an interesting spot to discover the south-eastern of Morocco.
Plan and Tailor the Best Morocco Experience from Morocco Tours Now!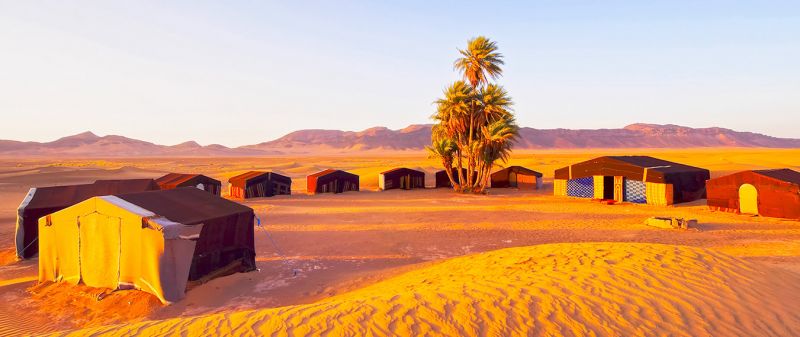 History and Importance of Zagora
The old name of the city was Draa, after the valley of Draa. By the twentieth century, the city was renamed "Zagora" 17 Saadyin emperors governed Morocco between the period of 1554 and 1659. Sultan Ahmed El Mansour (1578-1603) paid attention to the city. He established it as a customs point for camel caravans making round trips to and from Tombouctou.
Back to the sixteenth century, Zagoras played an important role in Morocco's trade during the Saadyin reign, as trade caravans passed the Draa Valley when coming from the sub-Saharan regions. Besides, the strategic position of the valley has become a medium to collect legal fees generated by the trade.
Location of Zagora
The city is located in the region of Souss-Massa-Drâa in southern Morocco. It lies on the slopes of the black sugar loaf hill that is called Jbel Zagora and is surrounded by some beautiful Kasbahs. The city's population is 65,000, where it borders with Ouarzazate to the north, Errachidia to the east, Tata to the southwest, and by the borders Algerian-Moroccan to the southeast.
Things to know in Zagora
There are a variety of things to do in Zagora. The multi-ethnic population of the city contributed to its diversity. It is a combination of the African-Arabian civilizations. Visitors can enjoy the beautiful region starting from the splendid Sahara to getting introduced to the culture of the city. Reddish colored mountains, oases, wadis and the huge sand dunes of the region are also a pleasure to the eye. Furthermore, Zagora is a gold mine for art-decor, cinema and architecture lovers.
The city is surrounded by endless palm groves of the Drâa Valley which has one of the most breathtaking desert landscapes. The desert offers peace, holiness, and purity.
Explore the Great Culture, History and more in Morocco vacations Now!