The Ouzoud Falls - Cascades d'Ouzoud
A lot of people imagine Morocco to be a vast barren desert; however, there are countless lush forests and waterfalls in this country. It's true that the southern part of the country is quite arid, but the northern part of the country is much lusher. The Ouzoud Falls is one of the most magnificent and impressive waterfalls in Morocco and North Africa. Nestled in the High Atlas Mountains, it is definitely worth the 150 km drive from Marrakech.
Other Morocco Wonders to Discover from Marrakesh:
The Ouzoud Falls - Cascades d'Ouzoud - are 110 m high which makes it the second tallest waterfall in Africa. It's a huge touristic destination and one of the most visited and photographed natural sites in all of Morocco. It stands atop of the Azilal region of Morocco, overlooking the Tanaghmeilt village. The waterfalls empty into the El-Abid River (Slaves' River). The word 'Ouzoud' was said to be Berber for 'the act of grinding grain.' Apparently, a lot of the buildings there happened to be grinding mills which probably utilizing the force of the water.
Explore the Ouzoud Falls Natural Wonders, Plan Morocco Vacation Packages Now!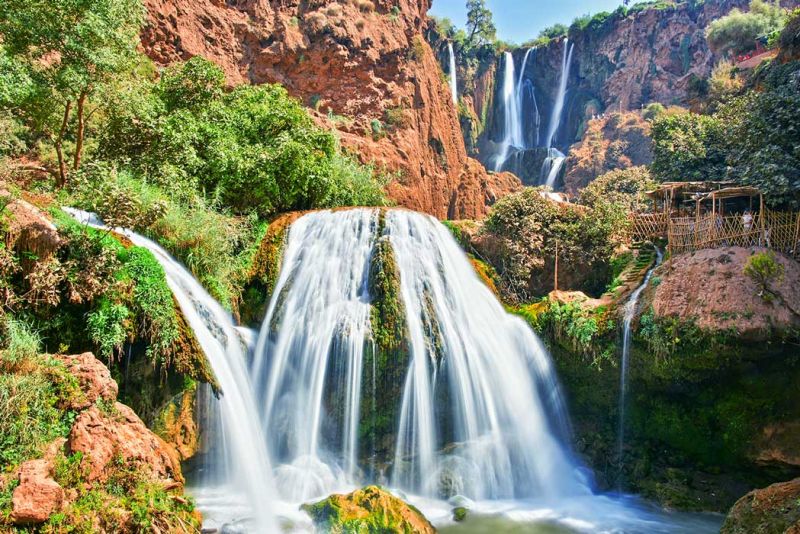 The walk up to the bottom of the falls is very pleasant, surrounded by thousands of olive trees that shade the path. At the top, there is a dozen of old small mills that are still in use. The surprise treat at the Ouzoud Falls are the friendly monkeys swinging around you on the trees. The monkeys of Ouzoud are wild; however, they love to play with visitors, especially if they bring treats. These wild animals are very comic around humans, so it is more than likely that they will immediately jump on and cling to the visitors' arms or legs. Surrounding the area, there are several restaurants with a beautiful view of the Ouzoud falls.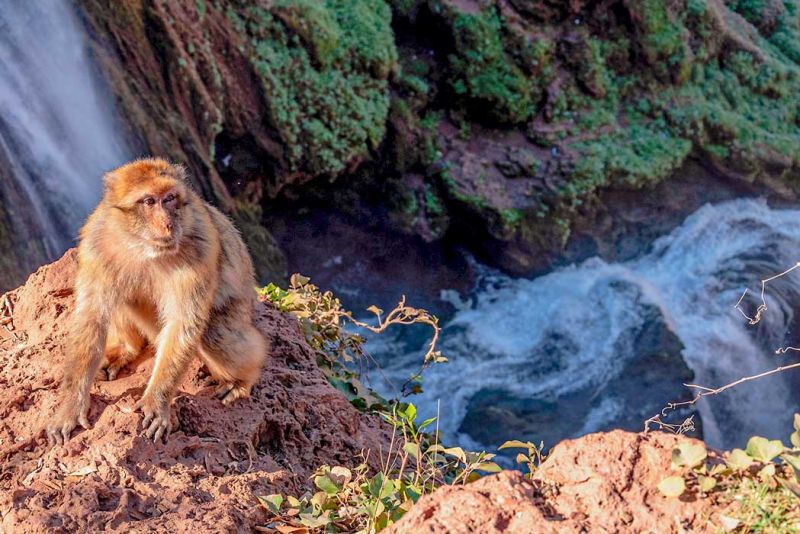 The Ouzoud Falls can be visited the whole year around. It's much busier during summer; however, that's the best time of the year to go if you want to swim in the pools at the bottom of the falls. There is much more water during the winter and usually a lot fewer visitors there.
There are a few different ways to reach the Ouzoud waterfalls by public transportation; you can either take a shared taxi from Marrakesh to Azilal and then another one to Ouzoud or you can take a shared taxi or a bus very early to the city of Beni-Mellal and then take a shared taxi to the waterfalls from there.