Jamaa el-Fnaa (Jemaa el Fna, Djema el-Fna, Djemaa el-Fnaa) in Morocco continues a rich tradition of sights, sounds and scents that has been ongoing since the 11th century. Acrobats, dancers, musical performers, magicians and story-tellers entertain as fortune tellers, henna tattoo artists and water-sellers in fringed hats beckon to passersby.
Jemaa el Fna is the living heart of the city, and is on UNESCO's Oral and Immaterial Heritage list. It owes its fame to its size, its bustle of activity and its unique atmosphere. Open only to pedestrians, it is a whirligig of people to meet and sights to see, scattered with restaurant stalls offering an endless variety of food and drink. Jemaa el Fna really comes to life at night, with locals and visitors alike flocking to the terraces of the cafes that surround it. There are storytellers to listen to, fortunetellers to consult, acrobats to marvel at, and, of course, the famous Gnaoua dancers, leaping hither and thither to the hypnotic rhythm of their "krakachs" (metal castanets).


Marrakech is a rich city in history and culture. full of stunning mountains and hot springs that will leave you breathless, discover the amazing Marrakech through one of Morocco day tours!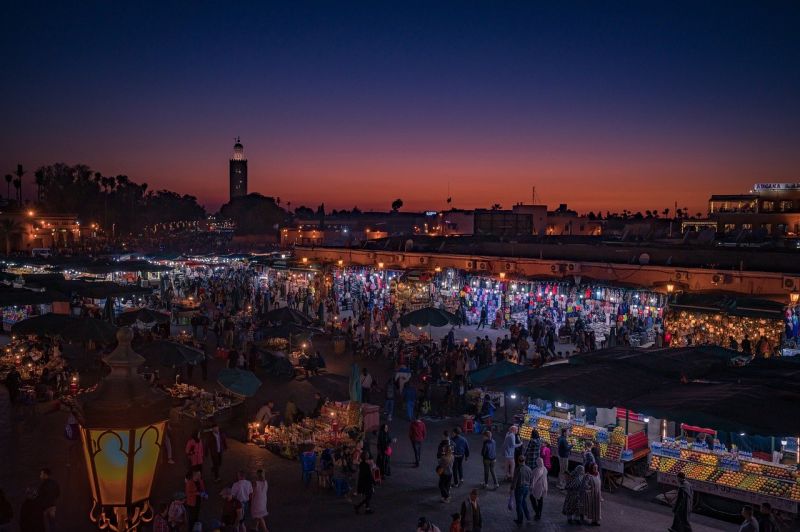 The construction project of Jamea Al Fna

The origin of the construction "Jamaa" is the Arabic word for a congregational mosque which might be named after a priorly existed mosque in the same area. While the second part of the title "fanâ" is the Arabic wording of death or extinction or els "Fna'" which is a courtyard or open area in Arabic.
By the reaction of Marrakesh during the Almoravid Dynasty, two major constructions were built, the fortresses of Ksar el-Hajjar or "fortress of stone" and the City's main mosque, as it was the tradition of building Muslim cities having a congregational and central mosque. The mosque is Ben Youssef Mosque. The major city element was the souk (market) for the inhabitants and passing merchants trade. Markets were held on a weekly bases near the Ksar el-Hajjar and used to be called known as Rahbat al-Ksar.
Things you shouldn't miss in Jame Al Fna visit
Mint-Tea drink in one of the local cafes rooftops and terraces of the market.
Have a super authentic lunch especially the Moroccon local dish "sheep's head".
Visit the city highlight " Koutoubia Mosque " which is projected to be the largest prayer halls in the Muslim.
The fresh Orange juice in hot days is unmissable when in Marrakesh and the area of Jame Al fna is famous for the special taste of the drink
No other place would give you the beautiful collection of souvenirs and locally produced gifts, but make the best deal and bargain