The Dar El-Makhzen Palace, also called Palais Royal, is located in Fez. It is the official residence of His Majesty King Mohammed VI of Morocco and his family. There is a museum with the same name in Tangier.
Dar El-Makhzen is still used by the King of Morocco as a residence while he is in the city of Fez. It is surrounded by high walls, spanning an area of 195 acres. The palace is closed to visitors who can admire the ornate main entrance from the outside.
History and Value of Dar El-Makhzen Palace
The palace was built in 1864, during the reign of Sultan Mohammed ben Abdallah, as a replacement for the old palace which was built by Sultan Muhammad IV. Morocco was under the control of France, and they wanted the Sultan to move there in the palace to show his support and acceptance of the new regime. After independence in 1956, the palace remained the main and working palace of the king.
Being the official home and working palace for the Moroccan Royal Family, it is very valuable and an important attraction. The palace hosted the wedding of King Mohammed to Salma Bennati, now Princess Lalla Salma. Additionally, it was the birthplace of the late King Hassan II, the king from 1961 to 1999. Now it accommodates King Muhammed VI.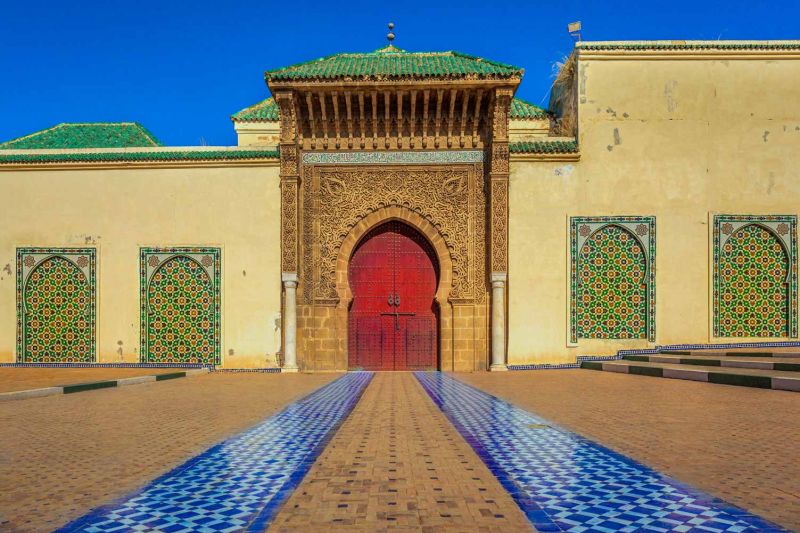 Design and Structure of Dar El-Makhzen Palace
It is located on a parade ground called mechouar; it is a space used for large gatherings. Briefly, the palace comprises of a mosque, accommodations for the Royal Guard, a cookery school, a library which contains the manuscript collection of King Hassan II, and the Collège Royal. The College educates senior members of the Moroccan Royal family. On the ground of the palace, spreads gardens that are designed with both French and Arab influences.