The Menara Gardens in Marrakech
The Menara Gardens are botanical gardens and are considered to be one of the most popular gardens in Marrakech you will visit within Morocco Vacations. They are located at the west of Marrakech, Morocco, near the Atlas Mountains. The Menara Gardens were established in the 12th century by the Almohad Caliphate ruler Abd al-Mu'min, an Almohad ruler who saw fit to create a tranquil oasis that could be used by the people to both grow crops and to relax and escape the heat of the day.
Enjoy the tranquility of the Menara Gardens in Marrakech in Morocco Vacation Packages!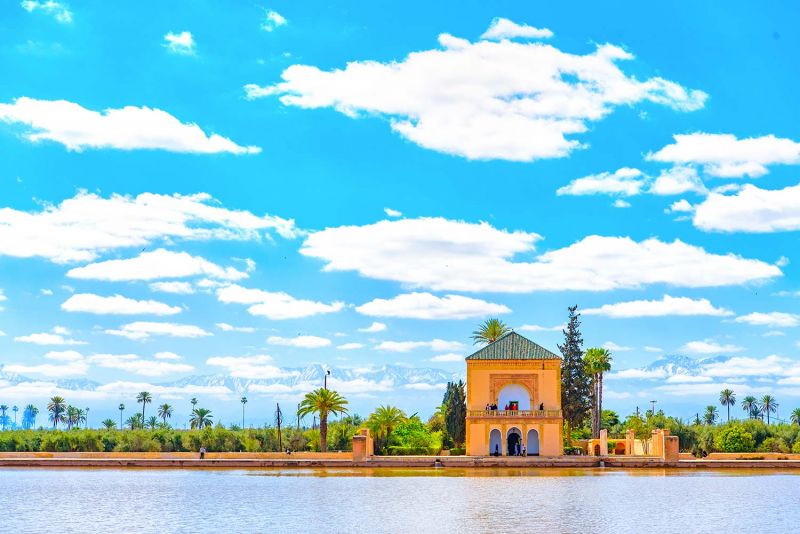 Why is it Called Menara Gardens?
The name menara derives from the pavilion with its small green pyramid-shaped roof and it means lighthouse. Although there is no actual lighthouse there, any building that sits at a high elevation is locally known there as menara.
The Pavilion of the Menara Gardens
There is a pavilion or 'minzah' at the Menara Gardens which overlooks the lake. The pavilion was constructed during the 16th century Saadi dynasty and was later renovated in 1869 in the Alawi style by sultan Abderrahmane of Morocco. He used to stay there at the summertime. The pavilion provides beautiful scenery of the gardens and the surrounding landscape. In winter and spring, you may see the snowcapped Atlas Mountains quite clearly from this point. In other months, the green, pink, and black of the olive trees will capture your attention more than the mountains.
The Gardens and the Surroundings
The Menara Gardens feature a collection of smaller gardens that surround a massive artificial lake. The lake is situated at a spot where several canal systems meet and the water caught in it is used to irrigate the surrounding gardens and orchards. The gardens were thus a wise use of existing natural resources. Surrounding the pavilion and the lake, there are several orchards of palm trees, olive trees, and fruit trees.
Also, a number of pruners and pickers can often be seen hard at work or casually enjoying polite conversation. Sometimes, local woman often come to the gardens to fetch water from the nearby stream. According to local folklore, the waters of this stream are said to give 'baraka' or good luck; that's why it is popular with several locals.
When to Go and How to Get to the Menara Gardens?
The Menara Gardens are open daily from 8:00 AM to 7:00 PM and can be easily reached by foot or a taxi. There is no entrance fee and there is always an enjoyable, pleasant atmosphere where you can unwind and enjoy the gardens at your leisure.