Mhamid city of Morocco (M'Hamid El Ghizlane or Lamhamid Ghozlane) was once a lonesome oasis until the 1990s due to the border tensions between Algeria. However, now it has started hosting visitors again. Let's go closer to Mhamid Morocco...
Upgrade your Morocco vacations quality and Plan to visit...

Mhamid Location
The oasis is located in southeastern Morocco, near the province of Zagora in the extreme south -eastern region of Sous Massa Daraa.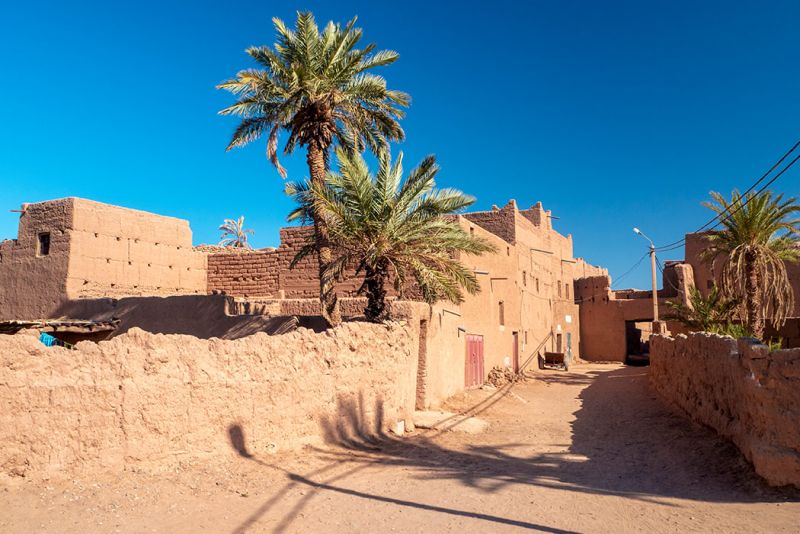 History and Interesting Facts
According to Jacques Meunier, Targalate is the former name of Mhamid. The region is historically important as trade caravans gathered, some as large as 5,000 camels, in Sidi Khalil before setting off to Timbuktu and other destinations. The area is authentic where you can find knowledgeable locals proudly talk about its history besides sharing interesting facts.
The environment in the area is harsh and fragile. The water is scarce in the town. In the past, taps went dry by early afternoon for many days.
Mhamid is also known as Bounou which was a village that resided a mix of local Ait Atta Berbers, Local drawa, and local Hassani tribes. The highlights of the oasis are the villages of Oulad Youssef, Oulad Mhaya, and Ezouaya. Local people get around the area on foot. Motorbikes are popular there too. For transporting goods, donkey carts are very widespread.
Things to Do in Mhamid Morocco
Take a walk through the palms to Kasbah and Oulad Youssef village
Spend wonderful 2 hours wandering around the oasis of Mhamid, experiencing the feels of the vegetation, the farm and the locals. The area is amazing to explore by foot as it is covered with palm trees.
Be on the paved road so you don't get lost and also be around the locals. They are friendly and will help you find your way in case you get lost. Take a motorbike ride to get back to Mhamid centre.
Camel ride to nearby dunes
Camel ride is a great affordable experience for you to try in nearby dunes. It can be easily arranged through your lodging. There is a mosque in the town, however, it is not open for non-muslims.
Erg Chigaga dunes are the star attraction in Mhamid. It is located about 60 km southwest of the town. It is an incredible stretch of the golden sand sea. The largest one in Morocco, snaking along the horizon for 40km and bordered to the north and south by mountain ridges.
Accommodation
Kasbah Sahara Service: a traditional Berber house located 300 m from Mhamid village in southern Morocco. It is a family-run guesthouse and restaurant, making it a warm Moroccan experience. The magnificent scenery and Berber architecture with zellige on the ground, tadelakt in the wall, elegance, and sobriety are a wonderful representation of this guesthouse.
Dar Azawad: Highly rated hotel, 5 km before Mhamid. It is one of the best in Mhamid and very popular with overseas guests. The rooms are an imitation of Berber tents and small kasbahs.
Dar Sidi Bounou: Located in a palemerie garden, it is a small traditional daub house that has been enlarged with modern facilities. Recently, it was renovated by a Canadian artist Nancy and her Berber husband. The house is both functional and comfortable with a stylish theme. It comprises 3 double and a single bedroom with terraces, ensuite bathrooms, and European style toilets. They arrange treks to the desert on overnight trips by camel and 4x4.
Hotel El Ghizlane B&B: Located in the center of the town. Its rooms are simple and comfortable. The staff has some English language skills.
Hotel Sahara: It is run by Naamani brothers, Habib and Hassan. It is a basic hotel and has an internet connection.