Cappadocia in Turkey
Cappadocia, which means "land of beautiful horses,"in Persian language, has been the hub of many civilizations and a gigantic shelter and center for Christians who fled from the Roman Empire during the Hittite period and hid in the houses and churches carved inside of rocks.
When one speaks of visiting Turkey as a tourist, it is impossible to not speak of Cappadocia! Situated in the central region of Turkey, Cappadocia is a semi-arid region that has been a popular tourist destination for years together. Cappadocia is a beautiful region, known for its natural geological formations, called "fairy chimneys". In fact, there is more to this wonder-striking city. Its landscape is so picturesque that many have even compared Cappadocia with a fantastical planet, almost like a fairy-tale paradise. It has been deemed by many travelers from all around the world as an almost magical place to visit - turns out, the UNESCO thought so too and gave the city its signature stamp of approval of being a World Heritage Site, in 1985.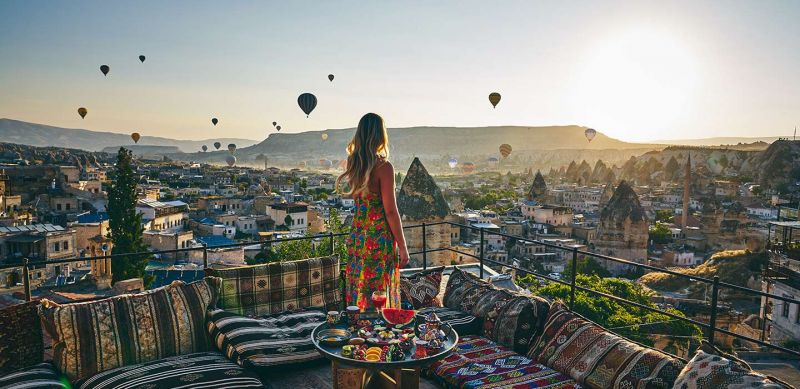 Cappadocia is famous for its landscape, and you may have unknowingly stumbled upon pictures of this place before. So lovely is its scenic beauty that a simple photo from the camera of a phone can suffice as your wallpaper for a long, long time - perhaps even a lifetime. The beauty of the region is certainly unlike anything you've ever seen before, and can even be described as intriguing because of its atypical nature. It has often been described as having a 'Moonscape' rather than a landscape because its natural beauty is rather peculiar and almost like it's from another world! Some travel bloggers have called its beauty 'strange' and some have compared it with the likes of something you'd see in a Star Wars movie - but the common view is that the region is characterized by natural phenomena that are certainly novel. Cappadocia has been a renowned tourist spot for many years, for a multitude of reasons. From a number of attractions to staying in caves to ecotourism, and the famous hot air balloon rides, here are a few reasons Cappadocia makes it to the top of plenty of bucket lists.

The Fairy Chimneys of Cappadocia are the biggest reason for its fame amongst travelers. Naturally occurring carved-out towering rock formations, Cappadocia's most famous structures emerged due to a geological process, millions of years ago. Engulfed in thick ash from ancient volcanic eruptions, the ash later solidified into soft rocks, also known as 'tuff'. Post-erosion, only the harder elements of these soft rocks remained, forming the fairy chimneys, which rise as tall as 130 feet towards the sky. These 'tuffs' were also fairly malleable and the persecuted Christians, who had fled from Rome, used them to carve caves that made for homes, churches, stables, and storehouses. These caves are still intact today and have been preserved by a strong effort towards the promotion of ecotourism - in fact, you can even stay in them!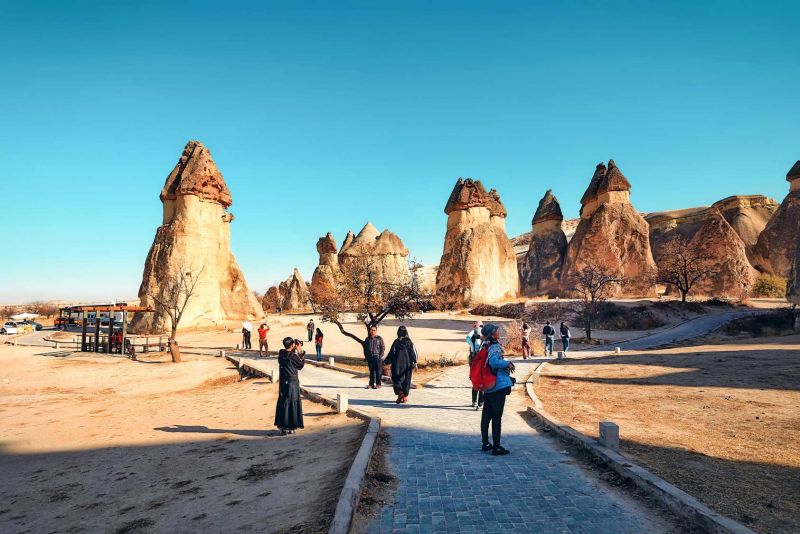 Pictures depicting these hot air balloon rides showcase one of the most famous attractions of Cappadocia. A hot air balloon ride is a completely new and unique experience, giving travelers something to remember for a lifetime (beyond their Instagram, although it definitely adds to the engagement!). Tourists get a bird's eye panorama of the wonders of the incredible region of Cappadocia, while also seeing an astounding fleet of hot air balloons rising dreamily up in the sky!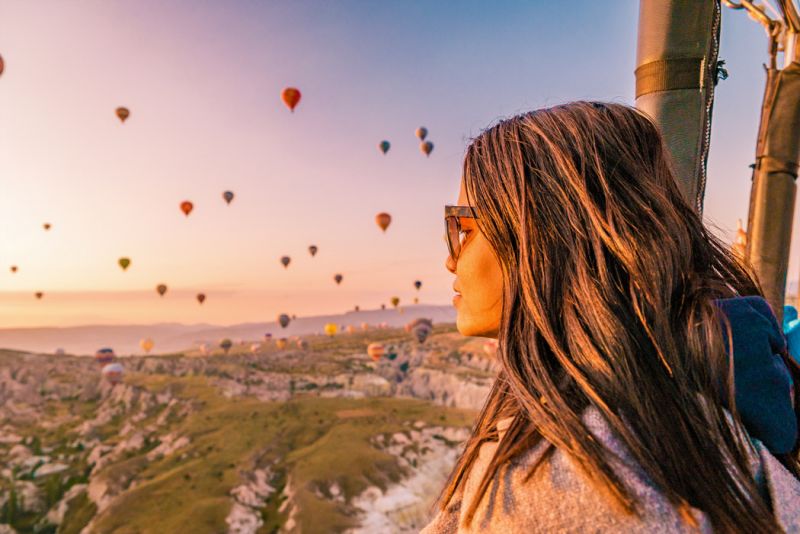 Cappadocia is not just impressive above the ground, but also underground! An underground city with a network of meandering caves, on five-levels, and is open to visitors to walk through. Once home to 20,000 people and their livestock, Derinkuyu shows you the absolutely mesmerizing brilliance of what humans once created. Discovered quite by accident, this city is going to leave you impressed beyond measure!
With an overall curvaceous landscape, Cappadocia is home to a number of natural ridge formations and striking valleys, where you can visit different sunrise and sunset view-points. Amongst the above sights to see and the sunrise and sunset viewpoints, there are also a number of other interesting things that you can do, from biking to mountain climbing to hiking to horse-riding - definitely adding to the reasons that render Cappadocia so inviting!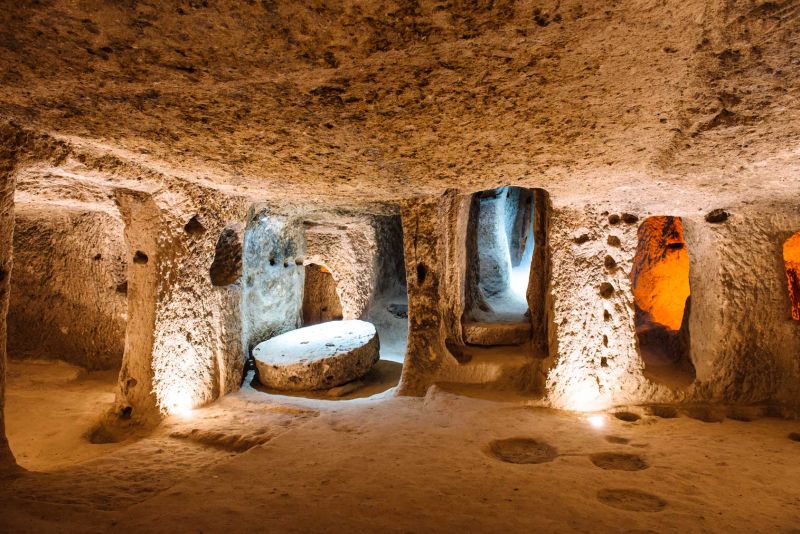 Since it is so acclaimed, Cappadocia sees a large influx of visitors every year. Owing to this, there are various options, suiting different budgets, which tourists can consider. From hostels with rooms situated in the natural caves of Cappadocia to bigger, more luxurious hotels with huge cave-suites, there are definitely some really nice hotels, even if you are on a budget!
How to get there
Getting to Cappadocia is really simple, with a number of options. Of course, the most practical option is that of flying down, so you just need to make sure that you fly to the nearest airport. The two nearest airports are Kayseri (Kayseri Erkilet Airport – ASR) and Nevsehir (Nevşehir Kapadokya Airport – NAV). People also travel to Cappadocia from Istanbul via overnight buses, that are affordable and comfortable.
Best time to visit
Turkish weather is unpredictable and that is evidenced in the weather of Cappadocia, too. The best time to visit this region is during Spring (March to May) and Autumn (September to November). These months are usually the best, because the rest of the year sees Cappadocia witnessing harsher, more extreme weather conditions. Although the weather in this region cannot be predicted, it certainly looks beautiful under all conditions. The key is to stay hydrated, because of Cappadocia's semi-arid nature.
A delight for travelers, Cappadocia should definitely be on your list, no matter what your ideal holiday usually is! We are happy to help you with an itinerary. Get in touch here.
Explore and choose one of the best Turkey Vacations!