Inquistive holidaymakers are always happy with the range of places to visit in Bursa. Standing in a group of its own, Bursa has risen the ranks to become Turkey's must-see destination. While western holiday package companies are yet to try into the area, it makes a roaring trade with independent travelers and Middle-Eastern nationalities attracted by its strong cultural heritage.
Called "Green Bursa" because of many parks and gardens, Bursa sits at the foot of Uludag Mountain, one of Turkey's top skiing points. The year-round tourism destination is also leading the real estate market as more Turks and foreigners buy property to tap into its potential.
Bursa Tourism
Ulu Mosque (Center): It was constructed between 1396 and 1400 by Yildirim Bayezit, fully made up of cut stone, with very thick and high walls, 12 heavy four edged grade, with pendantives as of 20 domes.
It is the most classical and monumental sample of the multi - domed mosques. It has the biggest size (318 square meters) among all of the Turkish mosques with its rich and roomy space. Its balcony with small tenon panels, finely processed with Greek and palmettes, parapet networks with geometrical samples, inscription on its front side and networked corolla is a master piece of art of transition from Seljuk style to Ottoman style.
According to the rumor related with the construction of sadirvan; some lands should have been nationalized for construction of Ulu Mosque. Sadirvan's place belonged to a Jewish woman. This woman who did not want to give her land had seen in her dream one night that everybody was running to the same direction.
She curiously asked them where they were going, and took the respond of 'Heaven!'. She also wanted to run but they stopped her, as she was not giving her land. Jewish woman who had impressed much from this dream, had gave her land next day on condition that they would build a sadirvan.
When the construction process of the mosque discontinue due to financial problems, Christian and Jewish communities supplied a certain amount of money, then in return Muslims used the stones on which David's Star and Cross signs are engraved on the windows of the mosque to show their gratitude.
Emir Sultan Mosque and Tomb (Center): A famous scientist, Emir Sultan had come to Bursa in 1391, and had married with the daughter of Yildirim Bayezit, Hundi Fatma Hatun. Emir Sultan Mosque and tomb was cosntructed by his wife during Murat II period. It is on a hill east of Bursa, adjacent to Emir Sultan Graveyard.
There is a tomb with eight edges near to them on the north direction. Today's shape of Emir Sultan Mosque, a beautiful sample of mosque type with single dome in a courtyard with a sadirvan, was constructed in 1804 during Sultan Selim III period.
Muradiye Kulliye (Center): It is within a huge park in Muradiye district. Kulliye, which was constructed by Sultan Murat II between 1424 and 1426, composed of a mosque, theology school, charitable establishment, hamam and 12 tombs.
The mosque has an angular shape which was used too much during the primary period in Ottoman architecture. Its niches and balconies are from 18th century, and it is of Baroque style. Its entrance door is one of the most beautiful samples of wood work. There are 12 pieces of tombs within Muradiye Kulliye, which are constructed in the name of Murat II and his family.
Orhan Mosque and Kulliye (Center): Kulliye, which is constructed by Orhan Bey between 1339 and 1340, is composed of mosque, theology school, charitable establishment, school, hamam and inn (Emir Inn) structures. It is on the east part of Ulu Mosque, and one of the first samples of Ottoman Kulliye.
Orhan Mosque is one of the most important structures of early Ottoman period in Bursa. Twin arches at both sides are one of the most important characteristics of the structure. It was constructed with two rows of bricks and one row of stone. Brick work on its external surface is also very interesting.
Hudavendigar Mosque and Kulliye (Center): Kulliye which was constructed by Sultan Murat I (Hudavendigar) between 1366 and 1385 in Cekirge district, is composed of a mosque, theology school, charitable establishment, tomb and hamam.
Unique in Ottoman architecture, the two storied complex's first floor is a mosque while the second floor is a theology school. Architecture of the structure, which has an appearance of a palace with its imposing external minaret, is not certain. Two layered forehead with upper layer porticos, opened with double steep arches with middle column aside and front, is gaining an imposing panorama reminding the Venetian palaces. Sadirvan under the dome, whose middle part is open, creates a harmonious atmosphere with gentle splashes.
Oposite to Hudavendigar Mosque, there is the tomb of the Sultan Murat II (Hudavendigar) , who died during military service in 1389 in Cassava War I . The epitaph of the tomb constructed by Yildirim Bayezid is dated 1722.
Yildirim Bayazit Kulliye (Center): The complex constructed between 1390 and 1399 in Yildirim district at the east of the city is composed of a mosque, theology school, darussifa (cure house), tomb, inn, hamam, charitable establishment, pleasure - house, kitchen, service rooms and stable structures. The mosque at the middle of the kulliye is one of the most monumental example of the sided mosques, and it has a cure house dated 1399. Ottoman architecture had started to find a unique building structure style with this mosque.
Tomb which is the single structure with its inscription is on the north east of the mosque. The tomb which was constructed to Mimar Ali bin Huseyin by Yildirim Bayezit's son Suleyman Han in 1406, is the first sample of Ottoman tombs with portico.
Yesil Mosque (Center): Adornments of the mosque, which is constructed by Celebi Sultan Mehmet between 1419 and 1420, was constructed in 1424 during Murat II period. It is also known as Yesil Mosque due to the green turquoise and tiles used on adornments. Its architect is Haci Ivaz Pasa. It is one of the most important Ottoman period structure in Bursa, and the mosque is famous with its adornments much more than its architecture. Tile adornments are the most important characteristics of the mosque.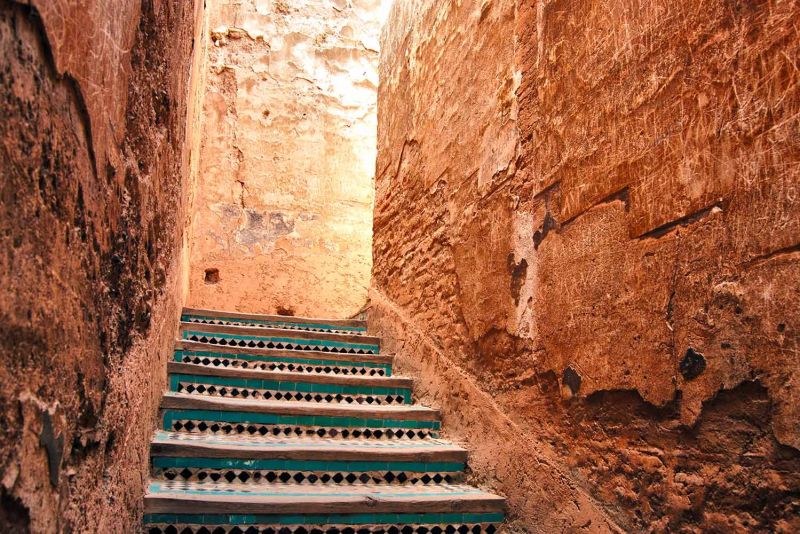 Yesil Tomb (Center): Structure, which is the symbol of Bursa, is one of the most beautiful samples of Ottoman tomb architecture. Octagonal structure, to which you can climb via a marble stair, is covered by a lead dome perched on a high hoop. It is a unique structure with its tile adornments. Its fully tile covered balcony is a master piece of art. One of the most beautiful samples of the Ottoman wooden work,the door was built by transition technique of walnut tree, adorned with geometrical motifs and has inscription on it.
Gerus synagogue (Center): It i located at Arap Sukru Street. It was constructed by the first Jewish group who settled in Bursa after they had been expeled from Spain in XIVth century and welcomed by Ottoman Emperor Selim II. and brought to the region. The name of the synagogue that was derived from a word in the Hebrew language Gerus meaning "expelled" has a special sense from that point of view. The synagogue reaching to our times in a god condition is in service of the Jewish community.
Mayor Synagogue (Center): It is located at Arap Sukru Street. It was constructed by the other Jewish communities welcomed by the Ottoman Empire and migrated from the Mayorka Island, Spain and settled in Bursa in XVth century. Moreover as they inspired from the name of the island they had departed, they gave the name Mayor to the synagogue that they constructed. The inital date of the construction is known to be XVth century. Vivid designs on the walls and the ceiling of the interior section of the synagogue draw attention.
Etz Ahayim Synagogue (Center): Located at Arap Sukru Street and constructed in the beginnings of XIVth century, the name of the synagogue means "Life Tree" in the Hebrew Language. It is peculiar in that it is the first synagogue to be constructed during Ottoman period. An imperial decree was announced during the reign of Orhan Bey, conqueror of Bursa, and the structure of the synagogue was approved.
Iznik Green Mosque (Iznik): The mosque, which is the most important monumental structure of Ottoman architecture in Iznik, is at the east of province and near to the Lefke Gate. It is constructed by Candarli Hayrettin Pasa on 1378 - 1398.
Haci Ozbek Mosque (Bazaar Mosque, Iznik): It is within bazaar in Iznik. It is constructed on 1333, and is the oldest inscription having Ottoman mosque.
Ayasofya Museum (Iznik): It is at the middle of the city, and constructed on IV. Century Byzantium church, and turned into a mosque during Orhan Gazi.The museum is where the 7th Ecumenic Council of high esteem for Christians was arranged.It is a collapsed structure today.
Senatus (Consule Palace, Iznik): Senatus, which is the first Consul meeting performed, which is deemed as very important by Christians, is also named as Consul palace. Ruinsof the piece of art which is at lake gate side, are below the lake waters.
Read more About Best of Bursa Attraction in Turkey: