Gaziantep - Zeugma Mosaics Museum of Turkey
Gaziantep Zeugma Mosaic Museum is one of the world's most energetic museums in terms of both its complexity and its finding. Come and see one of the best mosaic collections of the globe. The museum is found in Haci Sani Konukoglu Bulvari, within the Mithatpasa District of Sehitkamil.


The museum tries to point out to its visitors a flavor of the approach to life, culture, and beliefs of the people living at that point within the city, by recreating their environment using full-scale replicas of a street, fountain, building walls, and foundation stones, constructed per the architecture of the time.
World's largest Mosaic Museum

Zeugma Mosaic Museum is the world's most magnificent and luxurious varied museum with its area of 30.000 square meters! Besides its 1450 square meters of mosaics, 140 square meters of frescoes, 4 Roman fountains, 20 columns, 4 limestone sculptures, a bronze statue of Mars, grave steles, and sarcophagi, when a moreover 1000 square meters of collections are returned, the museum will have 2500 square meters of parquets in total.

Zeugma Mosaic Museum has the foremost beautiful mosaics of the planet from the traditional city of Zeugma. These mosaics are about 2000 years old and unusual in design, color, achievement, and perfection. These little stones are witnesses to history. Just even this museum may be a reason to come back to Gaziantep.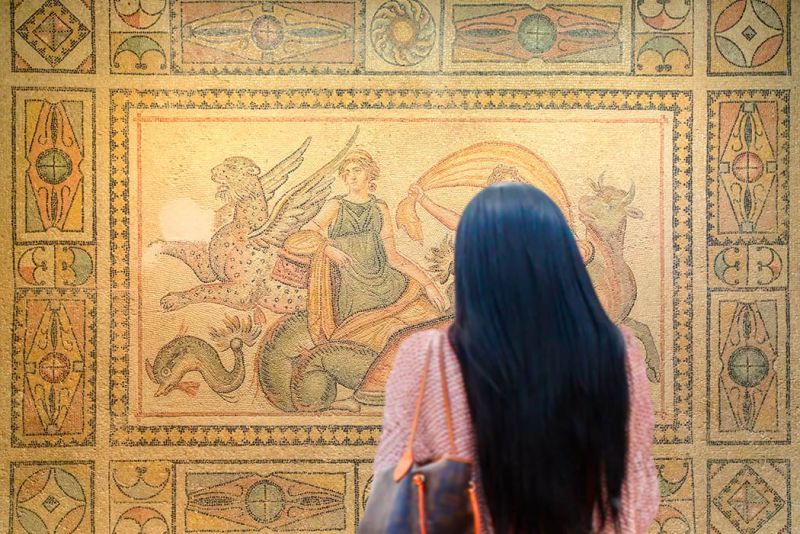 What's on display there?

The Zeugma Mosaic Museum was structured within the sort of three large units houses. This museum attracts the full world's attention because it is the preferred mosaic museum of the planet.
Main Building: The most building of the museum complex exhibits the mosaics that are found at the traditional City of Zeugma.
Second Building: a novel collection lately Antiquity church mosaics originating from the vicinity of Gaziantep is on display at the second building.
Third Building: The third building is the section comprising the manager offices and conference rooms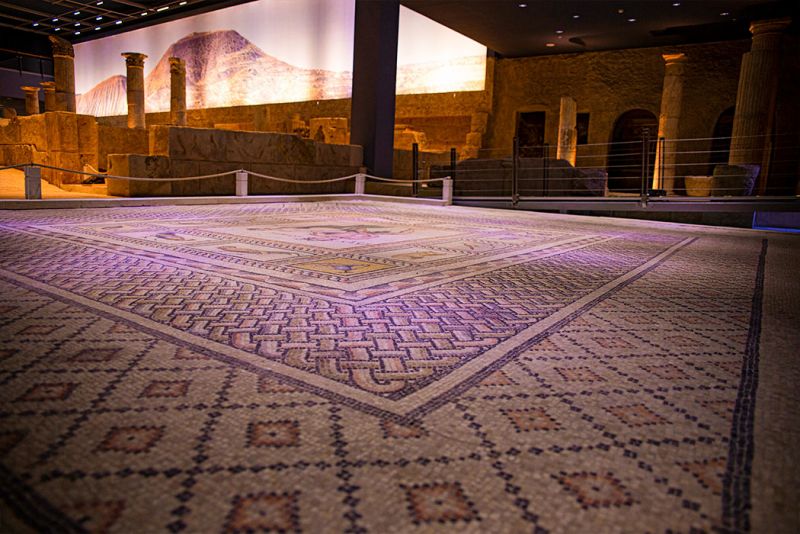 The most famous pieces

The most famous piece within the museum is undoubtedly the Gypsy Girl mosaic. the opposite famous pieces; Fertility Goddess Demeter, Akratos, Okeanos, Euphrates, Tethys, Perseus-Andromeda, Herakles, Helios, Mars Statue, Dionysos, Telete, Skyros, Ariadne, Eros, Psykhe, Metiochus, Parthenope.
This museum does a stellar job of displaying one of the world's most vital mosaic collections, most of which was unearthed at the Roman site of Belkıs-Zeugma and dropped at safety before the Birecik Dam flooded much of the positioning forever.
Its most famous exhibit is the 'Gypsy Girl', which gets its own darkened room – dramatically highlighting the little mosaic's beauty.