The Archeology and Mummy Museum of Amasya of Turkey
Founded in 1925, within the confines of the Sultan Beyazit II Mosque Complex, the Amasya Museum has moved to its current site in 1980.
Being one of Turkey's most outstanding museums, Amasya Museum benefits the location of a beautiful Anatolian city where nature most generously displays its charms.
Housing the cultural legacy of eleven different civilizations, the collection of the museum includes archeological and ethnographical findings, in addition to coins, stamps, manuscripts, with the world's one and only Islamic mummies ever to be displayed.
The Archeology Museum of Amasya

To begin with, a "Museum Store'' was formed in 1925 combining part of Sultan Beyazıd II's Complex_(two rooms of the school), few archaeological artifacts, and Islamic Period mummies. Then, when the number of artifacts increased and also the new locations were needed for his or her exhibition, in 1962 the museum was moved to Gökmedrese Mosque dating from 1266, one in every of works of art of the Seljuk Period.
Until 1958 the museum was supervised through voluntary official servants and was converted into a Museum Directorate in June of the identical year. The museum was moved into the current building on March 22, 1977; then the museum was rearranged and every one artifact was exhibited in their chronological order and opened for service in 1980. With about twenty-four thousand works of art consisting of archaeological and ethnographic artifacts, coins, seals, manuscripts and mummies of 11 individual civilizations.
The museum is the hottest and therefore the richest one within the region, and has been serving the culture and tourism of our country. The museum building could be a three-story building with a storage section, a laboratory and other service units within the basement floor, a kiosk, a resting hall and a little exhibition area on the primary floor and on the upper storey; it's two large exhibition halls where archaeological, numismatic and ethnographic artifacts are exhibited. Within the garden, there are 6 mummies of the Ilhanlı Period within Sultan Mesut I Tomb and works of fine masonry.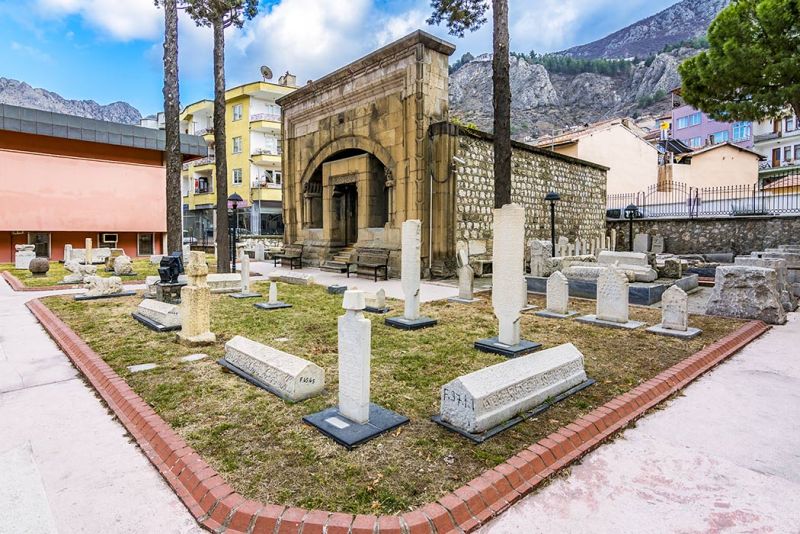 First Floor Exhibition

Amphora

They are made from earthenware, with two handles, sharp bottoms, dating from the Roman and Byzantine Periods. They were employed in the transportation and storage of wine, vegetable oil and similar liquids during the antiquity. The works of art known to be found from a sunken ship near Bafra were granted to the museum in 1977.

Tombs
There are four tombs during this section. Three tombs were made from earthenware, and therefore the fourth one was made from bronze.

Bronze Tomb
It is made in an exceedingly hammering technique and within the shape of a contemporary bathtub. There are four regular rings manipulated on the corners near the opening edges. it had been shoveled from a giant tumulus called Çakırmıstığın types in Esençay of Taşova District and is an artifact of the Hellenistic period.


Earthenware Tombs
One of them is cornered, the second is cylindrical and also the third one is within the shape of a tub. They were used as tombs during the Roman Period.


Sculptures
There are two sculptures exhibited here, dating from Hellenistic and Roman Period. One is that the priest sculpture without a head in clothes, and also the other represents Dionysus and his son in relief. In the section where tombs are exhibited, original marble inscriptions of mosques, madrassas and similar buildings in-built Amasya during the Turkish Empire Period are on exhibition. The carpets, carpet seccade, carpet bags and rugs brought by the immigrants from Azerbaijan, the encompassing of Amasya during the 1897-1898 Ottoman-Russia War, are exhibited here.


A door from Seljuk Period
The original door of Gökmedrese was inbuilt between 1266-1267 during the Seljuk Period. manufactured from Abanos wood, it's two panels and it's a monumental work of art. it's carved decorations, proportional font and curved branched round vault, and within the border, on the forehead section, the old saying of Muhammad in Arabic meaning "in the opposite world masses are asked their good works and therefore the knowledge they taught the planet or their off-springs thanking and praying for them."

Mosque Door from Ottoman Empire Period

The original door of Mehmet Paşa Mosque is dated to 1485, the Ottoman Empire Period. A two panel door with pentagons formed through coincidence of broken lines and decorated with star motifs. it's one in every of the rare samples of the Ottoman wooden carpentry. This section has closet covers and cleaning parts collected from the civil architecture samples of Amasya within the 19th century.

Second Floor Exhibition

The storey is split into two halves, namely the archaeological and ethnographical sections. At the top of the archaeological section there are closets where coins and jewellery are exhibited.


Works of Art from Bronze Age (B.C. 3500-2100)

The works representing this age within the museum are exhibited in three separate windows. within the first one, black and red coloured, finely gilded and a few having groove metal imitations, with and without handles, spherical, round mouthed, flat bottom, pottery and jugs are exhibited. All of the works of art excavated from Mahmatlar and Merzifon Oymaağaç Village of Amasya centre are handmade artefacts. Other windows have bronze knives, axes, bone needles and stamps.

Hittite Age (B.C. 1750-1200)
They are exhibited in two windows. In the first one, there are filters with beak mouthed, camel feature coloured earthenware jugs, pottery, bowls and an earthenware temple. In the second, bronze and stone seals, earthenware bull heads, human figures, idols and various type earthenware ritons and three sacred containers are exhibited.

Hittite God Sculpture
In Archaeological literature the "Amasya Sculpture" or "Hittite Storm God Teashop" is one in every of the unique works of art within the world. It was found accidentally in an exceedingly tumulus in Doğantepe Town of Amasya centre. it's fabricated from bronze casting technique but its arms, legs and a few other parts haven't been found yet. God figures seen within the Hittite Empire Period embossing artefacts are just like embossing of gods discovered in Yazılıkaya open temple in Boğazköy (Hattuşaş). The current height of the artefact with sharp hat, short skirt, in an exceedingly stepping forward posture, is about 21,5 cm, and its weight is 1.340 kg. Among other metal sculptures dating to the Hittite Empire Period (1400-1200 B.C.) is that the biggest human sculpture. Thick eyebrows, hollow eyes, smooth grooved lines make it look moderate further as giving it a powerful and high expression.

Roman Ceramics
Double and single handled jugs are in numerous forms. they're generally light brick coloured and painted with red. a number of them have decorations on bodies and handles. There are bowls kind of like one another in having large shapes.


Most of them are tear bottles, odour containers and bowls having thin long forms. Also an artefact dating from B.C. 7th century made with black, blue and brown colour technique, with double handles, yellow body, and amphora of the round mouth, short neck type is additionally exhibited.