Surrounded by high mountains and open seas, Turkey is a
cornucopia of natural wonders
. Apart from that, Turkey is noted for its climatic diversity ranging from the Mediterranean to oceanic to continental climates.
The northern regions of Turkey have an oceanic climate whereas the southern areas are affected by a temperate Mediterranean climate. The continental climate reigning in the internal regions makes one experience four seasons in one day.
The southern regions which are popular among tourists particularly in summer and the central and northern regions of Turkey which are in demand rather in winter are popular for their cultural heritage as well as the variety of touristic and sports facilities.
Subject to a variety of climates, Anatolia is also rich in flora and fauna. The habitat of numerous varieties of flora and fauna alongside magnificent forests, Turkey, is worth visiting any season of the year.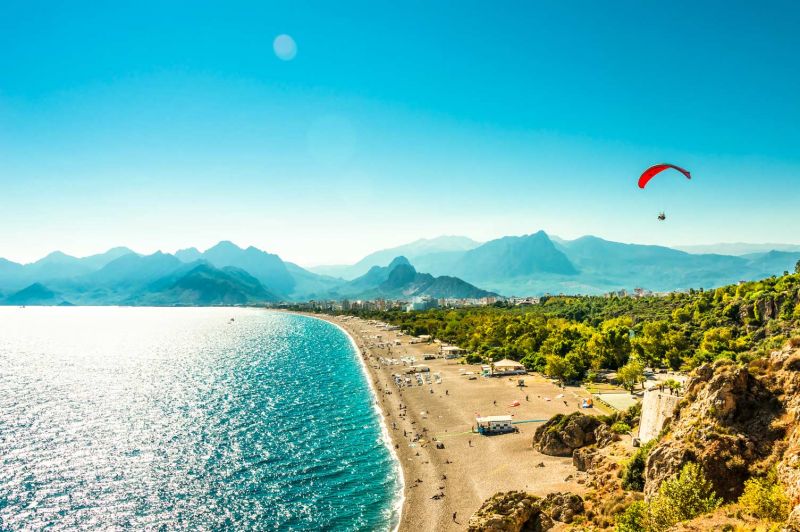 Best Time To Visit Turkey:

Spring and autumn are the ideal times to visit Istanbul and the inland regions. Turkish coasts climate is typically like the Mediterranean with mild winters and hot summers. The majority of rainfall occurs in winter along the coast so the summer months remain hot and dry, perfect for topping up that tan.
As you travel further east in Turkey the extremes in climate become more pronounced with very hot and dry summers reaching highs of 40°C and bitterly cold winters with heavy snowfall. So that spring, autumn, and the shoulder months of summer are the best times to visit Turkey.
High Season (Jun–Aug)
-Prices and temperatures highest
-Istanbul's high season April–May, and September–October
-Christmas–New Year and Easter also busy
Shoulder Season (May & Sep)
-Fewer crowds
-Warm, spring and autumn temperatures, especially in the southwest
-Istanbul's shoulder season is June–August
Low Season (Oct-Apr)
-Accommodations in tourist areas close or offer discounts
-High season in ski resorts
-Istanbul's low season is November to March