Shekhawati Region
India is full of treasure, when it comes to architecture and history. Shekhawati region is one of the gems of India for art lovers. The region is located northeast Rajasthan, comprising of districts of Jhunjhunu, Nagaur, Sika and Churu. The region has a great background, as it was established in the 18th century along a caravan trade route, and ruled by the Shekhawat Rajputs.
Although the Shekhawati region is located in the popular triangle of Delhi-Jaipur-Bikaner, many people overlook it in favour of other popular destinations in Rajasthan. However, the region is referred to as the world's largest open air art gallery. Not only does the region consist of majestic forts and breathtaking views, but also it features numerous havelis that go back to the 19th century. Spreading over the region, these havelis are the main attraction in the region, give it the value of being the largest open air gallery.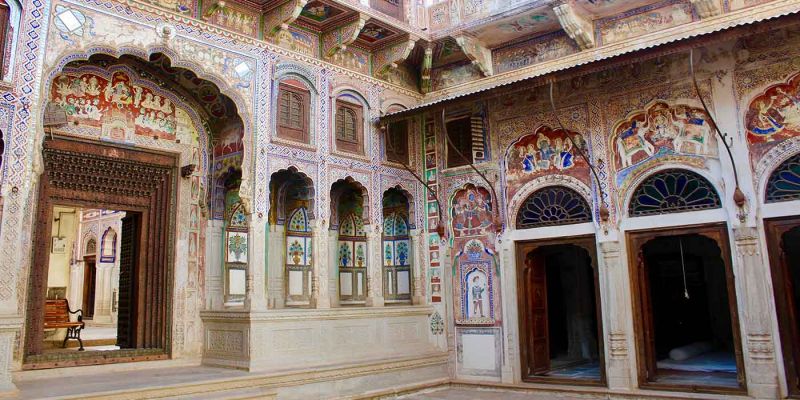 The weather in Shekhawati region can be very harsh. Thus, visiting the region during summer is quite a risk; same goes for winters. Hence, the best time to visit the region is any time between October and March. February is kind of special for the visits for two reasons. The first one is that the weather becomes quite pleasant during this month. The second reason is that the annual festival is held in February in Nawalgarh. The festival shows the local talents, giving the visitors a reason to visit the region.
These havelis were constructed by people from the potter community. What contributed in creating this aesthetic region is that businessmen commissioned the mansions. In addition, they ordered artists to decorate the havelis, step-wells and temples. Most of the artists came from Jaipur, after constructing various palaces.They used their techniques and skills in painting remarkable and luxurious frescos on the walls of the mansions, inside and outside. The havelis' motifs, especially Krishna, depict the impact on the artists and their art. The frescos represent wealth and power.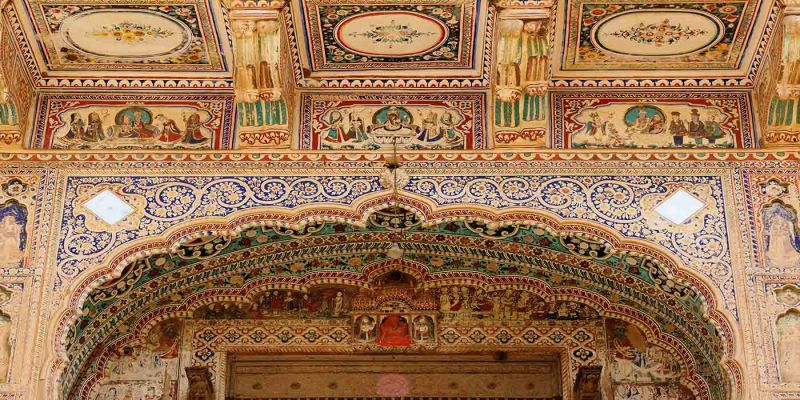 The early frescos were influenced by the Mughal art form whereas the later ones were inspired from the Rajput royal courts. Similar to any form of art, mythology and religion provided source inspiration. The frescos depicted European women and men, with the increase of the British and western influence, with the increase of the British and western influence. Additionally, some frescos were influenced by modern inventions such as the motifs of telephones, hot air balloons, and trains.
The themes of the havelis are quite broad. In some of them, the fresco portrays Europeans taking a ride in a hot air balloon that is being blown into, reflecting the artist's unlimited imagination. All of these make the region such a unique place to visit. As for the religious aspect, there are some frescos of Jesus.