Auli
Located in the northern state of Uttarakhand, Auli India is one of the least explored hill stations in India. However, it is a new entrant in the tourist map of India. Auli is located in the cradle of snow-capped mountains, offering its visitors a skiing experience.
The vast snow-covered landscape, the cold winds, the sylvan mountains add up to the beauty of Auli. In this article you will know more!
Best Time To Visit
The period from late November to late March is considered ideal for skiers. Auli is one of numerous winter destinations in India that offer adventure and entertainment.
From December to March, the Garhwal Mandal Vikas Nigam conducts 7-day and 15-day courses for amateurs and advanced learners.
How to Reach Auli
By Air: The nearest airport to Auli is Dehradun, about 298 km away. The nearest railhead, Rishikesh, is about 235 km away.
By Road: From Delhi, Dehradun, Rishikesh and Haridwar to Joshimath, 16 km away, regular road services are available. One can hire jeeps to Auli from Joshimath or trek the five kilometer between Joshimath and Auli.
For further information, contact the GMVN office at Rajpur Road, Dehradun or the Uttarakhand tourism offices located all over the country.
Brief about History
The history of Auli can be back to the 8th century. The temple built by The Great Guru Adi Shankaracharya at Joshimath still exists. The colorful semi-nomadic tribes of the Bhotiyas traversed the trails at Auli (locally called Thatauli), for hundreds of years. Their long-haired yaks assisted them in conducting a flourishing trade with nearby Tibet.
Places to Visit in Auli
1- Auli Artificial Lake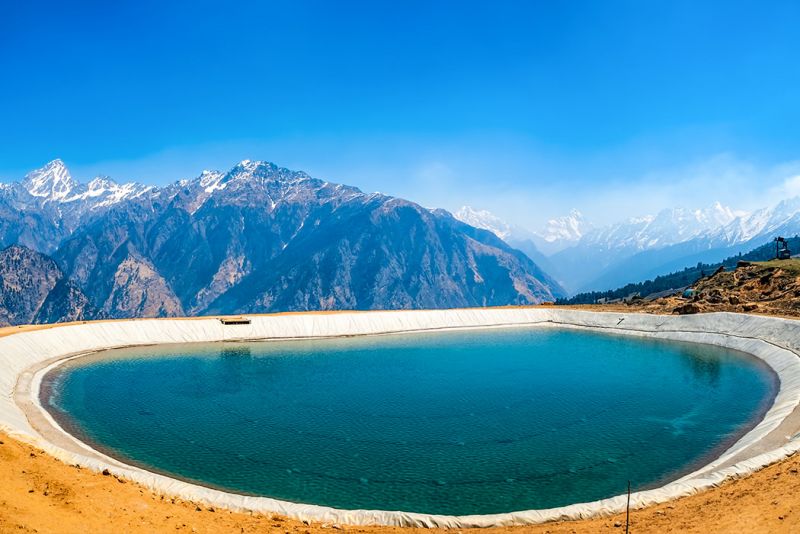 Auli-Artificial Lake's only man-made lake in Auli. Along with a skiing track, it provides a serene and calm atmosphere. The view of the Himalayan peaks like Nanda Devi Hill appear mesmerizing. The lake produces fake snow during summer and monsoon seasons.
Location: Dang Village, Thang Village Auli – 246443
Distance from bus stand: 12 km from the bus stand
2- Joshimath
Joshimath is one of the best cities in close proximity to almost all the tourist places in Auli. Located in the Chamoli district of Uttarakhand, Joshimath is the beginning point of many Himalayan expeditions, that includes the ropeway to Auli, and the trekking trail to Badrinath.
Besides the religious significance of this place, it is also a hotspot for adventurous activities, the first is trekking followed by camping.
Location: Chamoli District, Uttarakhand
Distance from bus stand: 3 km
3- Nanda Devi Peak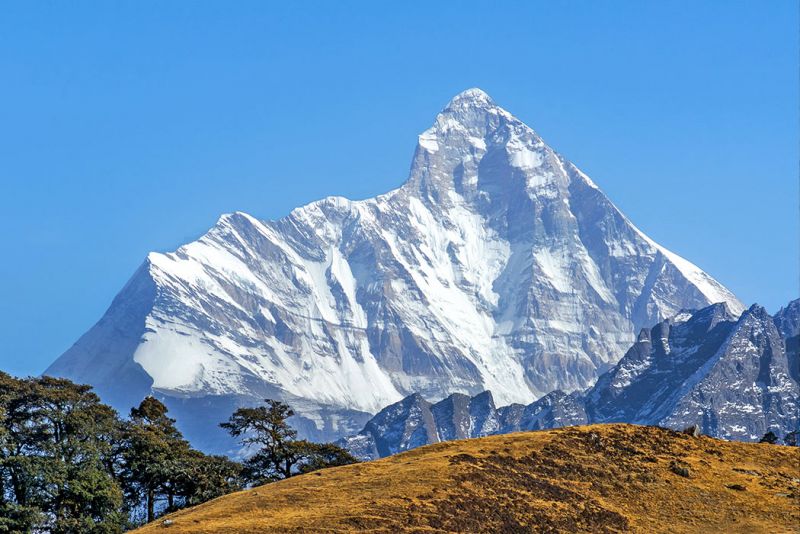 Nanda Devi Peak is the 23rd largest peak of the world and the second-largest in India with a height of 7,816 meters. It is a very popular trekking destination that provides a 360 degree view of its beautiful surroundings.
Not only is it famous for trekking activities, but also it is a highly religious spot that attracts many devotees from all across the world.
Location: TCP Market, TCP Market Joshimath, Joshimath Auli – 246443
Distance from Auli Bus Stand: 18 km
4- Auli Ropeway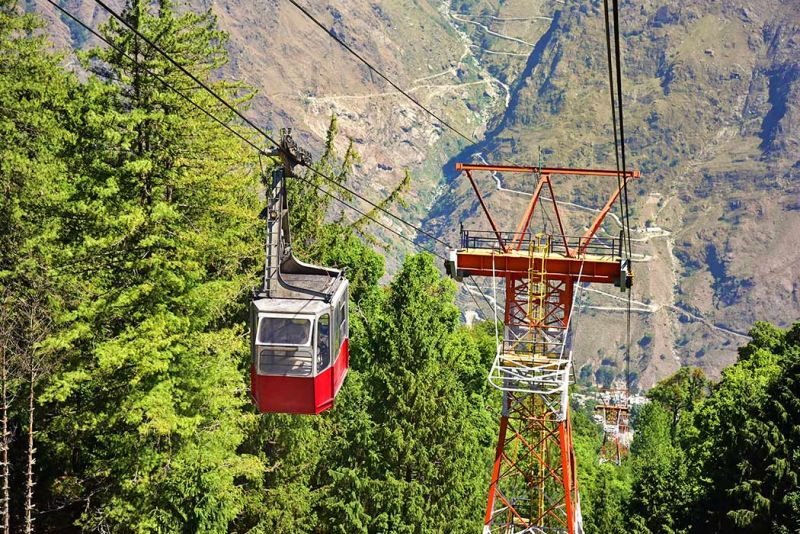 When it comes to the topnotch places to visit in Auli, Auli Ropeway is one of the top draws that connects the hill stations of Joshimath and Auli. Covering an approximate distance of 4km, it is the highest and the longest ropeway in India after the one at Gulmarg in Jammu and Kashmir. It introduces the traveller with gaping views of the snowy valleys and verdant meadows below.
The Auli Ropeway operates with a ski lift and a chairlift, resting on 10 steel towers. This bi-cable contraption was built in order to present travellers to Auli with a astonishing experience. It ascends gradually to a height of 1,110m.
The skiing season in Auli presents amazing views of the skiing competitions organized by the government's tourism department.
You can board the ropeway at either Auli or Joshimath (cost: 400 INR)
Location: Trail To Ropeway, Joshimath, Uttarakhand
Distance from Bus stand: 4 km from Joshimath
5- Gurso Bugyal
The invisible 360 degree view of Himalayan peaks and dainty towns are what make trekking to Gurso Bugyal a memorable experience. Elevated over 3000 m above sea level, you can see other ranges like the Nandadevi, Trishul and Dron from atop the hill.
Visitors can make stops on the 3 km long trek of this range and enjoy the panoramic views, and the flowing river.
Location: Auli Laga Salude, Uttarakhand
Distance from Bus Stand: 12 km from Bus Stand
6- Chenab Lake
Chenab Lake is another magnificent place in Auli with a grand scenery and breathtaking views. It is a man-made artificial lake in the area. It was built for the purpose of tourism, being one of the best places to visit in Auli. Located at a distance of approximately 2 km from the GMVN guest house, it has a skiing area around it with pine trees and small stalls.
Location: Dang Village, Thang Village Auli – 246443
Distance from Auli Bus Stand: 8 km
7- Trishul Peak
Due to a 270-degree view of snow-clad hills surrounding it, Trishul Peak is one of the best tourist places in Auli. Nanda Devi can be spotted from here with its breathtaking beauty. Chenab Lake is also visible from here.
Location: Garhwal Region, Auli Joshimath Auli – 246443
Distance from Auli Bus Stand: 17 km
8- Auli Ski Resort
Given the fact that Auli is a coveted destination in terms of skiing, it is imperative that Auli has resorts that provide accommodation to ski enthusiasts. The hotel provides all the basic amenities to its guests, besides the scenic views of the areas around the place.
The resort is also close to many other sightseeing destinations of Auli, filling its purpose as a premier skiing resort.
Location: Ski Resort, GMVN Ltd, Joshimath, District - Chamoli, Auli
Distance from Bus Stand: 13 km