Jaipur City Palace
In the middle of the old city, situated Jaipur City Palace. The outer boundary of the palace was built by Raj Jai Singh. His successors proceeded other structures of the palace to complete its beauty. The palace was built in the era of 1729 and 1732. The Palace spreads over one seventh of the old city of Jaipur. The City Palace represents a mingle between Mughal and Rajput architecture, just like most constructions in Jaipur. The palace consists of buildings, courtyards, gardens, temple, and a museum, which reflect how historically magnificent the palace is. It was a residence for former Maharaja of Jaipur.
Jaipur City Palace is a masterpiece and a gift for art and history lovers. Visitors can also buy souvenirs from a section dedicated for the artisans of Jaipur. In the section, there are traditional paintings made from organic colours and wooden replicas. The Palace is reachable; one can take a cab for local site-seeing or take rickshaws if they want the Indian way of travel.
Not only the palace is beautiful on the outside, but also from the inside, as it consists of so many details. Firstly, there is Mubarak Mahal, which is a welcome place or a reception centre of the palace. It was built by Maharaja Sawai Madho Singh II in the 19th century. It was constructed by the architect Sir Swinton Jacob, and it represents a combination of Islamic, Rajput, and European styles. Secondly, The Armoury is a part of The Anand Mahal Sileg Khana, The Maharani's Palace. The Armoury has one of the best weapon clusters. Thirdly, there is an art gallery called Diwan-i-Am, which exhibits a copy of the entire Bhagavad Gita handwritten in tiny script, besides small miniature copies of other holy Hindu gospels.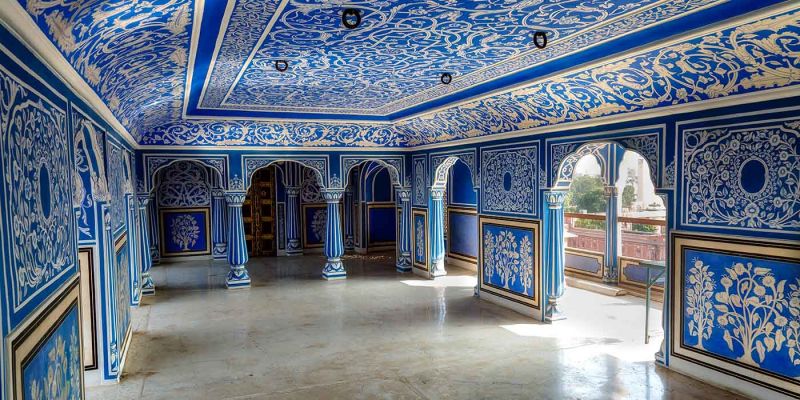 Fourthly, there is a courtyard known as Sarvatobhadra. It lies between the Armoury and the Diwan-i-Am art gallery. A marble-paved gallery used as a hall of private audience lies in its centre. Fifthly, in the inner courtyard of the palace, there is Pitam Niwas Chowk, a sophisticated touch. The chowk consists of four glarious gates; each represents one season. The Peacock Gate represents autumn; the Lotus Gate depicts summer; the Green Gate signs to spring; and the Rose Gate renders winter. Additionally, beyond this chowk, lies a private palace called Chandra Mahal, which serves as the residence of the present descendants of the royal family. Lastly, Baggi Khana is a place dedicated to chariots and coaches. Its two prime attractions are the chariot and a European Cab that Queen Victoria gives to Maharaja Sawai Ram Singh II as a gift.