Mehrangarh Fort
Mehrangarh Fort is an architectural wonder, besides being associated with diverse history and cultural heritage. The fort is considered one of the breathtaking forts in the state of Rajasthan. It was built by Rao Jodha in 1459. On 125 m high hill in the outskirts of Jodhpur city, the fort spreads over a 5 km area, featuring 70-feet thick walls. Due to its the magnificence, Rudyard Kipling described the fort as "A Palace that might have been built by Titans and colored by the morning sun"
The name of the Mehrangarh fort is derived Mehr-Garh: Mehr means the sun and Garh means fort. Mehr-Garh came to be known as Mehrangarh due to the pronunciation of the local language. Since the sun has been a major deity of the Rathore dynasty, it is believed that the Rathores are the descendants of the sun. Currently, the fort is preserved by Maharaja Gaj Singh II – the current Rathore ruler.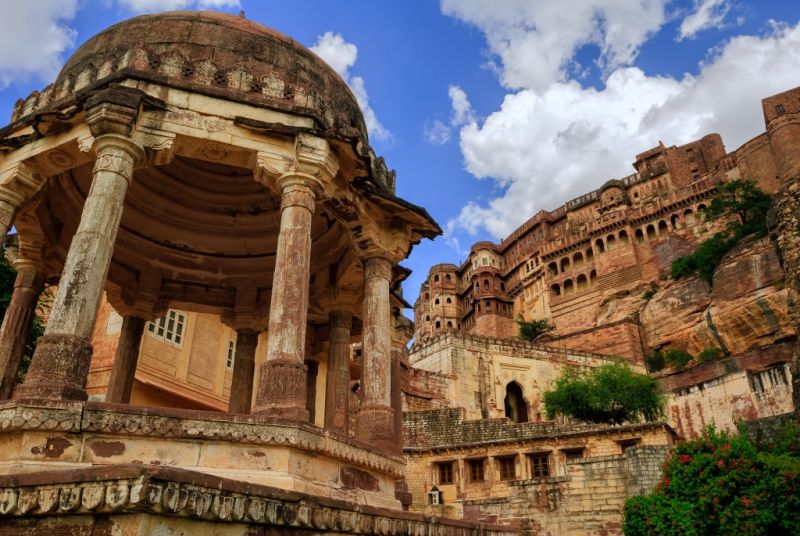 To reach the fort, one have to go through its seven gates. Each gate of the seven is made by a different ruler, in honour of victory over Bikaner and Jaipur armies. The gates still have the marks of the battles fought in the bygone era. The second gate of the fort has the mark of a canon ball, as a result of attacking armies of Jaipur during wars. One of the other gates is called Jayapol which means victory and it was built by Maharaja Man Singh, celebrating his victories over Jaipur and Bikaner armies. Another gate is called Fattehpol which again means victory. It was built by Maharaja Ajit, celebrating defeating the Mughals.
Every ruler of Jodhpur has contributed in creating this fort. Like a blue carpet laid at the foot of a hill, the fort overlooks the scenic view of Jodhpur city. The fort includes a set of magnificent palaces, with their sprawling and huge courtyards. The main palaces located in the fort are Moti Mahal or the Pearl Palace, Phool Mahal, Sheesh Mahal, Zenana Dude, Takht Vilas and Jhanki Mahal.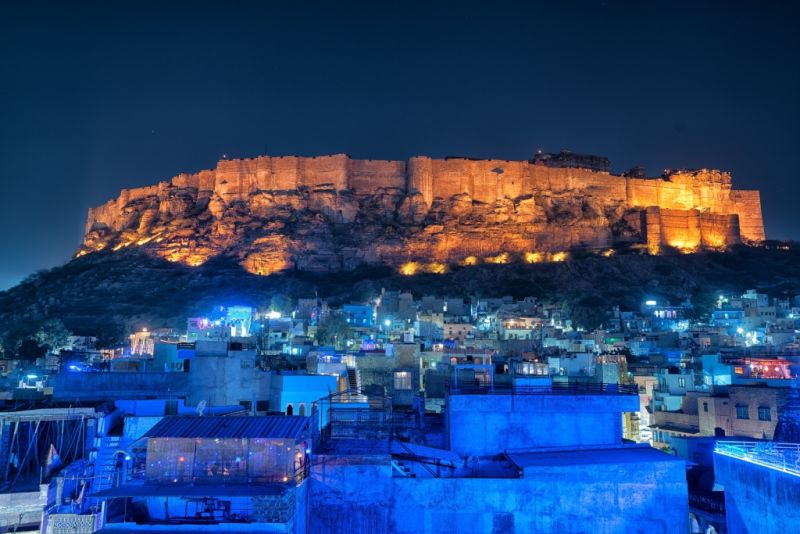 Additionally, there are two temples inside the fort: Chamundi Devi Mandir and Nagnechiaji Mandir, dedicated to Goddess Durga and the Kuldevi. Along with the set of palaces and the two temples, there is a museum within the Mehrangarh fort. The museum exhibits a rich collection of musical instruments, royal cradles, costumes, furniture, paintings, and palanquins. The Chhatri of a soldier, Kirat Singh Soda lies on the left of the fort. It is the spot where he fell while defending against the armies of Amber.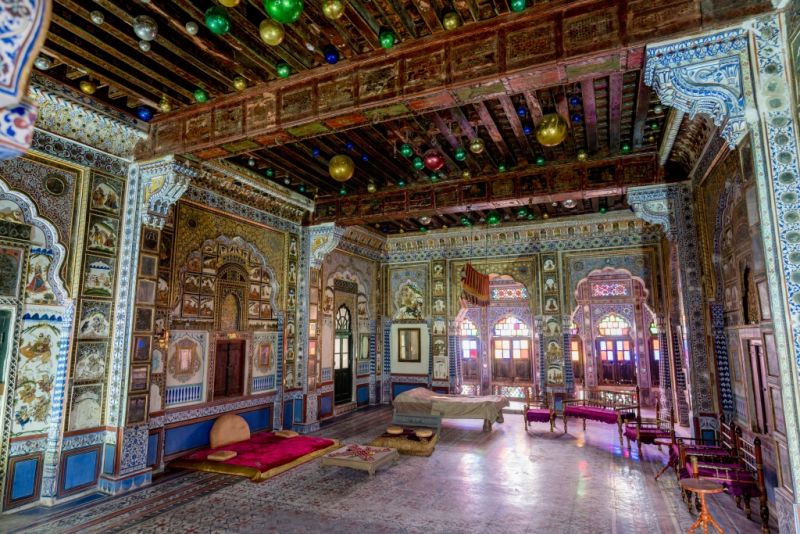 One thing that distinguishes Mehrangarh fort from the other forts in Rajasthan is its folk art and traditions. As the fort has a lot of courtyards, everyday there is a performance arranged in a different courtyard of the fort. Artists dance and perform Rajasthani folklore, dressed in colorful costumes, with the detailed carvings of the courtyard walls in the background, makes the fort worth visiting.
Travel Experience Since 1955

Memphis Tours is one of the pioneers which have great impact on travel industry for more than 55 years of experience.

Personalized Travel Services

Whatever your travel dreams, together we can custom-design the perfect itinerary with highly personalized services just for you

We Speak Your Language

A multilingual website offers content in 6 different languages English, Spanish, Portuguese, French, Italian and German

Flexibility to Change

We know how important it is for travellers to have the flexibility to change their itinerary due to some reasons or force majeure

Your Safety and Security

A professional will accompany the guests to all of the places; they will never be left alone to fend for themselves

High Quality Service

We do believe honestly that quality should come first and quantity would come later and our main objective focused on (Quality is our Top Priority)

Customer Service 24/7

We offer Customer Support 24 hours a day, 7 days a week by phone and email for questions about our tours and services

Support Sustainable Tourism

We are attempting to make a low impact on the environment and local culture, while helping to generate future employment for local people

Secure Online Payment

Our website is protected by the world′s most secure online payment system VeriSign Secure

Secure Website by MacAfee

Memphis Tours website is a McAfee Secure site that helps keep you safe from identity theft, credit card fraud and spyware