Jim Corbett National Park
Jim Corbett National Park, the paradise of Tigers, holds a large population of tigers within its charming landscapes of various flora and fauna. Read more!
Jim Corbett National Park, a part of the larger Corbett Tiger Reserve. The landscape is marvellous and charming for its tiger richness. The park can be definitely called the paradise of Tigers as it holds a large population of tigers within its charming landscapes of various flora and fauna. It is unique, and among the few tiger reserves in India that allows overnight stays.
Know more about The best time to visit the park, how to get there, things to do, its flora and fauna and last but not least the tourist zones.
About Jim Corbett National Park
Jim Corbett National Park was established in 1936 as Hailey National Park. Being honored as the place where Project Tiger was first launched in 1973, it has the glory of being India's oldest national park.The Park spans over an extent of 520 square kilometers. The whole area comprises hills, riverine belts, grasslands and large lake, marshy depressions.
When to Visit Corbett National Park
The perfect time to visit Jim Corbett National Park is between the months of November and June. The park remains open to tourists during these periods only. During the monsoon season, the park is closed.
It is also closed during the rest of the year as it gets washed away due to rain. The repair starts after the monsoon and ends by November until the roads are back in motorable condition.
How to Get There
The park is situated at an approximate distance of 260 kms from the capital Delhi. The city is well connected by rail or road with major cities of India such as Nainital, Moradabad, Bareilly and Delhi.
Things to Do
Nature watch and wildlife viewing in Jim Corbett National park is experienced in an open four wheeler jeep or on an elephant's bag. As the park shelters a healthy population of tigers and many other wild species, it is one of the most sought after destinations for the wildlife buffs.
The park has something to offer to everyone. If you want to witness wild species or you are a bird lover, then it is a virtual heaven for you. The area is home to more than 650 species of resident birds. Summarizing, the finest national park of India is famous for its rich wildlife including royal Bengal tiger, elephant, four to five species of deer and rich birdlife.
Fauna
Birds
Jim Corbett National Park has around 50 mammals, 577 birds and 25 reptiles. Birds are divided into 5 categories in Jim Corbett National Park. Water-birds and Waterside-birds are Black Neck Storksm, Darter, Cattle Egret, Grey Heron.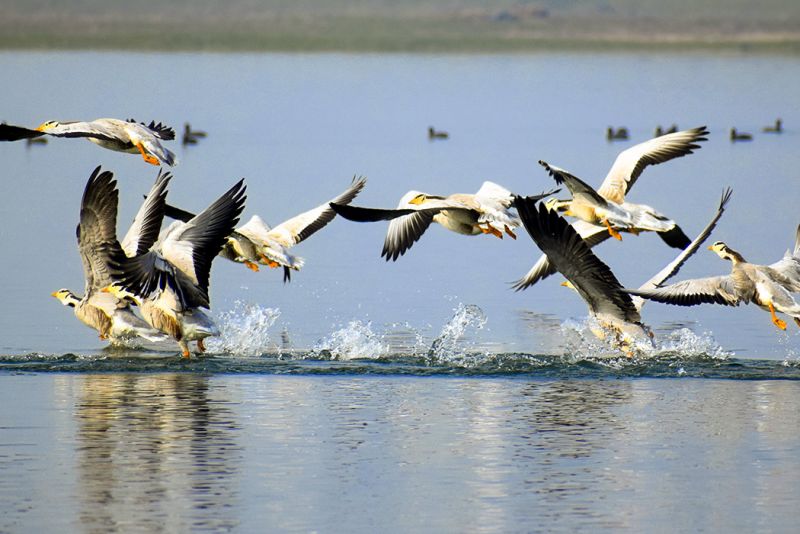 White-Capped Redstart, Sandpipers, Snipe, Great black-headed Gull, Cormorants, Graylag Geese and Large Pied Wagtail. There are also 15 kinds of ducks and various wagtails.
Second, there are Birds of Prey such as peregrine falcon, booted hawk-eagle, steppe eagle, black eagle, Himalayan grey-headed fishing eagle, Himalayan Vulture, crested serpent eagle, black-winged eagle.
The third category is the Night Birds which are Fish owl, Great stone plover, Franklin's nightjar, Scops owls, Jungle nightjar and Stone curlew.
Fourth, there are Woodland Birds, which are White-crested kalij pheasant, Bulbus, Warblers, Tailor Bird, Robins, Chats, Green Pigeons, Hornbills, Parakeet, Babblers, Thruses, Barbets, Orioles, Drongos, Finches, Doves, Beasters Red Junglefowl,, Redstarts, Bayas,, Open Ground Birds Black Partridge and Pefowl.
Last category is the Air Birds such as Crested Swifts, the Dusky Crag Martin, the Indian Cliff Shallow, the Wire-tailed Swallow, Indian Alpine Swift, and Striated (or Red-rumpled) Swallows.
Mammals
The spotted mammals inn Jim Corbett National Park are Sambar deer, Barking deer, Chital, Sloth, Himalayan black bears, otters, Yellow-throated martens, Hog deer, Indian grey mongoose, Himalayan goral, Langur, Indian pangolins and Rhesus macaques.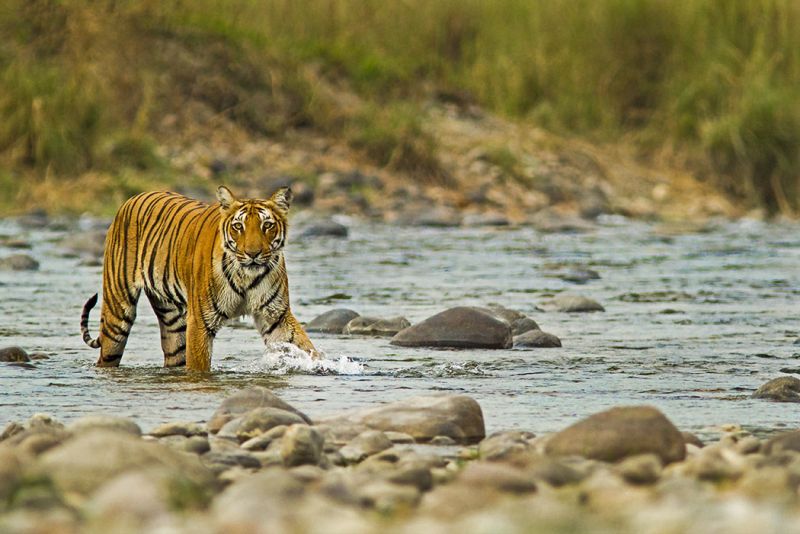 Fishes
The mountain streams' pristine water in the park is home to multiple fish species such as Indian trout (Barilius bola), Golden Mahseer (Tor putitora), Goonch (Bagarius bagarius), and Rohu (Labeo rohita).
Reptiles
Reptiles in the park are Mugger crocodile, Indian Python, Cobra, Tortoise, Russell's Viper, Kraits, Gharial crocodile,, King Cobra, Monitor Lizard, Turtles.
Flora
The vegetation in the park is one of the biggest claims. Some of the trees that can be seen in the park are Sheesam (Dalbergia sissoo), Kanju (Holoptelea integrifolia), Ber (Zizyphus mauritians), Dhak (Butea monosperma), Sal (Shorea robusta), and Bael (Aegle Marmelos). Moreover, some of the grasses that are witnessed in Jim Corbett National Park are Baib or Bhabar, Narkul, Tiger Grass, Kansi, Themeda arundinacea, Khus Khus and Spear Grass.
The Tourist Zones
To promote tourism in the region, the national park has been divided into five zones. These are the core areas of the park where visitors can be part of wildlife safari and enjoy being up close with the animals with bare eyes.
1- Bijrani Safari Zone
It is a very popular hub due to its natural beauty and open grasslands. The gate of entry of the zone is located at 01 km from Ramnagar city.
2- Jhirna Safari Zone
Jhirna is another tourist zone in the Jim Corbett National Park which is open for tourists all times of the year. The entry gate is located 16 km from Ramnagar city.
3- Dhela Safari Zone
Included in the Tiger Reserve zone in November 2014, Dhela is a new eco tourism zone in Jim Corbett National Park. Being the only area in the reserve's buffer zone open to tourists in CTR. The zone attracts huge numbers of tourists due to its wealthy flora and fauna. Located at an approximate distance of 13 km from Ramnagar city, it is open throughout the year.
4- Dhikala Zone
Dhikala is famous for its abundance of natural beauty as well as offering the best sight for exotic fauna. The entry gate is 18 km away from Ramnagar city. It is highly recommended for the hard core wildlife enthusiast to stay the night inside the Dhikala Zone.
5- Durga Devi Zone
It is located in the north-eastern boundary of the Jim Corbett National Park. Durga Devi Zone is the heaven on earth for bird watching lovers. The entry gate is located at an approximate distance of 36 km from Ramnagar city.
6- Sitabani Buffer Zone
Sitabani Zone does not fall under the Corbett Tiger Reserve. You must visit Sitabani area if you are fond of the serene ambiance of the natural beauty.