Kotachiwadi
Aside from the chaos and madness of the city of Mumbai, there are few places that have quieter air. An escape from the business of Mumbai, sits Khotachiwadi just outside the hustle of the city, a small village located in Girgaum. The Christian village is a set beautiful winding streets and alleys. Khotachiwadi is known for its two-storey Portuguese-style colorful wooden mansions. The word "wadi" means a cottage area. Some of the famous lanes in this location have names like Fanas (Jackfruit) Wadi, Amba (Mango) Wadi and Khet (Farm) Wadi. Similarly, the name of the village itself is Khotachiwadi, which refers to a person name Khot.
The village was founded in the 18th century by a Khot called Pathare prabhu. He was a person from Hindu Brahmin family and one of the few people who accepted and acknowledged education. This family was among the few family who helped in removing the Orthodox cultural beliefs and activities related to women like the idea that widow cannot re-marry and that women have no right to be educated. The influence of Pathare prabhu attracted about 120000 Christian inhabitants from Goa towards South Mumbai. These people then resided in Khotachiwadi. The village initially had around 65 houses with unique architecture and lanes. However, the number has come down by more than a half to 28 beautiful heritage structural houses. The houses fell as a prey to the fast growing real estate in cities. Most of them were re-developed and obtained by builders.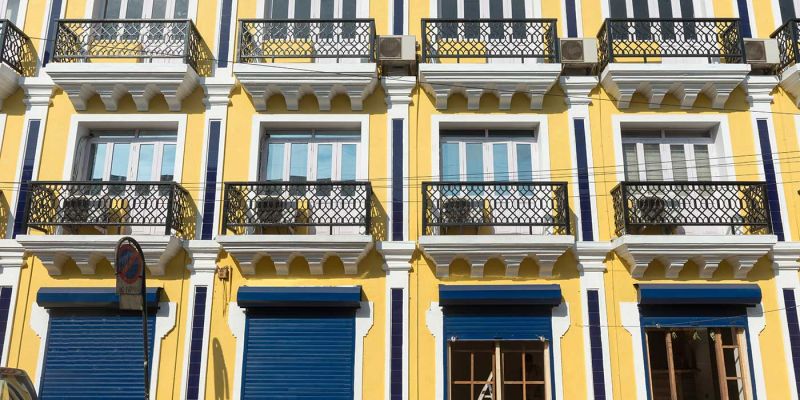 A series of old Portuguese-style houses are scattered across narrow lanes. There is a chapel that welcomes visitors to one of the oldest establishments in the city of Mumbai. Entering Khotachiwadi village is like stepping into a time machine and have been transported back in time or have been transported to Goa. Many of the village's houses have verandas, intricate column designs and arched doorways. In the afternoon, the smell of the Konkan and Goan cuisine, specifically of fish being cooked in the kitchens, spreads the village. At the beginning of one of the lanes, there is a chapel which at one point had a small crib, depicting the scenes of Jesus when he was born. The chapel was constructed by the villagers who survived the plague in 1899, as on offering of thanks. There are also a mural of the Virgin Mary with infant Jesus and two stone benches, accompanying the chapel.
The village was announced a protected historical precinct in 1995. However, the order was reserved in 2006, a decision with much opposition from the residents and activists. The struggle is to preserve the remaining heritage buildings and replacing them with glass-faced buildings.