Tirthan Valley
Surrounded by exceptional mountain-backed scenery and charming riverside villages, Tirthan Valley is dotted with rural, riverside gateways, many of them aimed at anglers. Read more!
Surrounded by exceptional mountain-backed scenery and charming riverside villages, slate-roofed hay barns, Tirthan Valley is divided into two main valleys at the busy hub town of Banjar.
Tirthan Valley is dotted with rural, riverside gateways, many of them aimed at anglers. However, it also forms a trekking getaway to the World Heritage, the Great Himalayan National Park.
The valley is nothing less than a paradise with clear skies, majestic mountains, and pristine river. It is a great way to escape the city life and immerse yourself in nature.
About Tirthan Valley
Being at an altitude of 1600 m, Tirthan Valley is surrounded by mighty Himalayan mountains. The valley is a popular weekend getaway due to all the adventure-related activities it offers its visitors. Besides, it is the main getaway to the Great Himalayan National Park, a UNESCO heritage site, which has become so popular recently.
Tirthan is derived from the Tirthan River. Located in the Kullu district, the river which gave its name originates from Hanskund peak in the Great Himalayan National Park.
Its beauty and simplicity of the people and the valley itself makes it a very popular welcome respite from all other destinations in Himachal Pradesh. It has now become famous among travelers. However, it can still be counted as an offbeat destination when it is compared to places like Manali, Kasol or Kullu.
Best Time to Visit Tirthan Valley
Generally, there is no perfect time to visit Tirthan Valley. It is a year-round destination, except for the monsoons. Each of the seasons brings a different list of activities.
Summer Season
Summer season continues from March to June. Tirthan Valley is a suitable destination in summer. The temperature is cool and it is perfect for exploration and heading to the waterfalls and treks nearby. This is also a good time to enjoy the Tirthan River and dip your feet in the freshwater. Camping beside the river is a fun activity as well.
Winter Season
Winter season is also a good time to head to Tirthan Valley. Winter continues from October to December. Ii is when the entire village becomes greenery and blooming, offering an amazing view. It is the best time for trekking. Luckily, some of the visitors might witness a magical snowfall.
Monsoon Season
Monsoon season, from July to September is definitely not the best time to visit Tirthan Valley. The risk of landslides increases during the season. The only advantage of the monsoon season is the less crowd. You can visit the valley if you love the smell of the rain on the trees, but you have to be aware of the forecast and make sure to count some buffer days in case you got stuck in Tirthan Valley due to the roads and landslides.
Things to Do in Tirthan Valley
There are lots of activities that one can njoy while being in Tirthan Valley. Here are some of the things you can do!
1- River Crossing
River crossing is an adventure sport for those who are looking for some adrenaline rush. A person is tied to a safety harness and slides with the turbulent River Tirthan underneath. The cold spray of the river is a motivating factor for enthusiasts.
2- Trekking in Great Himalayan National Park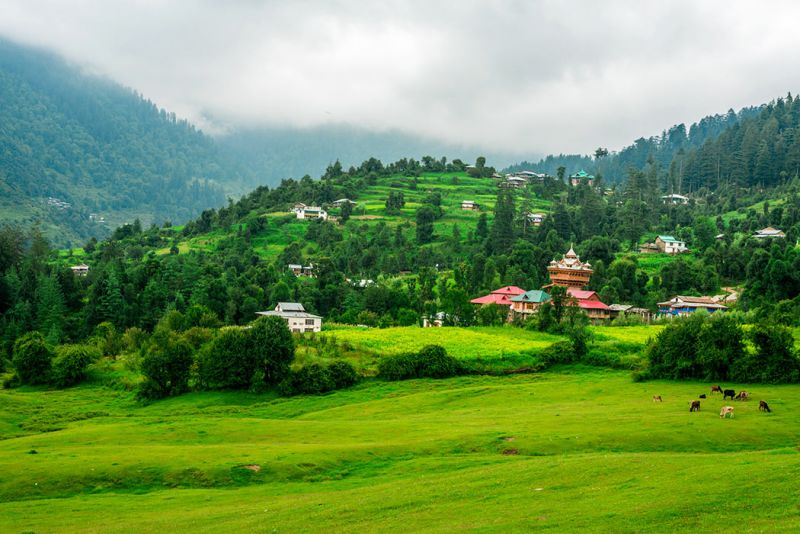 It is a blessing disguise for nature lovers. This place houses a variety of laid out trek paths, from lush green forests to blooming flowers and meandering streams.
3- Serloskar Lake
Another major attraction of the village is Serloskar Lake, located about 5 km from Jalori Pass. Despite several leaves falling into the lake, it still has clear water.
4- Jalori Pass
If you want a perfect place for trekking and picnic, 3120m above the sea level. Pack your lunch and your trekking equipments and head to enjoy the amazing view of the great Himalayas with Dhauladhar stretched in a line peeking from far behind.
5- Jibhi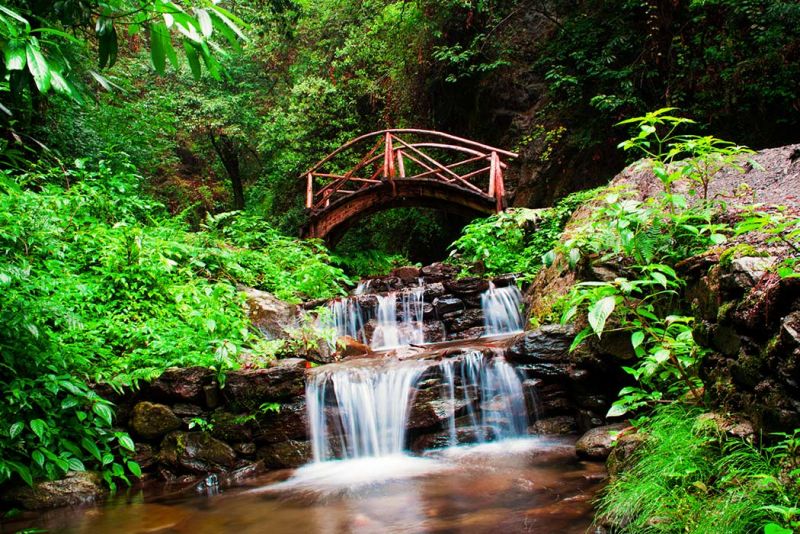 Referred to as a mesmerizing "hamlet" situated amidst the lush green forests, jibhi is the right place to relax and have some peaceful moments with your loved ones. Jibhi is industrialization free and surrounded by great nature. The area offers amazing views from pine forests, tranquil freshwater lakes and pristine temples. It is an added bonus if you can stay in the cozy Victorian style cottages. It is where you can enjoy a cup of chai in the fresh air and listen to the sweet chirps of the birds in nature.
6- Trout Fishing
Tirthan River is a perfect spot for fishing. It is filled with brown and rainbow trouts and over the years it has become a favorite place among the tourists as an angler spot.
7- Rock Climbing
Rock Climbing is a popular adventure sport that is undertaken by a lot of travelers while they visit the valley.
8- Chhoie Waterfall
Tirthan Valley is a paradise for trekkers and adventurers. Chhoie Waterfall is breathtaking, boasting natural beauty, tranquility and peace. Visitors can get here through a short trek that begins at the Gai Dhar Village. Surrounded by the majestic Himalayas in the backdrop, it offers sweeping views of the surroundings views of the valley below.