Lake Nakuru Guide
One of the Rift valley soda lakes towering at an elevation of 1,745 m (5,755 feet) above sea level, Lake Nakuru and its aptly named national park is one of the many wonders of Kenya.
Being one of the Rift valley soda lakes towering at an elevation of 1,745 m (5,755 feet) above sea level, Lake Nakuru and its aptly named national park is one of the many wonders of Kenya.
It is a prime feeding ground for huge numbers of birds and mammals such as the occasional warthog or baboon.
This article will het you to know Lake Nakuru National Park's location, opening hours, climate, best time to visit, and things to do.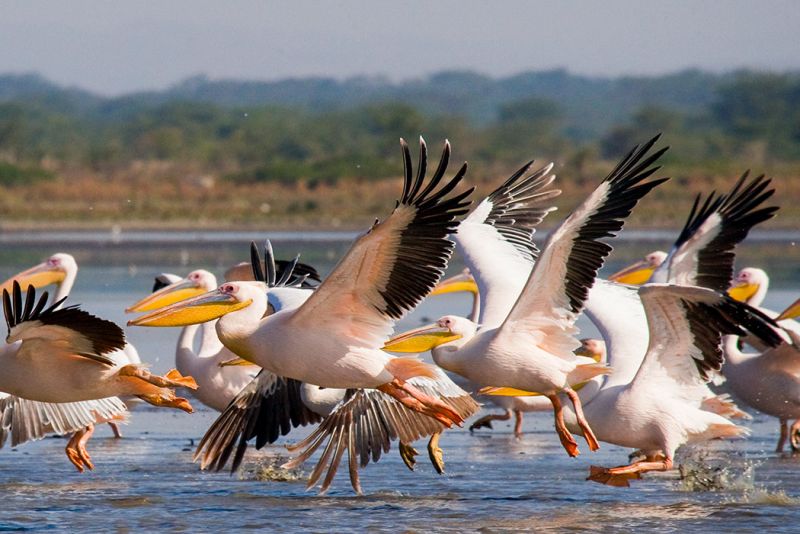 All You Need to Know about Lake Nakuru National Park
The word Nakuru comes from the local maasai language meaning "dust or dusty place." Not just a hub for different walks of wildlife in the area, the lake also services the Prestigious Lake Nuruku National park.
The park was established in 1963 and lies near Nuruku town and famous for the scene of millions of flamingos bordering the outlines of the lake. The amounts differ from time to time based on the water and food conditions in the Area.
Where is Lake Nakuru National Park Located?
Surrounded by wooded and bushy grasslands, Lake Nakuru National Park is situated in Kenya, approximately 170 km northwest of Nairobi, in the Nakuru district of the Rift Valley Province. It is close enough for a day trip.
Opening Hours
Lake Nakuru National Park is open daily from 6:00 am to 7:00 pm. There is no entry after 6:15 pm.
Note: Entry on foot is not allowed and hiking is only allowed in the designed areas with a KWS ranger.
Climate
During the dry season, there are less crowds. It rarely rains, but there are occasional showers at any time. From June to December, conditions are sunny with the occasional showers. Temperatures climb to around 25°C/77°F in the afternoon, but during the end and the beginning of the day, the temperature hovers around 9°C/48°F.
January and February are the driest and warmest during the year. Temperatures climb to 28°C/82°F and higher. (Note: it is recommended to wear warm clothing on early morning game drives.)
From March to May is the wet season and it rarely rains all day. Temperatures in the afternoon are around 27°C/81°F. April is the wettest month.
Best Time to Visit
Lake Nakuru National Park is perfect to visit any time of the year, since it has a moderate climate. However, the best time to visit is during the dry season from July to December.
Daytime has a pleasant temperature, while at night it is much cooler. The wettest months are April and May. The rest of the year is dry with some rain.
Things to Do in Lake Nakuru National Park
The park has been expanded lately to compensate black rhinos under its protection with setting up a fence not to limit the animals freedom of movement and activity but the poachers. Housing millions of flamingos and over 25 black rhinos which is one of the largest concentrations in the country, 70 southern white rhinos the park is well on its way to being a Kenyan animal haven.
1- Flamingos Watching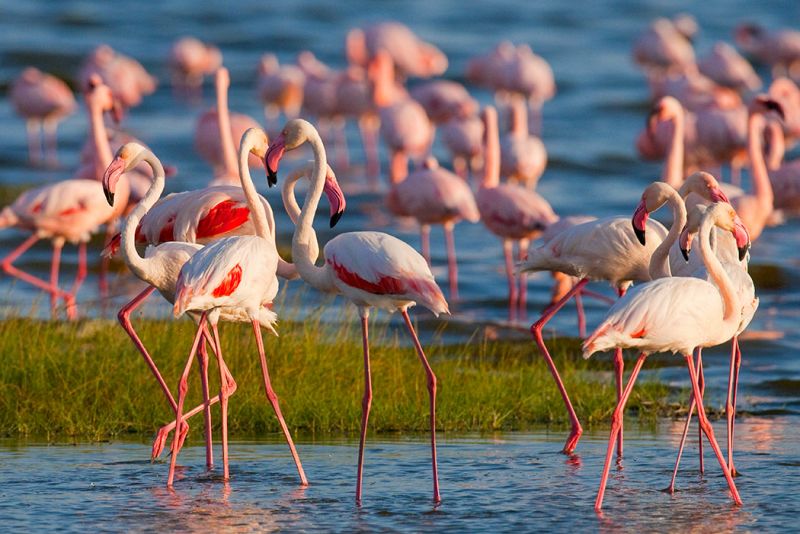 Undoubtedly, the park's biggest attraction is the huge flamingo population, swelling to more than 1.5 million at times. Each year, the bright pink flamingos flock to Lake Nakuru in record numbers. The flamingos head to lake Bogoria in years of heavy rainfall.
2- Lake Naivasha
Lake Naivasha is a regular inclusion on itineraries due to the various activities that can be done. Boat cruises are a nice chance to break up a long safari car ride. The cruises offer the opportunity to witness wallowing hippos and a variety of birds.
3- Crescent Island
When in Lake Nakuru, go to Crescent Island and have a chance to see giraffes, buffalo and more. The private sanctuary does not have any predators which make it a safe place to enjoy a quiet walk amid the animals.
4- Lake Bogoria
It is a picturesque spa suitable for a break from the dusty kenyan roads. It is chilling with its hot springs, spouting geysers and sweeping views. In recent years, it has been a new popular place to witness flamings.
5- Baboon Cliff
Baboon Cliff is a popular place with a stunning view of the entire park, taking its name from the large baboon family. Having several scenic viewpoints, it is a perfect spot for photographers and snapping a view of Lake Nakuru.
6- Rhinoceros Sanctuary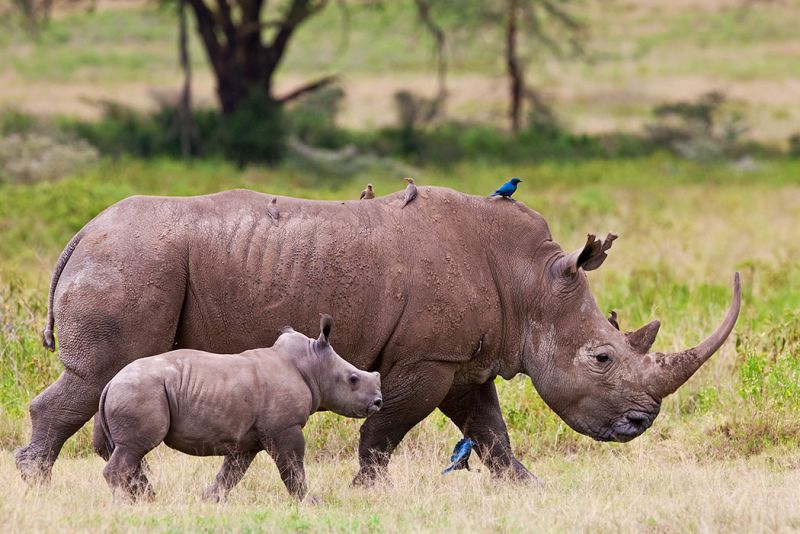 Thanks to the Rhino Sanctuary, Lake Nakuru is home to the densest rhino population in Kenya. Black and white rhinos highlight the sanctuary with 70 white rhinos and 25 black ones. It is a great chance to see these endangered giants in the wild.
7- Makalia Falls
Makalia Falls is a popular place for camping. It is a perfect place for hiking and witnessing a breathtaking view.