Explore The Maasai Market
The Maasai Market is the best place to shop if you are looking for affordable, beautiful and colorful souvenirs to take back home. It's an open-air market with a large variety of products including African pots and pans, clothes, shoes, jewelry, shoes and bags. You name it, you will find it in the Maasai Market.
It is one of the greatest experiences for safari-goers in Kenya. Travelers can find paintings, drawings, curios, clothes and fabrics with East African prints. Hand-made jewelry and wood-carvings are also available.
Bargaining Tips
Just like any other shopping place in the city of Nairobi, you have to be aware of the way you look, how you are dressed and how you talk, any of these factors might be the determining factor on how much you will be charged for the items you buy.
Some tourists cannot escape this as they don't know as they are not from Africa, you have to bargain and act like you know what you want.
You can buy all your souvenirs in one go, but be prepared for some serious bargaining. If you want to avoid attention, wait until the market gets busy.
It's also important to note that too much bargaining can hurt the vendors, especially if they insist on not changing the price, in that case, you should just pay the amount they are asking for to make sure that you are not killing their business.
Opening Hours and Location
The market is open from 8 am to 6 pm. However, note that it moves around the city on each day of the week.
Tuesday: it operates in Westgate Shopping Mall in Westlands (the upper car park) relocated to Kijabe Street opposite the Norfolk Hotel.
Wednesday: Capital Centre on Mombasa Road near the airport
Thursday: Nakumatt Junction Shopping Mall on Ngong Road
Friday: Village Market in Gigiri (the upper car park)
Saturday: The High Court parking lot in the city center (behind the Hilton)
Sunday: Yaya Centre in Hurlingham
What to Buy at the Maasai Market
1- Maasai Sandals
Maasai leather and beaded sandals are to be found at most of the markets. Do not rush and buy, but rather take your time comparing different designs and prices across a few shops. Try them on before buying, as the sizes can differ between vendors.
2- Jewelry
Jewelry, especially local ones, are featured in most of the markets. You can find some really cool stuff, ranging from brass to beads. Visitors usually buy bracelets beaded in the kenyan national colors. Note that many of the best artisans do not display their best-quality works for fear of competitors copying them. It is ok if you ask of them if they have other products to show you other than the displayed ones.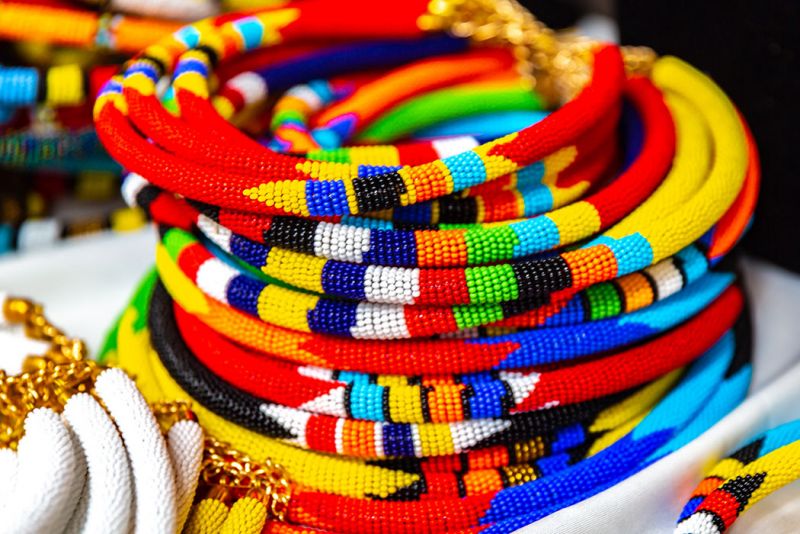 3- Shukas
Shukas are Maasai blankets. They are gifts that most people will use so they are worth buying for you friends and family members. They are perfect to use in picnics or in chilly weather.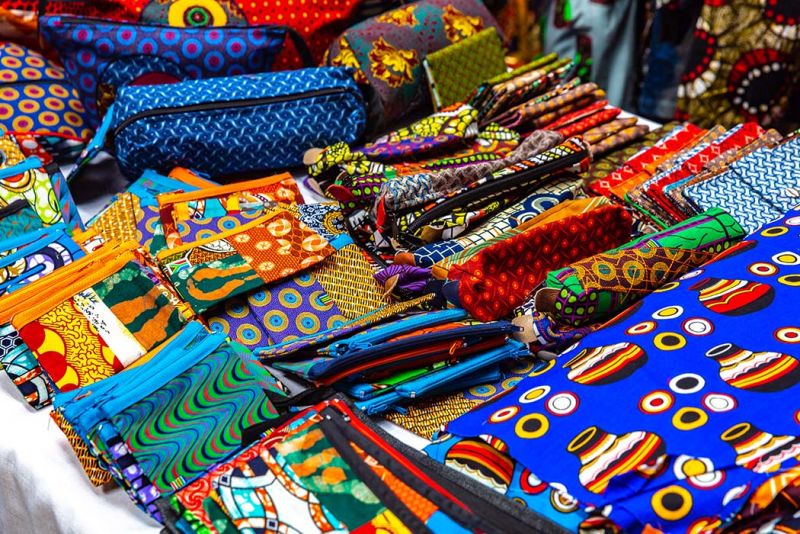 4- Kiondos
The woven carryall bags are available in natural or colorful, striped varieties. They are perfect to carry daily items. Besides, it is so beautifully colored and unique in design.
5- Artwork
Buy some artwork to hang on your walls, but don't spend a fortune over them. If your budget is more flexible , you can check out some of Nairobi's art galleries, like those at the Railway Museum or Kuona Trust. You will also find a variety of wooden carvings, bowls, baskets to add a little Kenyan vibe to your home.