Sheldrick Wildlife Trust: Elephant and Rhino Nursery
The Elephant and Rhino Nursery is one of the most unique things to do in Nairobi. Get close and personal to baby elephants and even touch them. Know more!
Elephant and Rhino Nursery, also known as Elephant and Rhino Orphanage, is located in Nairobi, Kenya. It is one of the most unique things to do in Nairobi. The Nursery is a rehabilitation centre for orphaned elephants and rhinos managed by the David Sheldrick Wildlife Trust. It is the perfect place to get close to elephants and rhinos.
One of the advantages of the place is that you can get close to baby elephants and even touch them. The disadvantage is that you will only have an hour to stay with the baby elephant and enjoy the experience and if you are lucky you might just get targeted and rammed by one of the baby elephants. There are also a lot of rhinos in the nursery that you can also enjoy their company.
If you love Wildlife Kenya Safari Tours or are interested in visiting and adopting a baby elephant, this will definitely be a must-visit on your trip to Africa.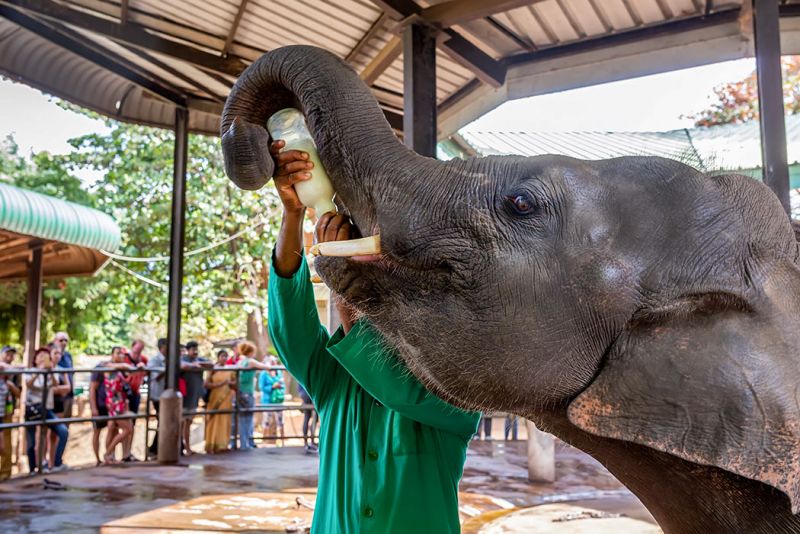 History of Orhan's Project: The Story of Eneshka
The nursery started when Eneshka, the baby elephant, was found in Kenya's Masai Mara in 2017. The baby elephant's trunk was severely injured by the wire snare tightly wrapped around it. She was in pain and in a serious need for food and survival. The operation took three hours. With the aftercare, the healing process took almost 2 years and the trunk has healed well.
The Elephant Orphanage, a part of its Orphans' Project, is the most famous project of the trust's nine programs. It was founded in 1977, being the first organization in the world to succeed in raising milk-dependent orphaned elephants by hand and then release them into the wild.
According to Sheldrick Wildlife Trust, 262 successfully raised elephants, 17 successfully hand-raised rhinos and 36 babies born to wild living orphan elephants.
There are some other projects of the organization as an initiative to protect as many animals they can.
1- Aerial Surveillance: A project to daily monitor wildlife and spot illegal activity. It also offers rapid response assistance to anti-poaching activities, veterinary operations, and incidents of human-wildlife conflict in the Tsavo Conservation Area and Lamu District.
2- Anti-Poaching: Along with Kenya Wildlife Service, the organization operates 13 de-snaring teams to protect threatened wild animals and habitats in areas of natural importance in Kenya.
3- Veterinary Units: The organization operates five fully equipped Mobile Veterinary Units, and a rapid response Sky Vets initiative to help the injured wild animals across Kenya.
---
Why Visit Elephant and Rhino Nursery?
Generally, it is a great thing to get close, interact and bond with animals. It is a must-try experience for animal lovers and new experience hitters to get close with the elephants and see them playing happily. It is refreshing and quite a unique experience. You will get introduced to the youngest nursery elephants, ranging from 2 months to 1 year old.
They are adorable and most of them are coated with blankets to protect them from the morning cold. When they feel hot, they splash themselves in the mud. They also love to play football.
You will also get to know their stories of how they are rescued and how they are released back into the wildlife. Take great pictures with baby elephants. If you are lucky you will get to see baby rhinos also.
Adopt an Elephant
What is better than offering a soul a new life? This is what highlights the Elephant Nursery, the orphans project. The nursery offers the chance to anyone to adopt and take good care of a baby elephant. Anyone can adopt and be a foster parent to an elephant from one year to ten years.
Your infant elephant will still live in the orphanage until they are mature enough to be released back into the wildlife. You get an adoption certification, information about the elephant you adopt and you will keep up to date with the status of your elephant. Whenever you are in the Elephant Nursery, you will get to see your elephant.
Fun fact about elephants is that they don't forget. After being released into the wildlife, they come back to the orphanage for a visit.
---
Opening Hours
The Elephant Nursery is open almost 12 hours a day from 11 am to 12 pm. It's highly recommended that you arrive early, roughly by 10:20 am or 10:30 am to catch a good spot to watch the elephants, tourists can also take pictures as much as they can, which is another advantage.
Location & How to Get There
The Elephant and Rhino Nursery is located in Nairobi National Park, 17 km south the city of Nairobi, Kenya. You can get to the nursery by taxi, which will approximately cost you $24. There is an entrance ticket of 500 shillings ($7) or it is a donation fee.