Discover The Nyali Beach
Nyali Beach is a residential area located in Mombasa County, connected to Mombasa Island by the New Nyali Bridge. Nyali is known for the high-class hotels and beautiful residential houses and long white sand beaches.
Nyali is renowned for its high tourist potential, as its water is very calm, the accommodation facilities and its white sand beaches and sea that is loved by divers. It's a part of the Mombasa Marine Reserve that is Managed by Kenya Wildlife Service.
It has become a very westernized residential area, as it has all of the basic needs of living like supermarkets, cinema, shopping malls, banks, schools, and post offices, the residents don't have to cross the overcrowded Nyali Bridge to get to the crowded center of Mombasa.
Things to Do in Nyali Beach
There are a lot of interesting places in Nyali Beach Such as the Mamba Village which is the biggest crocodile farm in Africa), Nyali Golf Club, numerous embassies and some of the most academic institutions of the coastal province. Know more about what you can do in Nyali Beach!
1- Chill at the Beach
Enjoy the strip of white sand and chill on the beach. At the southern end of the beach, look out for Shiva Cave, which is believed to enhance its visitors' fertility.
2- Have a meal at Tamarind Restaurant
Laced with high white arches, Tamarind Restaurant looks out over the harbour. The fine restaurant has a fine menu that includes tamarind seafood salad, black pepper crab and twice-cooked pork belly. You should also try the mangrove oysters, the desserts and the boozy coffees.
3- Bombolulu Workshops & Cultural Centre
The organization produces high quality crafts and gives vocational training to physically different enabled people. Pay a visit to the workshops and showroom to buy jewelry, sisal bags, leatherwork, carvings and textiles.
4- Mamba Village Crocodile Farm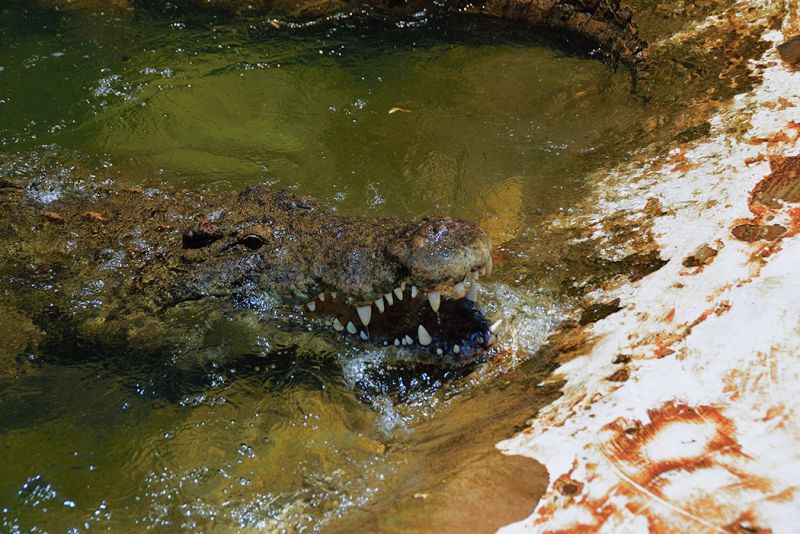 Visit the largest reptile farm in Kenya, where you can see the crocs in their stages of development, from babies to 100-year old, who are 5m long. Crocodile feeding time starts at 5 pm.
5- Cafesserie
In Nyali City Mall, Cafesseire has the best cakes on the coast. Besides, the location is unique with the breezy and chilled out weather. The cafe has a menu of brunch items such as bagel sandwiches and heartier mains, such as masala fish. Enjoy fresh fruit juice, lattes and Tuskers.
6- Japanese in Nyali Beach
Misono, a japanese restaurant, is rated highly by the locals. There is an extensive menu of Japanese cuisine. Go for the teppanyaki, tempura or teriyaki. They are recommended.
7- Indian in Nyali Beach
Splendid View Restaurant has a wide menu that serves Indian cuisine dishes along with Western dishes. It is sister to the original branch in Mombasa.
Accommodation
There are also many luxury hotels on almost all of the seaside like Nyali beach Resort, Voyager Hotel, Reef Hotel, Mombasa Beach Hotel, the beach also has numerous places of entertainment and activities for tourists such as beach volley, windsurfing, scuba diving, kite surf and a lot more.