10 Unbelievable Activities you Must Try in Dubai
Dubai is undoubtedly the most advanced and luxurious city on the entire planet. It is evident that this glamorous city of gold has positioned itself as a tourist hotspot attracting travel enthusiasts from every nook and corner of the world.
Dubai isn't just about clusters of skyscrapers, unparalleled shopping, and futuristic architecture gives your Dubai Trips a special experience, but is also a playground for a running list of incredible entertaining activities. Lest you will be spoilt for choices, we have master-crafted this guide to help you unveil 10 unbelievable activities that you must do in Dubai.
Tailor-make your Exceptional Experience in the UAE, Plan your Dubai Vacation Now!
1. Brave the world's longest urban zipline

Challenge your inner daredevil and try this electrifying one-kilometer long ride on the world's longest urban zip-line. Feel the hit of the adrenaline as you zip through the Amwaj Towers, across the marina to the terrace of Dubai Marina Mall when visiting within Dubai Tours.

Standout feature: This XLine has two concurrently running ziplines so you can swish through like Superman with your partner in crime. Also, the Go-Pros mounted on the helmet will help you capture this exhilarating experience so you can flaunt it on Instagram and relive it times and again.

Pro tip: Don't forget to bring some valid ID (passport, driving license, or Emirates ID) and your confirmation email.
Limitations: Must be aged 12 to 65; Minimum height of 130cm; Weight 50-100kg

2. Abu Dhabi Seaplane Tour
A seaplane tour is truly an unbelievable experience to explore the splendor of one of the most glamorous destinations in the world. From innovative architectural marvels to traditional desert landscapes to the unobstructed coastline, the visitors are guaranteed to enjoy the magical aerial vistas of the city in entirety. Explore more about Sea Wings, Seaplane Dubai!
Standout feature: Every visitor gets a window seat so you can snap the incredible panoramic views of the iconic landmarks and capture the smooth take-off and landings on the water.
Pro tip: On the day of the flight make sure you carry the current valid passport.

3. Fly high in the hot air balloon
The special experience of Hot Air Balloon Ride Dubai is undoubtedly the best way to enjoy the panoramic views of the sparkling golden desert and the wide-ranging Hajjar Mountains as you hover around Dubai for roughly an hour. As you float to 3000ft-4000ft in the air, you'll get a bird's eye view of the indigenous Arabian animals like gazelles, camels, and Oryx.
The Desert experience would be perfectly taken by the Hot Air experience then Sandboarding in Dubai Desert and of course Tanoura Dance Show.
Standout feature: The gorgeous spectacle of the pink sunrise over ripples of sand in the Dubai desert will give you a sense of exhilaration and serenity at the same time.
Pro tip: Although available throughout the day, go for hot air ballooning either at dawn or dusk to witness the wondrous sight.

4. Egyptian Gold Souk
Give yourself a royal treat with 24k gold leaf facial treatment at Raffles Spa in the city of gold. The ultimate non-invasive skin rejuvenating treatment with its antioxidant properties will leave your skin luminous, radiant, and younger than ever. Channel your inner Cleopatra as you pamper yourself with this extravagant indulgence at approximately $650.
For various and wider collections don't forget to visit Deira Gold Souk as well!
Standout feature: Regarded as one of the world's most luxurious facials, it empowers your skin to magically absorb the gold so there's no need to wash off the remnants.
Pro tip: Once the gold peel is applied stay ultra still so that not even a molecule falls off.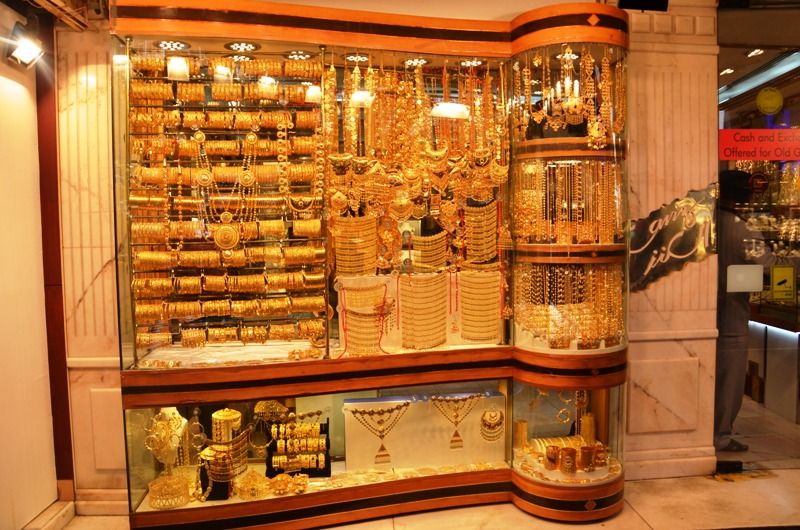 5. Quirky Arabian twist to Polo
Dubai is jam-packed with a gamut of peculiar sports to satisfy your need for wackiness. One of those sports is the camel polo which is a re-invention to the age-old royal game. All you need to do is muster all your courage, clamber onto your favorite camel's back and be a part of an unforgettable experience for an hour during your Desert Safari Dubai experience, where you can enjoy the special Arabian Henna Painting\Tempror Tatto lovely paintings.
Standout feature: As the name suggests, the horses are replaced with the ships of the deserts. Also, no prior training is required as the trainer will steer the camel while you focus on the game.
Pro tip: Available only during winter (September-April), you must be at least 16 years of age to discover if you have hidden knack for camel polo.
6. Shark Diving: Wild for a while
The Dubai Mall is not just heaven for shopaholics, but also the hotspot for intrepid water sports enthusiasts. This mall boasts of the famous Dubai Aquarium which is the largest suspended aquarium in the world with a 10-million-liter capacity where you come face-to-face with the world's ultimate predator.
Standout feature: You can enjoy 20-30 minutes of intimate caged dive like no other along with the instructor and experience the thrill of a lifetime as you encounter the largest collection of Sand Tiger sharks in the world.
Pro tip: Divers have to reach an hour early for diving prep and instructions. And if you're a non-certified diver, a completed medical questionnaire is necessary.

7. Chilled Ice Lounge

The Chillout Ice Lounge is the first ice lounge in the Middle East that is beautifully adorned with picture-perfect ice sculptures, ice seatings, and tables complemented by uniquely illuminated ambiance which changes its color at intervals. The visitors are offered a complimentary drink to banish the icy chill along with the thermal clothing.
Standout feature: This is an incredible place amidst the scorching heat of Dubai to enjoy the cool icy experience with hot beverages at –6 degrees Celsius.
Pro tip: Do not forget to try their signature hot chocolate.
Opening hours: 10 a.m.-10 p.m. except on Thursday and Friday when it's open till 12 a.m
8. A scoop of Black Diamond ice-cream for $817

The introduction of highly aristocratic gold ice-cream at Scoop café has created a lot of hype among those who crave for a taste of opulence. In addition to edible 23-carat gold powder, this gourmet ice-cream features top-notch ingredients from Madagascar Vanilla to scrumptious saffron to black truffle from Alba.

Standout feature: The most expensive liquid nitrogen ice-cream in Dubai is served in a golden handmade Versace bowl with a silver spoon that you can keep after savoring the ice-cream.
Opening hours: 3p.m - 2a.m

9. City skyline meets cinema
Watching the latest blockbusters in high-resolution digital projection systems and Dolby 7.1 multidimensional sound under a stellar canopy of glittering stars is an indescribable experience. VOX rooftop cinema offers a perfect lounge-style setting to unwind under the sky and capture experience for a lifetime.

Standout feature: You will get a panoramic view of Dubai's iconic landmarks as you Indulge in gourmet Arabic snacks and beverages that simply double the delight.
Price: $20 single-seat; $41 double-seats
Opening hours: 6p.m.-1a.m

10. Chill and Grill at Boardwalk BBQ Donut
Boardwalk BBQ Donut at Dubai Creek Golf and Yacht Club in Dubai cruise presents experience you with an unusual dining experience as you float down a river in a giant inflatable ring with a platter of barbecue. Form the Mediterranean delicacies to American cuisines to kids' special sundaes; the menu is intricately master-crafted to make this rare experience even better. Get closer to the experience through Dubai Dhow Cruise.

Standout feature: Whether its lunch, dinner or afternoon tea, this is unarguably the best way to spend quality time with family and friends while floating on the Dubai Creek as you enjoy the picturesque surroundings and city skyline.
Pro tip: Check the weather forecast when you make the reservation in order to avoid any last-minute cancellation.
Opening hours: 12p.m. - 9p.m.