Europe is famous for its royal fairytale castles that will give you the experience of elegance, comfort, and royalty. Overlooking beautiful landscapes and breathtaking mountains, with the sense of history and luxury, are the castle hotels.
Looking for a new adventure? A nice, interesting, and royal place to stay? Here are some of the best castle hotels in Europe you will definitely enjoy staying at. Europe is famous for its royal fairytale castles that will give you the experience of elegance, comfort, and royalty. Overlooking beautiful landscapes and breathtaking mountains, with the sense of history and luxury, are the castle hotels. This article will take you on a tour to the best castle hotels in Europe that can give you the experience of a lifetime.

Kokkedal Castle, Denmark
This place with its Dutch-style will blow your mind with its instagramable spirit. You will feel like going back in time while visiting this royal castle in Denmark with its 18th-century facade. The castle serves four different types of accommodation and it is just 30 minutes away by car from the Danish capital. The four types of stays are the gastro, the spa, the gourmet, and the golf. You can simply ask for a regular stay in one of the castle's amazing rooms if none of the previous options suit your taste. Get ready to have dinner in the castle cellar where you will be amazed by the vaults that date back to 1746.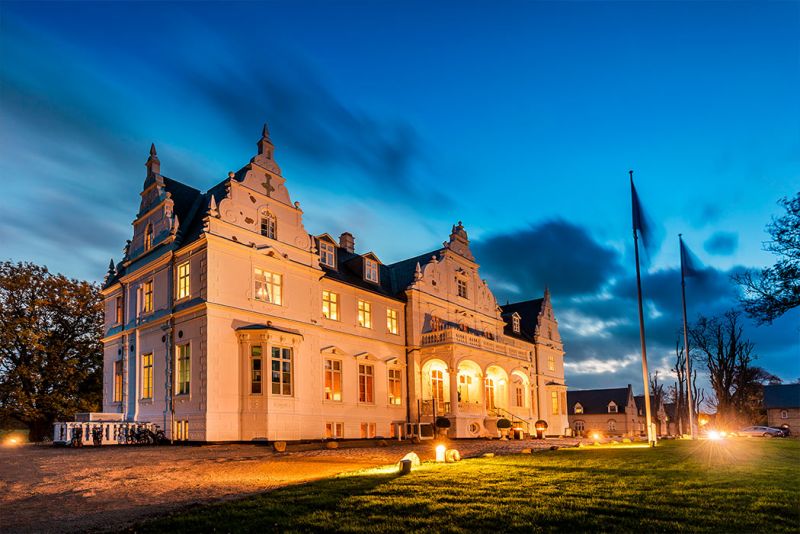 Engelenburg Castle, Netherlands
If you are looking for a real castle hotel experience, you should try to stay at Engelenburg Castle in the Netherlands. It is one of the best castle hotels in Europe. The castle was built to reflect the image of a grand mansion and was set on 250 acres of beautiful landscape and vast green areas. The castle also has a private forest and a golf course to meet its visitors' expectations of a perfect stay at a castle hotel. The castle has 41 rooms, each is individually decorated to give both a modern and luxurious feeling. You can also ask to stay at the palatial Serre Suite and enjoy its private sunny garden and outdoor jacuzzi. To have a great view of the moats, it is recommended that you book a table at Serre Restaurant to fully enjoy your stay.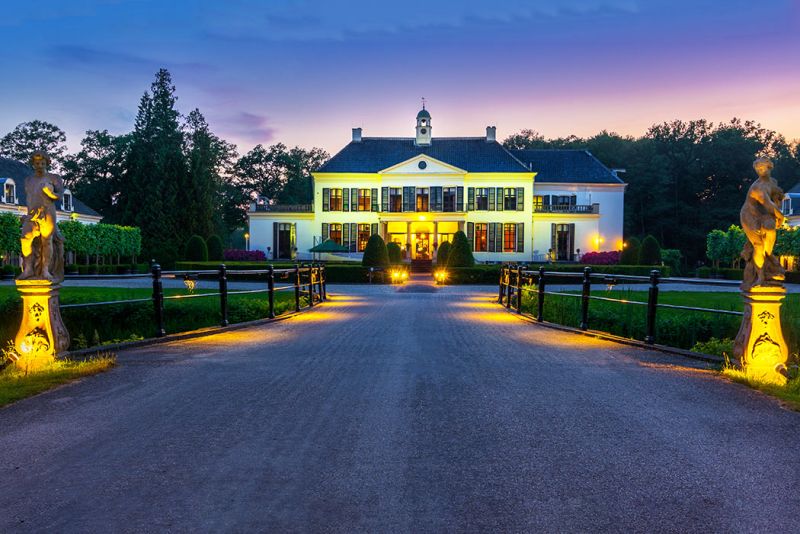 Ashford Castle, Ireland
What can be more amazing to stay at a castle hotel where Pierce Brosnan, known as James Bond, held his wedding reception in 2001. Ashford Castle is a medieval and Victorian castle located in Dr, Leaf Island, Ireland. The castle was turned into a five-star luxury hotel that people from around the world are excited to stay at. It is located on the west coast of Ireland and it is about 800 years old which makes it more interesting to visit at least once in a lifetime. All rooms are luxurious with antique furniture and fabrics that will give you the ultimate royal stay at a castle hotel. Don't miss the chance to visit the award-winning spa there, and make time to visit the castle's Falconry school, which is the oldest one in Ireland.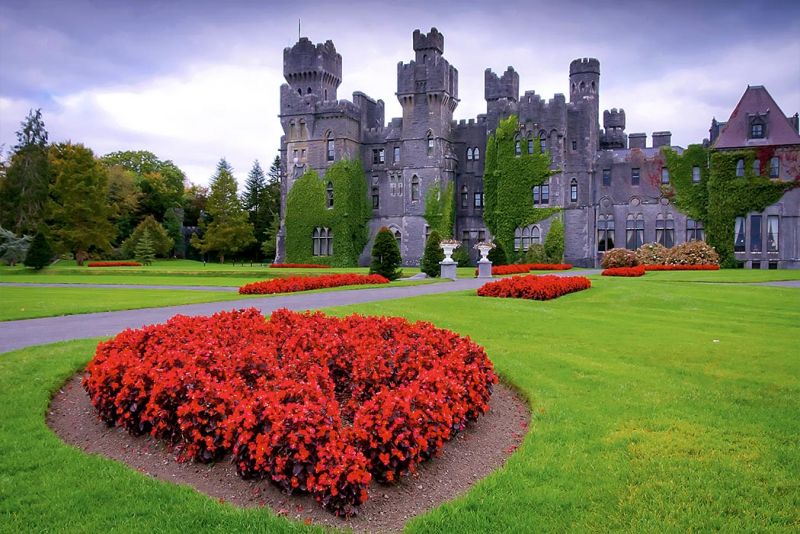 Luxury Cave Hotel Cappadocia, Turkey
Located in Nevşehir, Turkey, this one is considered a museum hotel as it was rebuilt from ancient ruins. The hotel design is more like caves and ancient houses. It is located only 10 minutes away on foot from Uchisar Castle, 4 km from Zelve Open Air Museum, and 5 km from El Nazar Church. All rooms are antique furnished and individually decorated, also include minibars, flat-screen TVs, tubs, wi-fi service, and coffeemakers. Some rooms have stone walls, fireplaces, and pools for an unforgettable stay. There are also rooms that have private gardens and a spa area. Cappadocia also has many fun activities to enjoy while visiting Turkey, like hot air balloon rides.
Check our top Istanbul and Cappadocia package and plan your trip Now!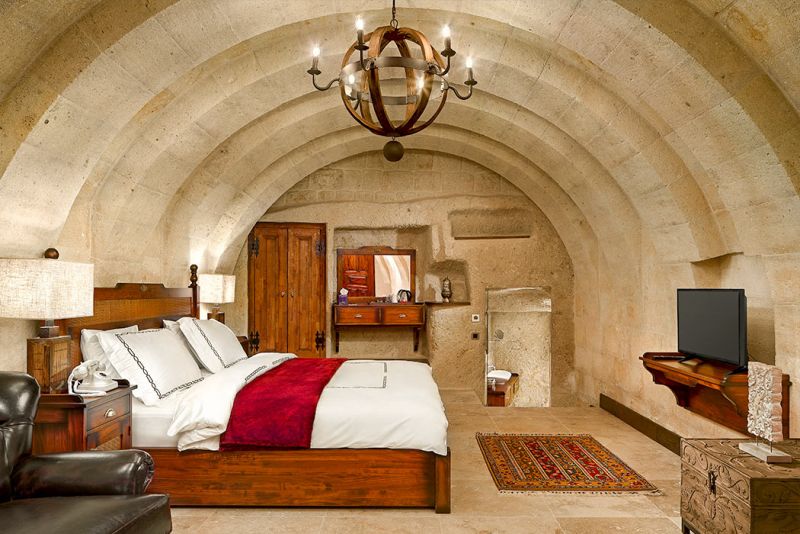 Parador de Alarcón, Spain
This Castle Hotel is the ideal place to spend the weekend, it is located 180 km from Madrid and 170 km from Valencia. The Parador de Alarcón will take you back in time to the Middle Ages as the castle dates back to almost 13 centuries. The place has its own unique historic features, and it is well nested on top of the Pico de Los Hidalgos and on the beautiful Júcar River. The hotel also overlooks the most beautiful village in Spain, Alarcon, which was declared an area of historical value because of the village's beauty and harmony. You can enjoy some fun activities there like sailing, canoeing, windsurfing, and rowing. Also, the water of the Jucar River is perfect for fishing.
Check our best Spain tour package and enrich your trip with culture and luxury.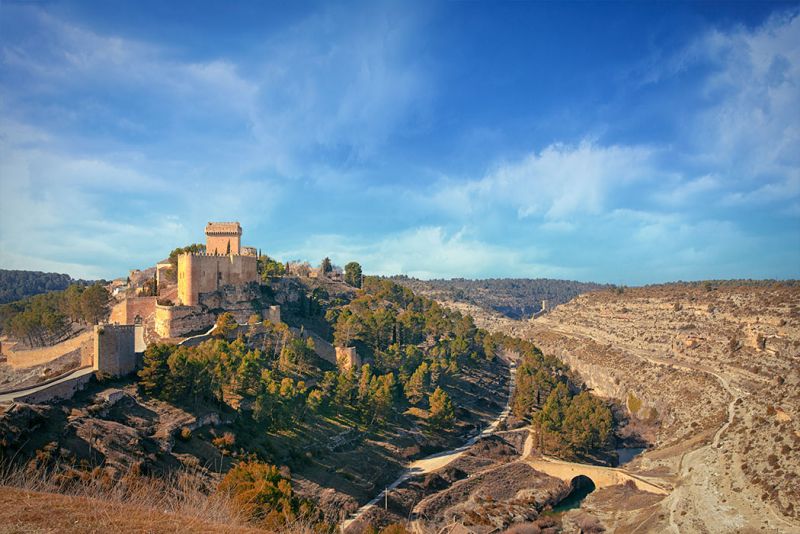 Castelbrando, Italy
Castel Brando is one of the largest and oldest castles in Europe, the hotel is located on the Prosecco Hills and overlooks the terracotta rooftops. It is almost halfway between Venice and the Dolomites in Italy. You can choose to stay at the Medieval tower for an ultimate regal experience. If you would like to discover more about this castle's 2,000-year history, you can go on one of the guided tours available there. Also, it is recommended that you dine at the luxe Sansovino restaurant for an unforgettable night.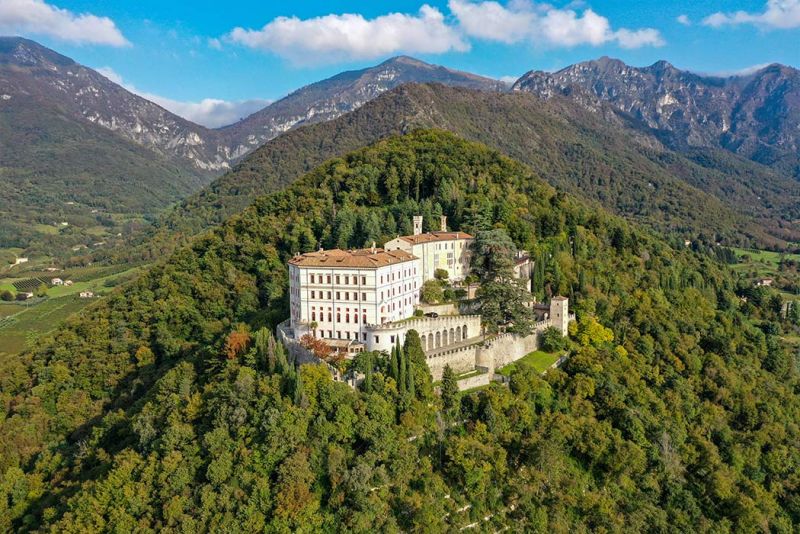 Glenapp Castle, United Kingdom
One of the nicest places to stay is Glenapp Castle in the United kingdom. You will be amazed by the individually decorated rooms, each with a fireplace and a flat-screen TV. The place is provided with wireless internet access to always keep you connected. Enjoy your stay to the maximum by visiting the spa and having a relaxing massage by experts. To further enjoy your stay, there are plenty of recreational facilities like outdoor tennis and bicycles for rent. The castle is also near the beach, so you can get both a castle hotel stay and a beach holiday all in one.

Schloss Hotel Thun, Switzerland
Thun is a really amazing small town in Switzerland where the Schloss Hotel is located. The hotel is very unique; it gives the vibe of fairy tales. It is a mixture between old and modern with every detail within the hotel and inside each room.Don't miss the chance to have a drink on the summer terrace and treat yourself by visiting the spa. Also, enjoy the two-person whirlpool and the steam saunas for a full relaxing experience at Schloss Hotel.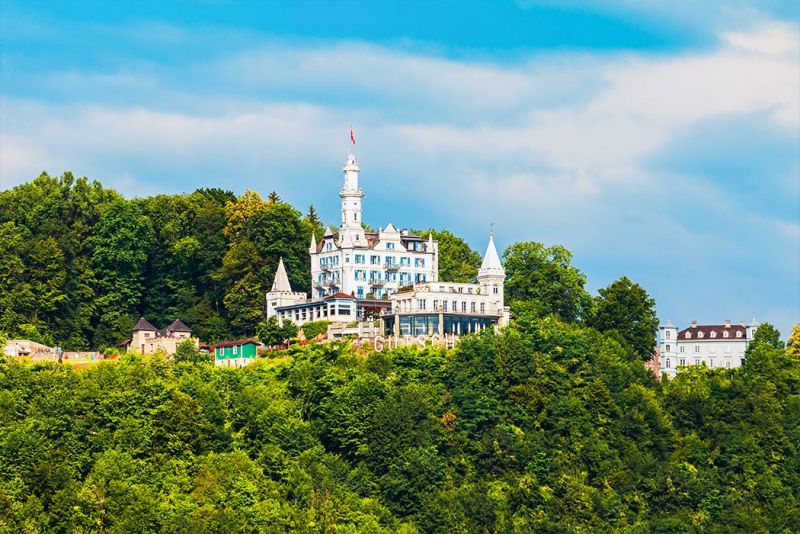 Schloss Fuschl, Austria
This amazing European castle hotel is located on lake Fuschl in the city of Salzburg in Austria. A wonderful and scenic place to visit especially for couples. The building dates back to 1450 with 110 grand guest rooms and suites. The hotel has a huge full-service spa for an ultimate experience, and of course the scenic view that will leave you amazed. If you are planning to visit the hotel in the summer, don't miss the chance to enjoy the sunbathing platform that leads to the lake. All rooms include minibars, espresso machines, televisions with satellite programming, bathrooms with separate bathtubs and showers for an unforgettable experience. The hotel is 12.6 mi from Mozart's Birthplace. You will feel the magical vibe of the hotel once you arrive.