The Lively Coastal City of Sharm El Sheikh
- Where is Sharm El Sheikh?
- Best time to visit Sharm El Sheikh
- Diving in Sharm El Sheikh & Other Water Sports
- Sharm El Sheikh Beach Resorts
- Top-rated Attractions in Sharm El Sheikh
- Ras Mohammed National Park
- Thistlegorm Dive Site
- Na'ama Bay
- St. Catherine's Monastery
- Mount Sinai
- Sharm El Sheikh Old Market
- Colored Canyon
- Aqua Blue Water Park
- Dolphina Park
- Al Sahaba Mosque
- Star Gazer Night
- The History of Sharm El Sheikh

At the southern of the Sinai Peninsula of Egypt, the coastal city of Sharm El Sheikh is the queen, and all year round, thousands of tourists gather at the beautiful beaches of this lovely resort town. Famously known among European travelers and Saudi's in search of a more relaxed atmosphere, Sharm El Sheik has plenty of activities to keep visitors happy and entertained.
Once a small fishing village and now one of the biggest names in tourism, Egypt is proud to have transformed Sharm El Sheikh into what the city has become now - with its tourism booming and its economy flying-high.
Offering a more open and laid back atmosphere than most of Egypt, tourists feel very much at home while visiting Sharm. Whit the high volume of Europeans that choose the city as they go to holiday the city has adapted to the taste of foreigners and the local residents have learned the customs of their visitors, being able to provide great hospitality and a friendly environment. It has developed from nothing for the past thirty years into booming beachfront luxury resort town that offer year-round sun and booming nightlife.
Where is Sharm El Sheikh?
It's located in the area of the Gulf of Aqaba across the coast of the Sinai Peninsula in the Red Sea, Egypt.
Organized on a single main road between the gorgeous waters of the Red Sea while surrounded by mountains behind, this resort area offers countless accommodation options, cafes, restaurants, bars, and some of the liveliest nightlife in Egypt.
Best time to visit Sharm El Sheikh
The best time to visit Sharm will probably depend on how you handle the hot weather. For swimming and diving, the best months are March, April, May and from October to mid-November. The summer there can be quite hot and while the sea is pleasantly warm and you can enjoy long dives, it can be difficult to sunbathe and go outdoors during the days, especially in August.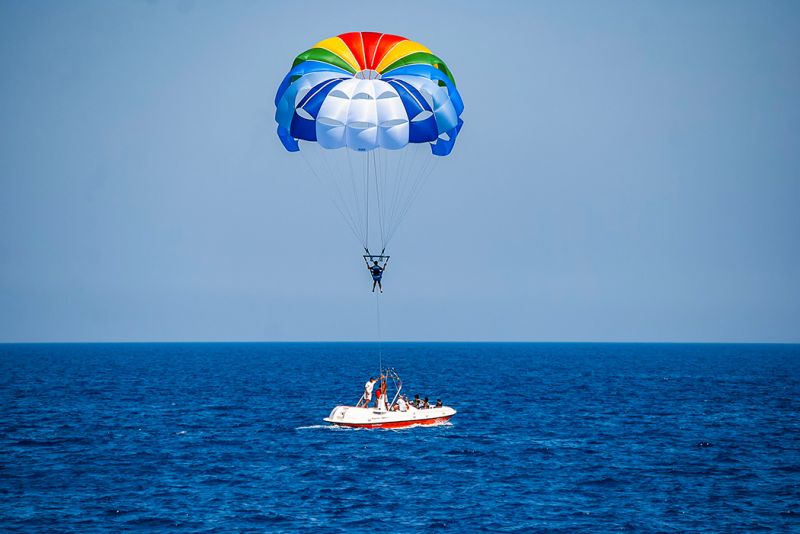 Diving in Sharm El Sheikh and Other Water Sports
Sharm El Sheik is located near some of the most incredible diving locations and every hotel in the area offers and organizes scuba diving and snorkeling trips. For those who are new to the diving experience, diving introduction courses are available to get people started. For those who are experienced divers, scuba diving is available and the Red Sea life is sure to not disappoint.
Located just a few miles offshore from Sharm, the Ras Mohammed National Park is one of the best diving spots in the world, with its coral reefs of fringing and hermatypic types, over 220 species of coral can be found, 125 of them being soft coral. The coral reefs can be found around 50 to 100 cm below the sea surface with a 30 to 50 meters width in some places although they can range up to 9 km wide. Also at the Ras Mohammed National Park, you can find Shark Reef and Yolanda Reef, two popular spots for coral reefs making these places some of the diver's favorite spots.
The Egyptian Government has created environmental laws to control the number of boats allowed into the park each day, so that the environment is undisturbed and the water does not get too crowded. Every marine species of the Red Sea sea-life can be found at the Ras Mohammed National Park making this diving spot a must-visit to any diver out there. Other popular diving sites around this area are South Bereika, Old Quay, Marsa Ghozlani, and Shark observatory.
Sharm and Naama Bay also offer a wide array of other activities from sailing to windsurfing and glass-bottom boat trips for those who want to see the wildlife on the reefs without getting in the water. This activity is a favorite among families traveling with young children while visiting Sharm.
Kitesurfing and windsurfing are also a popular local attraction as the wind conditions around the area are perfect for these sports. The best place for beginners is the Regency Plaza Resort or the Sea Beach, the absence of corals and rocks makes it a perfect place to start, but wind conditions are lower. The ultimate and favorite spot in Sharm for experienced kite-surfers or windsurfers is the Lagoon of Nabq which is located in a nature reserve area just north of Sharm.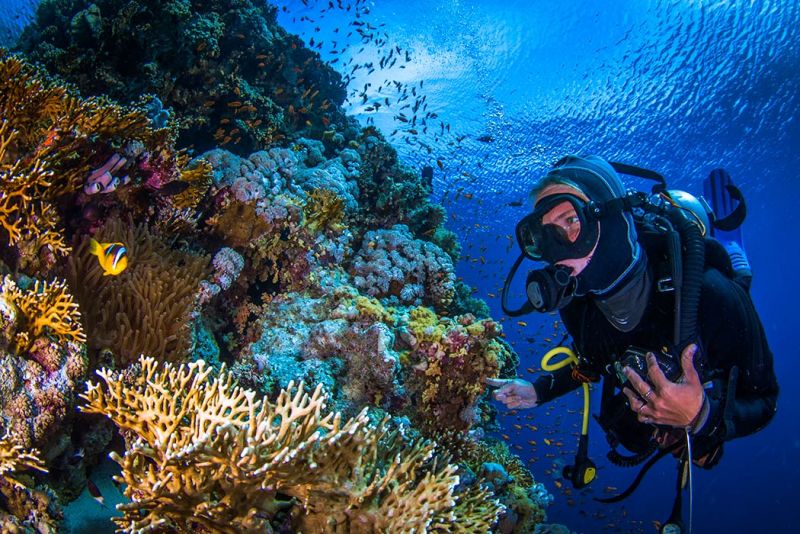 Sharm El Sheikh Beach Resorts
Sharm offers some of the best beachfront styles hotel resorts out there. From 5-star resort hotels to more budgeting accommodations, Sharm is perfect for those who love and enjoy relaxing by the beach within all-inclusive holidays in hotels.
Most luxury hotels offer a private beach within the hotel property. They also offer spas, great restaurants, and a wide range of activities for couples families and solo travelers.
Watching the sunset from their sunbeds is a favorite activity among tourists, so every day around sunset time, people gather at the beach to watch a spectacular show of nature.
Top-rated Attractions in Sharm El Sheikh and Places to Visit
Sharm El Sheikh is a great place for a beach break after exploring the temples and tombs in the rest of Egypt whether in Cairo or Luxor and Aswan. Sharm remains the top spot in Sinai with many attractions to see, places to visit, and beaches to chill on.
1. Ras Mohammed National Park
World-famous coral reefs, wreck diving, fantastic snorkeling, and a rich array of marine life are all there to wander at and experience at Ras Mohammed National Park. Ras Mohammed National Park is what actually put Sharm el-Sheikh on the famous touristic map. It's surrounded by some of the world's most incredible dive sites, houses glorious beaches with excellent snorkeling just offshore, is considered the world's second most northerly mangrove forest, and has an amazing saltwater lake. A trip there is a must-do for anyone in Sharm el-Sheikh. The best beaches are Old Quay Beach and Aqaba Beach.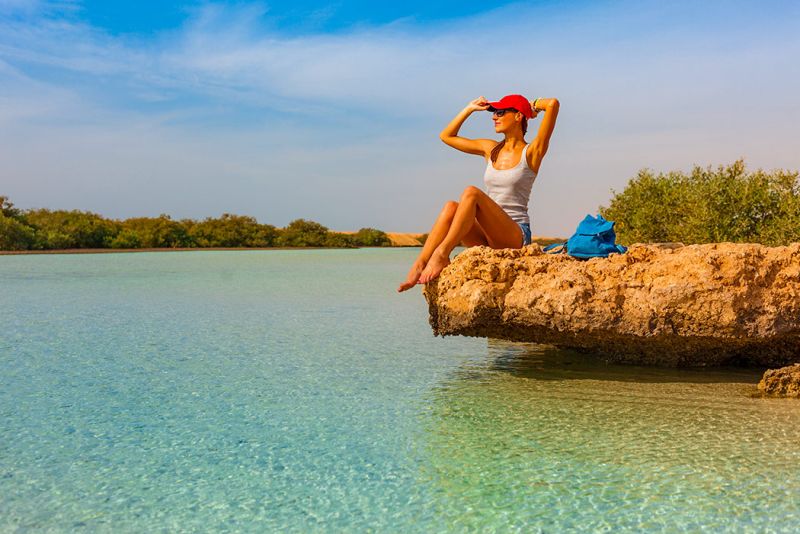 2. Thistlegorm Dive Site
For diving lovers, Sharm El Sheikh means diving at Thistlegorm. Thistlegorm is one of the top wreck dives in the world. It was packed full of cargo to resupply the British troops, but was sunk during World War II by the Germans. The wreck is located in Straits of Gubal, off the western coast of Sinai.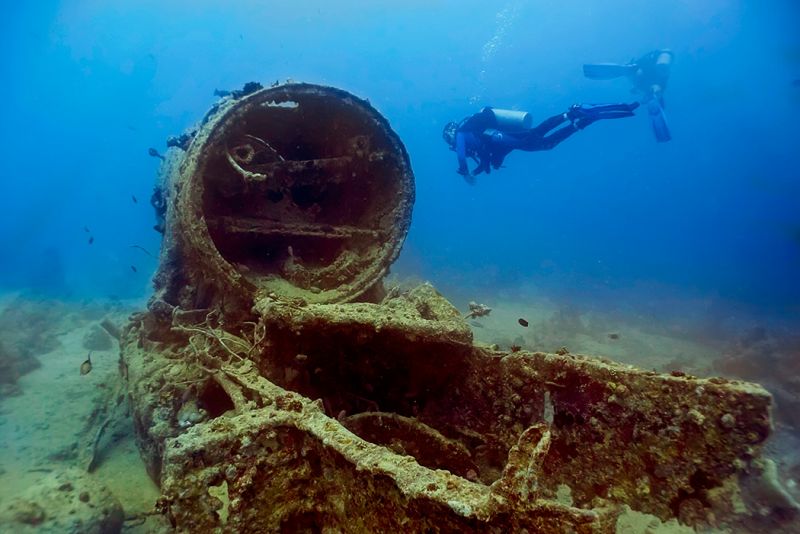 3. Na'ama Bay
The epicenter of Sharm El Sheikh's resort life, Na'ama Bay is fringed by white-sand beach and swaying palm trees. The natural bay is considered as the main hub for tourists in the city. It's famous for its cafes, restaurants, luxurious hotels, and bazaars. If you are looking for a fun, relaxed day on the beach, sunbathing, then Naama Bay is what you're looking for!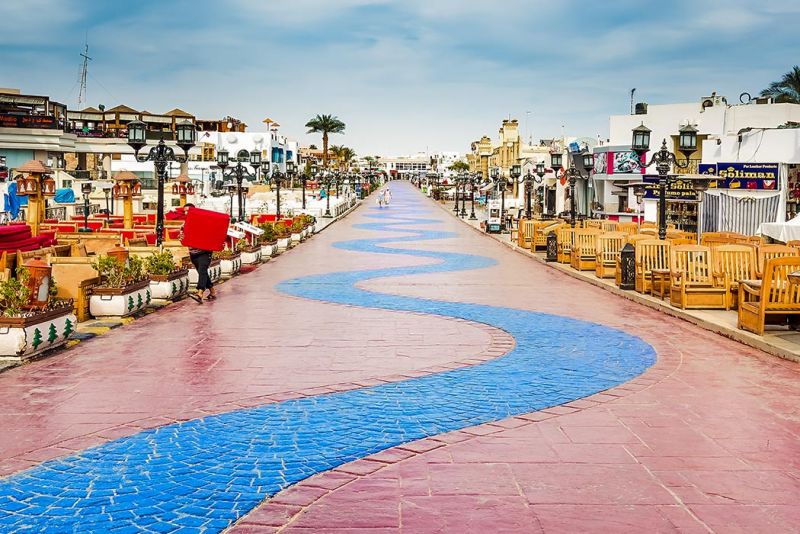 4. St. Catherine's Monastery
Take a day trip from Sharm El Sheikh and visit Sinai's top historical destinations, St. Catherine's Monastery. It sits at the foot of Mount Sinai. It's considered one of the oldest working monasteries in the world and is home to the famous burning bush of the Old Testament.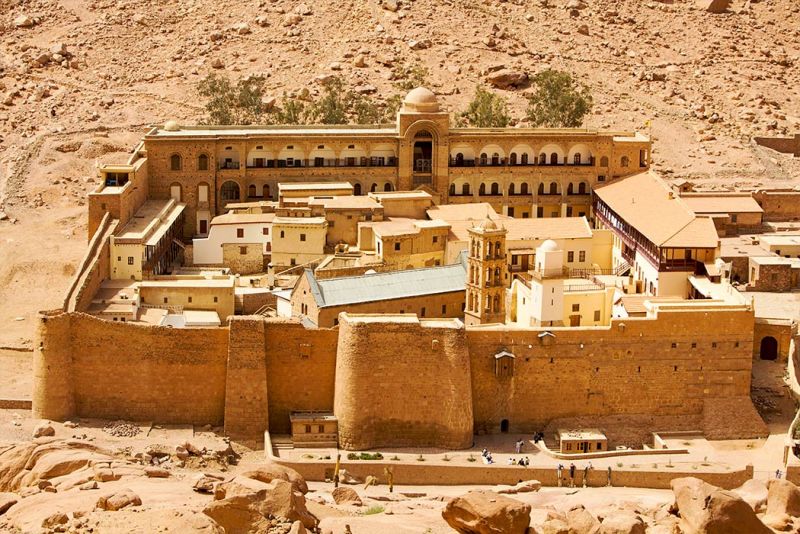 5. Mount Sinai
Sinai's mountainous heart is a raw of beauty. Take a day trip and hike up to the summit of Mount Sinai and marvel at the incredible sunrise from the summit and see an expanse of orange-hued peaks. Revered by all three of the monotheistic faiths as the place where Moses received the 10 Commandments, there are two main trails up to the top of the summit: the Camel Trail or the Steps of Repentance. Combined with a visit to St. Catherine's Monastery, most travelers climb the mountain before dawn, arriving in time to catch the sight of the sun rising over the desert.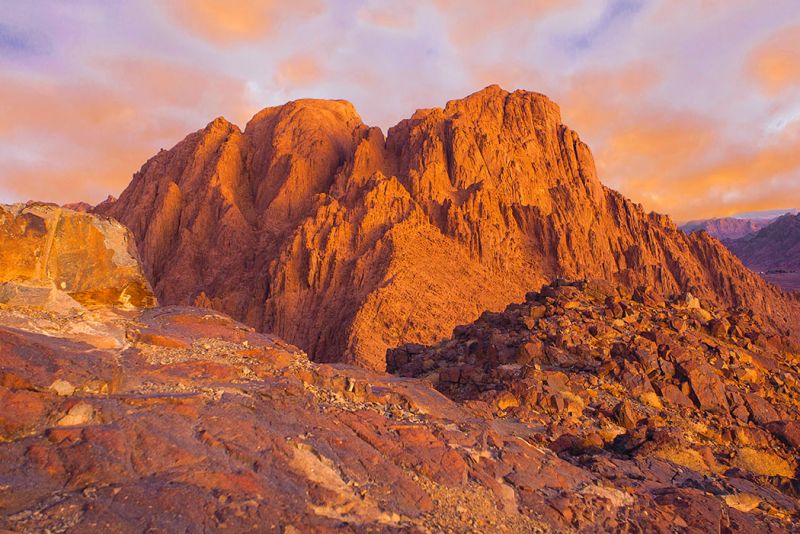 6. Sharm El Sheikh Old Market
Also known as Sharm Al-Maya, Sharm Old Market is the town's bazaar (a.k.a. souq) area. You will find in abundance twinkling Arabic lamps, finely engraved woodwork, traditional shisha pipes, and of course, it's mostly famous for its herbs and spices. The market is different from the rest of Sharm; it is surrounded by a local atmosphere.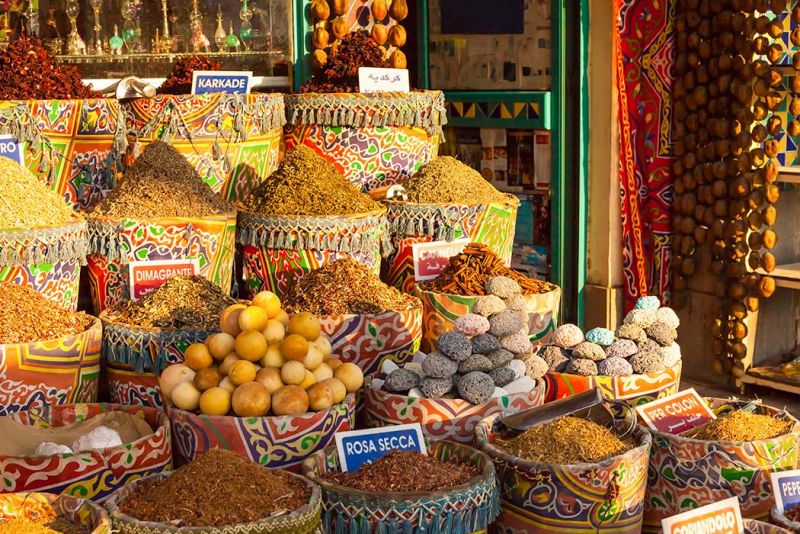 7. Colored Canyon
177 Km north of Sharm El Sheikh lies one of Sinai's top out of the water natural attraction, the Colored Canyon. These swirling mineral-rich layered rock formations are a showcase of the natural beauty of the desert. For natural lovers, a day trip from Sharm to Colored Canyon is a once in a lifetime opportunity of wandering at nature as you scramble around the rocks and do some hiking.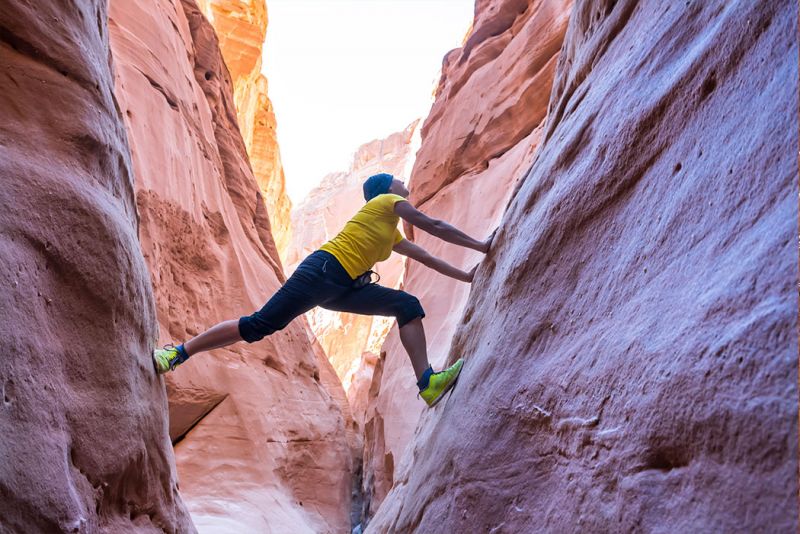 8. Aqua Blue Water Park
If you are visiting Egypt with the little ones, spending a day at Aqua Blue Water Park is going to be a treat and tones of fun. With 44 water slides, games, and pools, this water paradise guarantees a fun-packed day for all ages.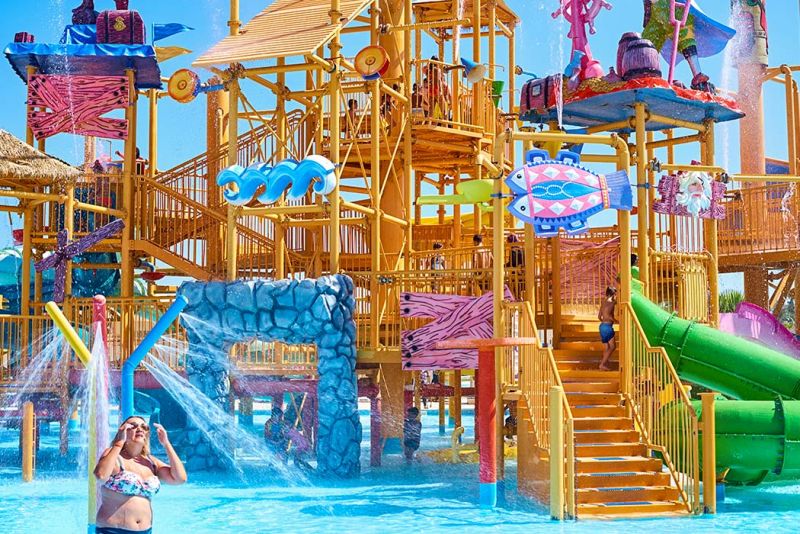 9. Dolphina Park
Dolphina Park is the only dolphinarium in South Sinai. Located in Sharm el Sheik, Dolphina Park houses a pod of dolphins in its state-of-the-art facilities. Experience the magical dolphin show and admire these wonderful mammals while playing, swimming, and showing off their highly choreographed performances.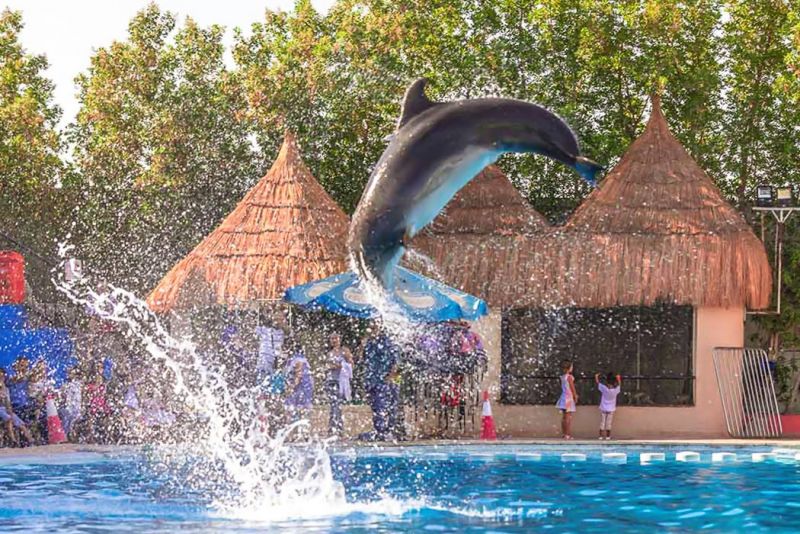 10. Al Sahaba Mosque
Al Sahaba Mosque fuses Fatimid, Mamluk, and Ottoman style elements into its architecture and interior design. Designed by Fouad Tawfik, the mosque has two minarets that are 70-meter high, which makes it the second biggest in Sharm El Sheikh. This mosque is considered Sharm's most spectacular piece of architecture.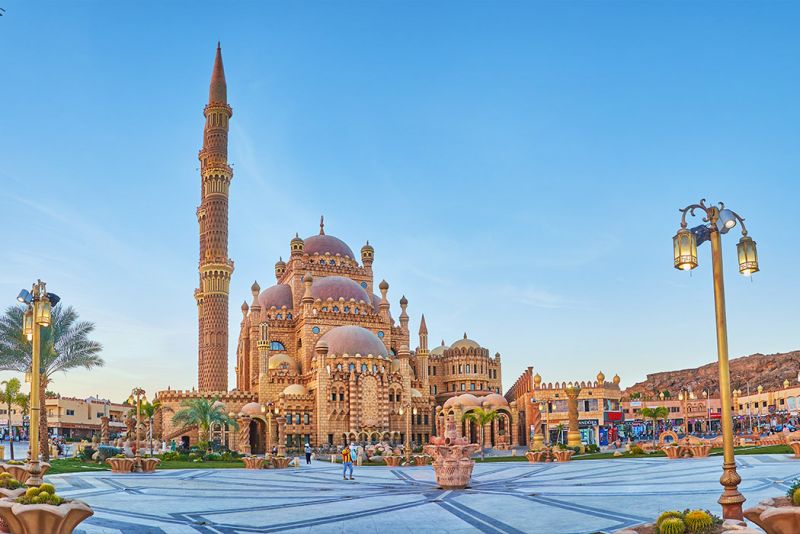 11. Stargazing Night
You cannot come to Sharm El Sheikh and leave without having at least once a night of stargazing. Spend a fascinating evening of entertainment and fun for all ages. Heading out to the desert, you will experience the real traditional Bedouin hospitality. It starts with an Egyptian feast and when the sun completely sets, you will get to gaze into the clear night sky, straight up at the Milky Way.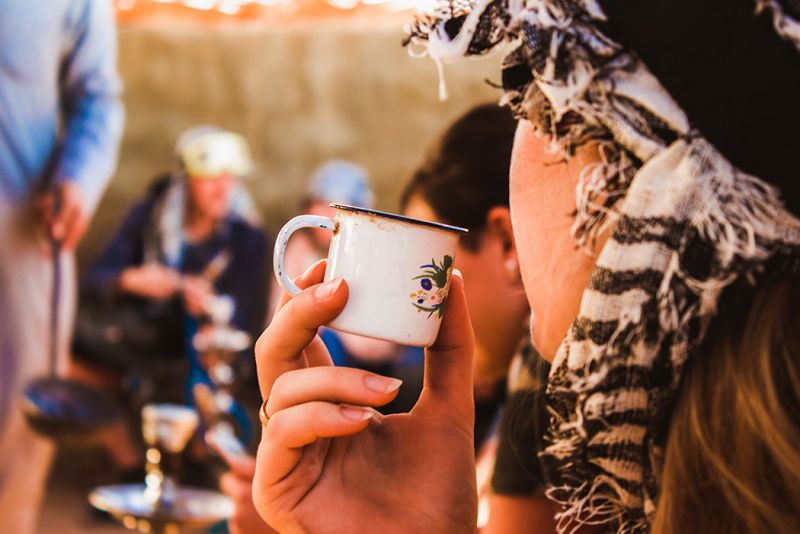 The History of Sharm El Sheikh
The strategic location of Sharm El Sheikh helped transform the once small fishing village into a major port of the Egyptian Navy. Sharm was once occupied by Israel in 1956 during the Suez Crisis, but Egypt gained it back in 1957. The United Nations stationed a peacemaking force there until 1967 when the Six-Day War took place and Sharm was recaptured by Israel. Sharm El Sheikh remained in Israeli possession until the Egypt- Israeli Peace treaty in 1979.
Until 1967, Sharm was no bigger than a small fishing village. After the construction of the town of Ofira by Israel, commercial development started to happen in the area attracting tourism and capital investment. A hotel was built on the southern side of the bay, a nature field school was built on the northern side, diving clubs, and also the famous Naama Bay Hotel.
After the regain of the Sinai Peninsula, the Egyptian Government started initiatives to develop the city of Sharm in order to transform it into a tourist destination, which it worked and Sharm is now one of the most famous destinations for foreigners visiting Egypt.
Since its big development, Sharm El Sheikh has hosted a number of Middle Eastern peace conferences which includes the 4 of September 1999 agreement the Palestinian self-rule over the Gaza strip and a number of other worldwide business conferences.
Enjoy a beach break at the fascinating city of Sharm El Sheikh after roaming through the history of Egypt through one of our Egypt tour packages!