Souk Al Khayamiya | Tentmakers Bazaar
Where is Souk Al Khayamiya | Tentmakers Bazaar located?
Just beyond the southern walls of Fatimid Cairo across the street from Bab Zuweila stands a singular space in modern Cairo. There used to be hundreds of covered markets selling all kinds of goods throughout the city, but Kheemiyya, the Tentmakers Market, is the only one remaining.
As you exit Bab Zuweila and walk across a narrow, busy street, you will see an alley ahead of you covered by a high roof. The alley is lined on either side with stalls from which merchants in Cairo have sold their wares for centuries. The merchants here specialize in a variety of textile goods.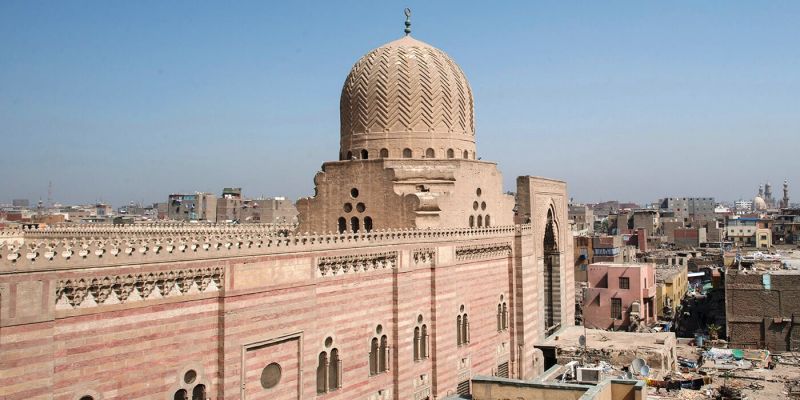 What to find in The Tentmakers Bazaar and what makes it unique?
You can find colorful carpets and tapestries, quilted pillowcases and wall hangings, but the market takes its name from the tentmakers. Made of colorful canvases decorated with traditional Islamic designs reminiscent of the marble inlays that adorning the more beautiful mosques, the tents are used by Cairenes for all sorts of outdoor events—wedding feast, funerals, store openings, or holiday celebrations.
In addition to being the only traditional covered market still in use in Cairo, the crafts produced here are also very affordable and good quality. You can find all kinds of interesting textile pieces here at much more reasonable prices than they will be sold for in the more touristic Khan Al-Khalili.

If you walk around any evening in one of Cairo's popular neighborhoods you are sure to see one of these tents in use, usually accompanied by loud music and the sounds of celebration.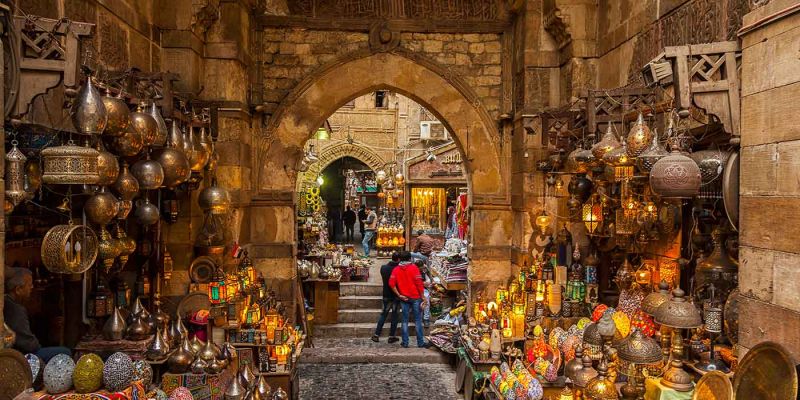 Khan Al-Khalili bazaar and what to expect to find there:
Khan Al-Khalili bazaar is loud, crowded, colorful, and exciting—full of all kinds of goods and shiny baubles. You can find the typical tourist trinkets here, but don't let them distract you from the genuinely fine shopping to be found here.

There is a spice market where you can buy fresh spices of any variety. The perfume market is awash with countless mixing scents of essential oils. Deeper into the market there are gold vendors and antique shops full of interesting pieces. There are fabric shops and carpet vendors and sellers of just about anything you might desire. If you cannot find what you are looking for, do not hesitate to ask a vendor because there is a good chance they will know where to find it.

Today the market has been modernized significantly, but there are still portions that display the original Mamluk style architecture, which featured great archways and vaulted ceilings. The market has several restaurants and cafés spread throughout where you can take a break from shopping. Al Fishawy is the oldest café in Cairo, decorated with large mirrors and old furniture. It used to be frequented by Naguib Mahfouz, the Egyptian Nobel laureate author.