Souk Al Khayamiya | Tentmakers Bazaar
Just beyond the southern walls of Fatimid Cairo across the street from Bab Zuweila stands a singular space in modern Cairo. There used to be hundreds of covered markets selling all kinds of goods throughout the city, but Kheemiyya, the Tentmakers Market, is the only one remaining.
As you exit Bab Zuweila and walk across a narrow, busy street, you will see an alley ahead of you covered by a high roof. The alley is lined on either side with stalls from which merchants in Cairo have sold their wares for centuries. The merchants here specialize in a variety of textile goods.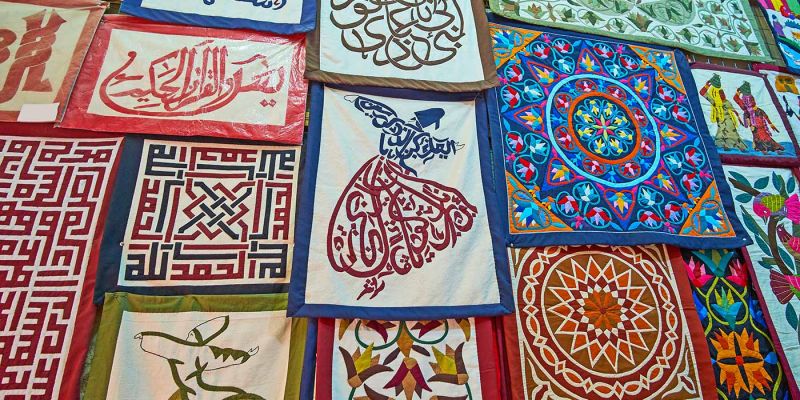 You can find colorful carpets and tapestries, quilted pillowcases and wall hangings, but the market takes its name from the tentmakers. Made of colorful canvases decorated with traditional Islamic designs reminiscent of the marble inlays that adorning the more beautiful mosques, the tents are used by Cairenes for all sorts of outdoor events—wedding feast, funerals, store openings, or holiday celebrations.
In addition to being the only traditional covered market still in use in Cairo, the crafts produced here are also very affordable and good quality. You can find all kinds of interesting textile pieces here at much more reasonable prices than they will be sold for in the more touristic Khan Al-Khalili.

If you walk around any evening in one of Cairo's popular neighbor hoods you are sure to see one of these tents in use, usually accompanied by loud music and the sounds of celebration.
Travel Experience Since 1955

Memphis Tours is one of the pioneers which have great impact on travel industry for more than 55 years of experience.

Personalized Travel Services

Whatever your travel dreams, together we can custom-design the perfect itinerary with highly personalized services just for you

We Speak Your Language

A multilingual website offers content in 8 different languages English, Spanish, Portuguese, French, Italian, German, Japanese and Chinese

Flexibility to Change

We know how important it is for travellers to have the flexibility to change their itinerary due to some reasons or force majeure

Your Safety and Security

A professional will accompany the guests to all of the places; they will never be left alone to fend for themselves

High Quality Service

We do believe honestly that quality should come first and quantity would come later and our main objective focused on (Quality is our Top Priority)

Customer Service 24/7

We offer Customer Support 24 hours a day, 7 days a week by phone and email for questions about our tours and services

Support Sustainable Tourism

We are attempting to make a low impact on the environment and local culture, while helping to generate future employment for local people

Secure Online Payment

Our website is protected by the world′s most secure online payment system VeriSign Secure

Secure Website by MacAfee

Memphis Tours website is a McAfee Secure site that helps keep you safe from identity theft, credit card fraud and spyware