Traveling is all about getting face to face with different cultures and different walks of life.
It's like being exposed to different colors, different tastes, different spices, and different aromas.
That's why local markets are some of the best things while traveling abroad.
By allowing you to take a very close look at the local fruits, arts, and different ways of living, local street markets are a must-see while visiting new places.
So whether you looking for a souvenir or you want to try the local street food what are the best street markets out there?
We have made a list of the 9 best street markets around the world and here is what we found:
Deira Gold Souk - Dubai
Heading to Deira of Dubai, the home of gems and real UAE land production where you touch the real ground of the realist experience in your Dubai Vacation in reasonable- unbeatable prices. Digging deeper in history, it's reported that traders and vendors from India, Iran, and the Far-east used to have their shops and retailers at Deira Gold Souk in Dubai, importing their local products from their lands to Dubai.
Visiting Deira, your eyes will be taken with the shimmering spot that occupies the world's largest Gold Souk/Market with more than 300 gold-shops, its Deira Gold Souk. The craftsmanship of Jewellery and gold in Deira Gold souk made it incomparable with other markets along with its history for decades. That makes Deira Gold Souk a key-stone in the Emirati Economy and for the shoppers, the affordable prices and reputation guarantee the quality of the product amongst the wide spectrum of gold, jewelers, precious gemstones, and more.

On the other corner of the city, Enjoy the The Dubai Spice Souk on the Deira side of the Dubai creek is a fine example of how Arabs traditionally shopped in the marketplace. Situated at a walking distance from the Gold Souk and the Perfume Souk, visitors who foray into this world of spices, typically also enjoy visiting the rest of the souks.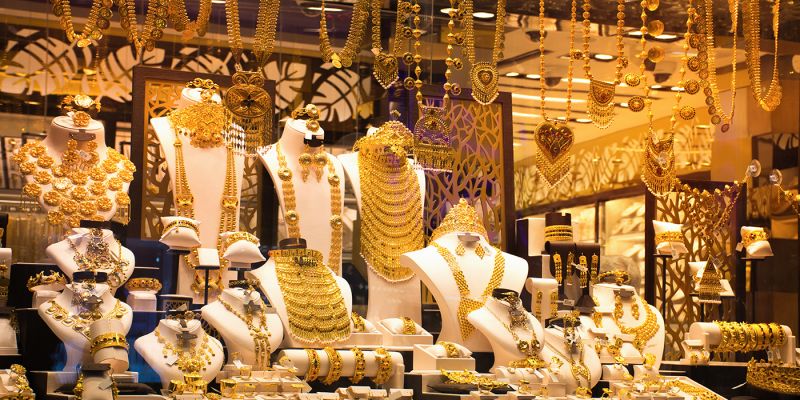 Grand Bazaar - Istanbul

Considered one of the world's largest covered market, the Grand Bazaar in Instanbul gather around 4,000 shops selling carpets, brassware, jewelry, hookahs, ceramics, art, leather goods, and of course FOOD.
The Grand Bazaar occupies 60- odd streets attracting around 400,000 people every day, so hold on to your little ones as this number is sure just crazy.
Open from Monday to Saturday from 9 am to 7 pm the Grand Bazaar also includes a mosque, 18 gates, 2 vaulted bazaars, and 07 fountains. It is also located from a 15 min walk from the famous Blue Mosque.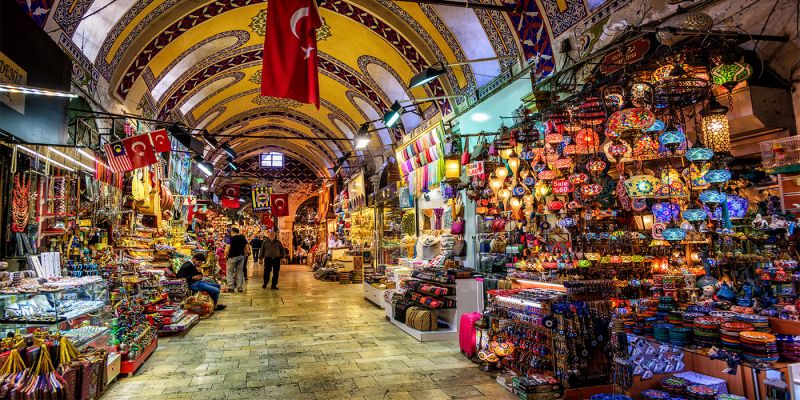 Khan el-Khalili - Cairo

Located in the Old Cairo area, Khan el-Khalili was established in the 14th century and it became a very famous mark of the historical city of Cairo.
Containing some of the marks in the history of Egyptian civilization a visit tho Khan El-Khalili is like going back in time as much of the bazaar has remained as its original structure, offering great options of locally made souvenirs, art, perfumes, linen, fabrics, clothing and some of the most authentic food places in Cairo.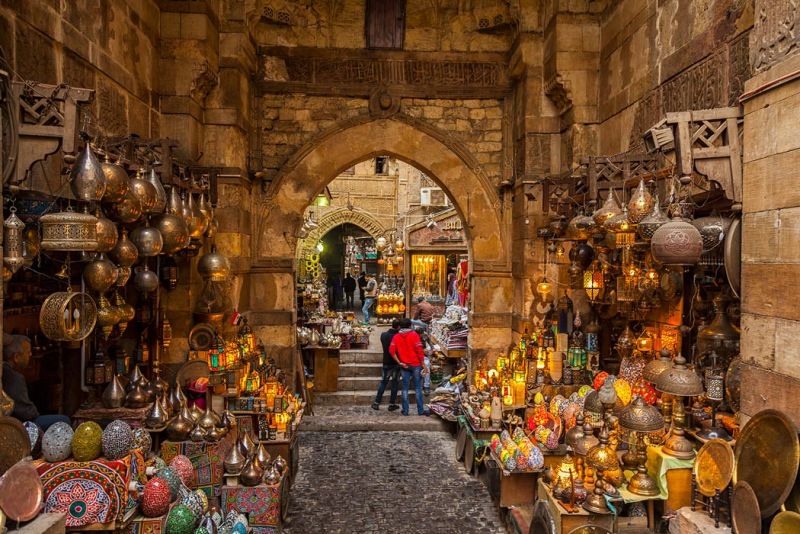 Jemaa el Fna, Marrakech
Jemaa el Fna is the living heart of the city, and is on UNESCO's Oral and Immaterial Heritage list. It owes its fame to its size, its bustle of activity and its unique atmosphere. Open only to pedestrians, it is a whirligig of people to meet and sights to see, scattered with restaurant stalls offering an endless variety of food and drink. Jemaa el Fna really comes to life at night, with locals and visitors alike flocking to the terraces of the cafes that surround it. There are storytellers to listen to, fortunetellers to consult, acrobats to marvel at, and, of course, the famous Gnaoua dancers, leaping hither and thither to the hypnotic rhythm of their "krakachs" (metal castanets).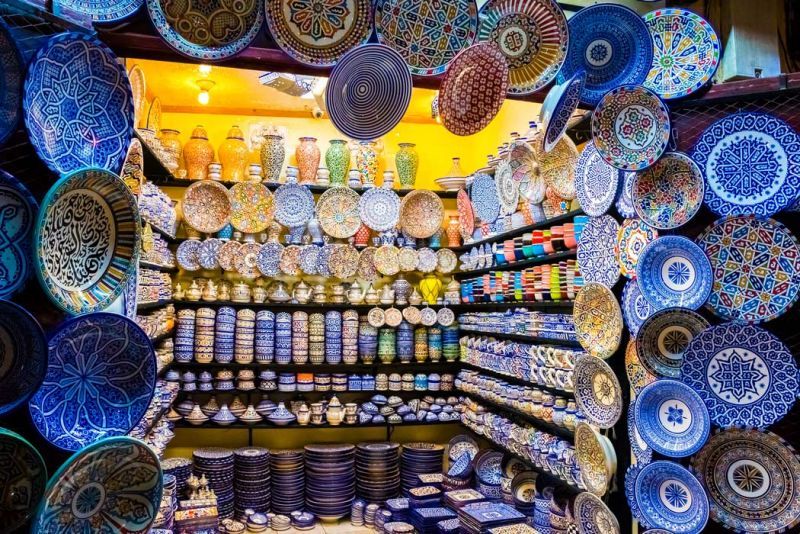 La Boqueria - Barcelona
Barcelona is more than its unique architecture and great historical buildings. Barcelona is also more than just great parties and fantastic cuisine, and the perfect place to find out whats Barcelona is really all about is La Boqueria.
In the early hours of the morning thousands of people gather to enjoy the variety that La Boqueria offers to its visitors. Dating back to the early 13th century La Boqueria is all that you could possibly want in a street market fashion.
Stall of fresh fruit, meat, Jamons, chocolates, vegetables, and the authentic Spanish tapas, this street market is a fusion of all the good things in Spain.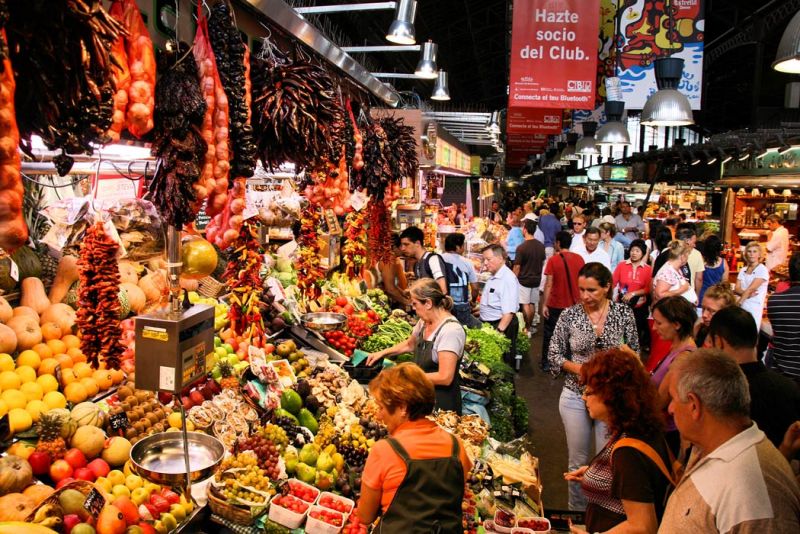 Chatuchak Weekend Market - Bangkok
Mounting up to 15,000 thousand stalls and considering the variety of crazy things that are available to do in Bangkok, you can then imagine what you can possibly find at the Chatuchak Weekend Market.
Occupying over 35 acres of the streets of Bangkok, the Chatuchak is one of the main attractions in the city and if you are big on street markets, this one will definitely grow on you.
With its stalls selling pretty much EVERYTHING from arts, handcrafts, food, fresh vegetables, furniture, exotic pets and possibly black market stuff too the Chatuchak requires a very good GPS as getting lost in here is quite easy to do!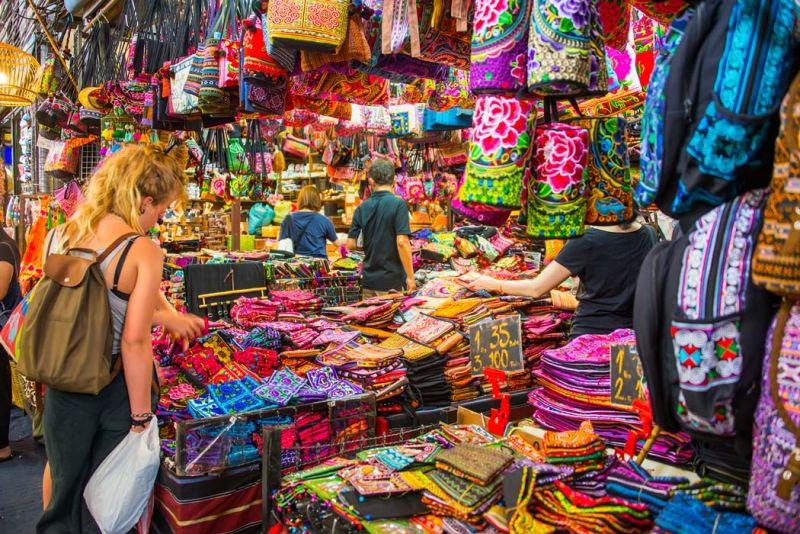 Tsukiji Fish Market - Tokyo
If fish, sushi, and AMAZING food it is your business then the Tsukiji Fish Market in Tokyo Japan is the place to go for you. With an endless 400 types of seafood, the market is famous for its tuna auctions, providing one of the best tunas in the world.
Considered the world's largest fish market, nearly 3,000 tones of fish are sold at the market on a daily basis. The local clientele goes from curious tourists and fish enthusiastic to the best restaurant owners in Japan.
The Tsukiji Fish Market is a must-visit for those who are passionate about Japanese food and are visiting the amazing city of Tokyo. Booking of accommodation nearby is recommended as to participate in the craziness of this seafood paradise visitors should arrive early in the AM, as spots are limited and you do not want to miss out on it.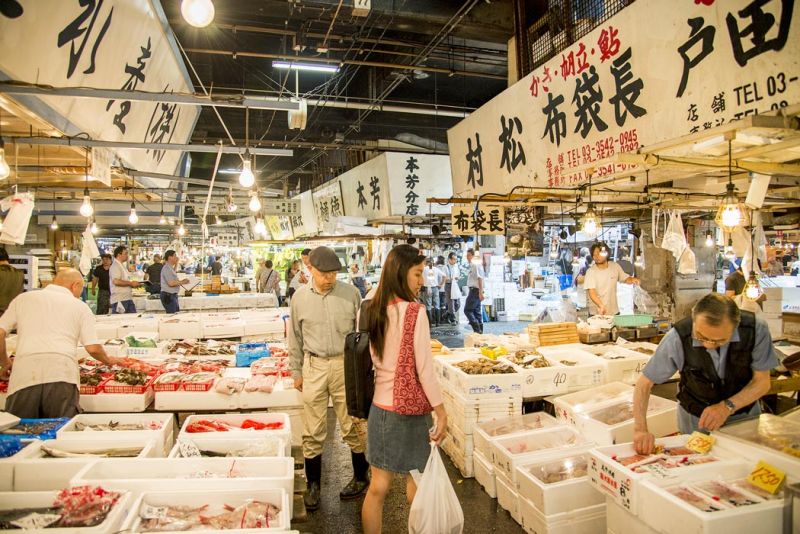 Camden - London
Once a weekend attraction for those local to the funky area of Camden, Camden Market is now a daily destination to thousands of tourists visiting the phenomenal city of London.
With its hype crowd and very cool fashion-oriented stalls Camden Market scenery its somehow very close to a daily open Rave gathering hippies, punks, goths, rappers, celebrities, and of course the outsider's tourists who gather to be a part of the scene for a few hours.
With an incredible amount of food options from every possible destination and great art and clothing stalls, Camden is sure a great option to explore as a family or as a free-spirited solo traveler. A must-see at least once in a lifetime Camden is sure to be quite like no other place you ever been and a great choice for a street market.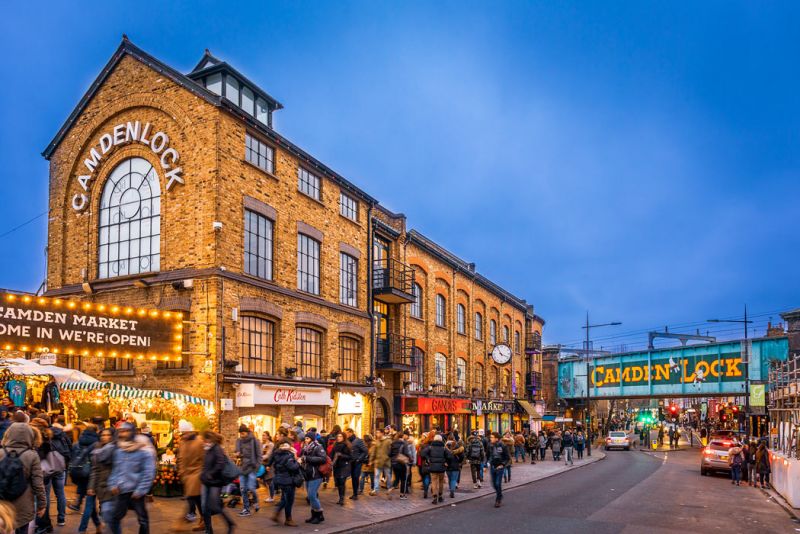 Pike Place Market - Seattle

Considered the oldest USA's surviving market, occupying 4 hectares and with a crowd of around 40,000 people per day, the Pike Place Market is one of the greatest street markets in the world.
With a range collection of antiques, books, and all of the common items found in street markets all over the world, the Pike Place market also includes a wide range of types of fish.
Some might consider this market a tourist trap but a visit of your own is recommended as you can form your own opinion about this gigantic street market. A webcam of the action is available for those who would like to have a look at what goes on without actually having to be there in person.