Visit Dubai: Winter Activities in Dubai you shouldn't miss when in UAE!
With winter at the door, Dubai is among the top destinations to visit. Surely Dubai is a destination best visited around the year, but in winter it is a magical place where you get to enjoy clear weather and beautiful skies along with a variety of things to do.
Get yourself ready and head to discover the best winter activities in Dubai.
Here is a list of the top 10 things to do when visiting Dubai during the winter season.
1. Camping
Camping is on the top list of things to do in Dubai during winter. You won't struggle with the heat during the daytime whether you choose your spot from the desert, mountains, or coast.
There are a number of options for you to choose from, varying from beginner spots to sites suited for pros.
Fujairah Beach is among the best spots for camping. It is right in front of Sandy Beach Hotel and Resort where you will pitch your tent right by the water. Note that it can get busy during weekends.
For a more authentic camping experience, head to Liwa in Abu Dhabi. It should be on your camping bucket list, as it is one of the world's most beautiful deserts that is filled with wildlife.
Prepare appropriately for it. Rent an off-road vehicle and pack a compass, shovel, and lots of water.
2. Skiing
Go skiing for more traditional winter temperatures. Among all winter attractions in Dubai, Ski Dubai is the most popular and authentic one with plenty of things to do for all ages. You can ski down the slopes or go snowboarding in the snow park.
In Dubai temperature ranges around 25 degrees Celsius during sunny days, but the temperature on Ski Dubai is one or two degrees minus.
Location of Ski Dubai: Mall of the Emirates, Sheikh Zayed Road, Dubai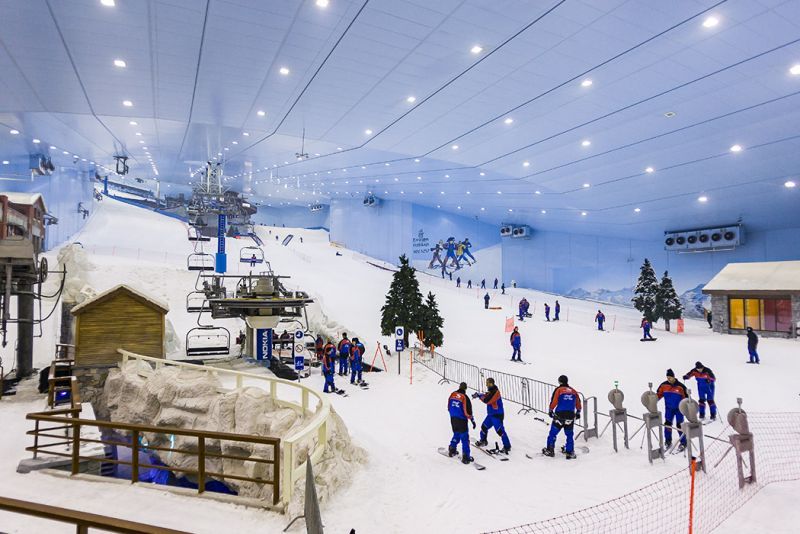 3. Christmas in Dubai
Consider yourself the luckiest if you get to witness Christmas celebrations in Dubai. You will find hotels and every other place putting up a Christmas tree. Lots of hotels offer Christmas packages including special meals and deals.
If you want to be your own guide, you can pack up your car and go for a festive camping trip in the mountains or desert.
4. Dubai Shopping Festival
Taking place from December 26 to January 27 of 2020, Dubai Shopping Festival is a hit for shopaholics. If you have big purchases to make, this is your chance. Shops offer everything like discounts of up to 75% to attract shoppers.
The festival is not only about shopping, but it will also get you to enjoy live outdoor concerts and firework displays.
5. New Year's Eve in Dubai
Dubai is on the top list of places to spend New Year's Eve. It hosts some of the glitziest parties around the world. The biggest festivities with fireworks shows are around at the Burj Khalifa, Burj Al Arab, and Atlantis The Palm.
You will have free access to all the three Dubai events but note that traffic is to be crazy during that time.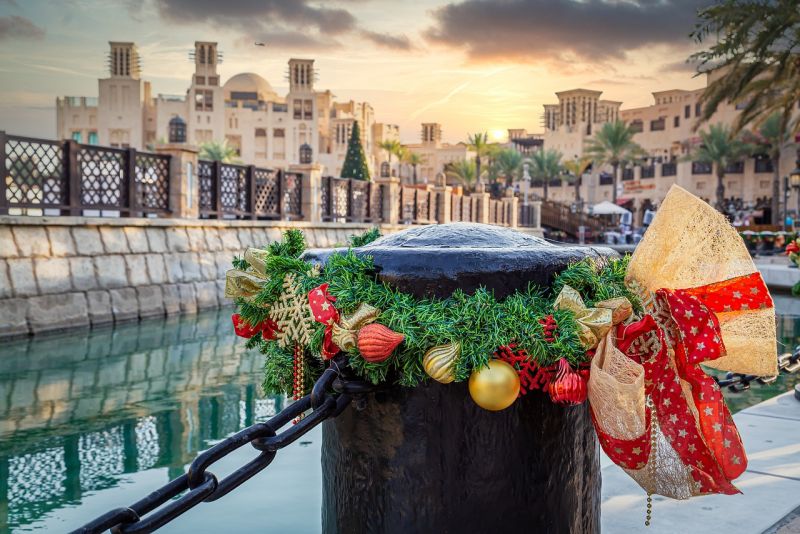 6. Visit Dubai Miracle Garden
Take advantage of nature and the cool breeze, and head to Dubai Miracle Garden. Thousands of flower species, arranged in spectacular formation including a giant Mickey Mouse and Burj Khalifa will take your breath away.
It is of a kind garden that you will never see elsewhere.
Location: Sheikh Mohammed bin Zayed Road, near to the Dubai Autodrome. Or by bus from the Mall of the Emirates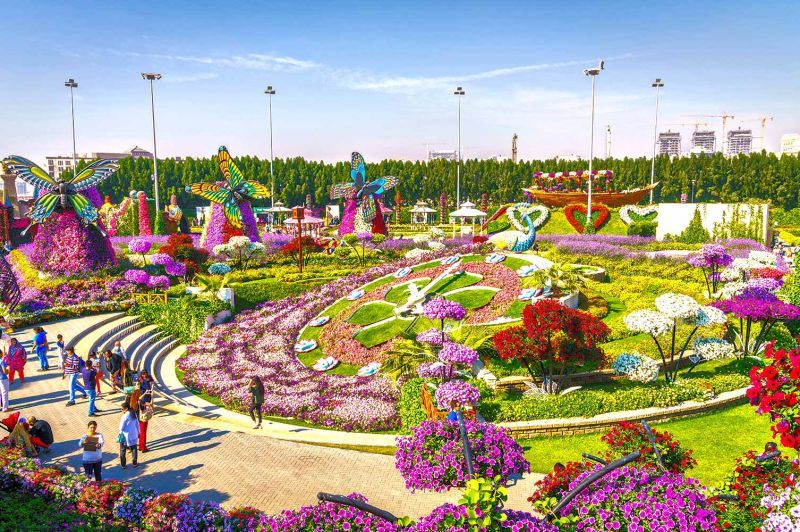 7. Spend a Day at the Beach
Even though it's winter in Dubai, you can still enjoy a pleasant day at the beach. There are dozens of beaches to choose from all along the coast. They range from beaches you can enjoy on your own for free, to pricey private beaches with a drinks menu.
Kite Beach has proved itself as one of the top winter attractions in Dubai. It offers something to everyone. If you don't like to go swimming, you have lots of options including skating, kite surfing, water sports, food trucks, and more.
Dubai Marina and Jumeirah Beach Residences are excellent choices for a family vacation.
8. Go for a Desert Safari
If you don't want to go to the beach or go skiing or do shopping, Winter is a great time to experience an overnight desert safari in Dubai. With chilly nights and pleasant day time, you will enjoy the perfect combination of weather and desert.
Experience the sand dunes, BBQ dinner, and enjoy the glorious desert view of thousands of stars in the sky.
9. Watch the Dubai Fountain Show
Although not being a very popular winter activity in Dubai, watching the Dubai Fountain Show is one of the best things to do. With lots of outdoor restaurants to choose from, pleasant weather, you will get the advantage of it all.
The fountains sit at the base of Burj Khalifa and 'perform' to music at many times during the day. It's free to watch and walk by them.
10. Sail the Creek
Going through the oldest part of the city at Dubai Creek is one of the highly recommended things to do in Dubai during winter and any time of the year.
With cooler temperatures, you will get to enjoy the gold and spice souks without being bothered by the sun's rays.
You can travel along the old creek to Business Bay along the Dubai Water Canal, and experience one of the city's new highlights.
While you're at it in the old part of the town, don't miss the chance to visit the Dubai Museum in the Al Fahidi Fort at the southern end of the Creek.
Summing up, if you are enthusiastic about spending a winter vacation, then Dubai is your perfect fit. From plenty of activities, good restaurants to pleasant weather and welcoming hospitality. You will have it all!