Honeymoon Travels: A Complete Guide to your Honeymoon in Egypt!
Planning for a marriage is often stressful enough! Now give your honeymoon what's supposed to be a once in a very lifetime trip you'll always remember. On top of it all and it may be really stressful. If you're uninterested in the traditional honeymoon spots like Greece, Maldives, Italy, or the Bahamas, why don't you decide on something more exciting Sort of a honeymoon in Egypt!
Egypt is probably going on your bucket list, but have you ever thought of it as a once in an exceedingly lifetime honeymoon destination? While it's identified for its beautiful attractions and rich history, you'd be surprised by the number of romance to be discovered!
Just picture it – desert camping under the celebs kisses with the Sphinx, and swimming within the bluest water you've seen! Be ready to
A budget-friendly destination! Having a lot of places to visit for relaxation and recreation and to produce opportunities for the longest time to spend together doltishly about the issues related to this kind of choice like "different preferences, safe place, calm, and budget restrictions " so what about spending you an uncanny, wonderful and distinctive destination for the holiday of a lifetime.
Here are some places that are found specific to produce you with what you're trying to find without bothering. Egypt isn't only the favorite destination for history and archeology lovers, but also for newlyweds who want to spend their honeymoon travels there.
It's an unusual, but absolutely romantic and pleasant place. The land of the pharaohs is that the best place for a honeymoon in Egypt may be a perfect place to spend an unforgettable honeymoon. In addition, the Egyptian people are known for their fervent hospitality, gastronomy is unparalleled and also the nightlife has nothing to envy to the foremost recognized places within the world.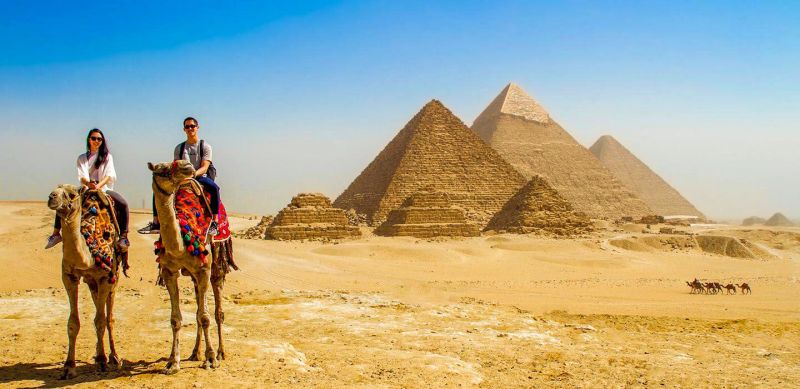 10 best places to spend your honeymoon in Egypt
1. Honeymoon in the stunning Sharm El-Shaikh
Diving in Sharm El sheik! Sharm El Sheikh has always been known for its tranquillity and amazing places that make it the simplest and most convenient honeymoon destinations in Egypt freed from impurities.
Here are the activities you'll do there along with your beautiful partner like diving to explore coral reefs or swim within the pure heart of the sea or swim merry With the dolphins or try the "kayak boat ride" which is that the preferred sport in Sharm el-Sheikh.
You'll enjoy sailing during a special effort for you because it depends on energy and drinks if you have got not had this experience by a special coach to guide you and ensure you see everything before of you, or enjoy the experience of escape you'll ride a horse with two distinct options like the beach or the desert, where you'll enjoy this beautiful experience or if you wish to urge some lessons by giving one among the neatest, fastest and most skilled horses known throughout the ages.
You'll enjoy all this excellence in an exceedingly special time also because of the sunset, and you'll be able to gain more enthusiasm and excitement to travel on safari between the mountain ranges of the amazing Red Sea by taking the quadrature simple to use because it's a bicycle doesn't arouse technical skills, but have an excellent positive impact, If you've got a bold and adventurous heart, you'll dazzle your partner and accompany him during a unique parasailing experience and luxuriate in a double mode parachute, where you'll enjoy a breath-taking experience together with your lover!
2. Ras Mohamed Natural reserve
If you wish to isolate the full world to travel on a novel holiday along with your lover, the destination of the honeymoon you're searching for is Ras Mohamed, which some belief isn't a part of this world, but it's unique in itself as an exceptional environment and contains purity and purity of the air that refreshes your spirit.
This stunning location is found 12 km from Sharm El Sheikh and 72 km from Tor Sinai. This location is exclusive by being surrounded by the charming nature of all the destinations that allow you to enjoy the sand dunes that cause you to want to steer along such golden sands, On the coast of Suez overlooking the Gulf of Suez, distinguished by water it's the world's most beautiful thistle and could be a resting place for several rare species like sea turtles and plenty of other creatures that push you to dive to explore of these creatures, like dolphins and plenty of crustaceans.
There also are over 200 species of coral reefs. you'll also attend the mangrove channel, which is rare in precisely four places around the world or visit the place of the earthquake that struck Egypt variant years ago and caused the collapse of the top of Mohammed earlier. Enjoy the magical nature together.
3. Agiba Beach – Marsa Matrouh
Agiba Beach, Agiba means "miracle" in Arabic and Agiba beach about 24 km west of Marsa Matrouh, is simply that it's a tiny low but spectacular cove, accessible only via a path leading down from the clifftop, where it represents plenty of privacy and distance from the noise of traffic and allows you to unify your lover during a very distinctive and additionally to the wonderful opportunities to require pictures in such places and amazing times that are unparalleled!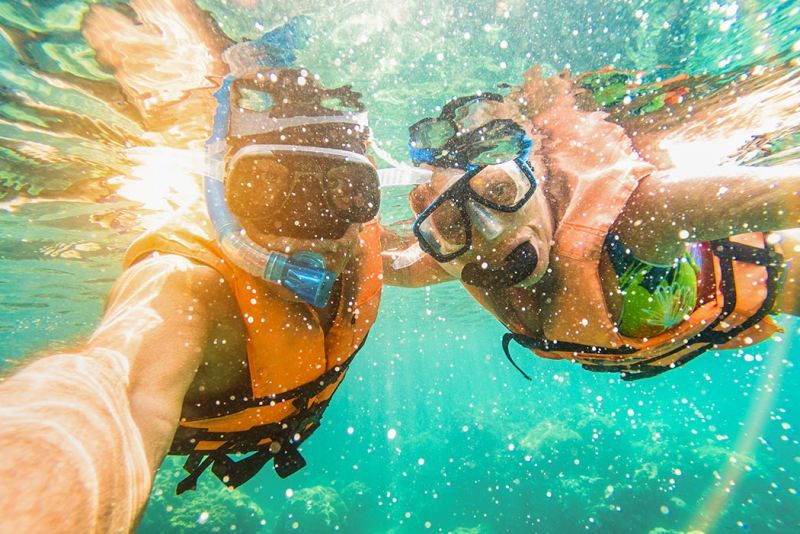 4. Ain Sukhna - Enjoy!
Ain Sokhna (referring to the "hot springs") to nearby sulfur springs flowing from Mount Ataka, the utmost mountain within the Eastern Desert. Which resulted from this unique location and a sunny destination throughout the year with beautiful waves of the sea, moreover as quite an hour from the capital, and is that the ideal honeymoon destination in Egypt for a vacation from the congestion of the town.
Additionally, the crystal waters of the Red Sea and its pristine beaches qualify to be home to the numerous activities you'll be able to do like fishing while hiking within the "Zaafarana" famous for windsurfing with the jet paper and also one in all the simplest dive sites within the world and with all Not only do these activities and water sports are available, but they're also are opportunities to require stunning underwater photos and amazing romantic camping, where you'll enjoy quiet moments together with your chin.
Revel in the pleasant air-blows, and therefore the charming landscapes that increase your chances of enjoying this. It's precious like skiing on the glittering sand and climbing steep mountains and safaris, Amtah mountain valleys nearby, and awe-inspiring activities that will cause you to be more relaxed and more satisfied with your partner in Egypt all-inclusive.
In Luxor and Aswan you'll start a brand new life and appearance for an odd and different destination in Egypt by spending your honeymoon in Egypt! What does one consider taking you and your partner and coming to work out the civilization of Egypt, over seven thousand years within the embrace of this ?!
Enjoy your trip to Egypt to determine life in Luxor and Aswan and luxuriate in a Nile Cruise trip that takes you to the guts of Egypt by visiting Luxor, which called the world's greatest open-air museum, and enjoying the geographical area where you'll be able to visit the Valley of the Kings and also the Temple of Queen Hatshepsut and you'll be able to find out about their previous customs in marriage and rituals because they were kings and queens and you in addition and you'll be able to enjoy tranquillity within the visit to the monastery and also the visit of the Colossi of Memnon and plenty of other places within the West Bank of Luxor.
Then moved to the eastern bank containing the Temple of Karnak the nice and also the beautiful Luxor Temple, which was discovered recently was covered with sand and also the granite statue of King Ramses, so back to sail within the air of Egypt stuffed with love next to like, which is added to the Nile Cruise that comes from Inside you, then to Aswan, where different cultures and diffuse beauty that has without stopping where you'll not only be amazed by the presence in Abydos & Dendera and also the outstanding Temple of Horus in Edfu & Kom Ombo.
Additionally to the famous Temple of ِAbu Simbel but also you'll puzzle Nubian homes, colorful neighborhoods with stunning views of the river, smiley faces everywhere you go, friendly people, unique shopping places and special things like "rare herbs, incense, traditional Egyptian cuisine and others" and also the different creativity everywhere and therefore the experience of completely various things like drawing henna and taking a flock for hiking within the Nile and watching the popular performances known in Aswan.
6. In and around Siwa Oasis
In a place sort of a single planet inside our planet, Siwa Oasis is found within the heart of the Western Desert of Egypt, there are only 50 meters from the Libyan border and about 25 meters above water level during a beautiful place filled with trees and palms, an area ready for what you're trying to find as in your imagination far from the urban noise and disturbance of individuals only dedicated to you and your lover with the refreshing air breezes that make the atmosphere more suitable for a romantic dinner.
Also, the fire is that the method of heating the night and plenty of bilateral activities plenty within the morning like sand skiing, camel riding or maybe riding Bicycles and other fun activities, furthermore as enjoyable camping Creates an environment of adventure and revel in the exclusive nature of which is immeasurable Siwa clear sky so you'll be able to enjoy along with your spouse to the extent that no limitation thereto.

What are the best honeymoon resorts in Egypt?
Sahl Hasheesh (The Egyptian Sandy bay): The unique resort town with entertainment amenities located about 20 km south of the airport Hurghada. The gorgeous beach and therefore the reef getting to the shore with a range of colourful exotic fishes inspire recreation seekers and hobby snorkelers alike.
Soma Bay: Shallow sandy beaches, crystal clear, turquoise sea, and splendid accommodation, this is often what the region of Soma Bay, about 40 km south of Hurghada.
Sharm El Sheikh: One in every of the foremost beautiful beach oases is Sharm El Sheikh within the south of the Sinai Peninsula. The mountains form a dream backdrop within the background and therefore the numerous, fascinating coral reefs make snorkelers. best honeymoon resorts in Egypt. don't hesitate in such a singular experience that's unmatched, it's fun and things to try and do and see countless.
The newlyweds can choose between a range of packages for his or her trip to Egypt, from honeymoon travels in Egypt which has tours of the oases and desert in Egypt, Egypt Nile cruises, and tours to Luxor and Aswan.
These packages generally combine romance and adventure with desert tours, Nile cruise, the chance of knowing the wonders of Luxor and Abu Simbel, Giza, Magical Alexandria, and also the Sinai, in addition, because the wonderful beaches in Sharm El-Shaikh and Hurghada on the Red Sea, just spend some unforgettable days with absolutely, luxury honeymoon in Egypt.
If you prefer to spend your honeymoon in Egypt, a stunning and quiet place, removed from crowds! Don't miss the chance through Memphis Tours to supply you with the simplest Honeymoon Packages in Egypt.