The Ultimate Guide for Traveling with Dogs and Pet-Friendly Airlines
Holidays are best when the whole family can get together and enjoy a trip or a little getaway, but what about those members of the family are covered with fur? Don't they deserve to go a little getaway and change scenery! You may have considered taking your furry friend away with you on holidays, but couldn't figure out the logistics of travelling with a pet.

You'll find top pet planning holiday tips, find the top pet-friendly destinations to hit with your furry buddy, and find out which airlines allow pets.No need to worry anymore. If you have taken to decision to go on a trip with the company of your pet pal, our ultimate guide will tell you all there is to know about travelling with pets.

Your fur-friends are part of the family, so it's only natural to keep them in mind when planning your next holiday!

Tips for Travelling With Your Pet

Here are some important tips for when you decide to take pet friend on the road with you.

1. Make It Easy to Find Your Pet If Lost

Losing your pet in an unfamiliar place miles away from is the worst thing that could happen. So, to stay safe, before you trip, make sure that if lost, they are can be easily found or returned to you. You can implant a microchip under your pet's skin which will make it easy to track them no matter where they wander off to. Or if you are not willing to do such a procedure, make sure that your contact information on their tags is up-to-date, so that whoever finds them will be able to contact you easily and return them to you safe and sound.

2. Pick Pet-Friendly Accommodations

Well, you may love your pet, however, that doesn't mean that the owner of the hotel or Airbnb where you're staying will love them too. So, make sure when booking your accommodations that offer some perks for pet owners.

3. Make Copies of Pet-Related Documents

If you are planning a long trip or to cross borders or travel internationally, it's essential to have your pet's health records on hand. Many places and countries require that incoming pets have an up-to-date health certificate signed by an accredited veterinarian to prove that your pet is healthy and vaccinated. If you are flying, an important step to contact the airline to check if there is any other paperwork required.

4. Use Dog-Friendly Apps

Phone apps have made our lives so much easier. So, why wouldn't there be apps that make traveling with your pet also much easier? Now, there are plenty of apps that can help you when on the road with your pet. Some of our favorite apps are…

All Trails: This app has the largest collection of trail maps! Browse photos and reviews, and then, for example, filter your search by dog-friendly trails so you know which hikes to hit with your puppy.
Bring Fido: This is the Yelp of the dog world! Bring Fido helps you locate nearby hotels, attractions, and restaurants that welcome pets.
Pet First Aid: This app helps you locate the nearest emergency animal hospital and it will provide step-by-step instructions for common pet emergencies.

Top Pet-Friendly Destinations

Now, let's take a look at the top pet-friendly destinations where you can travel with your furry friend!

1. Italy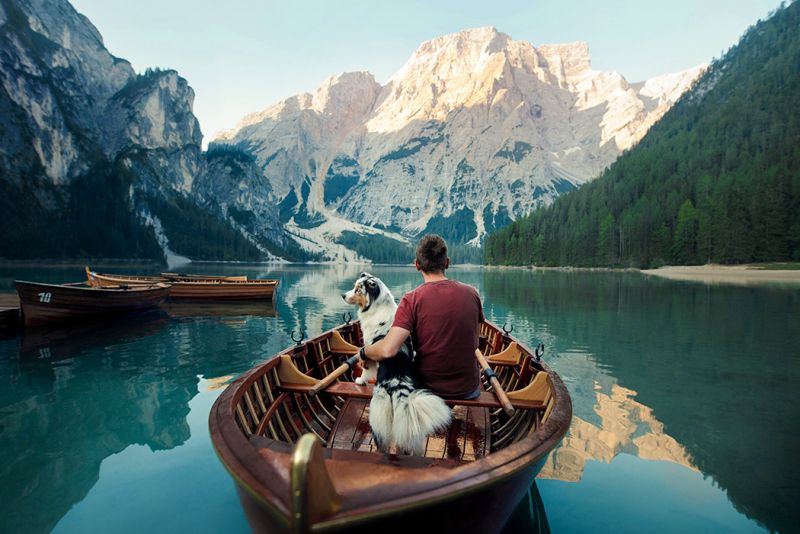 Italy is one of the most pet-friendly countries in all of Europe, if not the most, and especially the northern part of the peninsula. Italy is an especially welcoming destination for dogs; they can enter most establishments. You will face no troubles at all finding water bowls in front of shops and restaurants.
Right next to Rome, you will even find a beach entirely dedicated to dogs. There, your dogs can play freely and participate in sports activities.

2. Canada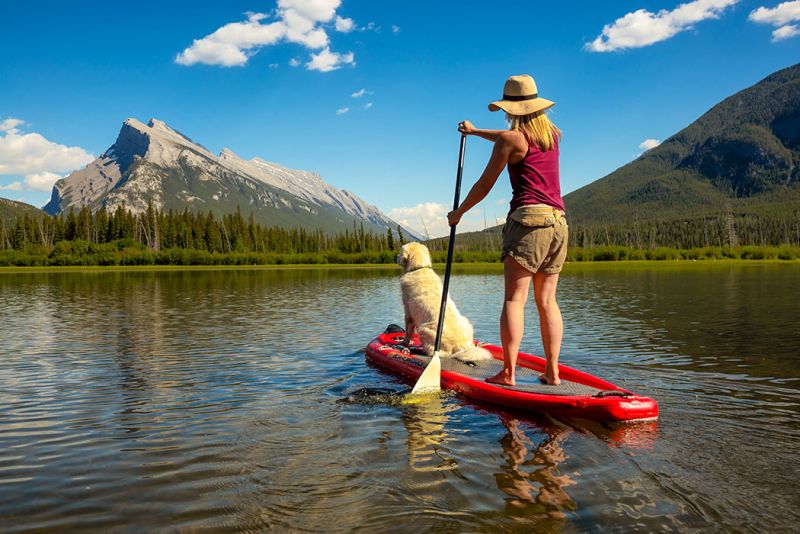 Canada is a highly pet-friendly country, and especially the city of Vancouver. Vancouver is known worldwide as one of the best places to bring your pet in North America. There are many pet-friendly vacation rentals and hotels to stay at in Canada, or better yet, you can take an epic road trip filled with nature fun for you and your furry pal. From visiting Lake Banff to taking the pet-friendly Canadian ferries, there are so many ways to explore Canada with your pet by your side.

3. The United States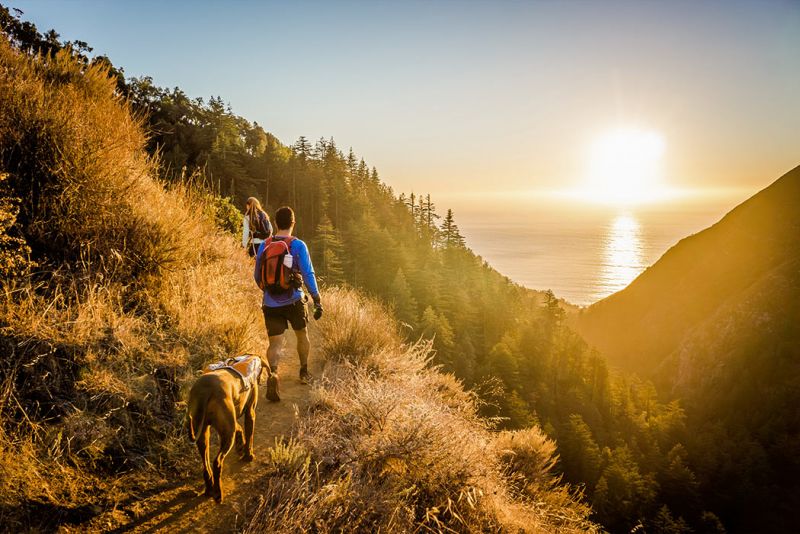 The United States is a highly recommended destination for traveling pets, especially if they are dogs. Americans are very pet-friendly in general and particularly appreciate dogs and dogs are accepted in most establishments, including hotels. And with over 60 parks protected by the National Park Service, it's really not a surprise that the United States is considered one of the best places to go with your four-legged friend.

There are a lot of places to hit and different activities to do with your pet in the US, from road trips to outdoor monuments and sightseeing in pet-friendly cities like Chicago, Seattle, and San Diego to beach getaways in Florida.

4. France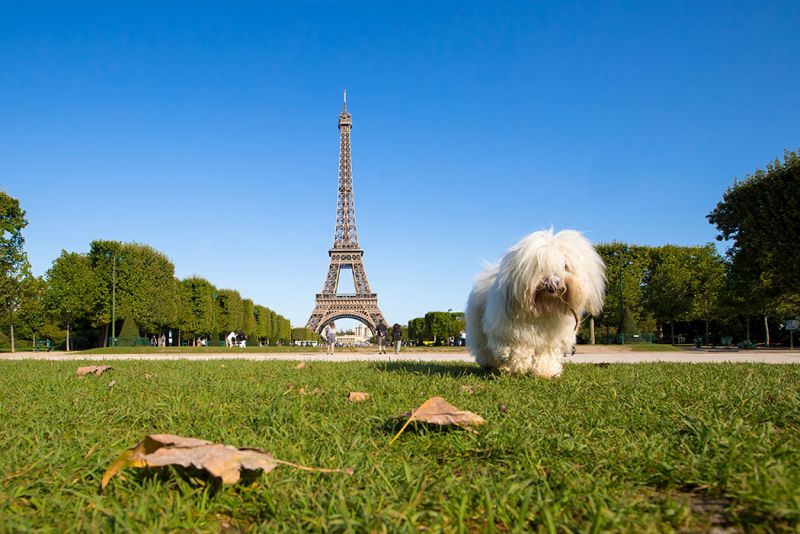 Does your pet want a seat at the dinner table? If the answer is yes, then there is one destination where you can make his wish come true. France. France has a relaxed policy when it comes to traveling with your pets and that's because this country deserves to be visited by everyone and everything.

5. Switzerland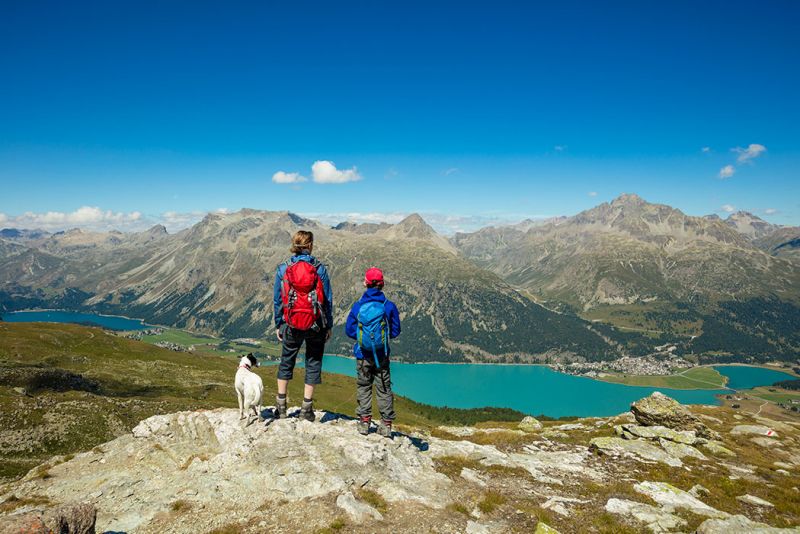 The Swiss really went the extra mile to ensure that your pet-friendly experience is mind-blowing. The restaurants there have even made it a priority to offer your dog water and treats. Did you hear of the fondue tram? Your dog can even enjoy this delicious and cheesy experience with you too, for a small fee of course. You can also enjoy many activities to do with your pet, from hundreds of hikes in the Alps to walks around stunning cities such as Zurich and Geneva. Your furry friend will adore your trip you planned to Switzerland together.

Top Pet-Friendly Airlines

Now that you have decided on the destination you and your pet pal are going to, it's time to book your flights. But before you do that, it's important to make sure that the airline you are booking your flight on is pet-friendly. So let's take a look at the top pet-friendly airlines out there.

1. American Airlines

It's not only the biggest airline in the world, American Airlines is also one of the most pet-friendly airlines in the world. Pets are invited to fly in the cabin with their owners during short flights as long as they are kept in a small carrier under the seat, however, for long-haul flights, pets must be checked as cargo to ensure they're properly cared for.

- Allowed pets: Cats, dogs, service animals
- Allowed weight: Maximum 20 pounds including carrier
- Price: $125 and above

2. JetBlue

JetBlue is one of the most pet-friendly airlines. It offers its furry passengers their own pet perks program called JetPaws Program. The JetPaws program provides pet-owners with a carrier bag and a list of tips for managing your pet while traveling.

- Allowed pets: Cats, dogs, service animals, household birds
- Allowed weight: Maximum 20 pounds
- Price: $100 and above

3. Air Canada

Air Canada is extremely accommodating when it comes to pets. Pets are allowed to travel with you in the cabin as long as you arrive 30 minutes before departure and have your pet tucked in their carrier.

- Allowed pets: Cats & dogs that can be fitted in their carrier
- Allowed weight: Maximum 22 pounds including carrier
- Price: $50 and above

4. Delta

Flying with your pet is so easy with Delta Airlines, and not just that, it covers 60 countries across the world. So, you and your pet pal can travel safely on Delta Airlines to any place you want. Small pets can ride with you in the cabin, however, larger pets have to travel in cargo for their convenience.

- Allowed pets: Cats, dogs, service animals, household birds
- Allowed weight: No limit (must fit in a carrier under the seat)
- Price: $75 and above

5. Air India

Pets are welcomed to fly with Air India as long as your pet is properly crated, have valid vaccinations, and have their required documents. However, with Air India, there are some restrictions. Pets cannot be considered carry-on luggage and also an additional fee is paid to fly with a pet. The fee varies depending on which country you are flying to.

- Allowed pets: Cats, dogs, birds, service animals
- Allowed weight: Maximum 11 pounds
- Price: Varies

6. Air France

Air France accommodates pets onboard both international and domestic destinations. So, if you have always dreamt about going on a European tour and want your pet pal to accompany you, this airline can definitely help. They do, however, require you to travel with an approved pet container.

- Allowed pets: Cats, dogs, and service animals
- Allowed weight: Maximum 17 pounds including carrier
- Price: $30 and above

7. Frontier Airlines

Frontier Airlines are one of the friendliest airlines for pets. They always welcome their furry passengers with a great smile. They make sure that you and your pet pal are traveling comfortably. They welcome dogs, cats, and even rabbits on their domestic flights.

- Allowed pets: Dogs, cats, rabbits, guinea pigs, hamsters, birds, and service animals on domestic flights and only dogs and cats on international flights.
- Allowed weight: 20 pounds with the carrier
- Price: $ 75 and above

So where will you plan your first pet-friendly getaway with your furry friend?

With so many places to explore, you and your pet pal will have many adventures ahead. But before any travels, be sure to check the pet-friendly travel policies and guidelines for both you and your pet in the destination you are heading to and have all paperwork ready and pet vaccinated. Always make some extra time to make sure you have everything for your travels, so you can avoid any pre-trip mishaps.