Tiger Safari has its own charm! Imagine the massive paw prints in the dense African Jungles silently escorting you somewhere... Your heart is thumping hard in your chest, the intense silence is making you nervous and suddenly out of nowhere a mammoth creature with earthy-colored coat and black stripes with quiet yet awe-inspiring eyes comes out of the wilds. Steady head, razor-sharp teeth, and a lanky tail, slowly approaching toward you. Breathtaking, isn't it? A Tiger!
Laohu Valley Reserve

Tiger Canyon

Jugomaro Predator Park

Pilanesberg National Park
Although there are not many options you can consider for a tiger sightseeing tour in Africa, where we've put together the list of all the African tiger and nature reserves where you can experience the inspiring scenes of glancing the big cats (and the big five) with your own eyes:
1. Laohu Valley Reserve
Home to one of the world's most endangered species of Tigers, the South China Tiger; Laohu Valley Reserve was founded in 2002 as an innovative big cat rewilding project that aims to reintroduce the tigers back into its historic range in China. Regarded as one of the largest protected reserves in South Africa, LVR is nestled on a rolling plain roughly 200 kilometers from Bloemfontein, located in the central region of South Africa.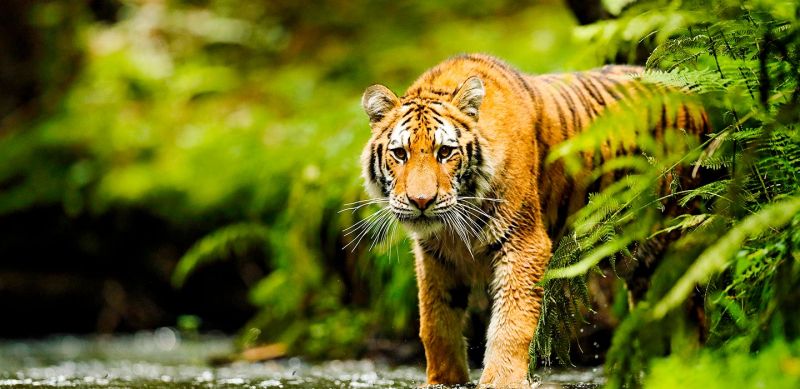 Created out of 17 abundant sheep farms, Laohu Valley Reserve features tens of South China tigers that are confined to a tiger-only complex stretched across 1.8 square kilometers area. And since the protection of the apex species of the tiger means protecting its prey and maintaining a balanced and protected ecosystem, the remaining area of the reserve is used to protect native South African species.
2. Tiger Canyon
Tiger Canyon is an 'off-site' conservation project that has established a nature reserve for wild Bengal tigers in the hinterlands of South Africa.
Founded in 2000 with a mission to merge conservation with ecotourism by working closely with local communities, Tiger Canyon reserve offers some of the best photo ops of wild tigers, including the rare white tigers in a natural environment amid the virgin beauty of South Africa.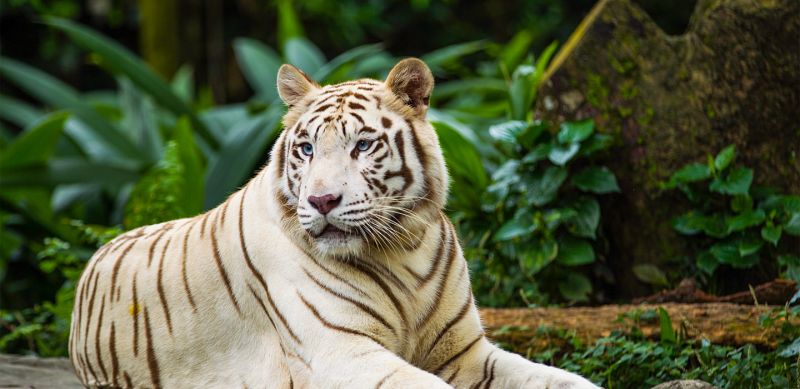 While the tigers roam freely in splendid landscapes of Karoo, here they are blessed with everything they need – from dense reed beds and freshwater pools to blatant rock outcrops offering spectacular photo settings, Tiger Canyon is arguably the best place to get close-up with the self-sustaining, free-ranging wild tigers.
What's more; this unique tiger sanctuary also boasts of open grasslands where prey like blesbuck, springbok, steenbok, mountain reedbuck and wildebeest feed on…and tigers hunt freely!
Not only does Tiger Canyon boasts itself as one of the few nature reserves housing the rarest breed of wild tigers outside Asia but it has also set a benchmark for the 'off-site' conservation of the Bengal tiger which is facing a grave risk of extinction.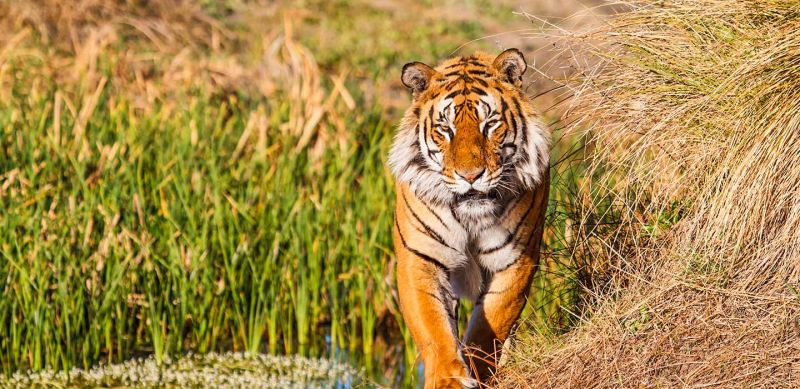 3. Jugomaro Predator Park
Located just 5 odd kilometers away from the small town of Vaalwater, Jugomaro Predator Park rests on a 453-hectare land abounding with vineyards and orange plantations. First established in 2008, the park not just offers a safe refuge for a wide assortment of wild animals but also pride in its diverse mix of white tigers, lions, wolves, and many more.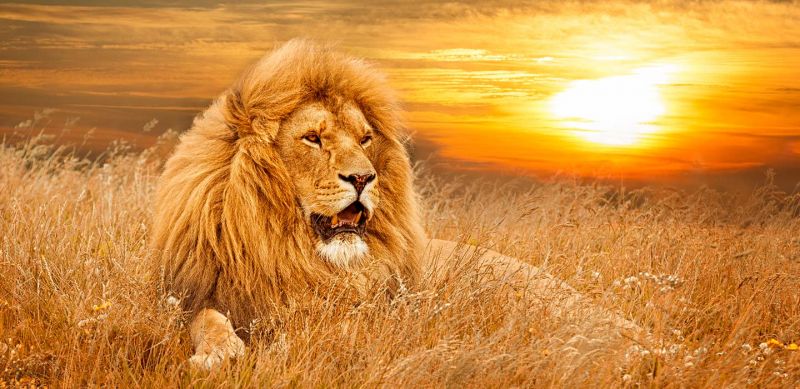 From taking a serene walk with one of the tigers through the natural forest-like setting to touching and feeding one, you can treasure the once-in-a-lifetime opportunity to appreciate the quirks and uniqueness of the pride of 'Jugomaro'.
4. Pilanesberg National Park
Tucked at the footsteps of a long-extinct volcano, the Pilanesberg National Park is rated among the largest parks in South Africa. With its close proximity to the capital city of Johannesburg, the park is enriched with 580 square kilometers of diverse, bushveld terrain that accommodates a wide assortment of plants, animals, and birds. In fact, it supports almost every mammal of southern Africa including the Big Five.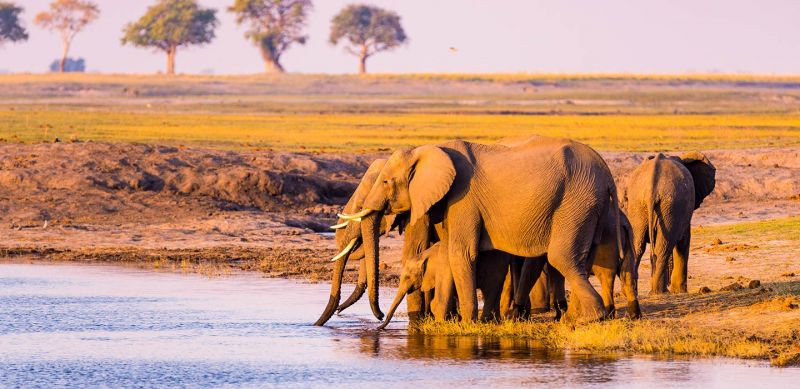 Boasting of more than 180 kilometers of trails and unpaved roads inside, the park facilitates visitors to take self-guided driving tours in addition to guided safari drives. What's even better? There are even "hidden bunkers" where you can safely get out of your vehicle and spot your favorite wild animals from close proximity.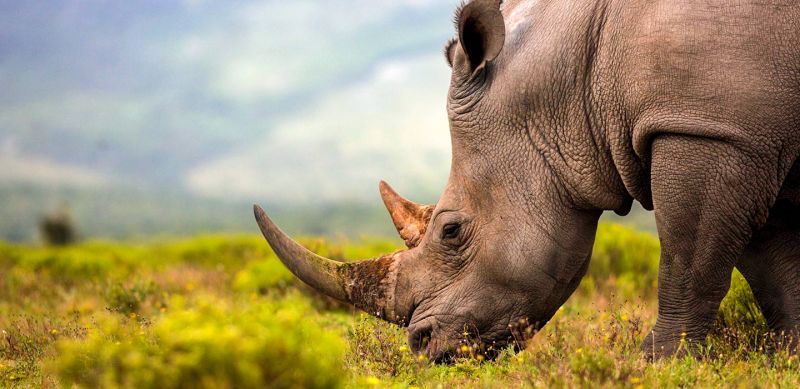 While Pilanesberg is arguably the best place to sightsee the wildlife in its natural habitat, did you know that it is also one of the best locations for budget safaris and amazing lodges for overnight stays?
While it is arguably once-in-a-lifetime experience to witness this royal species in all its glory and wilderness, there is a tremendous decrease in the population of this endangered species over the past several years. But worry no more; with a fair number of positive conservation measures taken in the recent times in Africa, it is still possible to spot these beauties that are steadily increasing in numbers!