The Ultimate Guide to Visiting Cinque Terre in Italy
Cinque Terre is a paradise on Earth. A place out of imagination. For a second there, you might actually think that this beauty cannot possibly exist in the real world. But that's where you are wrong. It does exist in Italy and is called Cinque Terre.

There are very few places in Italy that are as memorable as the Cinque Terre; it has land and culture so unique that it has been protected as a national park and listed as a World Heritage Site by UNESCO.

It's a set of five villages, hence the name Cinque Terre, located right on the Mediterranean Sea coast. They are five beautiful hillside villages: Monterosso, Vernazza, Corniglia, Manarola, and Riomaggiore; and they are connected by footpaths

What travelers like best in Cinque Terre is its almost lack of the traditional must-see sights such as important palaces, churches, museums, temples, and castles. Instead, its natural beauty is the attractions: you can go walking the breathtaking paths along the cliffs, pausing over gelato in a café surrounded by candy-colored houses, cooling off with a swim, capturing pictures of some of Italy's best views, or just absorbing its unique charm.

This is why this destination is ideal for those who want to relax, enjoy nature, have tasty food, and save the memory with unique photos. If this sounds interesting to you, then let's dive into a complete guide to visiting Cinque Terre!

The five villages of Cinque Terre

1. Riomaggiore

At the eastern end of the Cinque Terre, Riomaggiore is the easiest to reach which makes it the first stop on many Cinque Terre visits. The village is very picturesque. Its buildings line up down a steep ravine to a tiny harbor. A beautiful botanical garden and bird watching center sits on a rocky promontory up the hill from its pebbly beach. Artists and photographers are very drawn to the village. Riomaggiore leads straight to Manarola.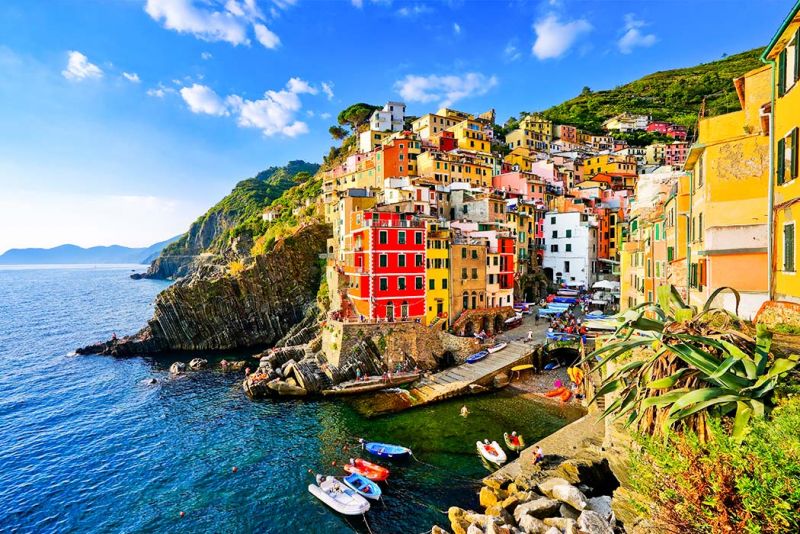 2. Manarola

Manarola is the town that everyone wants to see when they visit Cinque Terre. There is a good reason for this; historians believe that Manarola is the first village of Cinque Terre, and it's the most picturesque of all the villages. The grapevines around Manarola produce the Cinque Terre unique wine, Sciacchetrà. A reminder of everyday village life can be found in its bustling main street and waterfront promenade that are still lined with fishing boats.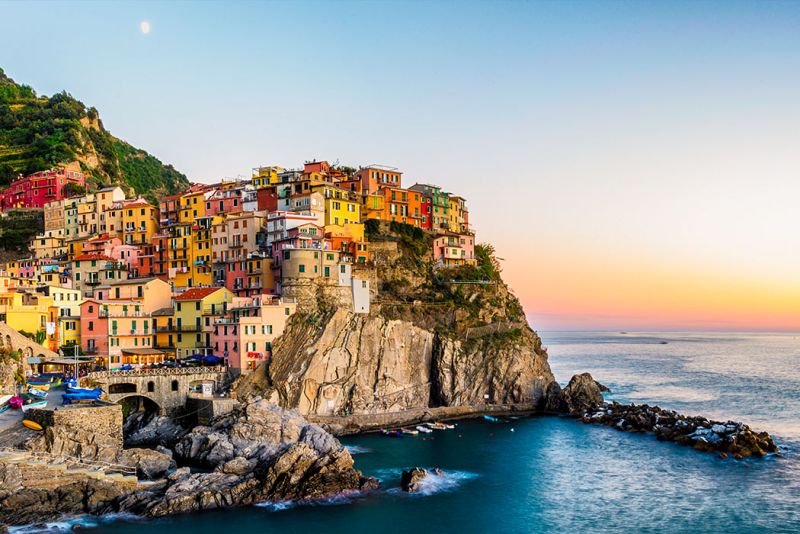 3. Corniglia

Unlike the other villages of Cinque Terre, Corniglia is located a bit higher on a hill and isn't right on the water, sitting atop of 100m-high rocky surrounded by vineyards, and is the only one without a harbor. However, it still offers perfect views of the Mediterranean Sea. Also unlike the other villages, visitors of Corniglia arriving by train must climb up instead of descending into the village.

Corniglia's tranquil, tangled streets lead to a broad and breezy sea-facing terrace which is the only spot where you clock and take a photograph of all five villages at once.

Corniglia is well-known for a wine called Vernaccia di Corniglia, so make sure to try it when you are there! But know that you are going to have to sweat before you take a sip of this wonderful wine because you are going to have to climb up 365 stairs to get to Corniglia after getting off the train.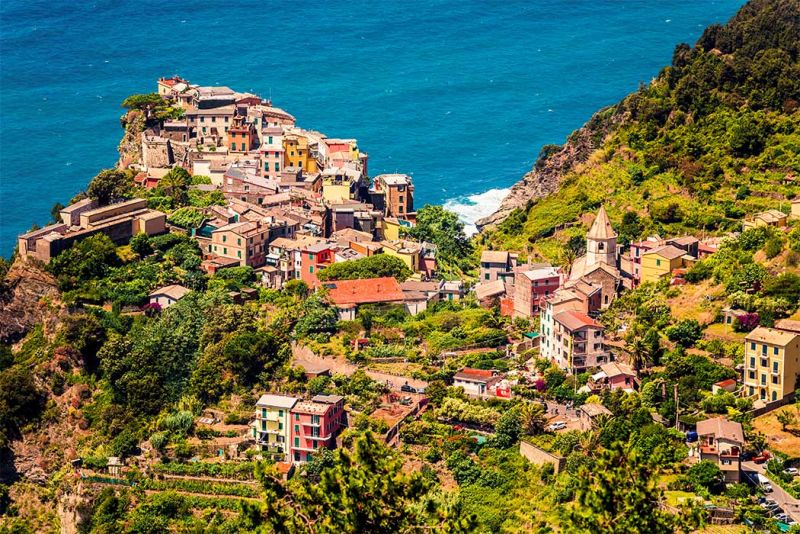 4. Vernazza

Vernazza is the prettiest of all five villages of Cinque Terre, snuggled in a cleft between rocky cliffs, with colorful houses that seem to be stacked atop each other. It is colorful and unique and it actually has its own church that is free to visit which is located directly on the water. While inside, you can look right out the window to the sea!
Vernazza has a protected harbor with picturesque boats in it and a small swimming area and has the second-best beach of Cinque Terre.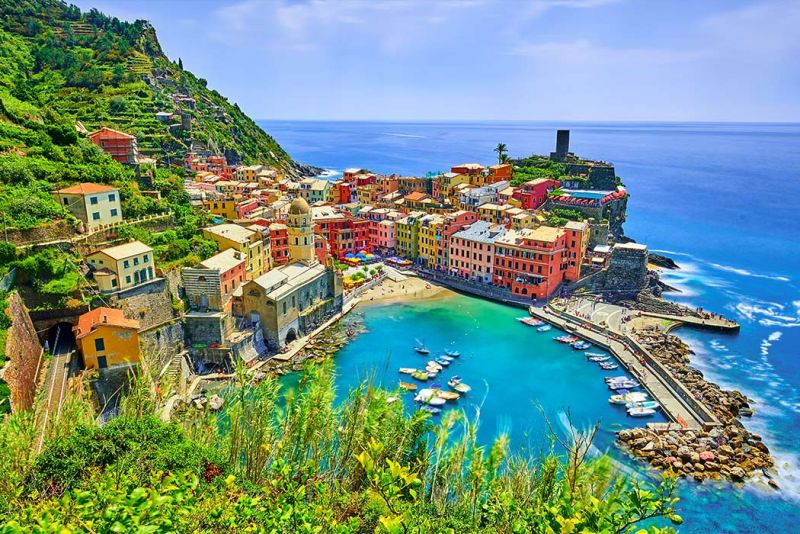 5. Monterosso

Monterosso is the most famous of all the five villages; everyone tends to visit Cinque Terre mainly to see Manarola. It is the only village that has a proper strip of the beach; it has the biggest and the best beach. During the summer months, it will be filled with sun loungers and Italians working on their tans. In the old part of the village, you can visit the 14th-century Loggia del Podestà and the parish church of San Giovanni Battista.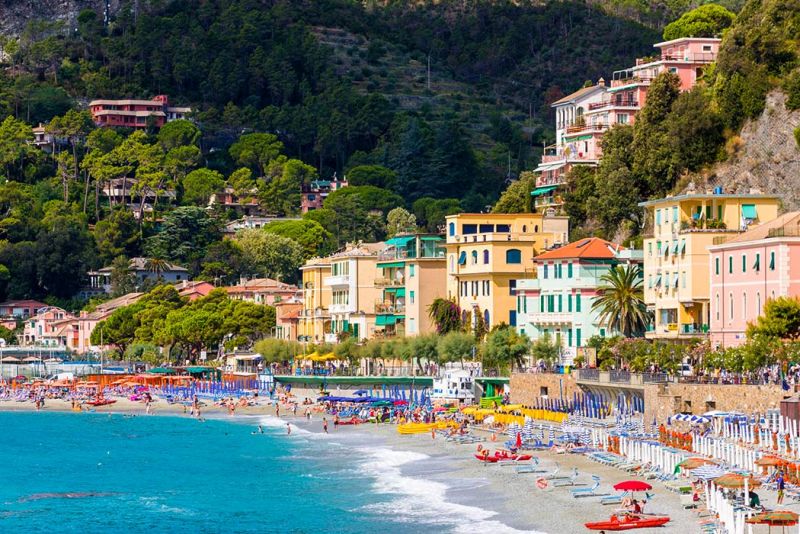 How do I get to the Cinque Terre?

Tucked away at the eastern end of the Italian Riviera, the villages of the Cinque Terre are profoundly isolated. The easiest way to reach Cinque Terre and to travel between its villages is by train. The train line runs along Italy's west coast and connects all five villages with Genoa, Pisa, and Rome.

Arriving by sea is another option. From Easter to September, ferries run from Genoa, Portofino, and Porto Venere to Cinque Terre.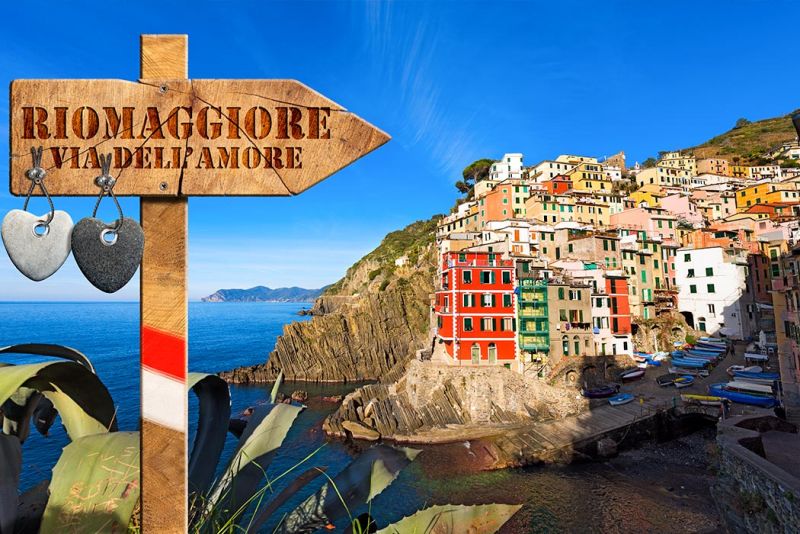 What is the nearest airport to Cinque Terre?

The nearest airports to Cinque Terre are in Genoa and Pisa.

When is the best time to visit Cinque Terre?

Like most places, Cinque Terre has its peak season which is from May to August. The five villages are the busiest during these months and you will get overwhelmed by the number of people whatsoever.

The best time to visit Cinque Terre is either from March to April or from September to October. You will get to enjoy Cinque Terre with fewer people and everything is still open.

Avoid visiting from November to February. The weather is much cooler and all the popular attractions and some of the restaurants are closed because there are hardly any tourists at that time of the year.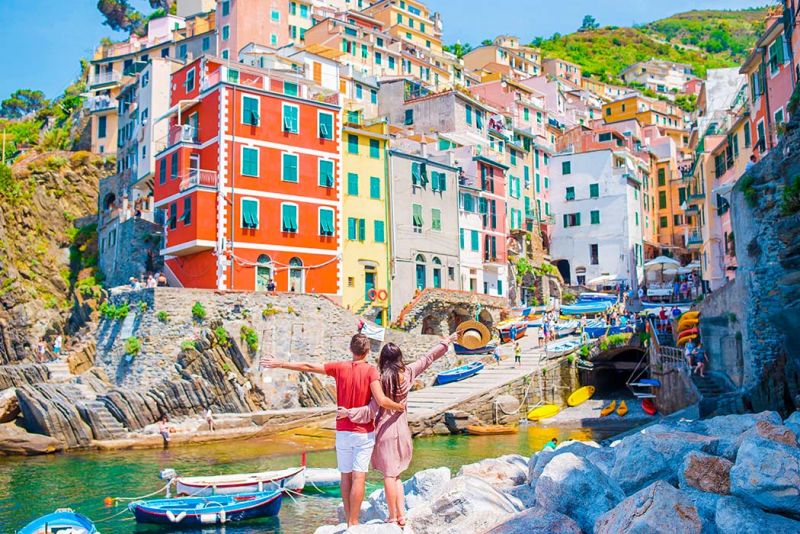 Where should I stay in Cinque Terre?

Staying at one of the five villages is the best way to experience life in Cinque Terre. However, accommodation in the Cinque Terre is quite expensive.

If you chose to stay in Cinque Terre, the majority of visitors will opt to stay in either Riomaggiore or Monterosso which makes them the busiest. If you prefer to stay in a quieter place, try to stay in Corniglia.

If you are visiting Cinque Terre on a lower budget, consider staying in a nearby town, like La Spezia. La Spezia is far closer than Genoa or Pisa, with just a seven-minute commute to the closest village, Riomaggiore. Also, accommodation and food prices are much cheaper in La Spezia.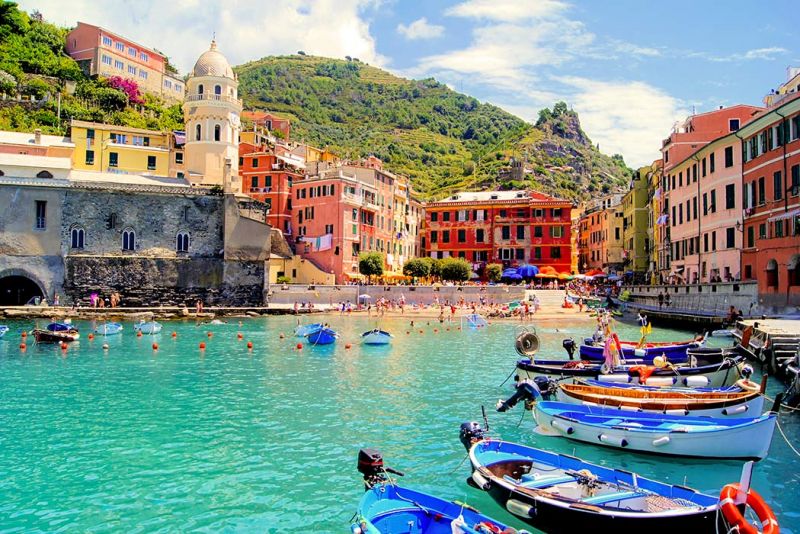 Things to do in Cinque Terre

Adventurous Activities: Hiking and Cliff-Jumping

Take a hike on the Blue Trail, which is the most popular trail in Cinque Terre; it is also known as the Sentiero Azzurro. The Blue Trail split into four different parts; its most scenic and romantic part is the Lover's Lane walk.

If you are feeling really adventurous and have the heart for it, then you should try cliff-jumping in Riomaggiore. If you're an adrenaline junkie, this is sure to give you a rush you never felt before!

Visit the Picturesque Village of Manarola

Go to Manarola at sunset or sunrise to enjoy an epic view and take the most picturesque photo you will ever take. Manarola is genuinely the most picturesque village out of all five, and you can get an even more rewarding view by visiting either in the early morning or at night when the sun is not very glaring.

Take a Swim at Monterosso

Swim at the beach in Monterosso; as we mentioned before, Monterosso has the best beach in Cinque Terre. So, how come you visit this gorgeous village and not go for a swim at least once? Just relax and float in the Mediterranean Sea!

Explore the Vineyards

Visit the vineyards of Cinque Terre. There are quite a few unique vineyards surrounding the five villages. The easiest one to explore is probably the ones above Manarola; you can easily walk up to them on a tiny trail or you can sweat a little and enjoy the famous Vernaccia di Corniglia at the vineyards of Corniglia.

Take a Ferry

If you truly looking for a breathtaking view, the best way to experience it is on a boat. Make sure you take a ferry at least once and enjoy the most exquisite view!

Eat All the Delights

It's usually warm in Cinque Terre unless you visit during the winter, so you're going to want to cool down with some gelato.

You cannot be in an Italian destination and not have pesto, which originated nearby to Cinque Terre in Liguria. It doesn't matter what you try it on — bruschetta, pasta, a panini — it's genuinely better there.

You cannot be on the Mediterranean coast and not have seafood. Tutti Fritti in Riomaggiore is the best seafood place in Cinque Terre. All who went to Cinque Terre swear by it. If you love seafood, you have to try it at Tutti Fritti!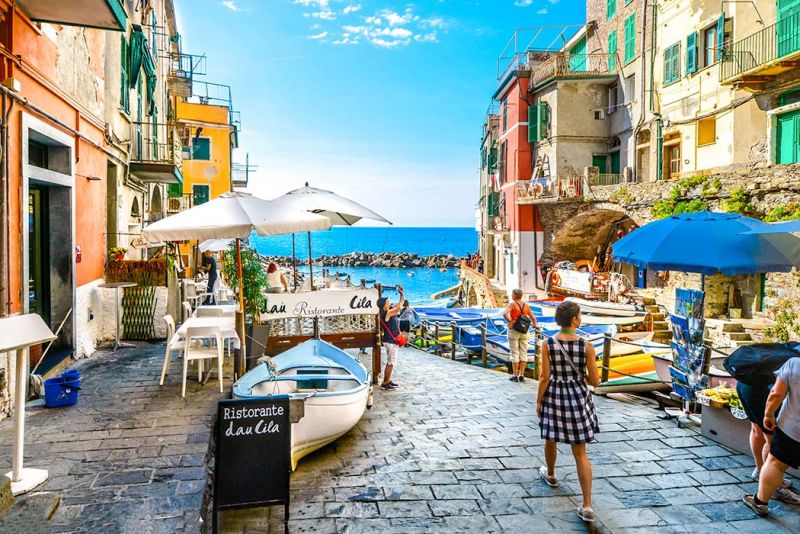 Cinque Terre Travel Tips

• For an authentic takeaway snack, make sure to look out for a friggitoria, where they sell bite-sized seafood piled into a paper cone.
• If you are going to be hiking and want to avoid the heat, it's best to visit in May or September.
• Cinque Terre is a tiny place; you'll want to be carrying cash on you at all times. Many places don't accept cards, so make sure to have cash on you.
• The sun in Cinque Terre can be quite brutal, so don't forget to pack your sunscreen if you don't want to end up being a red lobster by the end of your trip.
• Make sure to pack comfortable shoes because you'll be walking a lot, even if you're not planning on hiking between towns!
• Pack a light day backpack as it will quite useful if you plan to go hiking.