The Definitive Facts About Morocco Cities with Marrakech Travel Guide
Morocco is a unique destination for it serves every taste. It is a diverse country with a little something for everyone, and a perfect combination of history, culture, and traditions.
If you have never been on a Morocco vacation, then you probably should. It is your chance to uncover the magic of Morocco cities, deserts, beaches, souks, along with Berber and Arabian cultures.
Here is the ultimate guide to Morocco to live the experience to the fullest.
Why is Morocco a special destination?
Whether you like bustling cities, sunny beaches, or rich history you will find something to enjoy from amazing food, unique culture to affordable prices.
Here are some reasons and facts about Morocco as to why it is a special destination that is worth visiting.
Sahara Desert
You shouldn't miss the largest hot desert around the world. It is a very entertaining and worthy experience. You will be amazed by the serenity, and inspiring sunsets, and starry nights.
Prepare yourself for the dry heat. Bring your sunglasses and put on sunscreen as well.
Lots of operators can facilitate going to the Sahara for you. However, you have the options to rent a car, or go by camel, or even go on foot. Drink lots of water there.
Various Souks for Shopping
If you want to live a truly authentic experience in Morocco, then you shouldn't miss shopping at the souks and bargaining like a real local. It is a fun experience even if you are not to buy anything.
There you can buy clothes, carpets, shisha pipes, and of course spices. You can also buy souvenirs for your friends and family. There you will also find dried flowers, soaps, and oils.
Souks are placed everywhere in Morocco. Some of them are set up daily and some others are only on certain days and occasions.
Note that bargaining is welcome but don't underrate the item especially if it is handmade. Since the prices are not expensive, haggling will not be much.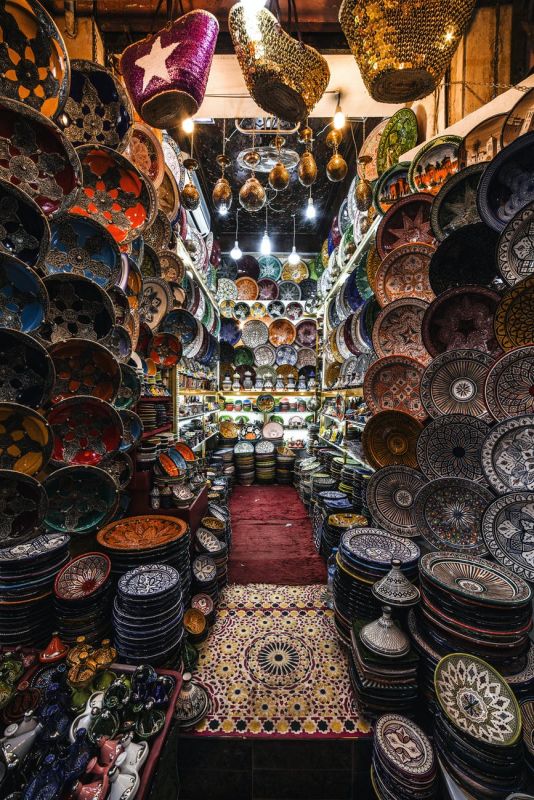 Cuisine
A perfect trip will not be complete without treating yourself to a tasty meal. Morocco has a wide range of foods. Some of the most popular dishes are couscous, tagines, sardines, and a variety of bread.
Tagine is a pretty popular food there. It is slow roasted meat or vegetables, mixed with local spices. It is served in a red clay pot to enjoy a unique taste. You shouldn't miss pastille, bissara, harira, baghrir, and msemen.
Try their mint tea as well, it is one of the highlights during your visit.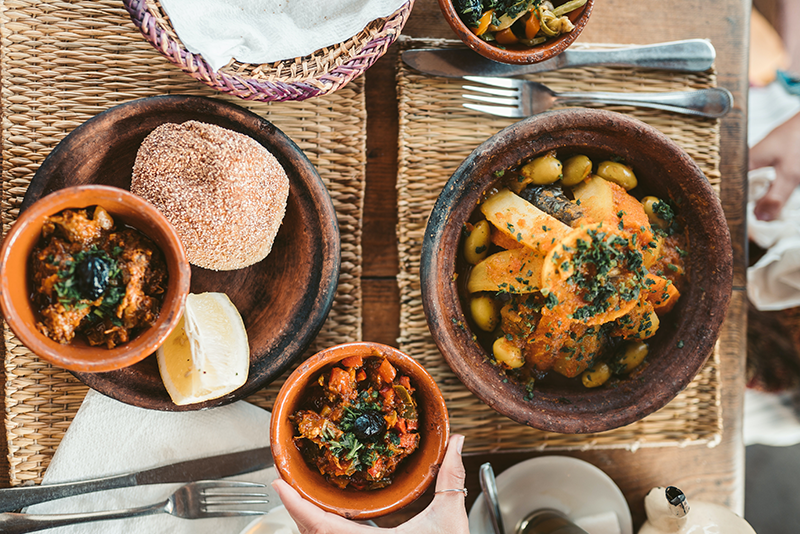 Beaches and watersports
Morocco is blessed with great spots in Tangier, Agadir, Sari, Taghazout, and Mirleft for beach lovers. If you are a water sports enthusiast, Essaouira is the best place for you to go. Soak in the sun, surf the waves, and relax at the beach.
Amazing Photo Shoots
Every spot in Morocco is perfect for taking photos. In a hotel, restaurant, or mosque, you will find a spot to capture a shoot. The patterns, details, and arching doorways are simple but well designed to reflect a beautiful sight.
You should pay a visit to the Blue City of Chefchaouen where you will find villages in blue color perfect for taking photos.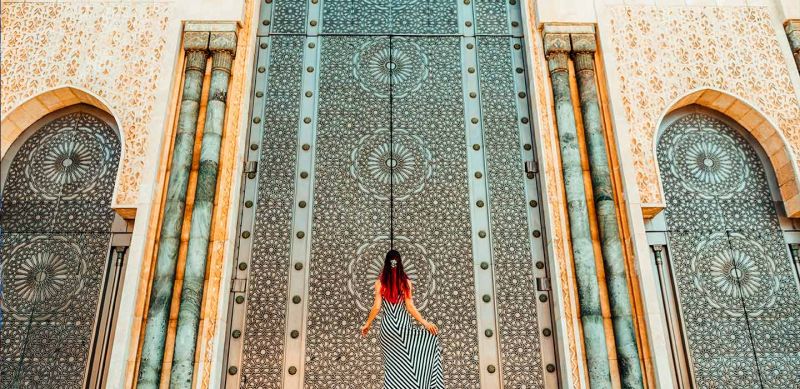 What is the Best itinerary Duration and Details for Morocco Vacation?
Planning an itinerary to visit Morocco will vary depending on the things you want to do there. Whether you want to quickly visit the top attractions, or immerse yourself in the beauty of the imperial cities and also have a taste of the desert there, you can personalize your itinerary with our Tailor-Made Trips service.
One of the recommended itinerary options is Morocco in 9 Days. It is a chance to visit the imperial cities and Morocco's fascinating desert.
Day 1 - From Casablanca to Rabat
Land in Casablanca and then head to Rabat
Day 2 - From Rabat to Fez
En route, you will pass by Volubilis and Meknes.
Day 3 - Fez
Bou-Inania and AttarinMedersa, the tanners, Ess-Seffarine Square and more.
Day 4 - From Fez to Merzouga
Head towards Erfoud through Ifran and Midelt and then reach Merzouga.
Day 5 - Merzouga and Ouarzazate
Catch the sunrise and then travel between Erfoud and Ouarzazate with a stop in the Todra Gorge, and Skoura, one of Morocco's beautiful oases.
Day 6 - From Ouarzazate to Marrakech
Before leaving for Marrakech, visit the Atlas studios home of some of the world's most popular movies and series like the Mummy, Gladiator, and Game of Thrones. On your way to Marrakech, you will make a stop at Ait Ben Haddou.
Day 7 - Marrakech
Spend the whole day exploring Marrakech's Majorelle Garden, Menara and Jamaa El Fnaa
Day 8 - Spend a free day in Marrakech
Spend some me time and choose what you want to do in Marrakech
Day 9 - From Marrakech to Casablanca
You can have many options for your Morocco Travel Package based on your time and preference.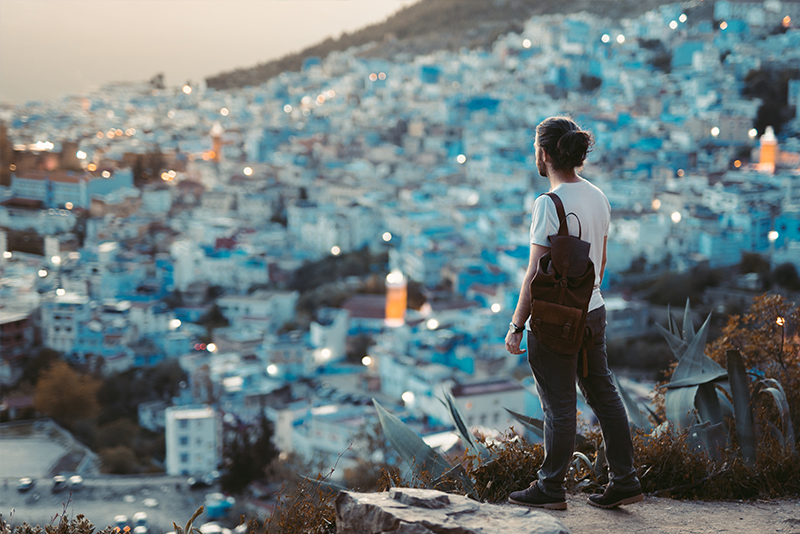 What are the Top Morocco Cities and Places you Shouldn't Miss?
1. Marrakech
Marrakech city is bustling and full of history to indulge in. There are so many things to see and do.
History-lovers should head to the Saadian Tombs and El Badi Palace. For the most local Marrakech experience, stay in a traditional riad within the medina walls.​
2. Chefchaouen
A small city with a huge breathtaking landscape. It is a great spot to enjoy local arts and crafts in the medina shops. Treat yourself to a drink while being surrounded by the architecture of Uta el-Hammam square or head to a Moroccan cuisine at a riad restaurant to enjoy a local experience.
For sure, don't forget to take photos in this beautiful Blue City.
3. Fez
Fast fact about Morocco is that Fez was its capital for more than 400 years. It is a significant religious and cultural center, recognized by UNESCO for historical importance.
Fez is best explored on foot to enjoy the historic feels of Al Quaraouiyine mosque, the Chaouwara Tanneries, the Merenid Tombs and the Mellah and Jewish Quarter.
4. Essaouira
If you want a getaway from all the bustle of Morocco cities, then you definitely should head to Essaouira. It is well known for its seafood restaurants.
It is full of activities. The beach is popular for kitesurfing. The city is magnificent with its narrow streets, red-and-blue-painted houses and ramparts.
If you are there in June don't miss the three-day Gnaoua World Music Festival.
5. Merzouga
Your trip would be incomplete without tasting a little of Morocco desert. Situated on the edge of the Erg Chebbi, Merzouga takes you to the wilderness of the Sahara Desert.
Go on a camel safari to best explore the Saharan landscape, blue skies, and desert wildlife.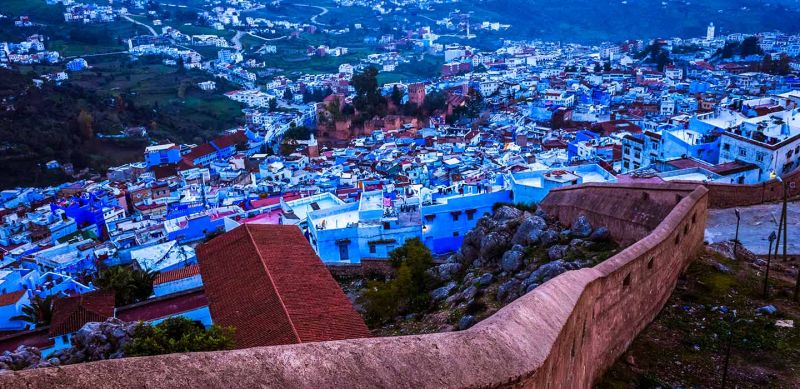 What Tips and Tricks to Avoid Scams in Morocco?
If you are lost or need a guide, ask official guides only. They have big large brass "sheriff's badges." Unofficial guides in the street may be genuine, but official guides will make sure you are not taken into a shop or a hotel.
Avoid pickpocketing and be aware of your belongings all the time and keep your wallet in your front pocket or carry a money belt. Leave the valuable items at the hotel and walk around with what is necessary.
Avoid people who insist that you take a picture with their animals unless you do like a photo. Pay them what you consider to be a fair price and then walk away.
Don't feel pressured to buy anything regardless of how hard the sellers try, if you are taken into a shop.
Be aware of some restaurants having fake prices or two menus to trick travelers. If you experience this, simply pay the initial price you saw and walk away.
Ignore beggars in the streets, otherwise, you will be attracting more of them to you and this could put you in dangerous situations.
Avoid suspicious women who try to approach you for a henna painting, especially in Jemaa El-Fna. They have a trick as they will try to use their henna on your hand without you noticing and then offer you a full henna hand tattoo. Don't feel obligated to have it. However, if you like it, just offer to pay in coins (no more than 10DH is a fair price), or walk away if you don't like it or if you didn't ask for it in the first place.