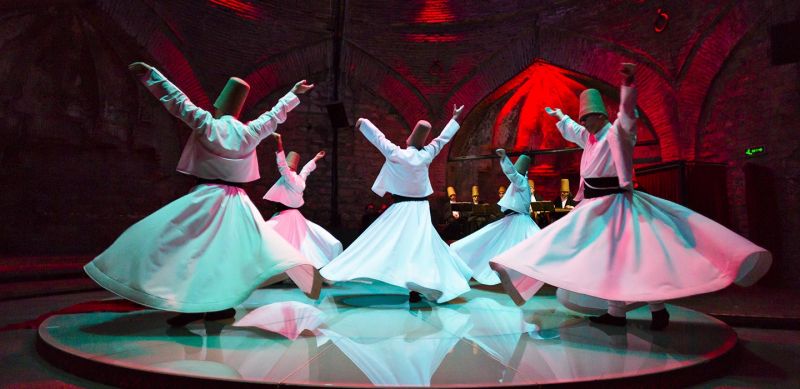 Turkish Culture: Discover The Festivals in The Country
Turkey is a multi-cultural country in the Mediterranean area that takes pride in its ancient history and rich culture, thanks to the influences of various epochs! Turkey is not just about the gorgeous stretch of coastline or the world-famous kebabs or a balloon ride over Cappadocia. With great influences of Greek, Armenian, Georgian and Arabic, this transcontinental nation is truly a magical place that has successfully incorporated the best of Asian as well as European culture.
What's more: having residents from various ethnicities the country has become a beguiling mix of culture. And therefore it is an abode to various interesting festivals to keep you entertained. From cultural festivals to national festivals to popular music festivals, Turkey offers a myriad of enlivening activities to its citizens as well as visitors. Here we give a quick glimpse of the festivals that are celebrated with a lot of pomp and show.
Celebrate the arrival of spring at Ahirkapi Hidirellez Festival
Ahirkapi Hidirellez is a traditional festival in Turkey that natives look forward to every year. The revelers gather at various places across Turkey to celebrate the festival which is the harbinger of spring, harvest, and abundance. The locals have a deep-rooted belief that the deserving people's wishes are granted by prophets during this festival. Therefore, people make a wish at night either by tying a small piece of fabric to a tree or throwing wish papers and pebbles into the sea.

What's interesting you may ask? The answer: you will have your eyes wide-opened when you witness a spine-chilling tradition of this ancient annual celebration. The daredevils in the crowd step forward to hop over the fire to cleanse any sin they might have committed and to wash away the misfortunes of the past. And the best part is the carnival-like atmosphere and dolled up artists enthusiastically grooving to the music played by well-known Roma musicians.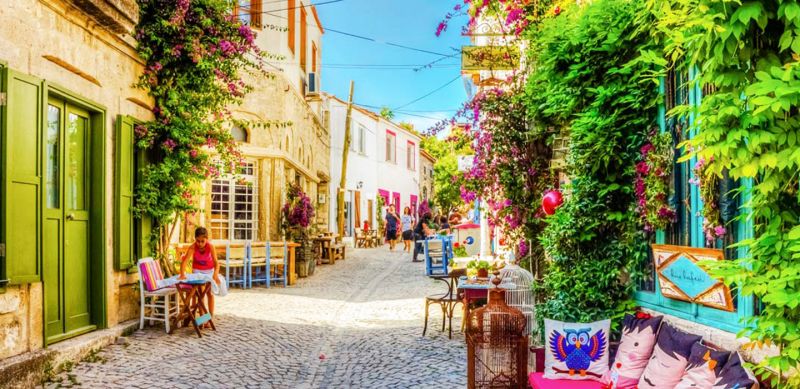 Witness odd-wrestling like no other
Camel Wrestling Festival in Turkey attracts eyeballs from across the world for being one of its kind. This unique 2400-year-old festival commences at the beginning of every year and ends in the month of March. The bout is held during the mating season and to get the male camel participants to wrestle with more aggression and determination, a female camel is paraded prior to the fierce wrestling.
The spectators to this winter-event wager bets on the camel-contestants who wrestle each other with their long necks. What determines the winner, you may wonder? The answer: if a camel is brutally wrestled to the ground by his opponent or he runs away from the arena, he will be declared a loser. And his opponent proudly becomes victorious! The winning of the match comes out as a great honor for the camel's owner for they spend the entire year catering to its every need and make it match ready.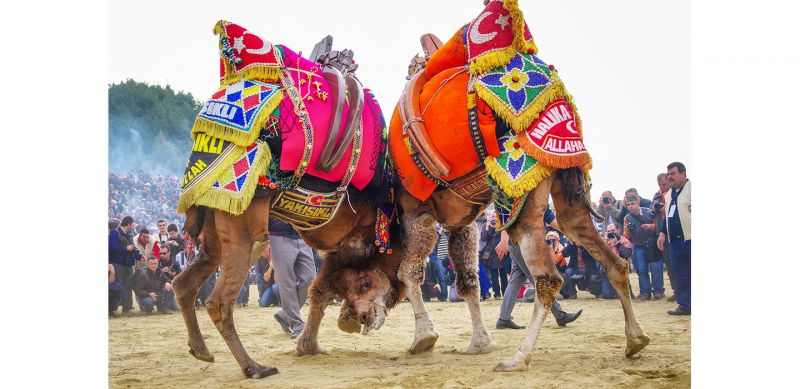 Get mesmerized at Mevlana Whirling Dervishes Festival
Turkey is famously known as home to Sufism and Mevlana Whirling Dervishes Festival is a spellbinding act to demonstrate love, homage, and faith for the Sufi arm of Islam. Celebrated on the anniversary of Rumi's death hordes of pilgrims fly to Konya for being a part of a hypnotic spectacle of dizzy twirling. Rumi had founded 'Whirling Dervishes' to help individuals achieve divine harmony and union with the Almighty.
Moreover, the whirling dervishes look like floating angels from paradise as they make swift yet graceful moves and spin around in the most elegant white and colored attires. With a variety of music ranging from eerie and haunting to soothing and beautiful, the brilliant performance is sure to cast a spell on you.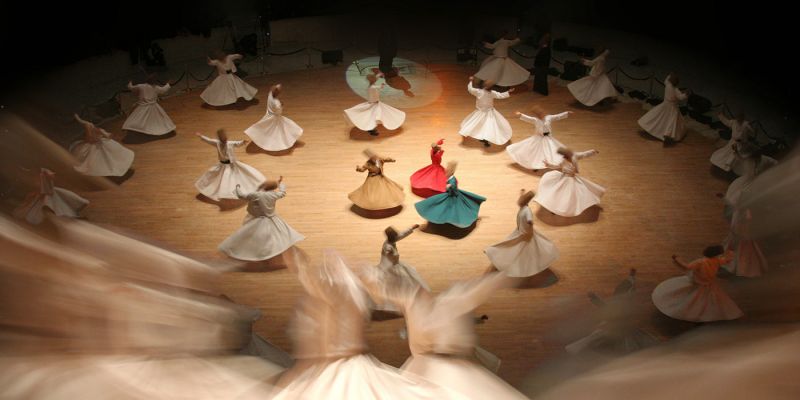 Let us celebrate victory on Victory Day
30th August is celebrated as the Victory Day in Turkey when every shop and buildings are beautifully adorned with Turkish flags and images of Mustafa Kemal Ataturk- the founder of the Turkish Republic! This national festival is celebrated with a lot of enthusiasm and patriotism in Turkey. The citizens gather at various locations, hoist the flag and pay utmost respect to the martyrs who bravely fought so that others could breathe in an independent nation.
What's more: spectacular Military parades and ceremonies are organized to pay homage to the founder of the nation. Also, an incredible air force demonstration is a jaw-dropping sight that will leave the locals as well as the visitors dumbfounded. The red and white trails left by jet in the blue sky make a beautiful view that symbolizes the Turkish flag. People also flock to the capital city of Ankara to be a part of a grand ceremony at Ataturk's Mausoleum.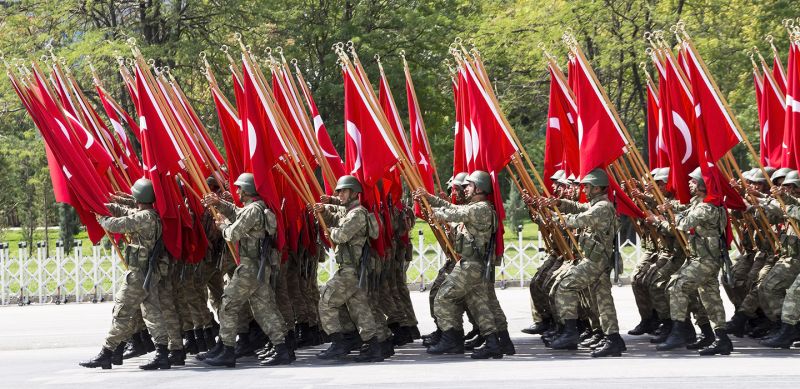 Istanbul Music Festival
Istanbul Music Festival is the most established classical music event in Turkey that's eminent across the world. Great fans of classical music fly to Istanbul to be an integral part of a music marathon when the connoisseurs of music gather to entertain the crowd. With orchestras and soloists from various countries across the world, it becomes a meeting ground for art and music lovers.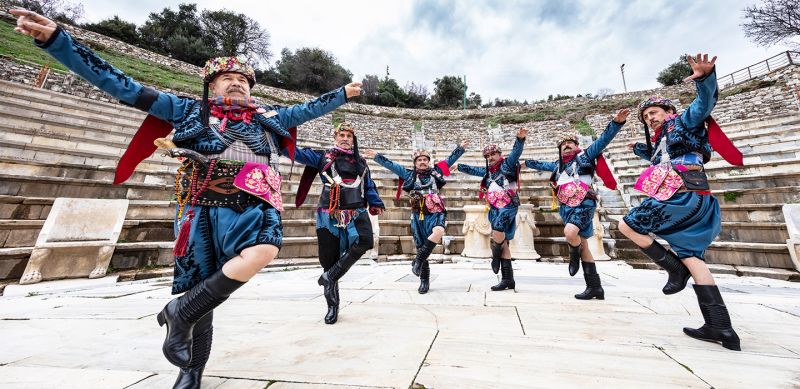 What's more, you may ask? The answer: Every year the festival adheres to a well-conceptualized theme. For instance, this year for the celebration of the 47th Istanbul Music Festival the title was 'Darkness of Being, Lightness' to skillfully and artistically illustrate the balance of good and bad, birth and death and many more convictions. Also, to make this acclaimed music festival a big hit amongst the audience, and various creative programs are organized to keep it artistic and inspirational.
Sitting right at the crossroads between Asia and Europe, Turkey enjoys a unique position to proffer visitors with incredible cultural immersion. And is definitely worth a visit!
Memphis Tours was established as a family business in 1955. The company was a pioneer in Egyptian tourism, operating shore excursions for the largest clients in Egypt, including P&O Cruises, Princess Cruises, and the British, French & American navies from 1955 through 1996.
Now we are serving our guests who are traveling to other destinations like India, Jordan, Dubai, Oman, Turkey, Morocco, Greece, Spain and Africa by more than 300 Employee - increasing annually - with a variety of culture, experience & gender. Those employees deliver a high-quality service to the smallest details for more than 20000 guests with Memphis Tours all over the world.