5  Most Exotic Places to travel in the World Before 2020 End
Everyone needs to take time to exhale and have a good time and traveling seems to do the trick almost to everyone. The world is full of exotic destinations, each one more exciting than the last; there are some locations that you must see at least once in your life. If you are planning on going on vacation and want to explore beyond your usual pick, then you are in the right place.
We have picked the 5 most exotic places to travel to before 2020 comes to an end! They are far from your familiar travels and will give you a mind-blowing and cherishable vacation!
1. Fiji
When it comes to exotic holidays, we cannot start the list with anything other than Fiji. A place filled with mangrove forests, natural pools, and waterfalls. Fiji is the jewel of the South Pacific!
Fiji is an island nation comprising over 300 islands in the South Pacific Ocean. It's known for its swaying palms on its white-sand beaches, rugged landscape of mountains and jungles, colorful coral reefs just off the coast. In its water, you can see spinner dolphins, five different turtle species, and the rare Fiji crested iguana.
When do go to visit Fiji, 300 islands are a lot to cover. So, here are some of its popular and magnificent islands. The Mamanuca Islands in Fiji's most popular island. If you want to visit the place where Tom Hank filmed his famous film "Cast Away," this is your pick.
North of Mamanuca, there is the popular Yasawa Islands. Things you can do on this stunning island are swimming with manta rays, exploring the cathedral-like Sawa-i-Lau caves, and kayaking. There is also Vanua Levu; it's less touristy but it is a popular destination among nature lovers who love to travel off the beaten path. You can enjoy the waterfalls and hiking trails through the rainforest to hot springs and panoramic lookouts.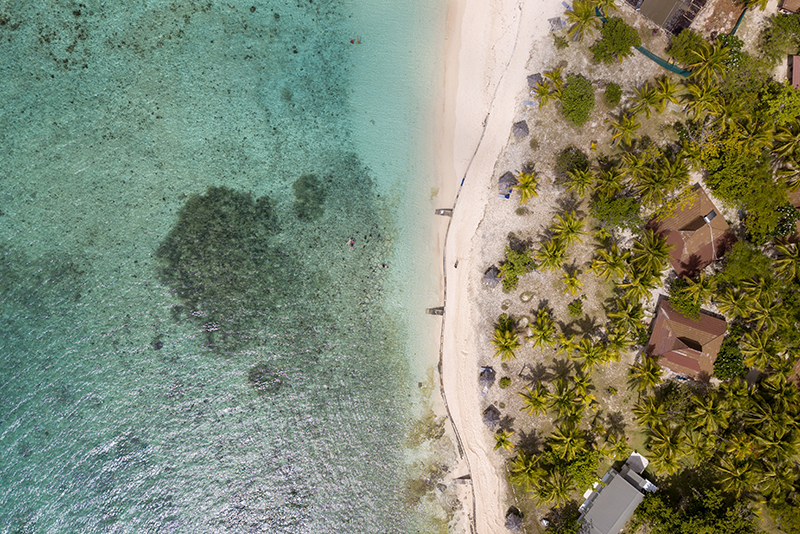 2. Cappadocia, Turkey
Known for its fairytale scenery, cave dwellings, remarkable rock formations, Cappadocia is a beautiful region in central Turkey. And, of course, we cannot mention Cappadocia without mentioning the hot-air balloons that soar in the sky during sunrise each morning.
This surreal moonscape was formed by volcanic eruptions over the ages; however, thousands of years ago, locals added some touches to the landscape. They carved out houses, churches, and underground cities from the soft rock.
There are hundreds of underground buildings in the area of Cappadocia. The most famous two that you cannot miss are Kaymakli, which has eight levels, and Derinkuyu, which descends some 55 meters.
Also, the capital of Cappadocia, Nevsehir, is a great place to base yourself. The surrounding area is a popular trekking route in the middle of the breathtaking and alien rock formations there called Peri Bacalari or Fairy Chimneys.
Cappadocia is also known for hiking. You can go on an awesome hiking adventure there; you can spend a week there exploring all of the diverse hiking trails in Cappadocia.
If you want to enjoy the full view of Cappadocia, you should take an early sunrise hot-air balloon trip and watch the fairytale scenery from above! Also, don't miss a visit to the Goreme Open-Air Museum, which is a UNESCO World Heritage Site.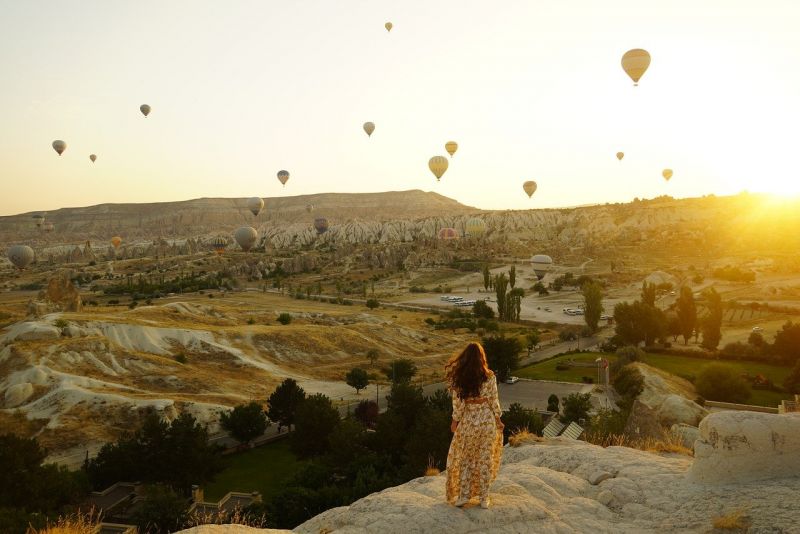 3. Petra, Jordan
Rising out of a cliff between the Red Sea and the Dead Sea, the lost city of Petra, with so many secrets yet to be revealed, made its place to the 5 top exotic places to visit. The city of Petra is located in Jordan and is one of the New Seven Wonders of the World.
This beautiful city is carved into the red sandstone of the cliffs behind it and that's why it is often referred to as the Rose City or the Red-Rose City. The city of Petra was once the capital of the Nabatean Kingdom; it dates back to around 300 BC. It contains several tombs, temples, and carved structures spread across a sandy landscape, which they are available for exploration by visitors. Scenes from the Hollywood blockbuster, like Indiana Jones and the Last Crusade, were filmed there.
There are a lot of places to visit in Petra. You will start by following the trail into the Siq, which is a narrow canyon pathway that leads travelers to the ancient city. The Siq will lead to the Treasury, the highlight of your Petra visit. Carved out of the sandstone mountains, the Treasury was built as a tomb for the Nabataean King Aretas III and it mesmerizes anyone who lays eyes on it.
That's not all that is there in Petra. This is just the start of the journey. There is also Petra Royal Tombs, High Place of Sacrifice, Petra Theater, Colonnade Street, the Monastery, and many more!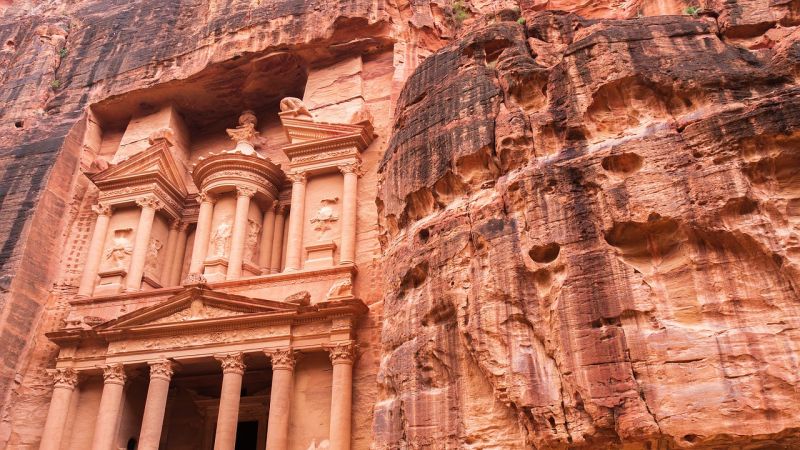 4. Amer Fort, India
Also known as the Amber Fort, the Amer Fort is a majestic structure in India. Sprawling on a hilltop, the fort is a magnificent blend of different cultures build in one structure and is one of UNESCO World Heritage Sites.
It was originally built as a strong, safe haven against attacking enemies. Raja Man Singh I began its construction in 1592 and was completed by Mirja Raja Jai Singh.
This stunning fort is an extensive palace complex. The fort's architecture is a blend of Mughal and Hindu influences. It is built from pale yellow and pink sandstone, and white marble. The fort consists of a series of courtyards, palaces, halls, and gardens. It is mainly divided into four main sections; each section has its own courtyard. The splendor of the fort is enhanced by the breathtaking view of the Maota Lake in front of it.
It is possible to visit the Fort on elephant-back; however, animal welfare groups have criticized this action at the Amer due to reports of animal abuse.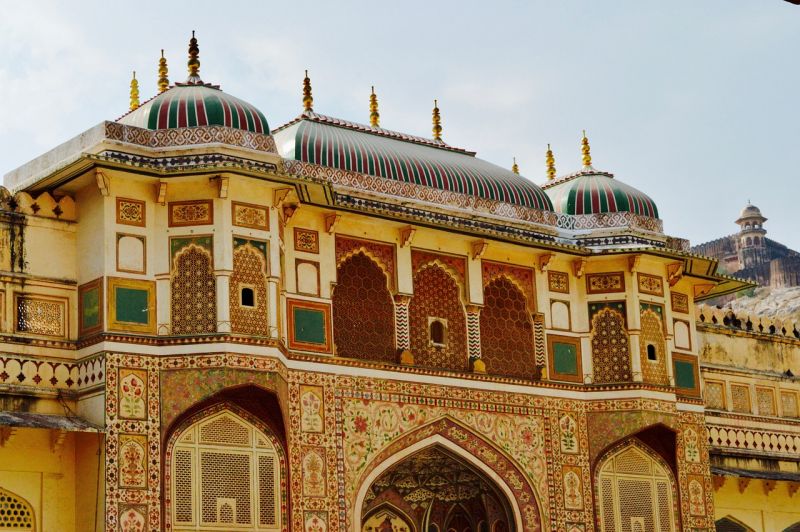 5. Forest of Knives, Madagascar
Known in Malagasy as Tsingy which means the place that one cannot walk, and there is no doubt as to why it is named that! The Forest of Knives consists of razor-sharp vertical limestone rocks.
Despite having a frightening name, the place is truly intriguing. The magical formations long outdated humans on this planet. They were formatted due to heavy tropical rainfall erosion for 200 million years.
The Forest of Knives is home to an impressive number of endemic species of both plants and animals. You can watch endangered lemur species frolic about limestone needles and endemic reptiles, amphibians, rodents roam around.
You can go for a hike around the bizarre pinnacles of limestone, and experience this marvelous mother-nature formation and observe all kinds of different birds and lemurs. If you are sick of always spending your vacations on the beach, Madagascar is definitely the right choice for you!