Grand Egyptian Museum Opening Its Doors Before Official Opening
The Grand Egyptian Museum, also known as GEM, is a must-see for anyone who admires history, art, and architecture. Located in Cairo, Egypt, The Grand Egyptian Museum houses thousands of artifacts from ancient Egypt's rich history. The collection includes some of the most precious objects ever discovered in this country, such as King Tutankhamun's tomb, as well as everyday items that give us insights into how life was lived during ancient times. It also contains artworks by contemporary Egyptian artists who are inspired by their country's past.
The GEM now welcomes guests with Limited Guided Tours to enjoy some areas before the Grand Opening.
What You Can Experience There?
The wait is over now! After the repetitive delays faced in the opening of the GEM, now you can finally visit the Grand Museum of Cairo. Although the official opening date is yet to be announced, you can experience limited guided 1 hour tour of the Great Hall, the Glass Hall, and the Hanging Obelisk. Moreover, you can also see the conference center and the commercial area with the museum's external gardens and the food court area.
The interior spaces of the GEM, including the museum galleries, will remain closed until the official opening.
Note: photos are only allowed bs Ramsis the Second.
Photo credit: Heba Khaled and Haniya Ayman
Ticket Prices
It's true, visiting the Grand Egyptian Museum is an experience like no other. But before you go, make sure you know what your ticket price is. The Grand Egyptian Museum is open to both Egyptians and foreigners alike.

Prices for Foreigners
Youth (4 to 21 years old): 500 EGP
Adult (above 21 years old): 1000 EGP
Student (up to 30 years old): 500 EGP
Prices for Egyptians
Youth (4 to 21 years old): 75 EGP
Adult (above 21 years old): 150 EGP
Student (up to 30 years old): 75 EGP
TIP: Make sure you're carrying your valid ID upon arriving at the GEM. (working hours: 9 am - 6 pm)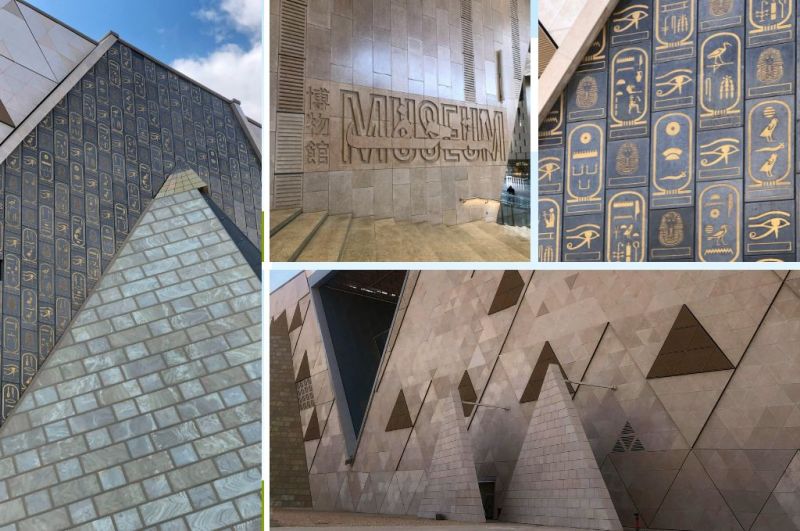 Photo credit: Heba Khaled and Haniya Ayman
Planning to visit? Here's how you can book!

Step 1: Go to the website to Book Tickets (click here).
Step 2: Choose your preferred date range, time, and the number of tickets you'd like to purchase, then click "Next."
Step 3: Enter your name, email address, and mobile phone number in the appropriate fields, then press "Submit."
Show-Stopping Events Held at the GEM
The Grand Egyptian Museum is a place of beauty and culture, hosting some of the biggest events in Egypt, including:
Fatma Said's opera concert: The first major event was held on the GEM when Fatma Said performed an opera concert. This event marked a huge success and opened a new chapter in Egyptian culture.
Art Cairo Exhibition: With over 2 million visitors worldwide, this art fair beautifully showcased local and international artists who presented their work in different forms such as paintings, sculptures, video installations, photography or multimedia works, etc.
A Glimpse of the Grand Egyptian Museum
The GEM project was first announced in 2002 and has taken over 20 years to complete. It features a wide variety of artifacts including gold funerary masks, mummies, and furniture from ancient Egypt as well as Greco-Roman statues and medieval Islamic artworks.
The museum was designed by an Irish architecture firm, Heneghan Peng, with a focus on natural light and minimal use of materials like concrete and steel. The building is intended to reflect both ancient Egyptian architecture and modern museum design principles.
The museum's opening has been a long time coming, since the initial construction, and it has been plagued with delays and setbacks. But finally, the wait is over, and the museum is ready to welcome visitors from all around the world.
Know more about the Grand Egyptian Museum.