In the words of Samuel Ibn, "Make your books your companions, let your cases and shelves be your pleasure grounds and gardens. Bask in their paradise, gather their fruit, pluck their roses, take their spices and myrrh. If your soul satiates and weary, change from garden to garden, from furrow to furrow, from prospect to prospect. Then will your desire renew itself and your soul be filled with delight." I cannot stress enough the value of books to you. For in them lies every solution that you may be looking for. Therefore, having the right place to read and source for books should be your priority. Below are the ten most beautiful libraries in the world.

1- State Library of Victoria

Situated in Melbourne, Australia, the State Library of Victoria dates back to 1856. It represents the heritage of Australia and the reading fraternity at large. It is the busiest library in Australia and the fourth most popular in the world. In this library, you can enjoy free exhibitions that display the most precious items from their collection of over 5 million items. Also, you'll find the majestic and famed La Trobe reading room, which is coincidentally the city's most photographed space. The State Library of Victoria is beautiful because of the plethora of items it harbors, its rich history, and how it blends with the modern world.

Location: Melbourne, Australia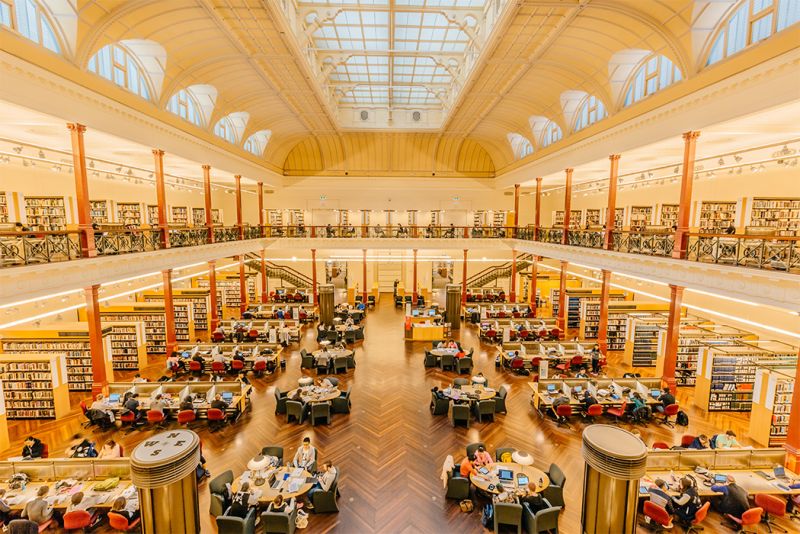 2- Bibliotheca Alexandrina

Talk of Egyptian art and history, and you must mention Bibliotheca Alexandrina, better known as BA. Art lovers will love the four museums displaying different artifacts and antiquities, while book lovers will relish the rich text in this endless library. Besides that, the manuscript center will be of great interest due to the deep exploration of Islamic and Arabic manuscripts. The BA also has a children's library, a Young people's library, and a rare books section that will intrigue every book lover. If there is a library that will try to cut across all sections, then it's the BA. Its e-learning services try to reach out to netizens with its plethora of information. You surely will want to try it out.
Location: Alexandria, Egypt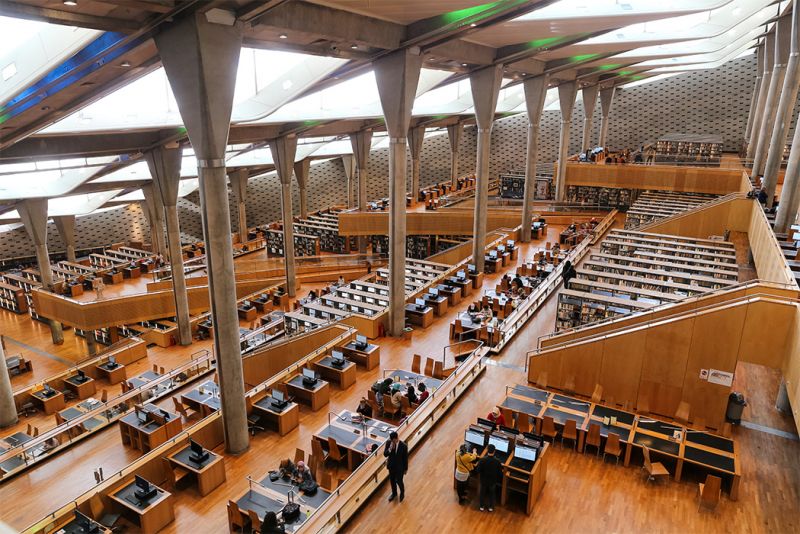 3- Piccolomini Library

The Piccolomini library is nothing short of breathtaking. The time taken to carve out the black and white marble spell is stupendous, while the interior design is simply awe-inspiring. You'll need more than one visit to take in all the beauty and luxury in this library since its architects spared no expense. As if that's not enough, the artifacts in the library, such as the Three Graces from Roman Times and the Voltas painted in Red, Blue, and Gold, bring out the aura of opulence for the library that's situated in Siena. Piccolomini will blow away the minds of its visitors year in and year out.

Location: Piazza del Duomo, Siena SI, Italy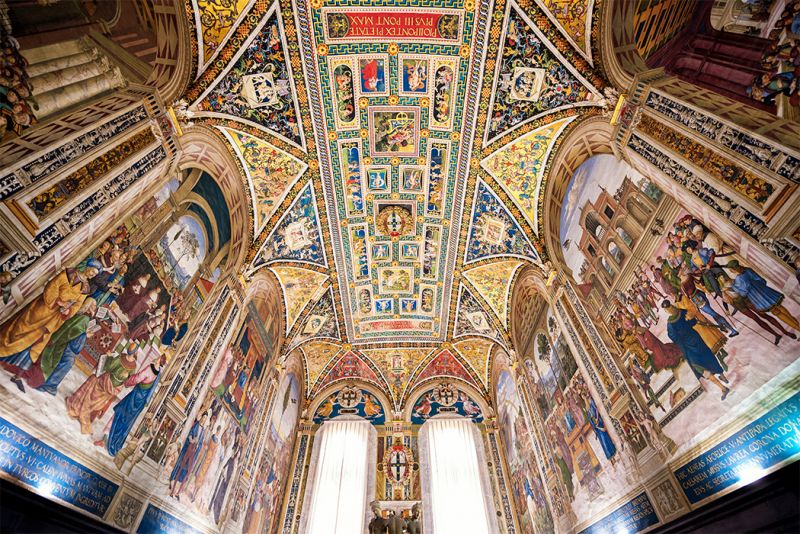 4- Vennesla Library

If you're looking for a library that mixes art, culture, and modernity, it is Vennesla Library. In fact, the reason it was built was to provide the locals with a meeting point to appreciate art and culture while at the same time opening up the people to the world of books. This was brilliantly captured by the wooden ribs that bend around the walls and ceiling of the building. One thing that stands out at the Vennesla library is how natural light is integrated with the design of the building. The library boasts a 295-seating capacity and an arena for concerts, theater, and cinema. It's one of the world's most beautiful libraries, according to the Huffington Post.

Location: Vennesla, Norway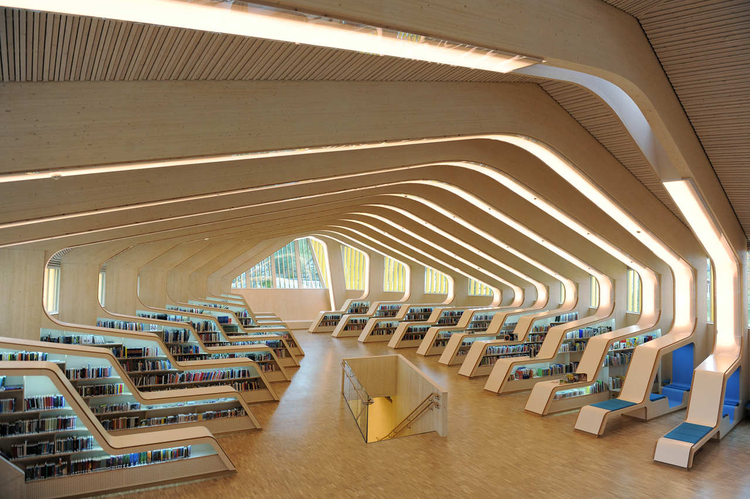 5- The Admont Abbey Library

This list would most definitely fall short of the glorious name "The Most Beautiful Libraries in The World" without mentioning The Admont Abbey Library. To say this library is beautiful is a disservice to its rich history, glamor, and grandeur. It is full of exquisite frescoes set within Baroque architecture. Looking at this library makes one believe that it is truly something special. Fastidiously decorated in white and gold, this library dates back to the 1700s. It is modeled on the imperial court Library in Vienna and was designed by Josef Hueber. Construction began in 1074 and was completed in 1776.

Location: Admont, Austria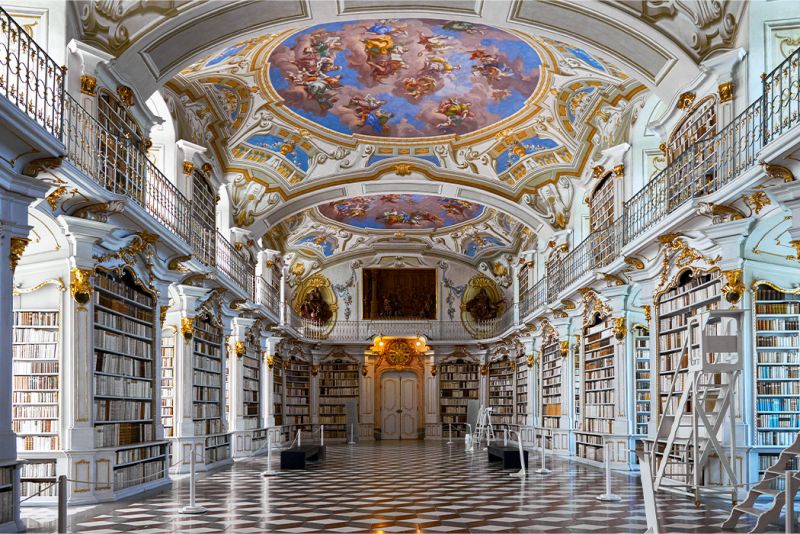 6- Klementinum National Library

Situated in Prague, this 16th-century library is home to over 20,000 novels. Aside from a wealth of books, the library boasts the most stunning Baroque architecture. At the Klementinum National Library, you will not only receive the sweet nourishment of knowledge but also journey to the heavens as you look at John Hiebl's heavenly Renaissance paintings on the walls. This Library is such a treasure that in 1977, Maria Theresa declared Klementinum to be a public university library to open up its beauty and depth of wisdom to the Prague community. That they would witness it in person and not from the tales of the few privileged to marvel at the globes that line the center of the library.

Location: Prague, Czech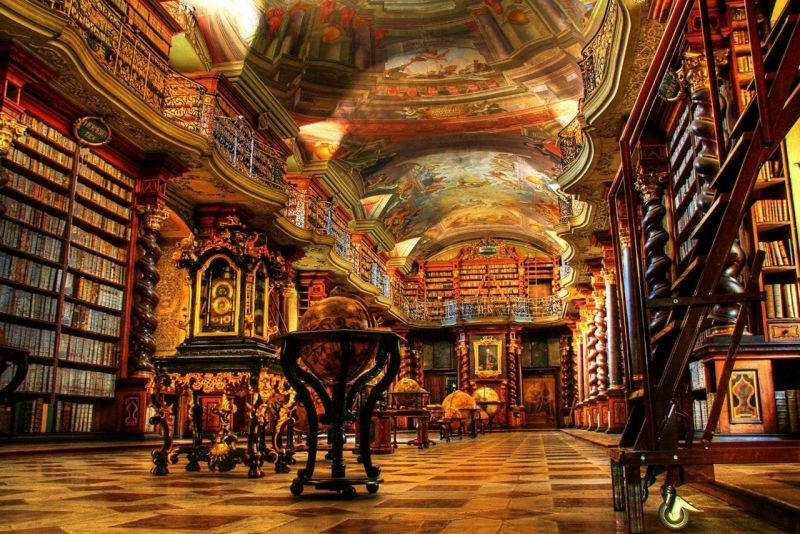 7- The Seattle Public Library

Libraries don't have to look like a picture from Harry Potter to be beautiful. The Seattle Public library is proof of this. The building's modern and unorthodox appearance -which resembles a series of floating boxes outlined in steel and wrapped in glass puts to rest the notion that libraries must be old-school places of quiet contemplation. In fact, when it opened in 2004, Time Magazine listed it as one of the year's top architectural designs. Moreover, The American Institute of Architecture ranked it as one of America's top 150 architectural wonders.
Location: Seattle, Washington, U.S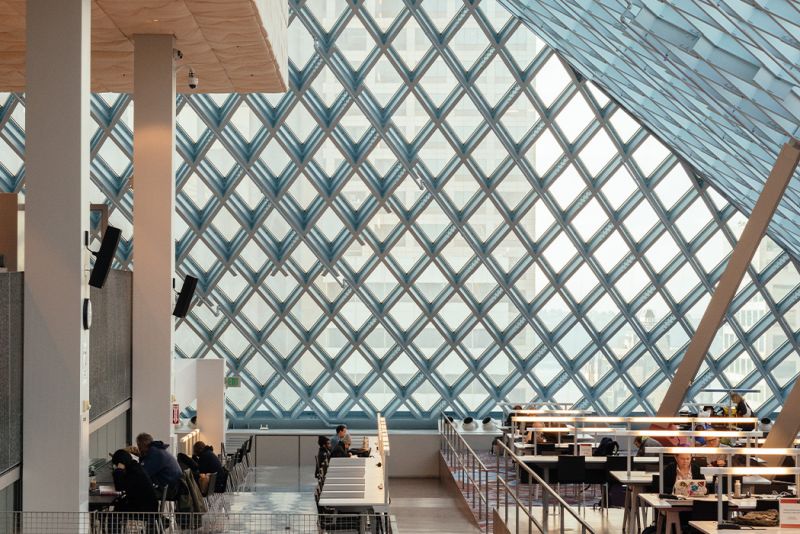 8- The Trinity College Library

The oh-so-popular Trinity College Library is a beautiful library that scarcely needs any introduction and serves Trinity College and the University of Dublin. This Library is a classic Dublin tourist attraction that attracts tourists from all over the world to see the stacked shelves of its iconic Long Room. The most significant site in the Library is The Old Library, where the Long Room is found. It dates back to 1592. It's gorgeous wooden architecture, and the arched ceiling is a beauty to behold. Additionally, this library is home to the Brian Boru harp, a national treasure of Ireland. A copy of the 1916 Proclamation of the Irish Republic and the Book of Kells are found here.
Location: Dublin, Ireland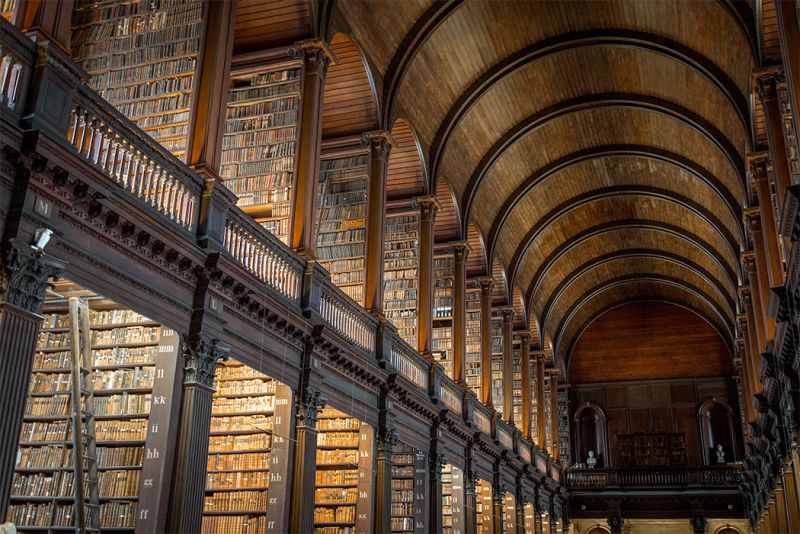 9- The Library of Parliament

With a monumental exterior and an elegant interior, the Library of Parliament is a no-brainer in lists like this one. This library is the designated repository and research center for Canada's legislature. The vegetation outside the Library of Parliament makes a bold impression, while inside, you'll find carved tiers of bookshelves and an inspired vaulted ceiling. No wonder this symbolic Ottawa Landmark is displayed on Canada's ten-dollar bill.
Location: Ottawa, Canada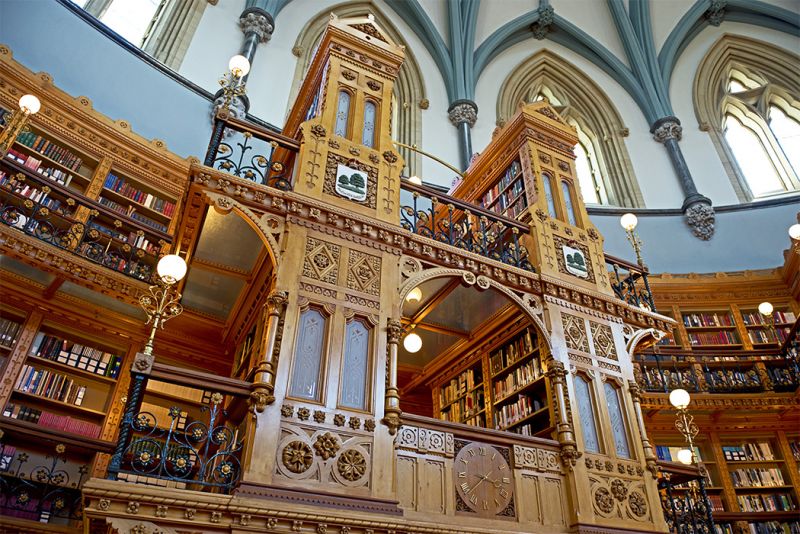 10- Sir Duncan Rice Library

This is one of those libraries with architectural structures that prove "high-rise can be beautiful." The Sir Duncan Rice Library, formerly called the Aberdeen University New Library, features a minimalistic exterior that reveals a spiraling atrium. This dynamic vortex connects the building's eight stories. The zigzag façade also acts as a climatic buffer, adapting to changing light and temperature. Such architectural prowess! No wonder it won a RIBA (Royal Institute of British Architects) National Award in 2013. This Space Age facility accommodates 14,000 students with 1200 reading spaces, archives, historical collections, and a special room for rare books. This building was also designed to meet the highest sustainable standards and has been certified BREEM Excellent.

Location: Aberdee, United Kingdom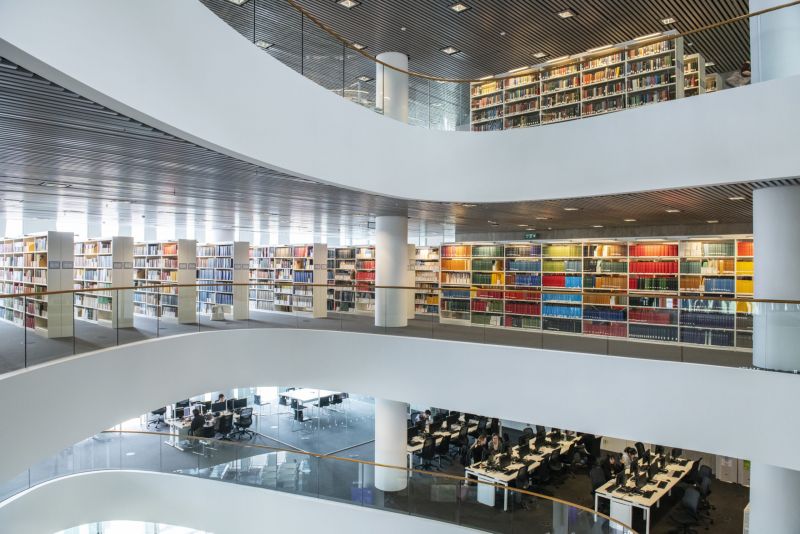 Libraries are still gorgeous treasures in this modern day and age. Their beauty is not only in their architectural galore but also in the vastness of knowledge hidden in the books, manuscripts, and writings of whatever caliber within. With what we have seen, you can go to one of these libraries to buy wisdom but stay because the structure's charm won you over.