Top Vacation Spots and Places Nearby to Visit with No Flight Ticket!
We have been grounded for some time now, but the world is opening its door again, bit by bit. Travelling to far lands might be a bit risky at the moment, but that does not mean you cannot travel inside your city or a neighboring city and visit it as a tourist. I bet that every one of us hasn't yet visited the hidden gems of the city that we live in. You have been living in the same city for so long that to you, it has lost its spark.
So, it's time to sparkle the city lights again and TOUR YOUR OWN CITY!
New York City, USA

If you live in New York City or the neighborhood, then you need to relive and revisit the city that never sleeps. Take a morning walk in Central Park. See one of America's greatest icons and symbol of freedom, the Statue of Liberty. Attend a Broadway show which is one of the top things to do in there. Whether you are looking for the latest shows or a classic, there are many theater venues in the Theater District to choose from.
If you are an art-lover, you cannot miss the Metropolitan Museum of Art, a.k.a. the MET. The MET is one of the most famous museums in the
United States; it contains more than two million works of art.
We satisfied the art-lovers, now it's time for the shopaholics. We are going straight to Fifth Avenue! From Cartier and Tiffany Bergdorf-Goodman to the famous Apple Store of Fifth Avenue, the Fifth Avenue is filled with top designers' stores.
If you have always been wondering why Frank Sinatra called New York "The City That Never Sleeps," look no further than Times Square; it's always as bright as a day at whatever hour of the day. It's where the world tunes in to watch the ball drop on New Year's Eve! Don't forget to go up to the top of the Empire State Building; it's the perfect way to say goodbye to city.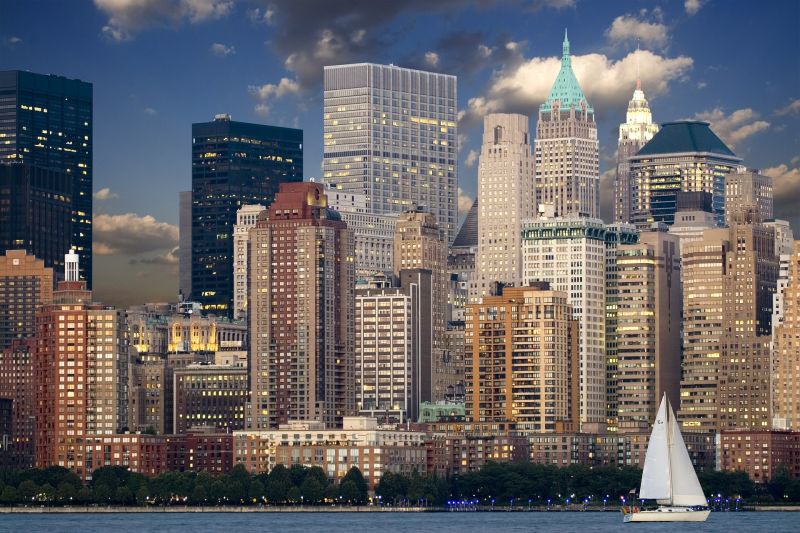 California, USA

California, the golden state, is full of sunshine and beautiful and spectacular sights to visit. San Francisco is full of sightseeing, gourmet dining, museums, and shopping. Los Angeles will dazzle you with its Southern California scenery and Hollywood glamour. In San Diego and Santa Barbara, you can just relax and enjoy the balmy weather and golden-sand beaches.

If you are up for a very adventurous activity, then Yosemite is for you, from fishing and bird-watching to as rock climbing and rafting. Get back to nature along the Central Coast of California at Big Sur; g and hiking are two of the most popular activities in the area.
You haven't gone to the beach if you didn't go to a Californian beach, especially if you're a surfer. Laguna Beach, Coronado Beach, Santa Cruz, Santa Monica, Huntington Beach, East Beach, Zuma Beach, La Jolla Shores, just to name a few. You cannot miss California's premier family destination, Disneyland.

Universal Studios Hollywood is not only an amusement park; it's also a movie studio. You can tour huge sets like the Wizarding World of Harry Potter, Fast and Furious, and The Walking Dead Attraction, among many others.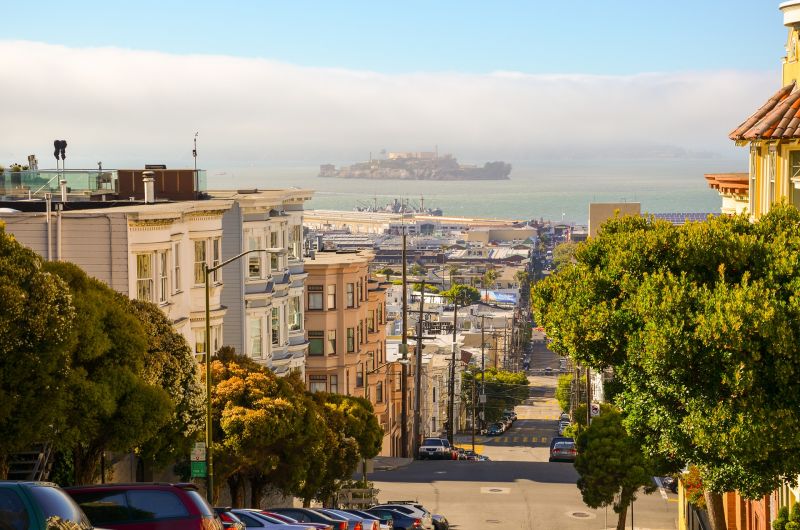 Florida, USA

From Beaches to amusement parks and national parks, Florida is one of the most visited states visited in the US. While families fly to Orlando, sun-seekers and beach-lovers head to coastal cities like Miami.
You may have visited Disneyland in California, but if you are looking for the ultimate experience, there is no place quite like Disney World in Orlando. We cannot forget about SeaWorld and Universal Studios.
If you are looking for the stars, literally the stars, then visit Kennedy Space Center. It's one of Florida's most exciting and fascinating attractions. You can see rockets and the Space Shuttle Atlantis and even meet an astronaut. That's a dream comes true all space-lovers!
Few places on the planet compared to the colorful and vibrant life on Miami Beach, from the art deco architecture along Ocean Drive to the beachgoers on South Beach. Its Art Deco Historic District is actually one of the things that make Miami Beach unique among the other Florida beaches.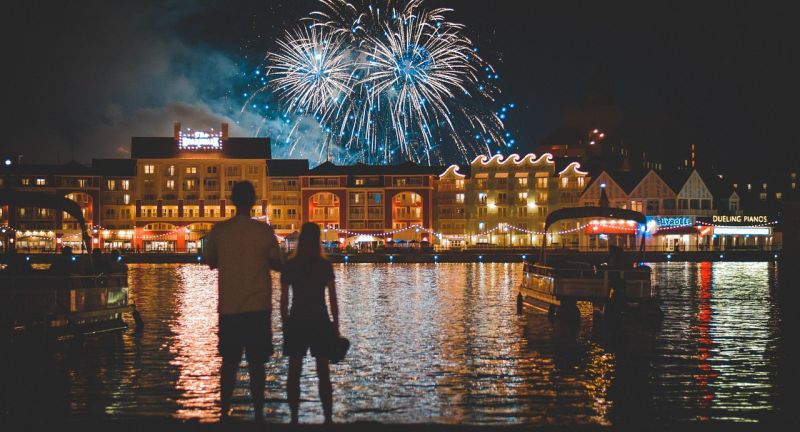 Georgia, USA
Georgia, the land of the rock and stone, is where culture and history lovers will have the feeling of being transported to the past and outdoor lovers will be amazed by the stunning landscapes.
You cannot be in Georgia and miss the charm of Savannah. With its lovely shaded squares and its stone-paved streets lined by trees draped in feathery Spanish moss, Savannah is one of the most romantic urban scenes.
Go through the history and visit Martin Luther King Jr. National Historic Site in Atlanta which includes the birthplace and grave of this famous civil rights leader, Jimmy Carter National Historic Site which includes the Carter family home, and Fort McAllister State Park which has some of the most well-preserved earthworks fortifications from the Civil War.
And for nature-lovers, Georgia has many jaw-dropping natural wonders. Tallulah Gorge State Park, Lake Lanier, Amicalola Falls State Park, Callaway Gardens, and Arabia Mountain are just a few examples.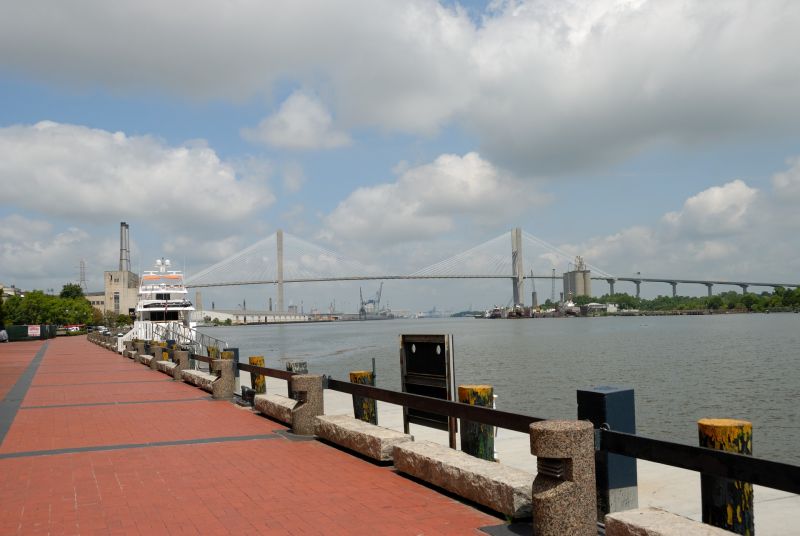 Texas, USA

Texas, the second-largest state in the US, brims with a countless number of adventures and fun activities.
Stretching for along the San Antonio River, the River Walk is lined with restaurants and outdoor patios, where you can sit, dine and enjoy a lovely evening alongside the river. For history- enthusiasts, the Alamo is the perfect spot. The Alamo is an important historical site with a museum that features weapons and artifacts related to the Texas Revolution.
As for space-lovers, Space Center Houston is one of the top touristic attractions in Texas. This is the place to learn about space exploration, NASA's latest projects, upcoming missions, and there is even a chance to meet an astronaut.
There are countless spots for those who want to lose themselves in nature. Big Bend National Park, Padre Island National Seashore, Guadalupe Mountains National Park, Galveston's Beaches, Natural Bridge Caverns, just to name a few.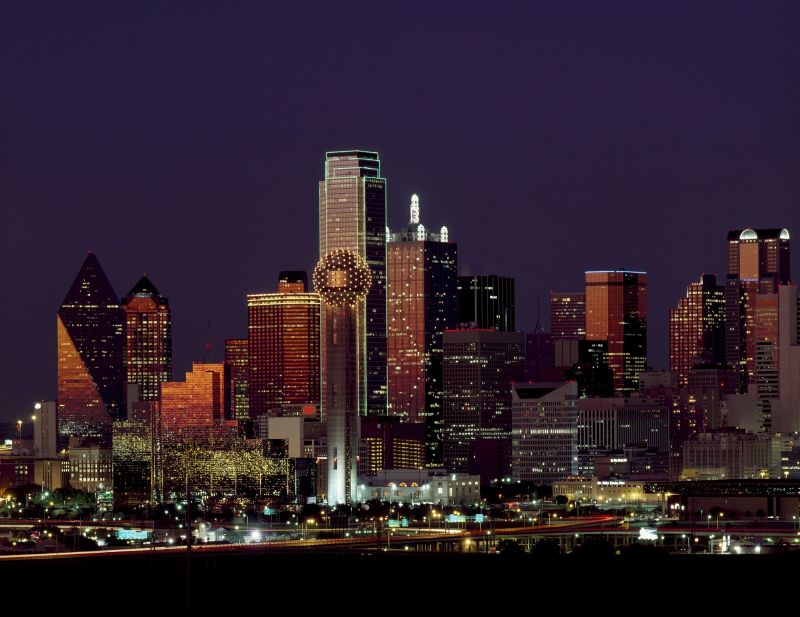 Pennsylvania, USA
Nicknamed the Quaker State and the Keystone State, Pennsylvania is famous for its gorgeous nature, vibrant cities, and various attractions.
If you are into history, in Pennsylvania, you will find one of America's national treasures, Liberty Bell and Independence Hall at the Independence National Historical Park. The Hall is where the Declaration of Independence was signed and the Constitution was drafted.
Many battles were fought in Pennsylvania and their battlefield is still persevered and can be visited. We have Gettysburg National Military Park which is the site of Gettysburg Battlefield that took place in 1863. We have also Valley Forge and Valley Forge National Historical Park which symbol of the triumph of the American Revolutionary War that took place in the winter of 1777 and 1778.
What about Art? The Philadelphia Museum of Art is home to one of America's largest collections of art. And the building itself was featured in all the "Rocky" movies! Exciting, isn't it?
Let's have some fun now. One of the main attractions in Pennsylvania is Hersheypark. One of the most famous and most fun amusement parks in the US is right there in Hershey, Pennsylvania. It has many unique of rides, aquatic shows, and a zoo.
We haven't included food and culinary attractions in this article, but we cannot be talking about Pennsylvania and not mention Philly Cheesesteak Sandwich! Philly Cheesesteak is Philadelphia's signature food and a must-try!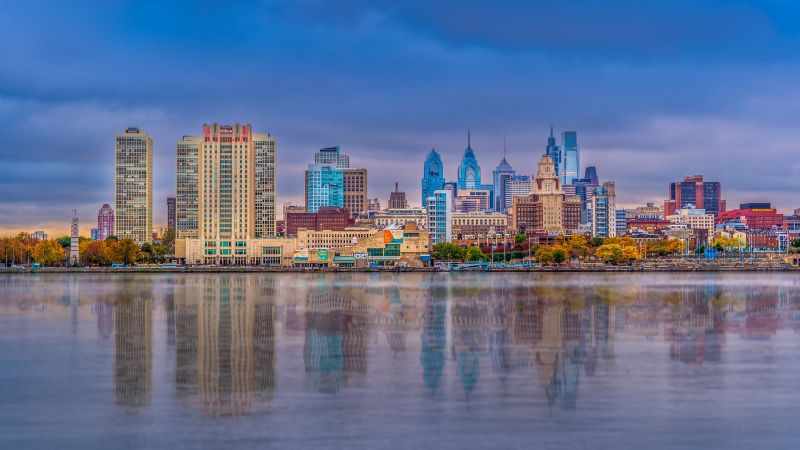 Toronto, Canada
Toronto, the largest city in Canada, is a vibrant city, with its Victorian buildings, large Chinatown, and modern-day skyscrapers.
A must-visit in Toronto is the CN Tower and it is impossible to miss. It can be seen from almost everywhere in the city. The 553-meter Tower is Toronto's most famous landmark. You can either appreciating the building from the ground or taking a trip up to one of restaurants or the observation areas. Near the base of the CN Tower lies one of Toronto's newest top attractions, Ripley's Aquarium; it's most impressive feature is the huge underwater tunnel with a moving sidewalk

Another adjacent to the CN Tower is Rogers Centre. All sports-enthusiasts should pay a visit to this massive domed sports arena, home to the Toronto Blue Jays. And if we are talking sports, we escape the Hockey Hall of Fame where you can find the world's largest collection of hockey artifacts, including the original Stanley Cup.

You cannot miss a visit to one of Canada's premier museums, the Royal Ontario Museum, a.k.a. the ROM. The ROM houses an outstanding collection, covering natural history, art, and culture from a great variety of periods.
And one of the most impressive and exciting experiences you can go through is taking a trip to the Niagara Falls. You'd be crazy not to visit this awe-inspiring explosion of water.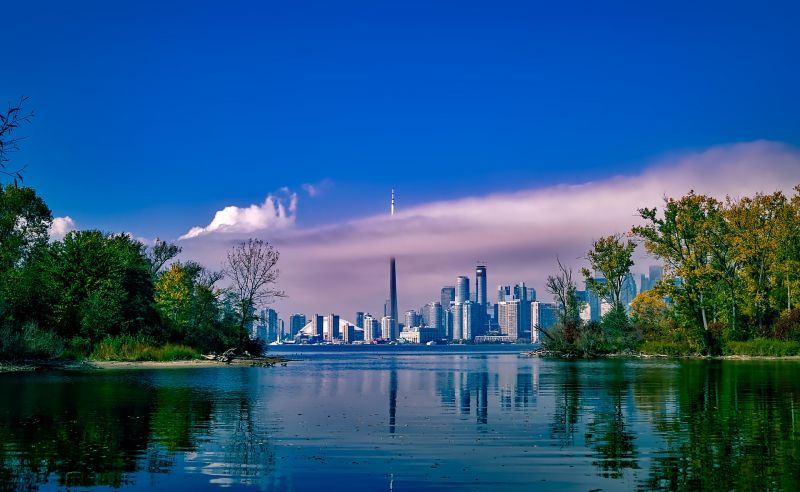 Ottawa, Canada
Ottawa, Canada's capital is one of the most diverse places where you can learn and explore the history of Canada, but there's also room for some world-renowned urban and outdoor fun. Wander around a historical château, like the Fairmont Château Laurier, take a stroll in the Major's Hill Park and sit across the canal and enjoy fantastic views of Parliament Hill and the Notre-Dame Cathedral Basilica.
If you are in Ottawa in the winter months, then a must-do is skating along with the world's largest outdoor skating rink, the Rideau Canal. The rink is open 24-hours. But no skate is complete without Beaver Tail; these deep-fried dough sweets are gonna melt in your mouth. They are sold in kiosks along with the rink.

Right there in the middle of the city sits the magnificent Gothic revival Parliament Hill. Yes, it is the home to the Parliament of Canada, but it is also a major tourist attraction.

It's gossip time! You can take a tour and hear all about Ottawa's dark past. Ottawa has an infamous history that you can learn about on the Haunted Walk of Ottawa where will hear haunting hear stories about some of the city's most famous spots, like the Bytown Museum, Ottawa Jail Hostel, and the Fairmont Chateau Laurier.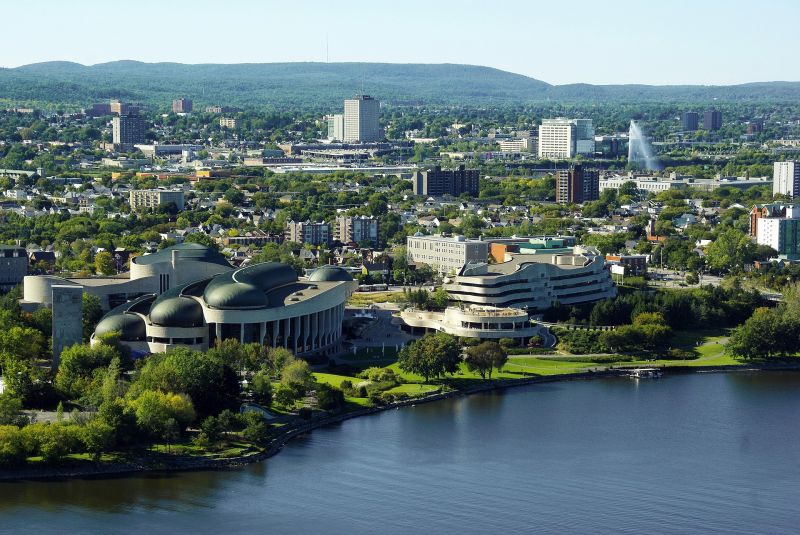 Quebec City, Canada
Quebec City is one of the most picturesque and charming places to visit. It's the only walled city in North America and a UNESCO World Heritage Site.
If you are looking for historical landmarks, the Place Royale is the place to start. Place Royale is the largest surviving ensemble of 17th- and 18th-century buildings in North America. Quebec City also houses the Citadelle of Quebec which is an active fort and museum.
For winter-lovers, a visit to the magical Hôtel de Glace, a.k.a. the Ice Hotel, is a dream come true. It is sculpted from multiple tons of ice and snow; you can either take a tour or brave the sub-zero temperature during an overnight stay.
Now, it's time for nature-lovers! Whether you are planning on riding the gondola, climbing the scenic stairway or crossing the suspension bridge, the view of the Montmorency Falls is going to leave you breathless.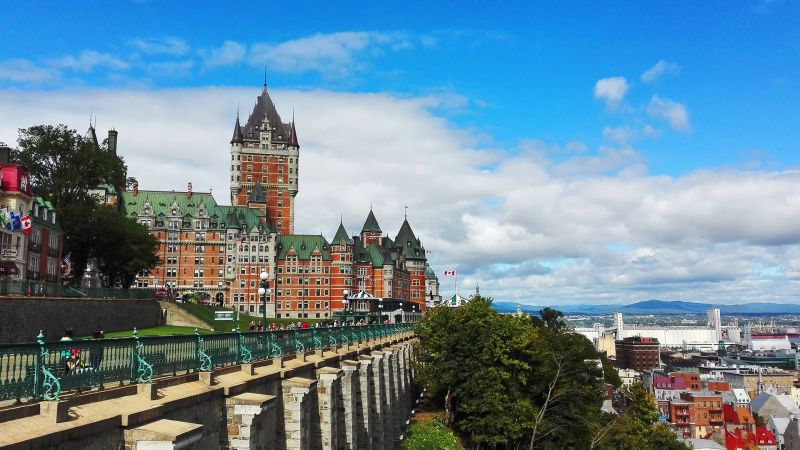 Montreal, Canada
Montreal, the second-largest speaking French city, is famed as a cosmopolitan hub of culture while also rich with colonial history. The city is full of exciting things to do.
Wander through the streets of Old Montreal that dates back from the 17th, 18th, and 19th centuries. Take a stroll through its narrow streets and visit the Pointe-à-Callière museum of archaeology and history, the quays of the revitalized Old Port, the twin-towered Notre-Dame Basilica, and the Place Jacques-Cartier.
You cannot especially miss a visit to Notre-Dame Basilica, Montréal's oldest church. With its Gothic Revival architectural style, it is an impressive example of religious art and craftsmanship.
For art-lovers, you will definitely enjoy a visit to Musée des Beaux-Arts. The oldest museum in Canada, Musée des Beaux-Arts, houses vast collections of painting, sculpture, and new media.
If you want to find your way back to nature, explore the summit and the surrounding of Mount Royal. You get to gaze over the city from every direction above the Mount, and in the winter months, you can enjoy skating, skiing, and sliding.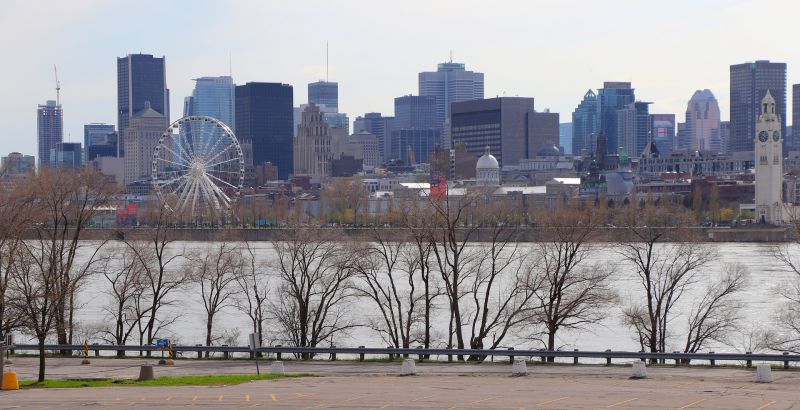 Don't confined yourself to your home, it's time to tour your city and the neighboring areas with see them a different eye and discover its hidden magic!