Dubai may be well known around the world for its endless skyscrapers and desert sand dunes, but it's more than this. Dubai's snowy-white, fine-sand beaches attract thousands of tourists every year.
With the warm aqua-blue Persian Gulf, known as the Arabic Gulf, Dubai beaches offer a slice of paradise to its visitors. Whether you want to spend a quiet time reading a book, swim or sunbathe, get adventurous and do a sports activity, you can do it all.
Here is a list of the Top 6 Dubai beaches and features, to help you choose your destination.
1- JBR Open Beach
Offering an irresistible taste of Dubai's authentic beaches, Jumeirah Beach Residences welcomes everyone to spend an excellent day of swimming. The beach's seaside areas are excellent for spending a day with the whole family in a relaxed climate. Some parts are designed for hotels, however, most are wide open.
There are many things you can do in JBR. You can spend a classic day enjoying the beautiful blue-green color water, or taking a sunbath and napping.
You can engage in a sports activity or choose to take a walk by the beach or to dine at one of Dubai restaurants while enjoying the sunset. If you want to get a little adventurous, go on a camel ride on the beach.
The seaside facilities offer swimming pools, surfing and sailing classes, yoga classes, volleyball courts and outdoor gyms.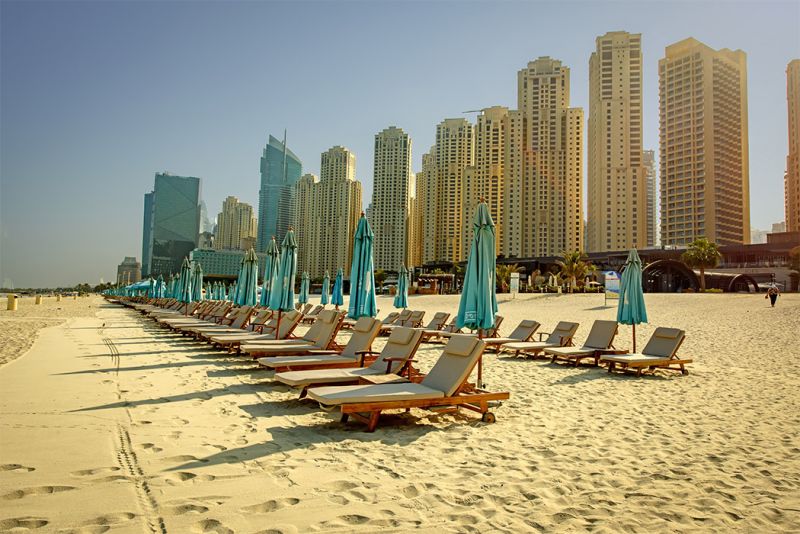 2- Umm Suqeim Beach
If you're looking for the perfect spot to sunbathe on a beautiful stretch of sand, head to Umm Suqeim Beach. The area offers a beach with few services such as a lifeguard, and basic facilities (toilets, showers, and changing rooms).
Also known as Sunset Beach, it is one of the beaches where you would love to go for a morning jog while enjoying the breathtaking view of the sunset. Umm Suqeim Beach is a perfect spot to get instagram worthy pictures of Burj al Arab. It is also one of the excellent surf breaks in Dubai.
Head to Wild Wadi Waterpark, if you want to have more wet fun.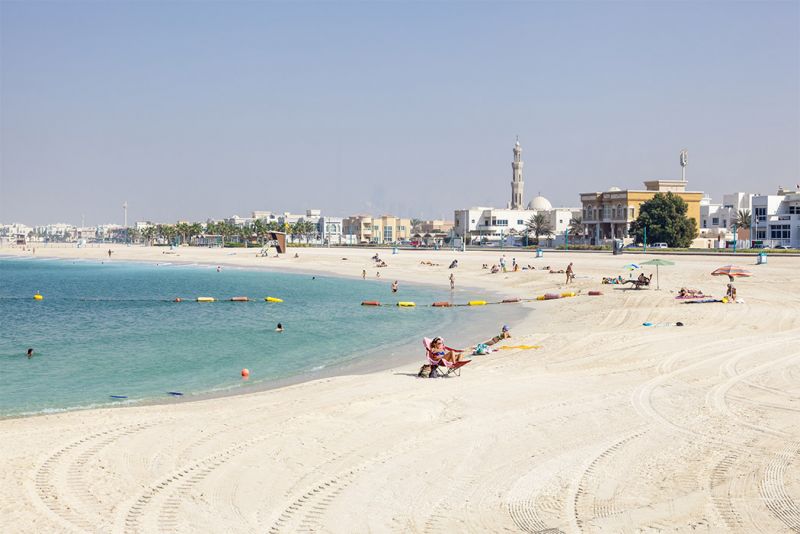 3- Kite Beach
Being a section of Umm Suqeim beach, Kite beach is your reference for water sports. This is where you go kayaking and paddle boarding. The beach is popular with kitesurfers and people flying kites.
The beach is also very famous for the many food trucks that serve during mornings and nights. Little restaurants and cafes line the beach too. There is also a skate park and many little ice-cream stalls.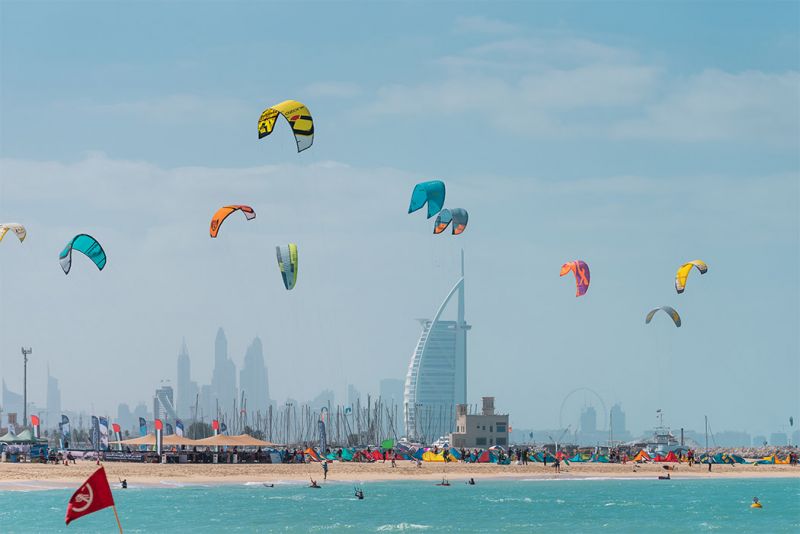 4- Al Mamzar Beach Park
Al Mamzar is one of Dubai's beaches that is perfect for families, honeymooners and adventurers. With the blue shades of the water and green shades of Palm and Coconut trees, Al Mazmar beach park will definitely get you to spend a fun and easy day by the sea with your friends and family.
The public park area includes four beach areas, with lifeguards all around. Besides, the beach offers a free picnic area, a playground for kids, and two large swimming pools.
Facilities here include showers, bathrooms, and changing rooms. If you want little air-conditioned beach tents with barbecues, you can rent one.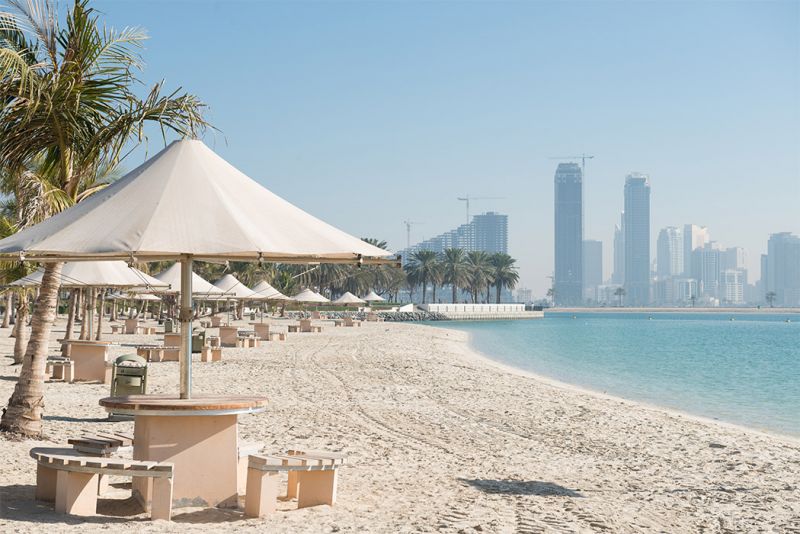 5- Marina Beach
Looking for a more luxurious beach? The Dubai Marina is a perfect residential area, near JBR. Here you will enjoy the warm water and a wide, flat, beautiful beach with Dubai's typical soft white sand and lifeguards are on duty.
The beach provides shopping malls, shops and a thousand different activities. You can go to the resort with a spa, or enjoy a nice round of golf or take the kids for a nice walk at the zoo near Jumeirah Plaza.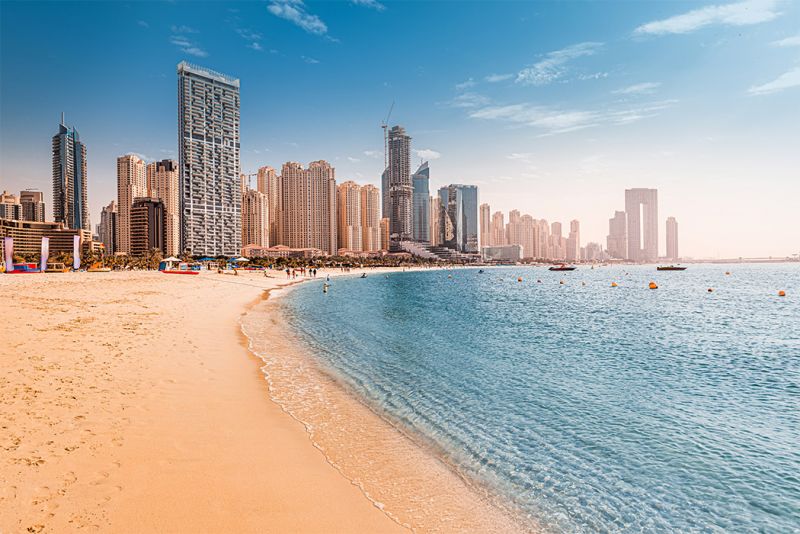 6- The Palm Jumeirah
The Palm Jumeirah, the amazing palm-frond-shaped archipelago, is one of the most famous sites in Dubai. The place offers some public areas of the rocky shoreline, however, there are no public beaches on The Palm.
All the beaches are either part of the luxury residential neighborhoods or apartment buildings on some of the "fronds," or associated with a luxury hotel. Riva Beach Club is the only beach club that daily welcomes the public to its beach for around $30 per person.